New York Fashion Week: Jeremy Scott puts Polaroids, Pikachu and politics on the spring/summer 2019 runway
Reporting from New York —
The face of designer Jeremy Scott's spring and summer men's and women's runway collection was, well, Jeremy Scott. More accurately, it was a gridded collection of Polaroids of the designer taken in his youth that popped up on various pieces including hoodies, body-hugging, ankle-length dresses and tote bags.
Aside from that Warhol-like flourish, Scott's latest collection followed a familiar mix-and-match approach that goes something like this: Pair a range of candy-dish colors — lime green, blaze orange, lemon yellow — with familiar silhouettes (streetwear, lingerie, motocross) and a pattern or two (this season, it was grunge-nostalgia-inducing plaid) sprinkled liberally with licensed logos or cartoon characters that resonate with his enthusiastic fan base. (Past collections have featured such pop-culture icons as SpongeBob Squarepants and Bart Simpson.)
This season, Scott appeared to have lassoed another yellow fellow — the lightning-bolt-tailed Pikachu character from the Pokemon anime series — who appeared as an allover print on pink sweaters, sweatshirts and skirts. There were a couple of other cartoon characters in the mix as well including, if we're not mistaken, the Looney Tunes' Wile E. Coyote, wearing a military jacket festooned with medals above the words "Mission Accomplished."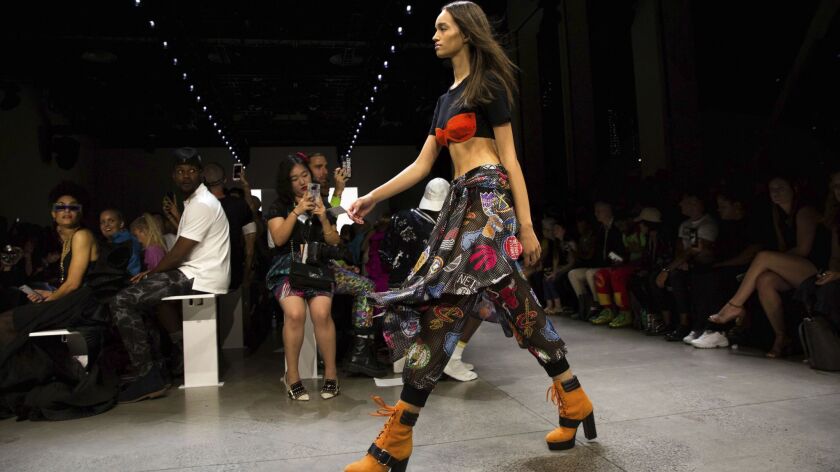 Also in the mix were several pieces — jackets, hoodies and skirts in athletic mesh among them — emblazoned with appliques or allover prints featuring the teams of the National Basketball Assn. (Given how jealously the NBA guards its trademarks and copyrights, it's likely the presence on the catwalk was the result of a licensing deal.)
Scott's focus on fun footwear resulted in one of the most unusual meldings of boot and garment we've seen since Balenciaga's high-class riff on fetish wear a few years back: a jumpsuit-like garment with a zipper running straight down the center, between the legs and up the other side. Zipped together, it looks a lot like a pair of traditional overalls (if traditional overalls came in sequin-covered orange, yellow and brown camouflage). Unzipped, the outfit appears to be more like two over-the-knee — and over-the-shoulder-blade — statement boots.
The boots weren't the only thing making a statement Thursday night either. When Scott took to the stage after the finale, he was wearing a sleeveless white T-shirt with a message in bold black lettering, "Tell your senator no on Kavanaugh," above the phone number (202) 902-7129. The tee's message was a reference to President Trump's Supreme Court nominee Brett Kavanaugh, whose confirmation hearing is currently under way in Washington.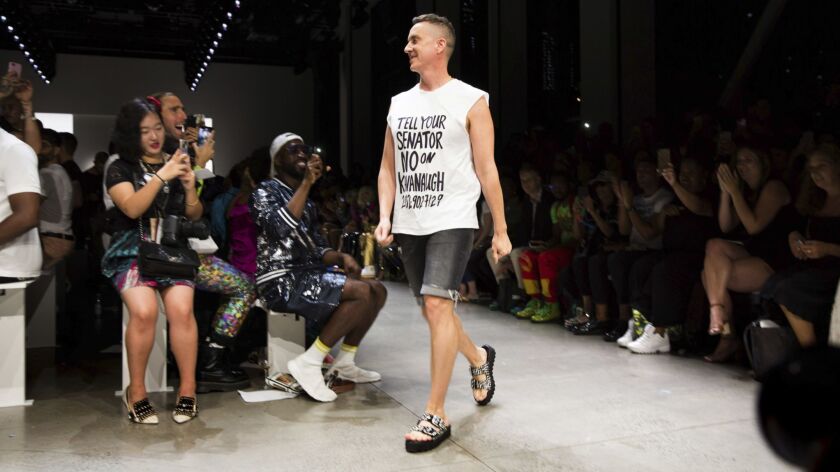 For more musings on all things fashion and style, follow me at @ARTschorn
---