Meghan Markle inspires new jewelry from L.A. designer Adina Reyter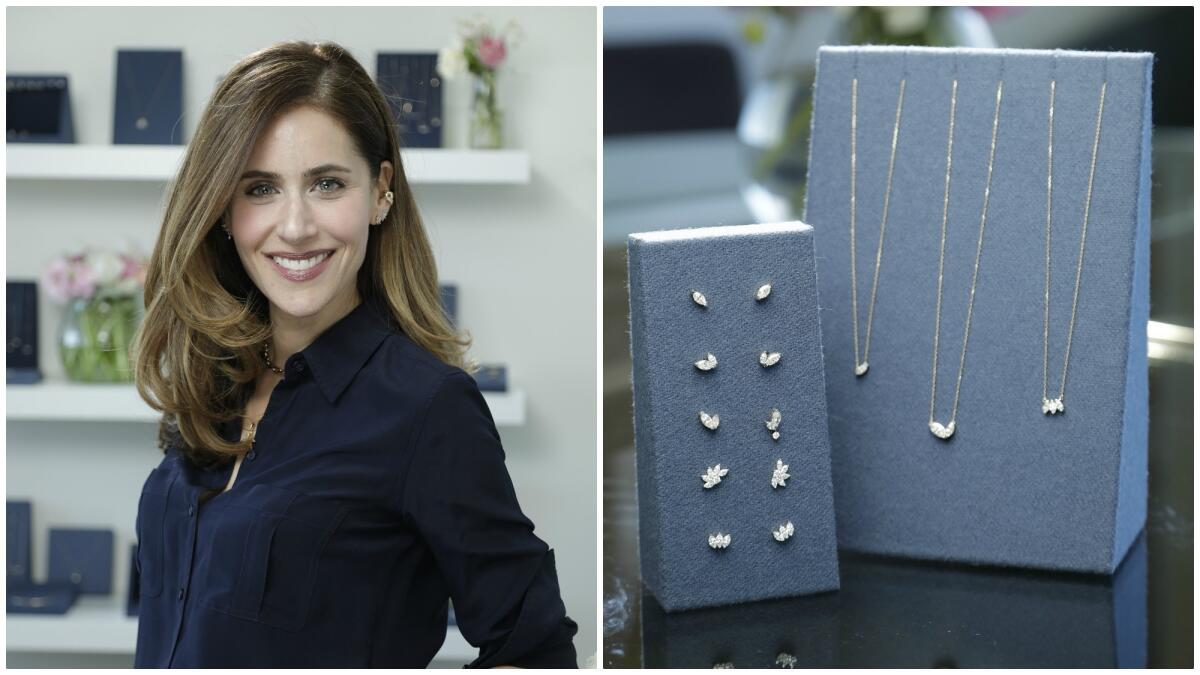 Adina Reyter knows what you're thinking when someone mentions her profession. "Living in L.A., when you say you're a jewelry designer, a lot of people look at you and they roll their eyes," the native Angeleno said during lunch at the Hotel Bel-Air in Los Angeles. "Because everyone and their mother is a jewelry designer."
However, only a few can say what Reyter can: Meghan Markle is a client.
Markle, now known as the Duchess of Sussex, first wore a pair of earrings by Reyter in March 2018 when she stepped out at the Commonwealth Day service in London. "It's an incredible honor because she has the world's most unbelievable jewels at her fingertips. And she's wearing our $400 earrings and she's wearing them again and again," Reyter said, referencing her Sherman Oaks-based brand's 3 Diamond Amigos curve posts, which Markle is said to have purchased from Shopbop. Markle has since worn two other pieces by Reyter on multiple occasions: a teardrop necklace and a pair of pave curve wing earrings.
Although they've never met, the women appear to share a mutual admiration. "Meghan Markle's style is impeccable," said Reyter, 43. "She encapsulates who our customers are."
Reyter said Markle's appeal is simple. "She's beautifully dressed, but she has an accessibility that a lot of the other royals do not have," she said. "I remember seeing her with ripped jeans and a white button-down shirt and her heels on and I thought to myself, 'I would wear that outfit anywhere.' She has a relatability factor but yet she looks so chic and she looks like a royal."
Markle has since become a muse of sorts for Reyter. The designer recently expanded her Teardrop collection to include various re-imaginings of the piece's signature pave diamond shape in the form of earrings, necklaces and bracelets. The line retails for $298 to $1,598 and is inspired by the duchess' teardrop pendant.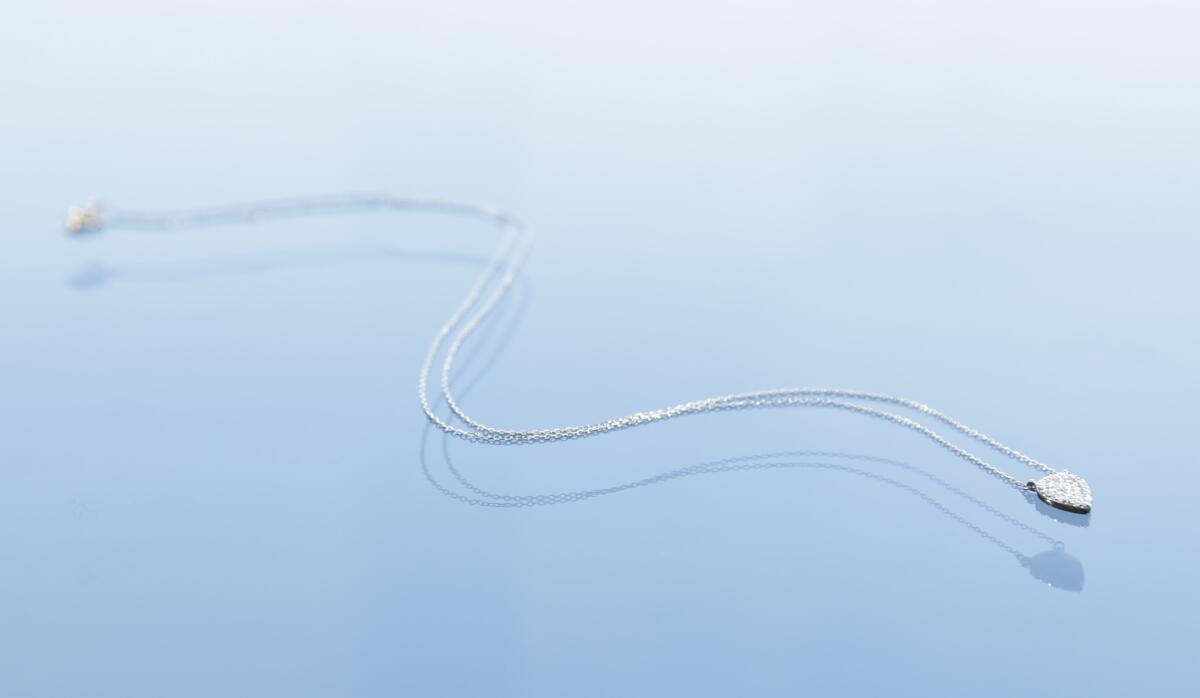 "She's revived a style that I have always loved," Reyter said of the piece, which she first designed in 2014. Markle is said to have bought the necklace from Club Monaco, which has carried Reyter's jewelry for many years. "Their PR person emailed us and said, 'I hope you're sitting down because [Markle's representative] just called in your necklace,'" Reyter said, "and then she wore it the next day."
Reyter also had Markle in mind when designing the Grace collection, which launched this week on adinareyter.com, along with the new Teardrop pieces.
An homage to Markle's sensibilities, the Grace collection features marquis diamond earrings, bracelets, rings and necklaces. "It's super-feminine and so classic, but it still has a modern feel to it," Reyter said of the pieces, which are at a higher price point ($798 to $3,298) than her previous collections. "It has a little more weight to it. The diamonds are a little bit bigger. This collection is for the customer that's been buying pieces with us for years, and now she earns a little bit more money. She's doing better at her job. She's in a different place in her life. … And, to be honest with you, as am I."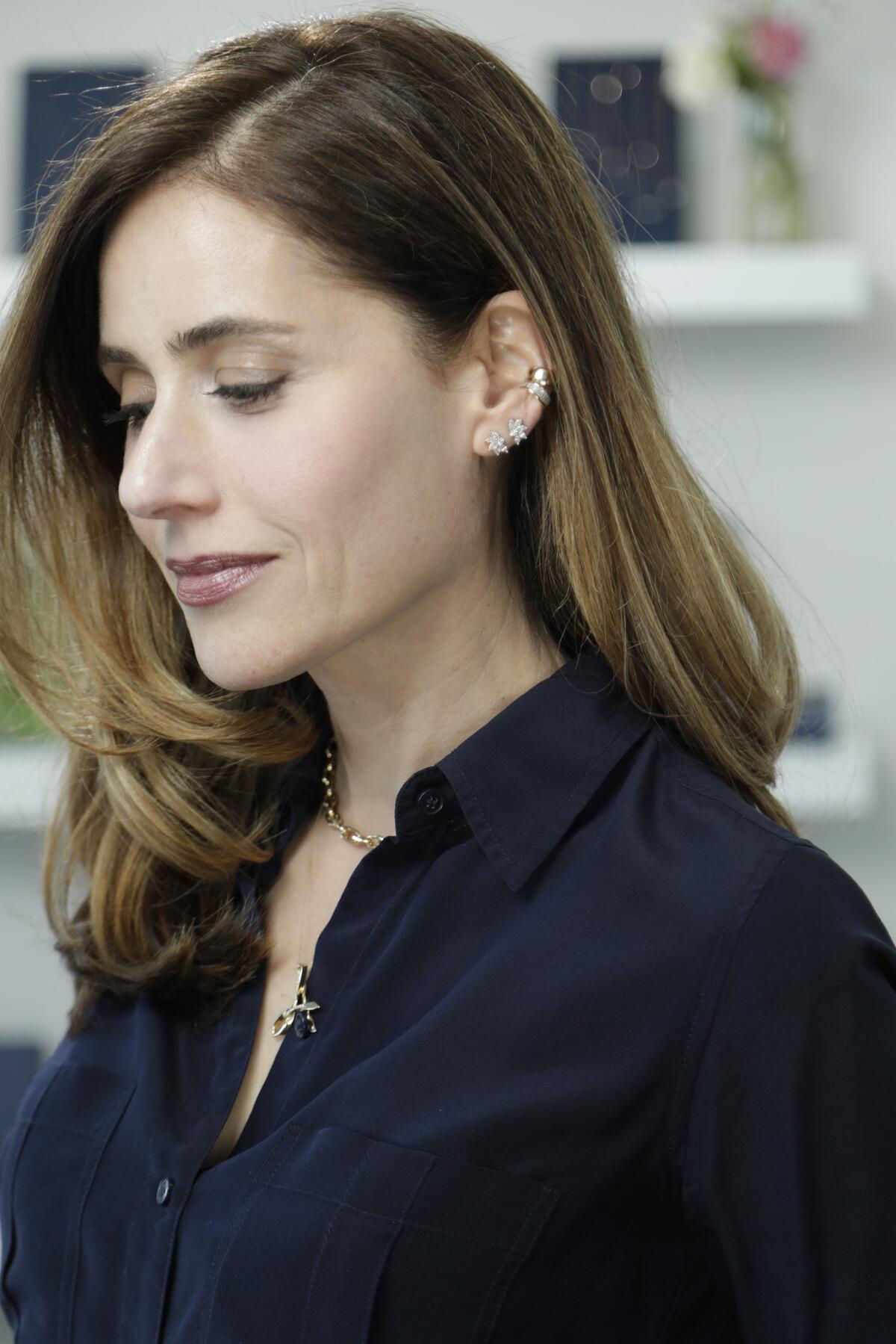 Reyter launched her company in 2001 while working in advertising in San Francisco. She utilized her day job's copywriters and designers to help her create a website for her brand. "I would pay people in jewelry," she said. A year later her husband, Ilya Reyter, completed medical school and the couple returned to Los Angeles, where Reyter's husband set up shop as a dermatologist and surgeon in Sherman Oaks. The jewelry designer continued working in advertising while building her business. "Everywhere I went I would sell my pieces," Reyter said. "I had them in my purse."
Her company gained traction when Demi Moore appeared in InStyle magazine wearing a sterling silver necklace by Reyter. Around the same time, the costume designer for TV's "Friends" purchased Reyter's complete line at Stacey Todd in Studio City and outfitted Jennifer Aniston in one of Reyter's necklaces for an episode.
"That event changed my life," said Reyter, who quit her advertising gig shortly thereafter. "When celebrities wear your pieces meaningfully, it matters so much to a business."
Gwyneth Paltrow, Lady Gaga and Demi Lovato were recently spotted wearing Reyter's jewelry.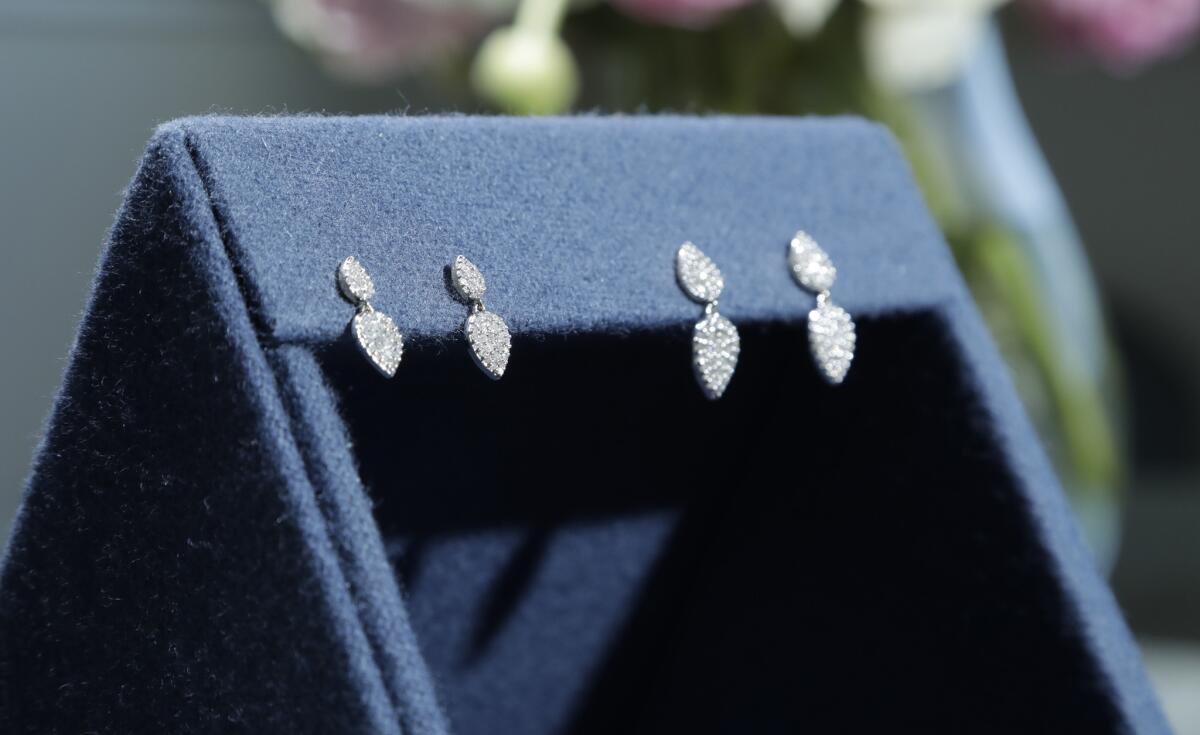 Actress Marla Sokoloff was introduced to Reyter's work 15 years ago through a mutual friend. "I was obsessed with Adina right away," she said. "As a mom, I never take my jewelry off. I sleep with it. I work out in it. I take showers in it because I never want to switch out my jewelry. … You can wear it to a spinning class or to date night. It's appropriate for everything, which is why I love it."
Sokoloff's current favorite pieces include Reyter's tiny pave folded heart necklace in rose gold as well as the pave diamond bar posts. "Everywhere I go people keep asking me about them," she said. "They're the perfect size."
Event producer Yifat Oren is one of Reyter's oldest customers. "I have been a fan of Adina Reyter since her launch 18 years ago and [I] own one of her very first designs," Oren wrote in an email, referencing a 14-karat gold twist circle necklace. "I adore this signature piece and still wear her necklace daily."
Although Reyter's story sounds like nothing short of a fairy tale, the designer has had to overcome personal hardship to maintain her company's success. The mother of three was relaunching her brand's website when her middle son, who was 9 at the time, was diagnosed with ulcerative colitis in 2016. "The Monday before Thanksgiving all hell broke loose," Reyter said. "Over the course of a month, he lost 30 pounds. He was not sleeping or eating." His colon was removed and reconstructed over the course of three surgeries.
"While my son was sick, I'm not going to lie, it was chaos," she said when asked about the stress of shepherding a business while balancing her son's health issues. "I just did without thinking. You don't emerge from hell empty handed; I got some gifts from the experience. At times, I felt like, 'Oh, my God, how is this happening to us as a family?' But you have to stop yourself and fight in those moments. A victim mentality is detrimental. It's all about the fight. That applies to business as well."
Reyter also said her brand benefited because it forced her to reevaluate how she spent her time. "I was able to take myself out of some of the day-to-day," she said, "and that allowed me to actually think bigger and grow my business more so once I emerged from that nightmare."
Reyter said she attributes her company's 18-year track record to a simple mantra. "We've always stayed true to who we are," she said, "and that's the key to our longevity. I have always created jewelry that is highly designed, beautiful, everyday wearable and accessibly priced. And that's never changed."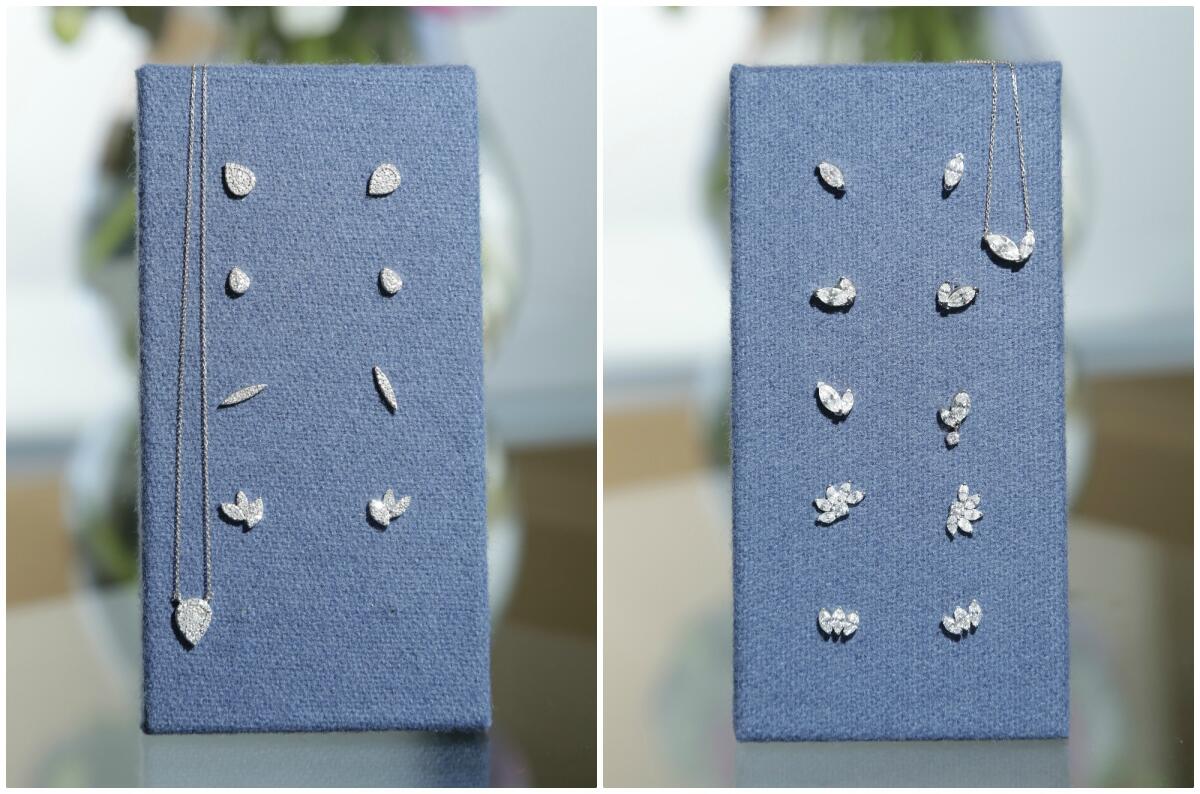 For fashion news, follow us at @latimesimage on Twitter.