Womenswear designer Jonathan Simkhai is certainly not the first East Coaster to move west to pursue his dreams, but he may be one of the few whose dream scenario includes working with retail customers who wander in off the street.
"One of the most exciting things about this space," the 33-year-old founder and creative director of his eponymous label says, "is the ability to work in the atelier with the cutters, laying out the fabrics and the patterns and then being able to step next door and dress someone or pull a sample I'm working on and show it to them and say, 'What do you think about this for your rehearsal dinner?' That's really the charm of it all, and makes me excited to wake up every morning and come to work in this space."
The space Simkhai is referring to is the new headquarters for the company he launched nearly a decade ago in New York City. Located at 651-653 N. La Cienega Blvd. in West Hollywood — just across from the busy retail corridor of Melrose Place — the 5,000-square-foot, two-story building houses Simkhai's executive offices, atelier and design studio on one side and a 1,200-square-foot flagship store on the other — the brand's first-ever bricks-and-mortar boutique.
Natural light and leafy plants play off minimalist white walls and marble accents in the interior in a way that feels elegant, strong and delicate all at once, which makes it the perfect backdrop for a range of macramé dresses, deconstructed satin robes and cotton eyelet dresses. (Prices range from $695 for an eyelet embroidery gathered mini-dress to $2,595 for a flare-sleeve lace gown.) Large tables in the center of the space are filled with denim (a newer category for the label, prices range from $295 for a pair of stovepipe jeans with lace-up side details to $595 for a denim jacket with tie-sleeve details) and swimwear (another new category, prices start at $125 for a striped bikini bottom with knit trim) as well as T-shirts emblazoned with the slogan "Feminist AF" ($95).
The architectural interplay of hard and soft, of masculine and feminine mimics Simkhai's signature design aesthetic, which in recent collections, has seen men's pinstriped suiting fabric paired with spidery elegant lace and men's dress shirts shaped into shoulder-baring bustiers. Simkhai's affinity for lace isn't just part of his design DNA, it's rooted in his own DNA. "Before the Shah [of Iran] was exiled, my grandfather ran a lace mill in Tehran," he explains. "It specialized in guipure lace."
Simkhai said his desire to interact with customers on the sales floor — to dress them, to make them happy — was, like his affinity for lace, something that predated his fashion career. And it was formed when he was just a teenager.
"I grew up in Westchester, N.Y., and I would beg my mom to let me skip school and go to the mall," Simkhai says. "And one time, when I was helping a friend find clothes in this particular store — Havana Jeans — the woman who owned the store came out and said, 'I've been watching you on the camera, and you have a really good eye. I've been watching you dress this person, and I'd love to offer you a job.' I was 14 at the time, but I eventually started working for her for a few hours after school. I ended up working there for many years, and ever since those days, I've taken a lot of pride in my customer interaction. I love spending time with [customers] and am always excited about the opportunity to dress a woman."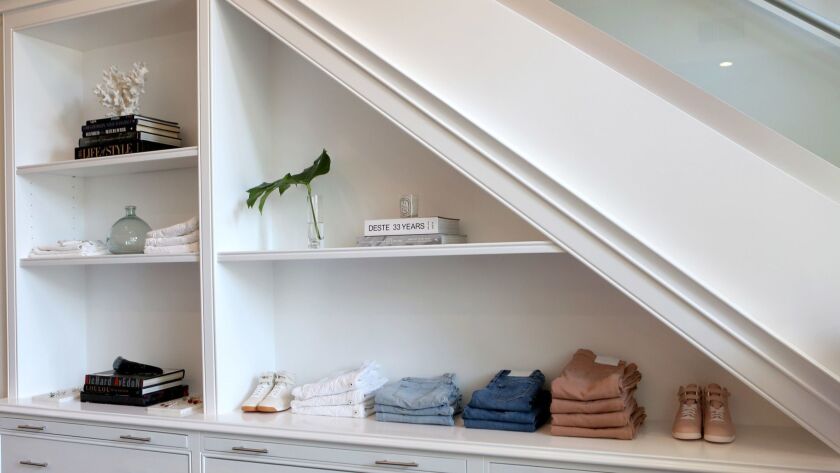 Simkhai's formal fashion education included a stint at Parsons and later FIT, but he says his experience at Havana Jeans (where he would end up doing buying and merchandising) and later at his uncle's apparel-manufacturing business planted the seed for his current career, which officially began with a fall and winter 2010 collection.
"A lot of brands were doing either really feminine things or really masculine things," Simkhai says of the fashion at the time. "I felt that women didn't want to be pigeonholed as a girly girl or a hard girl. That was something I always wanted to speak to — not putting women in a box."
The first retailers to carry his clothes were Intermix, Barneys New York and Isetan in Japan, he says, and he credits the Council of Fashion Designers of America and its 2013 fashion incubator program for providing his fledgling label with much-needed guidance and mentorship in the early years.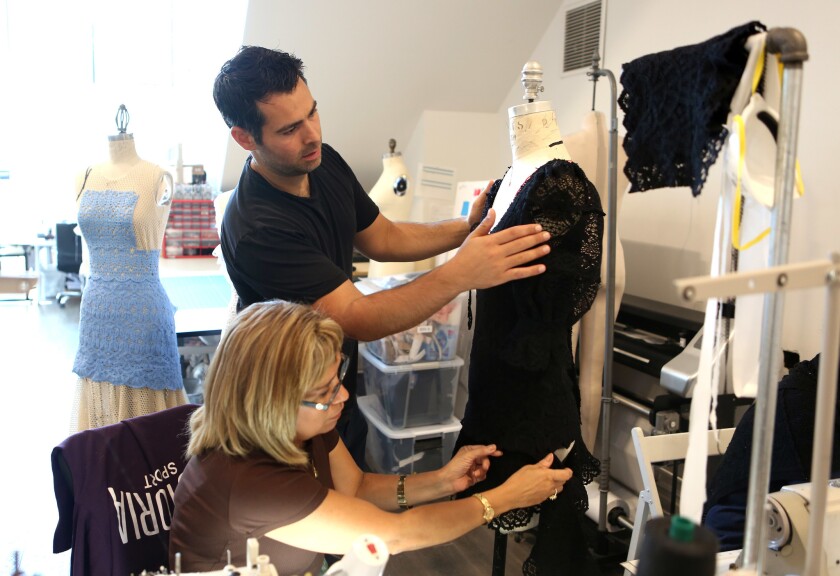 His earliest assist, he says, came from fashion publicist T.J. Allers, then at Paul Wilmot Communications, whose efforts got Simkhai's debut 2010 collection some crucial early fashion ink (a write-up on lifestyle website glam.com). The couple started dating in 2015, the same year Simkhai was named a winner of the CFDA/Vogue Fashion Fund award (along with Brother Vellies' designer Aurora James and Gypsy Sport's Rio Uribe).
The designer and Allers, who now heads up communications for Simkhai's company, tied the knot in the Hamptons in New York in June 2017. In June of this year, in the throes of relocating both their personal and business lives to Los Angeles (they're currently in the midst of remodeling a recently purchased Laurel Canyon home), they became the proud parents of twins (a boy named Eliot and a girl named River).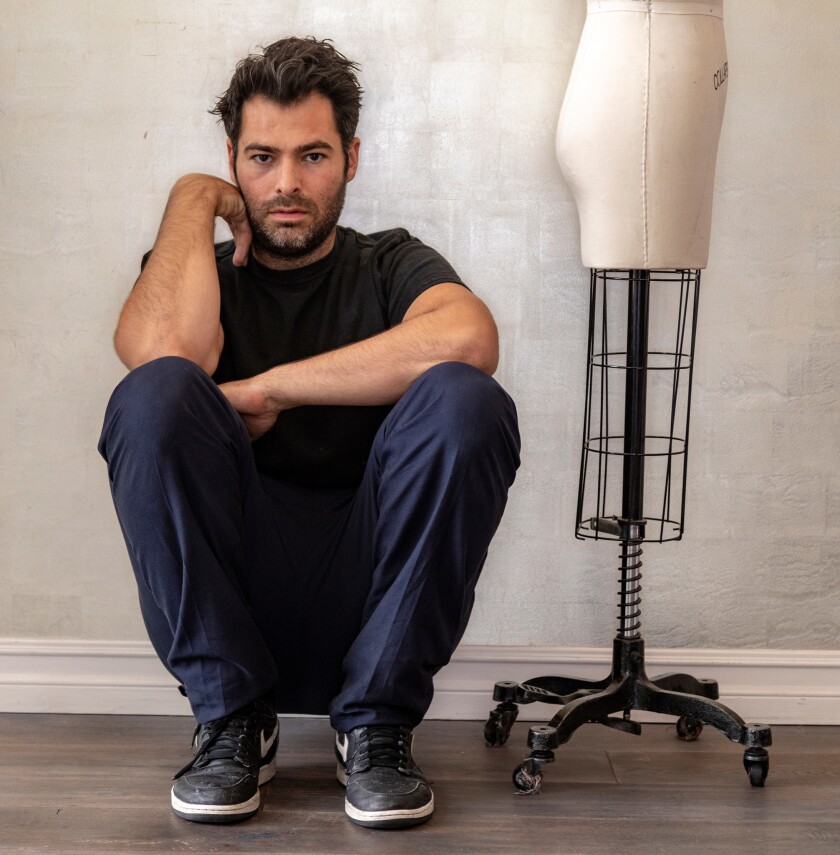 "Even in high school, I wanted to move to L.A.," Simkhai says about the draw of Southern California. "I've always felt a wave of energy and excitement coming here. … I get reenergized by the sun and the weather. … It's so inspiring to actually wake up and know it's going to be a beautiful day and that the sun is bound to come out at some point." Simkhai says, so far, there's only been one tiny adjustment in basing his business in Los Angeles. "We manufacture a lot of our fabrics in Italy and a lot of our laces in France, so with the time difference, you [end up] losing a day with every e-mail you send as opposed to New York, where it's just a matter of three or four hours."
Jonathan Simkhai president April Henning, who declined to share annual sales for the privately held company (she'll only say revenue has tripled over the last three years), says the timing was right for the company to switch coasts — and bring a staff of 30 along for the ride.
"Yes, from a business standpoint, it felt like this was the big pipe dream," she says, "but it also felt like if we don't do it now, it will never happen because as the company grows its roots get deeper, and it just gets more complicated. … We show in Paris. We show in New York. We show in California. We produce all over the world, and with everything we do, we're operating in [just about] every time zone, so why can't we locate the hub of our business here? Why can't we be a Los Angeles brand?"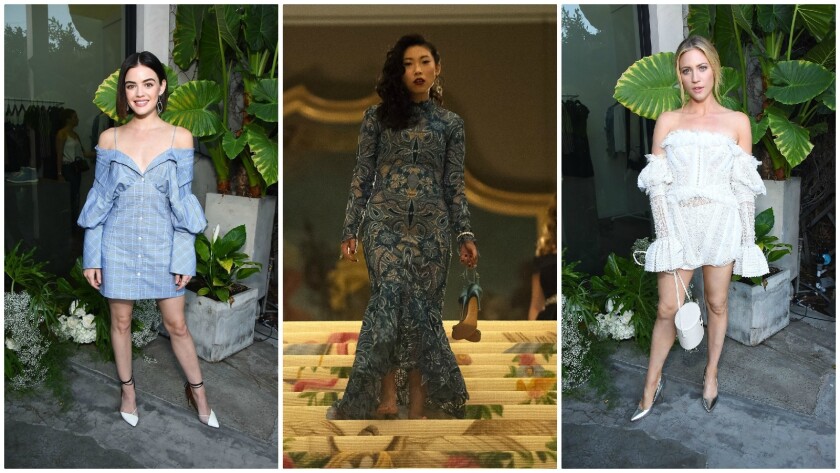 What Simkhai and company lose in proximity to the fabric mills of Europe, they gain tenfold in their proximity to the Hollywood dream factory. The new store, which has a dedicated VIP area, has already hosted events for celebrity stylists (including a Taco Tuesday party on the back patio), and the July 25 official grand opening bash saw stylists and starlets alike dropping by to pay their respects: Tara Swennen, Jessica Paster and Petra Flannery, among those in the former category, and Lucy Hale, Brittany Snow, Georgie Flores and Rumer Willis in the latter.
The laundry list of stars who've stepped out in a Jonathan Simkhai confection is more impressive than that and includes Rachel McAdams, Alicia Vikander, Gigi Hadid and Awkwafina, the last of whom appeared on screen in this summer's "Ocean's 8" in one of the designer's over-embroidered gowns.
With an atelier on-site and the designer literally in the house, it's a safe bet that Jonathan Simkhai's increased Southern California presence will, in fairly short order, extend to a Hollywood red carpet near you.
Jonathan Simkhai, 653 N. La Cienega Blvd., West Hollywood, open from 10 a.m. to 6 p.m. Monday through Saturday and from noon to 5 p.m. Sunday.
For more musings on all things fashion and style, follow me at @ARTschorn.
---