Getting red-carpet ready for the ESPYs with IndyCar champion and fashion lover Josef Newgarden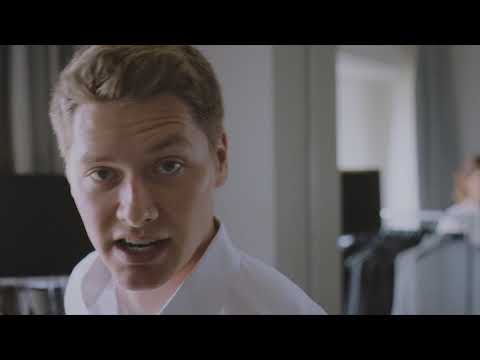 Here's how IndyCar champion Josef Newgarden prepared his red-carpet look for the 2018 ESPY Awards with the help of stylist Alison Kahn Geiger.
When he's not driving his race car in three layers of fireproof gear, reigning IndyCar champion Josef Newgarden is probably working on his upper-body strength while wearing Lululemon shorts. So wearing a tux should feel like a treat.
Newgarden, who's nominated for best driver at the 2018 ESPY Awards, will wear just that at the Microsoft Theater in downtown Los Angeles on Wednesday night. That's because he met with stylist Alison Kahn Geiger Tuesday morning to nail the perfect red-carpet look.
They gathered with two IndyCar representatives and Ashley Welch, Newgarden's girlfriend and his official outfit approver, in a room at the Four Seasons Hotel Los Angeles at Beverly Hills. Their sartorial race? To decide on the perfect tux and get it tailored for Newgarden in 24 hours.
Kahn Geiger, who had been texting Newgarden in the weeks before the fitting, brought eight tuxedos, six pairs of shoes, a dozen pocket squares and three pairs of $6,000 cuff links.
They found the winner on the first try after Newgarden thumbed through Kahn Geiger's selections and quickly found a navy blue, pin-dot jacket with a black shawl collar from Santa Monica-based the Black Tux.
"This was your first choice?" Newgarden asked Kahn Geiger as he put on the jacket. "I'm with you."
As Newgarden checked himself out in the mirror, Kahn Geiger pinned the black pants he had tried on, giving them a tapered look. "I think it's kind of cool," he said.
"It's not 'kind of,' " Welch said of Newgarden's look. "It's so good."
Newgarden, 27, is one of the youngest drivers to win an IndyCar championship. He spends March through September racing in the U.S. and Toronto for Team Penske and the rest of the year training and going to sports conferences.
When he's not focused on racing, he also happens to like fashion. Newgarden has been on the cover of Image & Style Magazine, in a six-page spread in Indianapolis-based Pattern magazine and a model in an Indy 500 fashion show hosted by GQ in 2016. However, the ESPY Awards is his most high-profile event yet, and it's why he worked with Kahn Geiger on his look.
"It's all about him feeling comfortable on the red carpet," Kahn Geiger said. "It's a combination of having a conversation with Josef about what he envisions and then also suggesting what I think is perfect for the red carpet, because I don't want him to feel out of place."
The pants Newgarden tried on would have to be taken in slightly to suit his preference for a slim fit. They were lucky the tailoring would be simple. Usually Kahn Geiger styles clients at least a week before a big event with two separate fittings.
"When you're a 40-inch regular and a 32-inch [waist], you basically look good in everything," Kahn Geiger said.
However, Newgarden said it's sometimes hard to find shirts that fit his neck. He has built extra muscle there to resist the head-slamming gravitational force on the racetrack. For his ESPYs look, Kahn Geiger suggested that Newgarden go without a tie, which would modernize the tuxedo and also solve the neck-size challenge.
The two also agreed instantly on the shoes: navy-blue velvet loafers from Magnanni but without socks. They completed the look with cuff links — white diamonds set in smaller black diamonds — from Jason of Beverly Hills and a white linen pocket square with black polka dots from Armstrong & Wilson.
"This is so sharp, Josef," Kahn Geiger said, instructing Newgarden to pose so the cuff links would dazzle in red-carpet photos.
Newgarden, whose go-to brands are Theory and Hugo Boss and who looks to James Bond for fashion inspiration, said his love for crisp, classic clothing probably stems from his attention to detail as a driver.
"Everything we do has to be so precise and so perfect that I think that's almost how we view the way we dress, too," Newgarden said, referring to the quick decisions he has to make during races. "You want to be very on point."
Newgarden said he's happy to have a chance to wear a tux and take a break from the stress of driving. He'll be back on the track July 29 in Ohio.
"I was a little apprehensive on the no-socks deal, but I think it looks good. I also like the no tie," Newgarden said, handing the clothes back to Kahn Geiger.
"I didn't want it to seem like you're trying too hard since it's your first ESPYs," Kahn Geiger said.
The 2018 ESPY Awards air at 8:00 Pacific tonight on ABC.