Traffic snarled outside the Revolve Social Club on Melrose Avenue in Los Angeles on a Thursday night late last month as a phalanx of paparazzi packed the curb and a bodyguard shielded the entrance to the online retailer's showroom.
Inside, the scene unfolded with all the conventional L.A. fashion scene tropes: a DJ spun tunes on the rooftop, a bartender served craft cocktails, caterers proffered minuscule canapés and hordes of influencers lined the walls while pouting, posing and content-capturing their way through the evening.
However, in a quiet enclave on Revolve's second floor, model Kaia Gerber, daughter of Cindy Crawford and Rande Gerber, sat, demure and poised, politely answering questions about her first fashion venture, which probably won't be her last.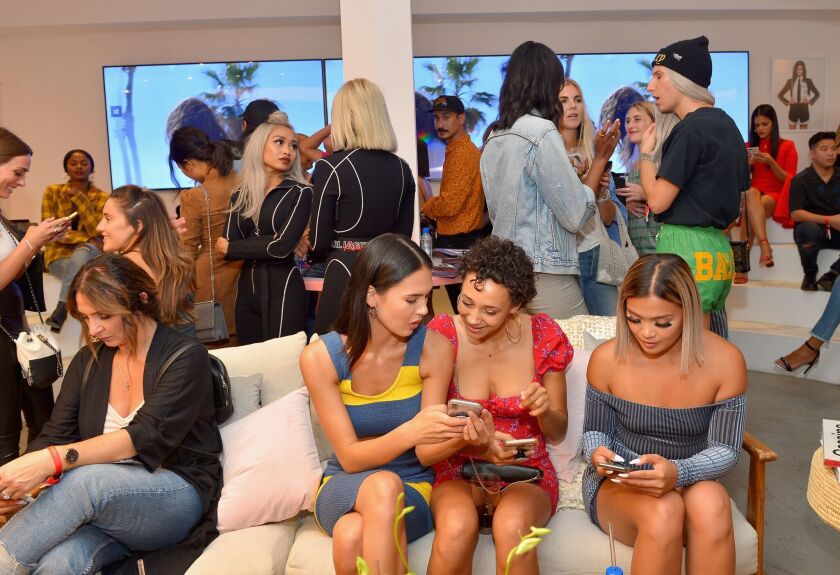 "Hi, I'm Kaia," the willowy, 5-foot-9, now-17-year-old girl said, extending her hand. (Her likeness to her supermodel mother was more striking in person.) Next to her was a stuffed pink and fluffyplush cat.
"That's my spirit animal," she said with a smile.
Gerber had spent a couple of hours that day answering questions about Karl Lagerfeld X Kaia, a new fashion collaboration that was launched exclusively at Revolve in late August. Available at karl.com and revolve.com, the collection consists of 53 pieces — among them are a faux fur coat, a metallic leather skirt, a belt bag, a tuxedo jacket, a jersey catsuit and a leather biker jacket — which, Gerber said, are a synthesis of her California style and Lagerfeld's consummately European one.
Prices for items in the collection, which also include footwear, sunglasses and jewelry, start at $35 for a phone case and top out at $1,045 for the biker jacket.
The fashion supremo and the ingenue model met for the first time last September during a fitting for Fendi, for which Lagerfeld has long been the creative director. (The German-born designer has the same position at French brand Chanel along with overseeing his self-named brand.) At the time, Gerber was on the verge of her breakout on the international catwalk scene — with her lithe, youthful glamazon silhouette considered a modern and fresh addition to the runways as well as a throwback to those fashion followers who remember her mother's sway on the catwalks decades ago.
"Karl reached out to me [about working on a collection together], but I pushed it to the back of my head," she said. "I was like, 'There's no way this would actually happen. It's so sweet they're thinking of me. But there's just no way.'"
Lagerfeld and his team persevered. They "had a meeting," said Gerber, "and I realized how serious they were. We continued, and it kept getting more and more real. And now to see it all in front of me is amazing."
Some of the pieces from the collection were suspended on a rack near Gerber, while others were set up downstairs on the main floor at Revolve, where guests held up slick, shiny leggings or duplicates of Gerber's own evening ensemble — a belly-baring cropped jacket and button-front mini skirt.
"We wanted to combine my aesthetic with Karl's aesthetic," Gerber said. "I grew up in California and have a very laid back, tomboy style. Karl is Parisian chic. Yet, both of us had the same idea, which was to approach clothes in an interesting way. So, it was like a joining of our two worlds."
The process, she said, was a rich, educational one. "As a model, you get there [to a fashion show], and the clothes are done. And you just have to put them on," she said. "But to see what goes into making these clothes, you have a new appreciation for what designers go through."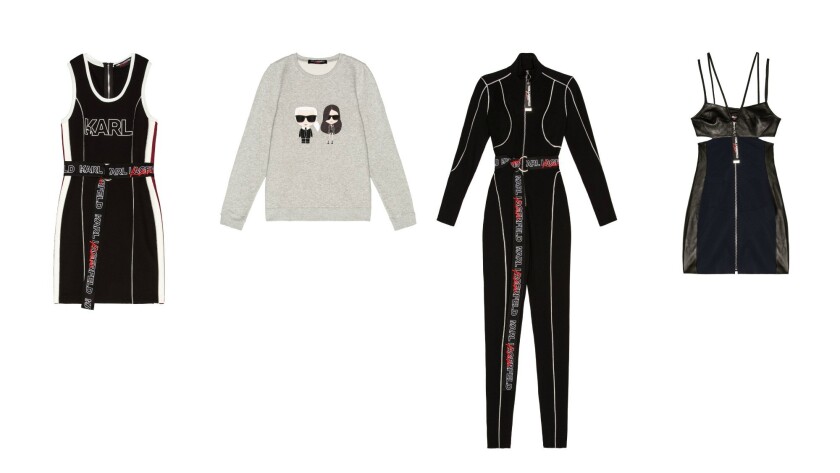 The model described the offering as having something for everyone, although, the collection appears to be directed toward the wealthy and young "it girl" demographic.
That fact aside, Gerber and Lagerfeld appear to have a big hit on their hands, given the gushing buzz about the collection — and, of course, the selfies being taken — throughout the showroom. "I couldn't have dreamed of a better outcome," Gerber said. "I'm just taking this step by step. I'm in awe that this is happening."
---