Your 15 essential L.A. looks for fall
Los Angeles is in the midst of a fashion renaissance.
There is so much good design happening here that we decided to dedicate this Essentials column to homegrown fall wardrobe pieces, with looks such as Mason's crepe cape jacket and Building Block's cylinder duffel bag, which capture fall's rock 'n' roll-inspired polish, and Clover Canyon's relaxed maxi skirt and Jenni Kayne's croc-embossed moccasin boots, which tap into the season's bohemian rhapsody.
For the Record
Aug. 14, 10:40 a.m.: An earlier version of this post misspelled Jenni Kayne's last name as Kane. It also referred to a Switch Boutique in Bel-Air Hills. Switch has boutiques in Bel-Air and Beverly Hills.
There are new players in the luxury space, including Zaid Affas, who graduated from the prestigious Central Saint Martins college of art and design in London and had stints at Ports 1961 and Ralph Lauren before launching his namesake collection of glam going-out wear last year. Meanwhile, L.A. continues to be a leader in producing the kind of advanced contemporary collections that are increasingly taking over racks in stores and our closets. Founded in 2009, stylist-turned-designer Andrea Lieberman's slick, sophisticated A.L.C. label is on a roll, having recently expanded into handbags, and the Great, the latest creation of Emily Current and Meritt Elliott, is a dressed-up version of the Americana aesthetic they pioneered at Current/Elliott.
Of course, L.A. is still the destination for the world's greatest denim. For fall, we love Citizens of Humanity's chic Olivia overalls and Mother's retro patchwork jeans with frayed ankles. And L.A. has always been known for T-shirts, only now they're superluxe cashmere, thanks to Greg Chait of Elder Statesman.
Earthy-looking extras? Kelly Wearstler's hammered collar, Kendall Conrad's brass hoop earrings, Jerome Rousseau's beaded pumps and Newbark's shearling slides fit the mood. And if we need another reminder of how great we've got it, consider: In L.A., fuzzy fall sandals can actually pass for practical footwear.
Here are 13 homegrown fall essentials:
Jerome Rousseau beaded Zola mini block-heel pump in nappa leather or suede (multi-colored beading) $645 at jeromecrousseau.com
Citizens of Humanity denim zip-front Olivia overall, $328 at citizensofhumanity.com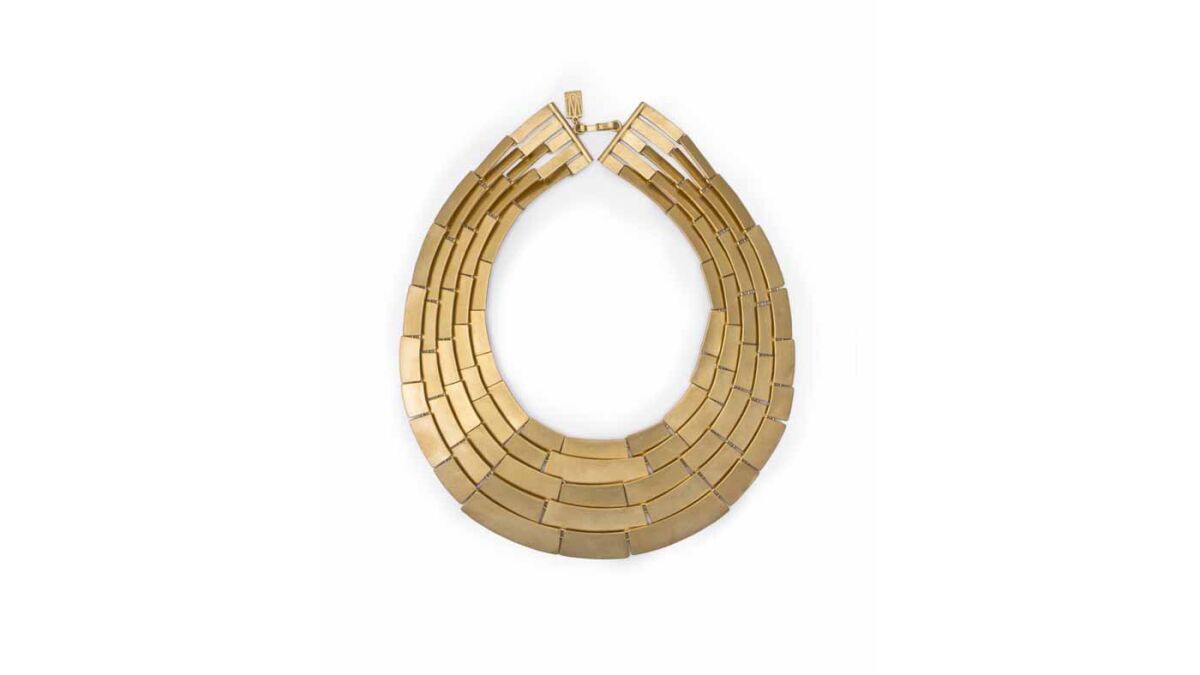 Kelly Wearstler 22-karat burnished gold Malak necklace, $795 at Kelly Wearstler in West Hollywood, (323) 895-7880, kellywearstler.com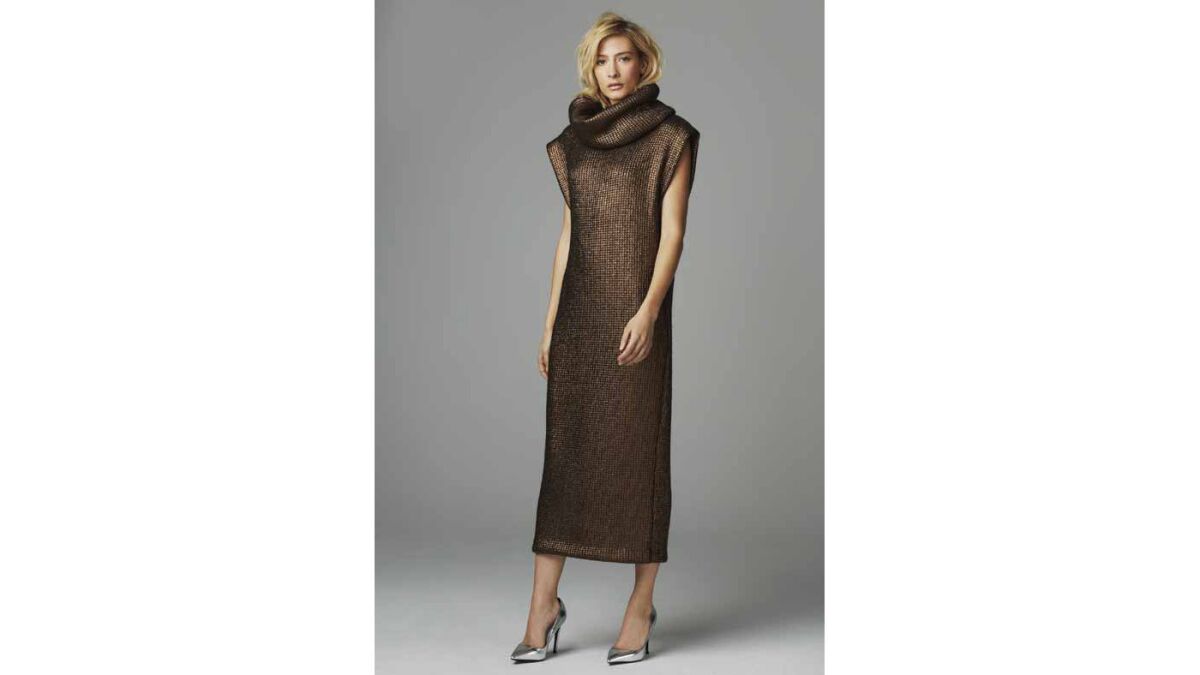 Zaid Affas wool-blend metallic knit Curpum dress, $1,790 by special order at Just One Eye, (323) 969-9129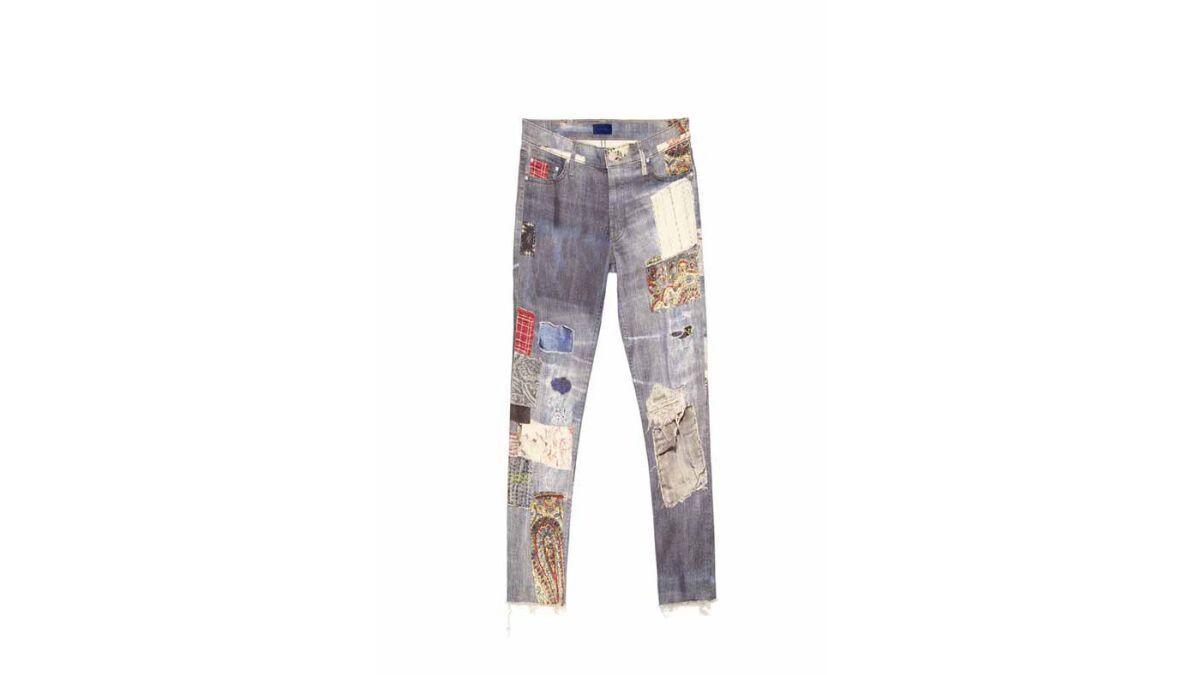 MOTHER printed patchwork jeans with frayed ankles, $275 at motherdenim.com
A.L.C. shearling Stager jacket with leather trim, $1595 at Neiman Marcus in Beverly Hills (310) 550-5900, neimanmarcus.com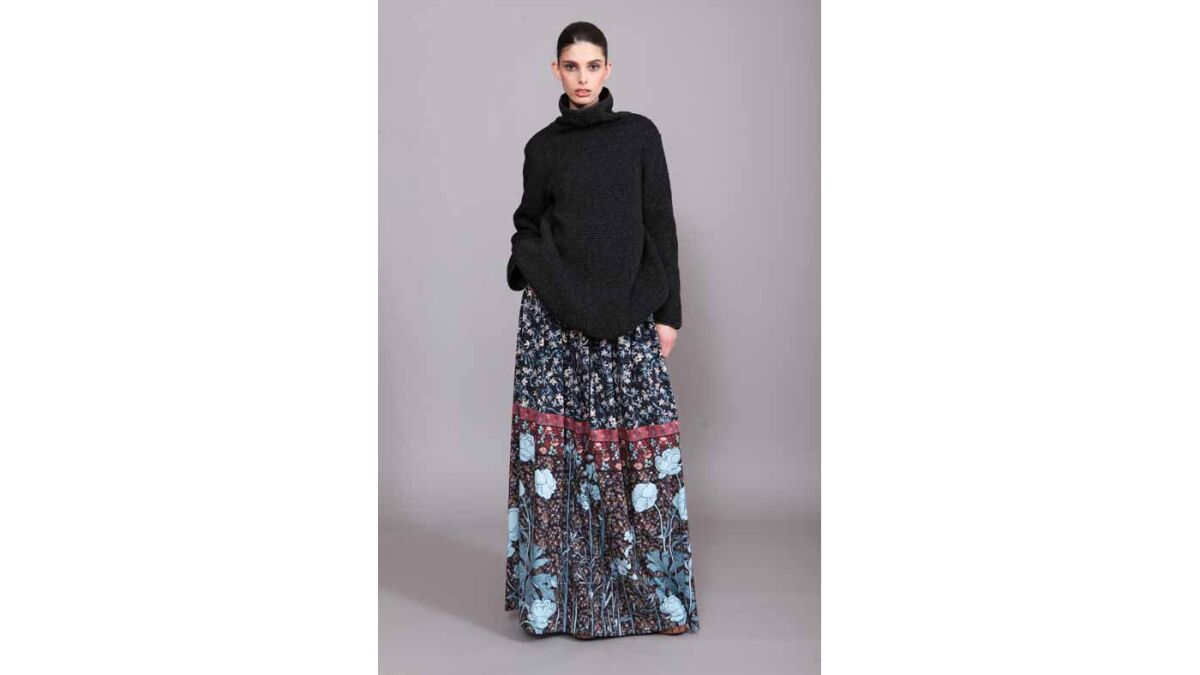 Clover Canyon knit sweater-knit sweatshirt, $297, and Bohemian Rhapsody skirt, $242, at clovercanyon.com
Mason by Michelle Mason cape jacket in viscose stretch suiting, $690 at Switch boutiques in Bel-Air and Beverly Hills, (424) 832-3184, switchboutique.com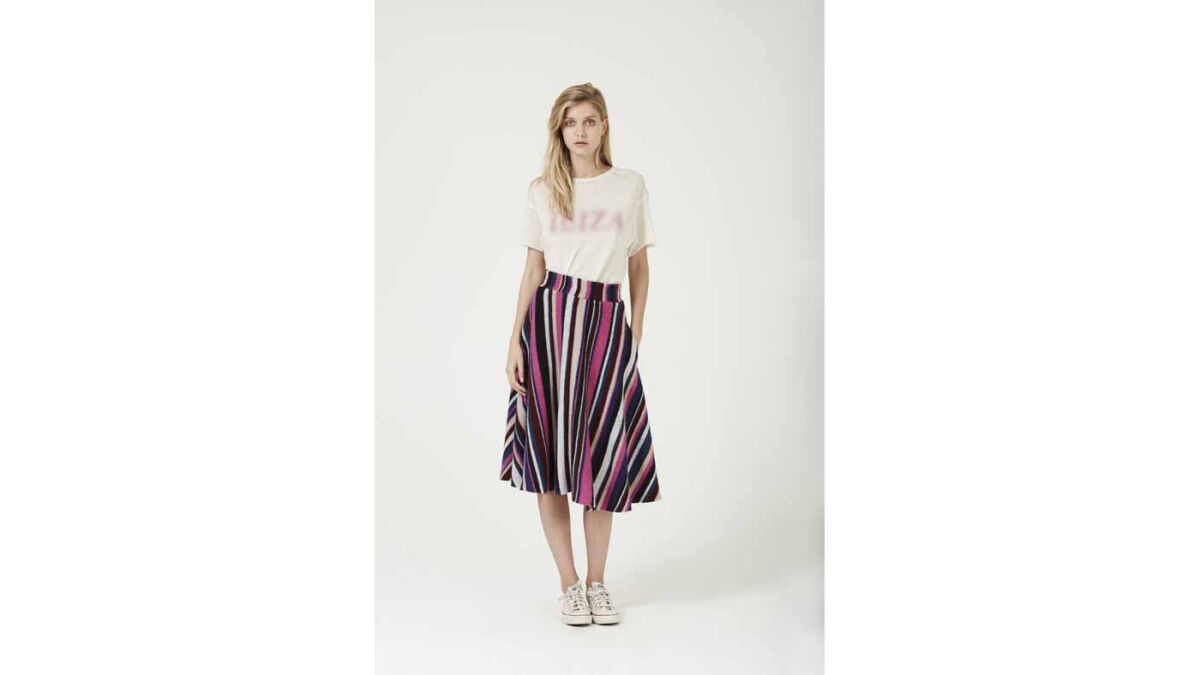 The Elder Statesman printed cashmere and silk Favorite T-shirt, $540, and cashmere Circle skirt, $1095 at The Elder Statesman in West Hollywood, (424) 288-4221, elder-statesman.com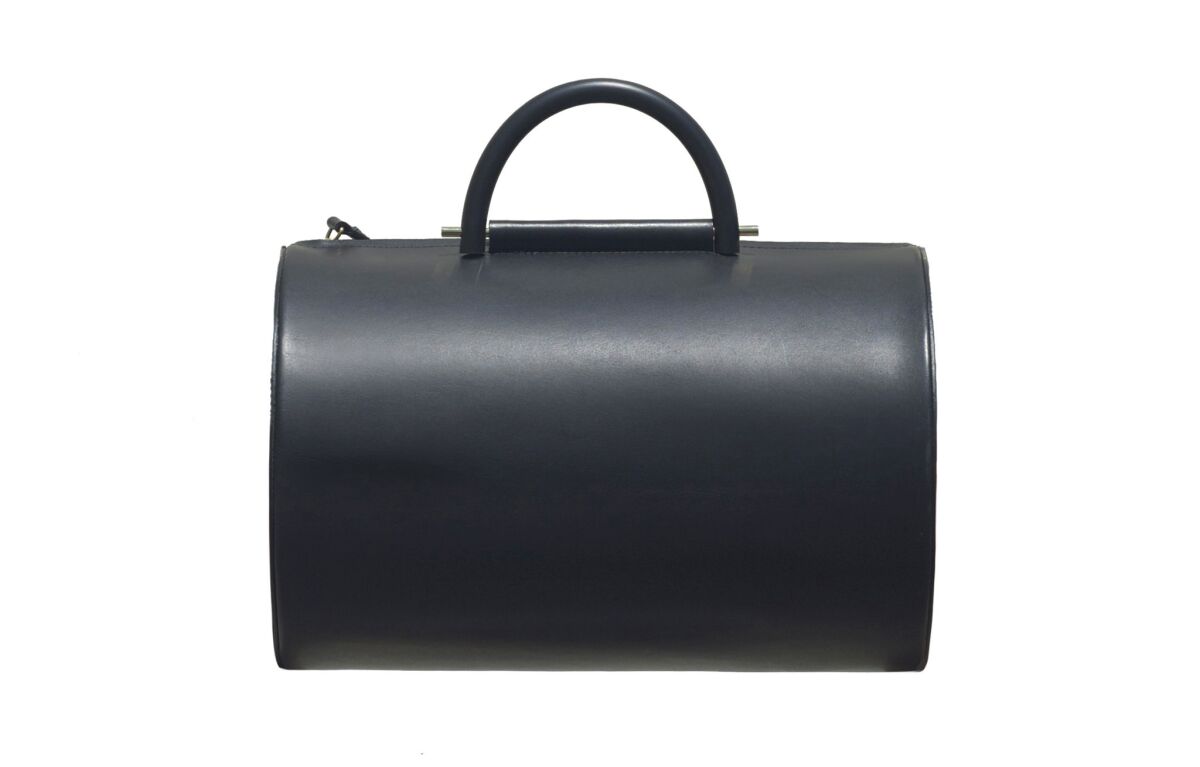 Building Block leather Cylinder duffel bag with rubber handles and brass hardware, $795 at Building Block in downtown Los Angeles, (323) 803-3420, building--block.com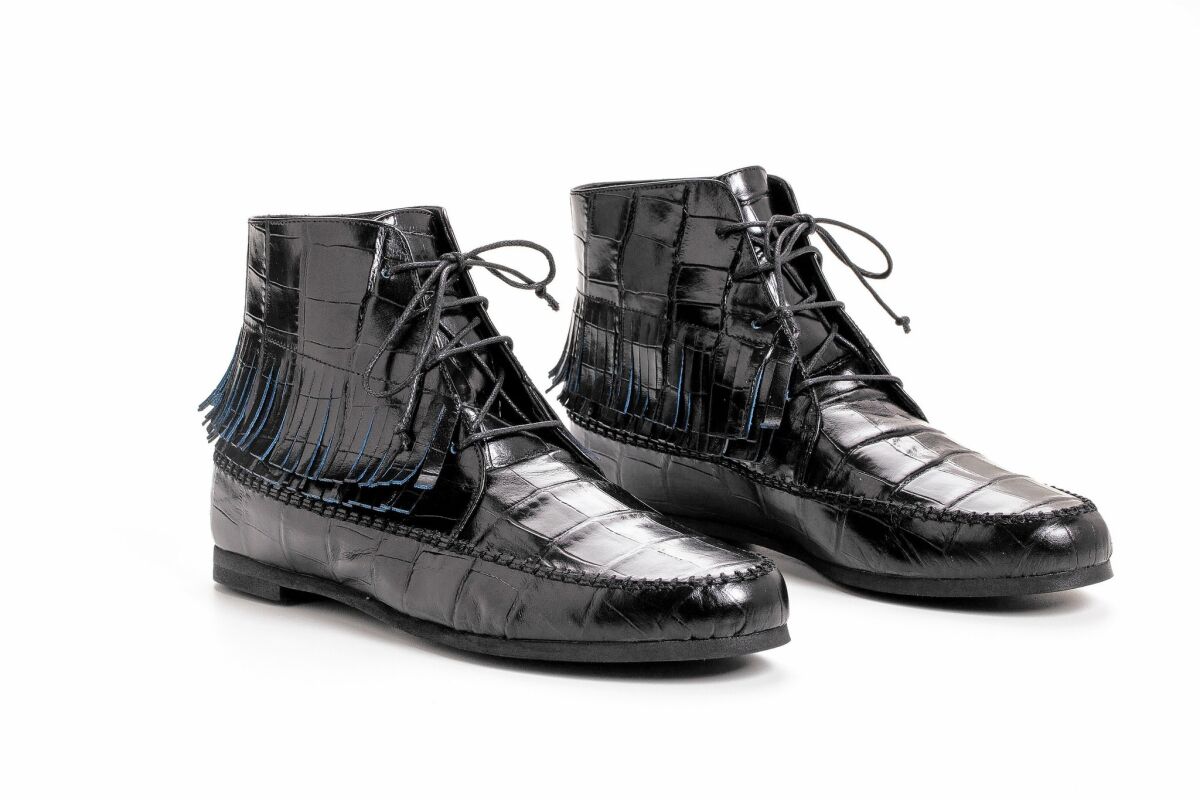 Jenni Kayne croc-embossed patent leather moccasin, $615 at Jenni Kayne in Beverly Hills, (310) 860-0123, JenniKayne.com
Kendall Conrad pounded Cresta hoop earrings in solid brass with sterling silver posts, $230 at Kendall Conrad stores in Venice and Brentwood, kendallconraddesign.com
Newbark shearling and leather Yasmin slide $499 at newbark.com and justoneeye.com
Gabriela Artigas 14-karat yellow gold and Japanese pearl single hook earring, $275 at Gabriela Artigas, (310) 360-0796, gabrielaartigas.com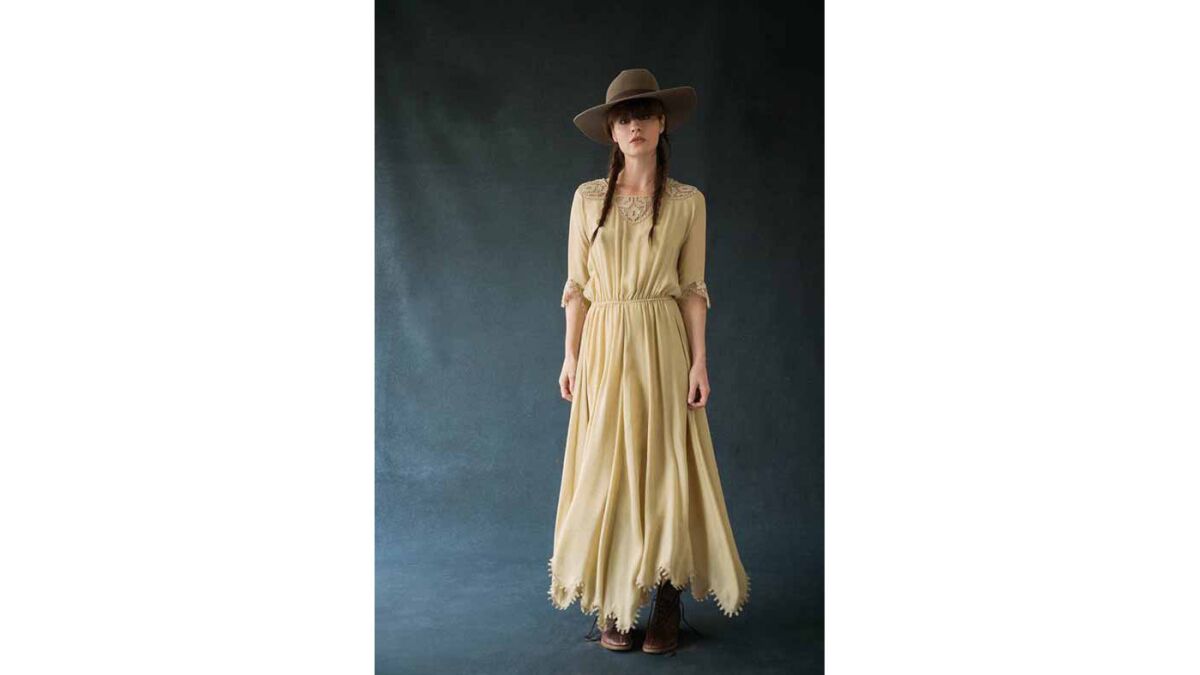 The Great's Victorian dress with lace insets, $895 at thisisthegreat.com
ALSO:
Pharrell Williams, Pusha T on sneakers and 'inspiring the youth'
Katy Perry hopes her Mad Potion fragrance will help you time-travel
Madonna's upcoming Rebel Heart tour to include costumes by Gucci, Jeremy Scott
---