Who needs L.A. fashion week? Not these designers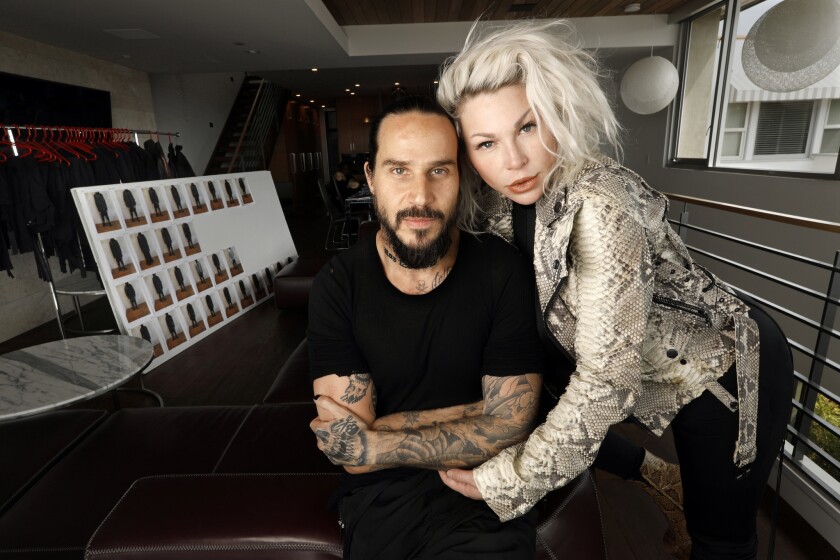 The fashion designer Zoe Latta seeks inspiration at Los Angeles gas stations, where people from all walks of life emerge from their cars. "I've seen some obscene looks in L.A. gas stations, like six-inch stilettos with sweat pants," the co-designer of Eckhaus Latta says with an enthusiasm that makes a compliment of "obscene."
Eckhaus Latta is known for quirky luxe knitwear that's made in L.A., the city primarily responsible for the label's anything-goes attitude, Latta says. She moved five years ago from New York. Her design partner Mike Eckhaus remained in New York, where the label shows on that city's runways, most recently in Brooklyn's Bushwick neighborhood. Their sales showroom is in Paris.

For the record:
4:00 PM, Mar. 22, 2019An earlier version of this story said the Los Angeles Fashion Week events at Petersen would start March 25. They are being held March 22 to 24.
That multi-city approach is common to a growing number of labels that are created in and around Los Angeles. Designed in L.A. by people who have largely arrived from elsewhere, a cornucopia of brands are broadening L.A.'s fashion ethos from its famous focus on denim and surf wear into something akin to the eclectic styles that tribes of Angelenos wear in their daily lives.
READ MORE: Meet the power players shaping L.A.'s fashion future »
L.A'.s stature is rising with many of these new entrants — the latest of whom is the artist Sterling Ruby, who last week announced his own new ready to wear line, S.R. Studio. LA. CA. Also this week, the Council of Fashion Designers of America announced that its short list of nominees for Menswear Designer of the Year includes Mike Amiri of the L.A. label Amiri, whose backwoods-rough look has an air of Carhartt-meets-Saint-Laurent.
Ask someone to describe what Los Angeles style is all about, and, these days, there's no telling what they'll say. It might be more sensible to describe style by the neighborhoods that define L.A.'s subculture: Brentwood conjures daytime yoga looks, while Venice Beach is the epitome of the original surf and denim look. High-powered Hollywood agents at CAA strut about in Tom Ford suits, while Beverly Hills brides wear Monique Lhuillier gowns. Skate culture kids don Fear of God or Palm Angels on Fairfax Avenue, while art enthusiasts wander Little Tokyo in Jeremy Scott, and starlets on red carpets pose in Rodarte gowns that were designed in Pasadena and sewn near downtown L.A.
If L.A. owns any aspect of fashion, it's a casual, comfort-driven approach to even the most formal occasions and an attempt to look careless even when great care is involved.
"Cocktail attire and black tie invite a totally different interpretation here; black tie may not even require a tie at all," says Gretchen Pace, general manager of Neiman Marcus in Beverly Hills. "Denim goes everywhere and with everything. Even when there is considerable effort involved, L.A. style aspires to appear chic, effortless and unexpected."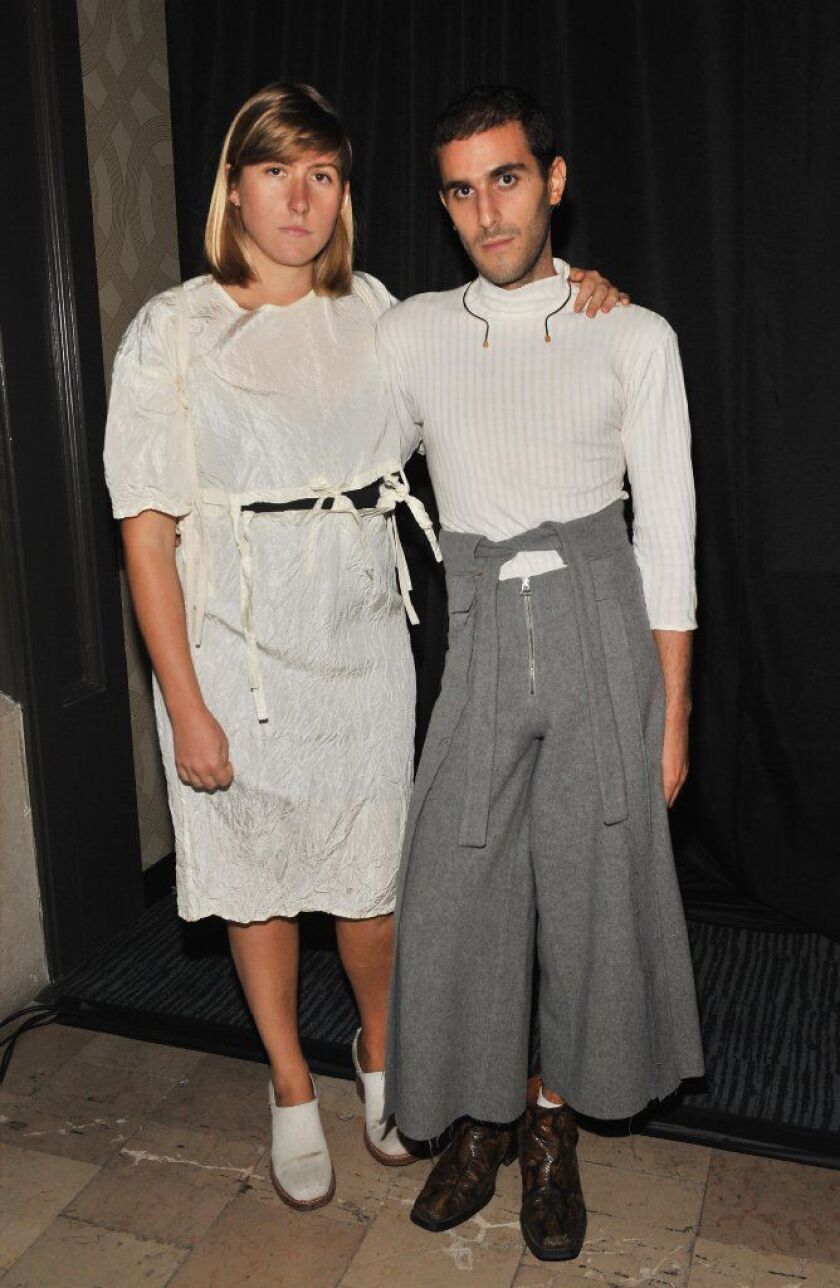 Fueled by the city's reemergence as a center of contemporary art, music, and food, the L.A. fashion scene is presenting an alternative to New York — albeit lacking the runways that have traditionally driven the industry there. For years, competing groups have tried to jumpstart versions of an L.A. fashion week without great success. This season, Arthur Chipman, an independent show producer who formerly organized fashion shows in Toronto and Vancouver, will have several evenings of fall 2019 L.A. Fashion Week shows beginning Friday at the Petersen Automotive Museum — a location that Chipman feels is just right in a city known for its love of the automobile.
"When I first got here, everyone was calling themselves Los Angeles Fashion Week," says Chipman, who began producing the shows three years ago. He acquired the legal trademark for the week, but — highlighting the challenges of establishing a fashion week in this multifarious city — he hasn't managed to buy the domain LAFW.com. That belongs to the Los Angeles Food and Wine Festival, a five-day epicurean showcase that takes place in August.
Chipman is attempting to harness the power of the social-media influencers and Hollywood stylists who have been raising L.A.'s stature on the world fashion map. "Stylists have more power here than the major department stores," the producer says. "I don't like to compare fashion weeks because I think that's a little tacky, but I really want L.A. Fashion Week to be L.A.-esque."
Yet only about half the brands showing actually hail from L.A.; the rest are seeking exposure to the city's influential stylists and residents. Naeem Khan, from New York, will be the headliner.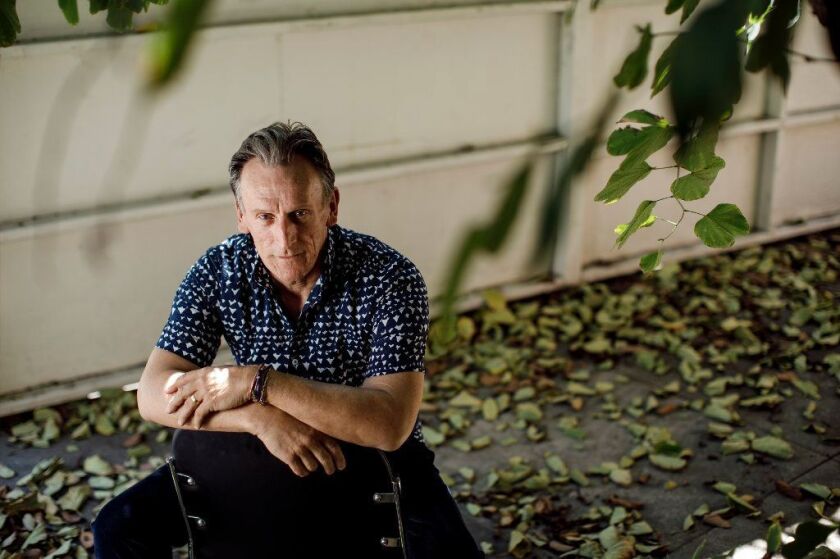 Los Angeles-based fashion designers mostly don't feel they need a catwalk in the city that inspires their form of art. If they show on runways at all — and many don't — they mainly choose New York, Paris or Milan. Those are crowded, well-organized fashion weeks that better capture the attention of media and retailers from around the globe.
Ben Taverniti showed his fall 2019 collection for Unravel Project — a streetwear label that applies many of the fabric processes of the denim industry to unusual fabrics such as silks and nylon — at the Centre Pompidou in Paris in February. The collection was a cross section of L.A. street style and Parisian street chic — a beige trench coat with a wide vertical yellow plaid stripe worn with cropped snake-print trousers, for instance. The label owes its lightning growth to Los Angeles, where Taverniti and his wife, Joyce Bonelli Taverniti — a former makeup artist for the socially astute Kardashians — live and work.
"I'm French — I went to fashion school in Paris," Taverniti says. "I've had this L.A. dream since I was a kid." In Los Angeles, he discovered a relaxed, open-minded ethos that contrasted with the more rigid French rules to which he was accustomed. "Moving to L.A. was like breaking free," Taverniti says.
It was also a springboard to high-profile personalities that helped publicize his work, with the help of his extroverted wife and business partner. "I would just say to stylists, come by, have some wine. And I'd put a jacket on them. Then, they'd feel the garment," says Bonelli Taverniti, whose marketing instincts are sharp. "It was just like a machine that took off — a little too fast for us."
Steady work with the performing artists who surround them offers priceless exposure. "We're working with someone right now — it's a little early to say it …" Taverniti says.
"I'll say it," Bonelli Taverniti interjects: "Ariana Grande."
"Don't say it. No," says Taverniti.
A few days later, Grande appeared in a gathered tangerine skirt and matching boots by Unravel on her Sweetener world tour, in Albany, N.Y.
To help with the growth, Unravel took on a financial backer with the means to produce in Italy and for that Paris show. The backer, Milan-based New Guards Group, also backs Off-White and the L.A.-skater-based Palm Angels label. There are more European connections arising each year. An Italian fabric mill Taverniti has worked with now has a laundry laboratory in Los Angeles.
Taverniti had a tricky transition from L.A. production to the expert Italian factories that now manufacture his collection. In L.A., he had begun to break the rules of tailoring — stretching out the necks of garments, making one sleeve longer than the other. He sent his painstakingly made patterns to Milan to be turned into sample garments. But the samples came back with sleeves measured evenly, necks shortened. "They thought I made a mistake," he says.
Peter Cohen, a designer who arrived in L.A. in 1983 from his native South Africa — after a two-year stint in New York — takes an opposite approach: He dispenses with runways entirely. "It's a wonderful fiction, that world. It's beautiful," he says, but designing from a runway perspective would be distracting to his minimal approach. "Clothes for me are intimate objects, how they feel, how they breathe, how they fit," he says. "They reveal themselves over time. They're not about imposing impact — they work in people's lives."
California's "lenient" mien gave him the time to get established in the 1980s, Cohen says. "New York was either you made it in the first few collections or you were out."
"I think, in L.A., there's a tolerance that's a plus for me," he notes. His early androgynous collections drew raves from American Vogue and Harper's Bazaar. His first wholesale account was San Francisco's Wilkes Bashford. Today, Cohen's eponymous label is sold at independent stores around the world. His shop-in-shop at Dallas' Stanley Korshak sits opposite Brunello Cucinelli, and his collections are a fixture at Savannah in Santa Monica and A'maree's in Newport Beach. His wholesale showroom is in New York, and he sells in Paris to reach stores globally that don't buy in New York.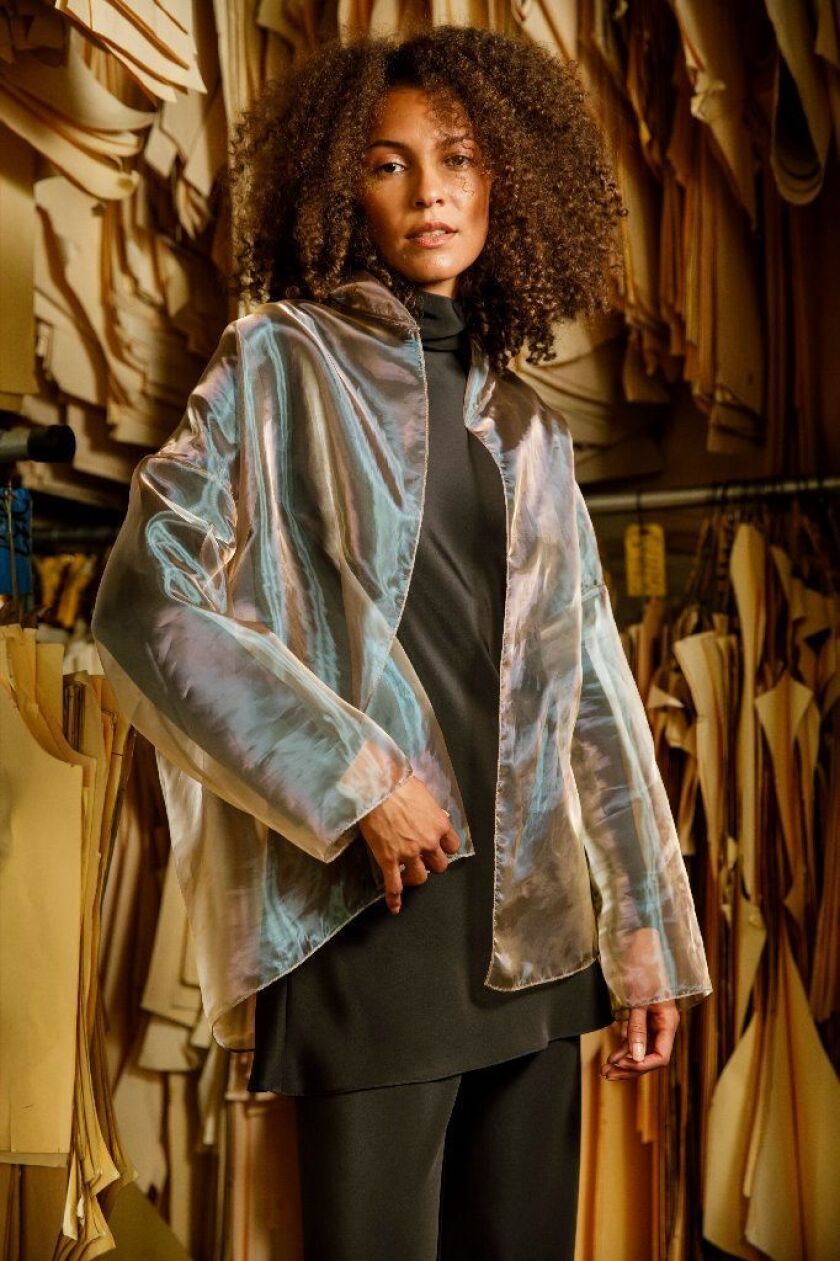 Los Angeles offers Cohen an advantage that he couldn't afford in the biggest fashion cities — his own factory, where 30 longtime employees produce his collections on Washington Boulevard near the Underground Museum. They represent a tiny fraction of the 97,000 apparel and textile workers in Southern California that reported income on W-2 tax forms, according to the California Fashion Assn., whose offices are in Los Angeles' downtown garment center on Flower Street. That's about twice the 47,000 in New York.
Having a dedicated factory close at hand is a luxury that few designers outside of Milan and Paris know. "I'm a very hands-on designer — it lets me make clothes in a way I know, which is not to send specs to some factory," Cohen says.
Even more hands on these days is Tracy Feith — a onetime favorite of Michelle Obama whose 20 years in New York saw him own six stores in New York and L.A. until the financial crisis forced him to shut down and retreat. He moved to Los Angeles nine years ago and took a gig leading design at Toms footwear, then went on to develop the L.A. brand Warm. When that contract was up, he sewed a pretty dress at home in Beachwood Canyon — a frothy short prairie-style dress with full sleeves — and posted it to his Instagram account. He received eight orders for the $795 dress in two hours.That was the birth of Feith Club, the label he designs from home — sewing his own samples — and manufactures in downtown L.A. He has no website, though he's thinking about working toward one, and sells almost entirely through Instagram direct messaging. (Customers come from as far away as Latvia.) "Occasionally, it'll progress to email," he says.
Feith Club's concept is "like an underground society," Feith says. Everything is made in limited editions, and while certain styles come back, they return in different fabrics and details. Prices range from $175 for a sweatshirt to $1,395 for some of the feminine dresses for which he is best known.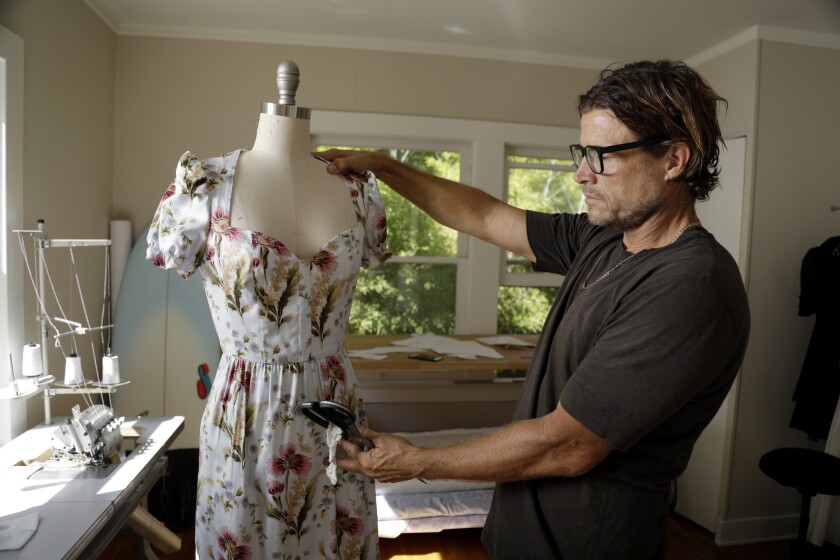 "When I was starting, if you were in America and wanted to be taken seriously in fashion, you couldn't live anywhere other than New York," Feith says. "Now a designer doesn't have to live in New York to be taken seriously."
Zoe Latta, of Eckhaus Latta, says she moved from New York to L.A. for better access to the knitwear factories that have become essential to the label. She quickly realized that living in the city was having an impact on her designs — seasonality seemed less important, for instance, and a sense of humor about clothes emerged.
There's that certain je ne sais quoi attitude that comes from a lot of good weather, an acceptance that a comfortable lifestyle is an admirable life goal, and the maker mentality that originally gave birth to Hollywood and has been drawing people ever since. L.A., after all, doesn't take itself so seriously.
"L.A. is camp," Latta says. "Not intentionally camp, but it is camp."
---