Meet the power players shaping L.A.'s fashion future
After the run of major fashion weeks in New York, London, Milan and Paris, L.A.'s twice-yearly slate of runway shows and presentations — loosely clustered around the market-week calendar — tends to suffer by comparison. However, the City of Angels has always had an A-list roster of influential folks to help define — and more important, export — Los Angeles style to the rest of the world. To be sure, it's an ever-changing list (exhibit A: our picks from a decade ago), but the style icons below have recently demonstrated — in their own way — the ability to capture, reflect, channel or otherwise leverage the slippery beast that is L.A. style and bolster Southern California's fashion bona fides to the world.
The muse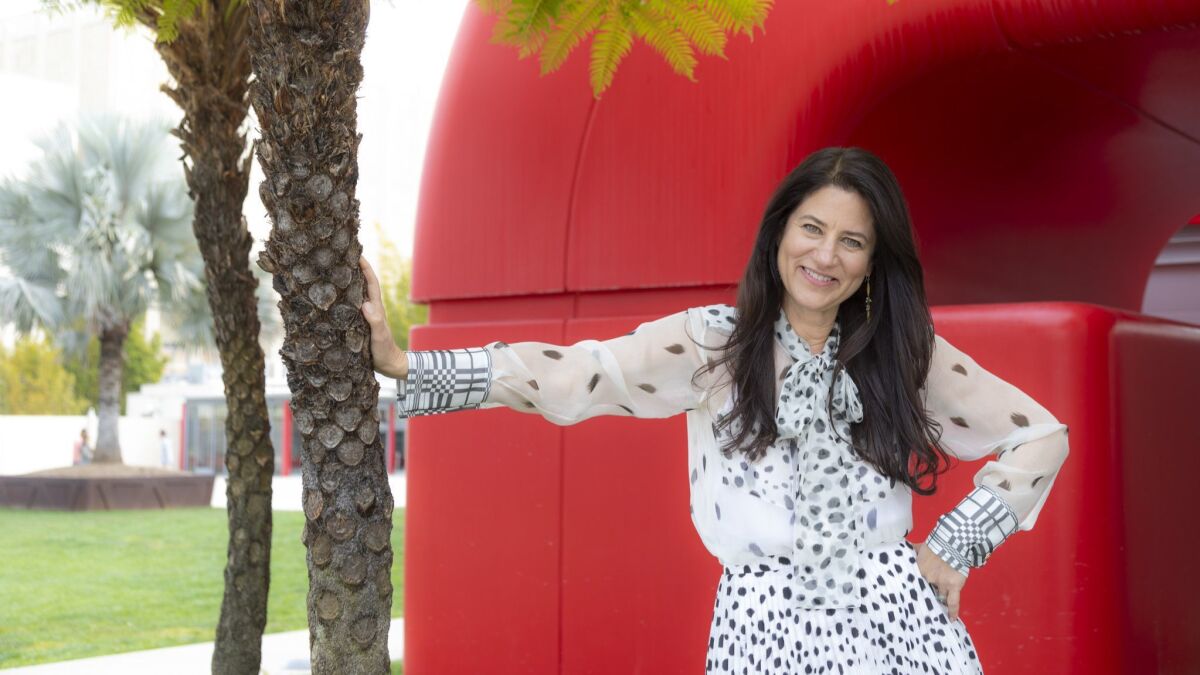 For the record:
2:20 p.m. March 22, 2019An earlier version of this story incorrectly identified one of stylist Ilaria Urbinati's collaborative partners. It is the Muay Thai-inspired brand Roots of Fight, not Roots of Flight.
Katherine Ross, whose fashion-focused background includes public relations and communications stints at Prada and LVMH, has worked to leverage L.A.-centric style on two fronts. Her longer-running project is the Wear LACMA program that taps local design talent to create limited-edition apparel and accessories inspired by pieces in the permanent holdings of the Los Angeles County Museum of Art, where Ross' husband, Michael Govan, has been the director since 2006. For seven years, the art-meets-fashion mash-up has featured creations from Kate and Laura Mulleavy of Rodarte, Libertine's Johnson Hartig, Lisa Eisner, Oliver Peoples, the Elder Statesman's Greg Chait and many more.
Her second — and more recent — effort was the early 2018 launch (with co-founder Angelique Soave) of re:la (as in "regarding Los Angeles"), a line of upscale T-shirts, sweatshirts, jackets and accessories that pays homage to Los Angeles by showcasing quotes from some of the cultural creatives who've made the city their home, including artist David Hockney ("California is always on my mind" is one of several featured quotes) and director Werner Herzog ("Things actually get done in Los Angeles. Look beyond the glitz and glamour of Hollywood and a wild excitement of intense dreams opens up; it has more horizons than any other place.")
The sustainable standouts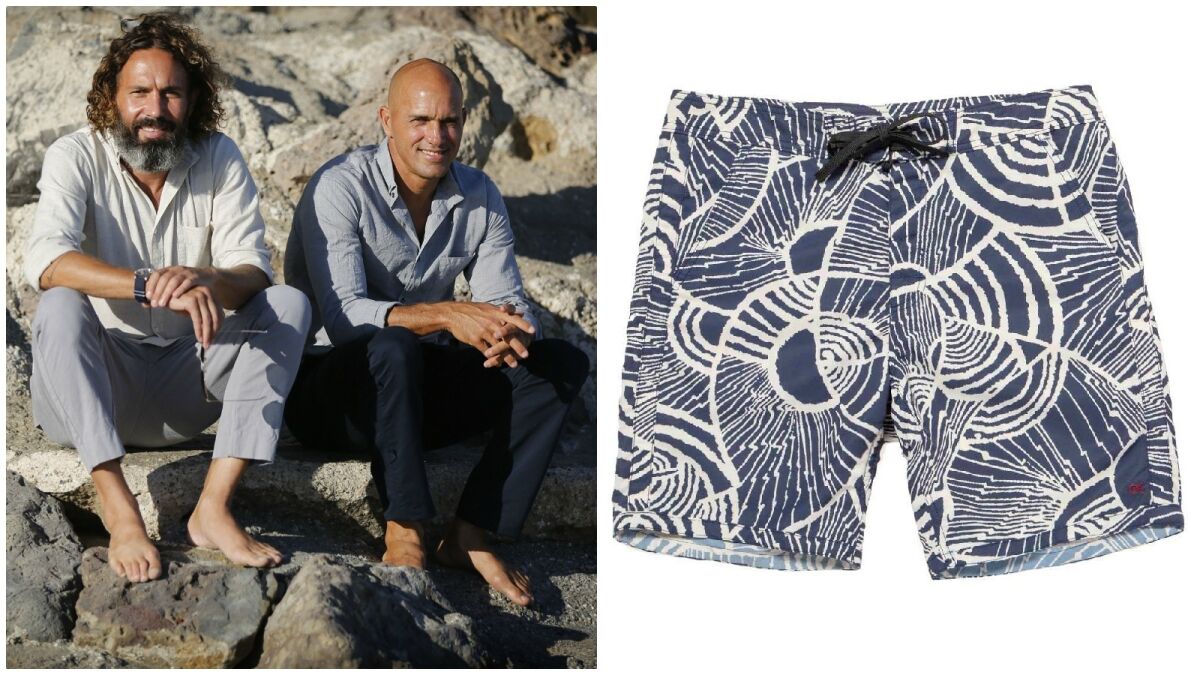 When world champion surfer Kelly Slater and creative director John Moore launched their Culver City-based Outerknown label in 2015, they vowed to build their surfing-inspired, eco-conscious menswear label slowly and transparently, determined to work out the kinks in the supply chain on the fly. Now, four years later, their sustainability-meets-style long game is paying off handsomely — and showing that it's not impossible to plot a planet-friendly path forward. Look for brand awareness to rise (hopefully faster than sea levels) this spring thanks to the addition of women's offerings (a 17-piece collection of tops, dresses and bottoms 100% made from organic, recycled and/or regenerated fibers) as well as a collaboration with Levi Strauss & Co. that blends cotton with rain-fed hemp to decrease the amount of irrigation water used.
However, 2019 may be the year Outerknown becomes best known as the label that helped Levi's close the recyclability loop. The partnership has rolled out a pair of $98 board shorts that, because they're 100% nylon (including eyelets and stitching), can be completely recycled.
The ambassador
Although Tom Ford isn't originally from L.A. — hardly a disqualification — the Texas-born fashion designer, screenwriter and director of two Oscar-nominated movies (2009's "A Single Man" and 2016's "Nocturnal Animals") is one of the rare high-profile, high-glamour designers living and working here. (In December 2016 he bought the estate of late socialite Betsy Bloomingdale; and the following year he moved his women's design headquarters to L.A.) Throw in that he dresses James Bond for the big screen, that his February 2015 runway show here single-handedly touched off rumors of a reinvigorated L.A. Fashion Week and Tuesday's announcement that he's succeeding Diane von Furstenberg as chairman of the New York-based Council of Fashion Designers of America, and you'd have to look long and hard to find a better ambassador of L.A. luxe.
The mini-influencer
Who needs L.A. fashion week? Not these designers »
Sure, Barbara Millicent Roberts, better known as Barbie, may have first dipped her super-teeny toes into our collective consciousness at the New York Toy Fair 60 years ago this month, but she had a (small) hand in representing SoCal style to the rest of the world long before the sisters Hilton, Kardashian or Hadid were on the scene. That's thanks to her Malibu Dreamhouse and myriad fashion collaborations over the years that helped put L.A.-born and based brands and designers like Juicy Couture, Rodarte, Trina Turk, Paul Frank, Tarina Tarantino and legendary costume designer Bob Mackie in front of future shoppers. She also had a collaboration with Moschino, whose creative director is L.A.-based designer Jeremy Scott. With a rumored live-action Barbie movie (with Margot Robbie attached) on the horizon, it's a safe bet that the pint-size princess in pink — whose home base is technically El Segundo (where parent company Mattel is based) — will continue to represent an idealized version of L.A. style to the world.
The company store
There are nearly as many boutiques curating the L.A. aesthetic as there are neighborhoods and miles of freeway to traverse, but only one name has become nearly synonymous with SoCal cool: Fred Segal, which dates to the 1960s. The current majority stakeholder of the brand (worldwide rights to the Fred Segal name were sold in 2012) is Evolution Media Capital. It is determined to export the Los Angeles fashion experience — ivy-covered walls and iconic red, white and blue logo and all — around the globe. There are outposts as far afield as Taipei, Zurich and Kuala Lumpur and as near as the Tom Bradley terminal of LAX and Sunset Boulevard in West Hollywood. The last of those, a 13,000-square-foot flagship, bowed in late 2017 and has prided itself on trying to recreate the meandering retail experience of its namesake shopping centers (the two original Fred Segal centers are no more, though the ivy walls and signs remain at the intersection of Melrose Avenue and Crescent Heights Boulevard). It's also worked hard to showcase hometown brands that have included George Esquivel, Libertine, Wolk Morais, Staud and Simon Miller.
Next up? That'd be the retailer's return to Malibu; a 4,000-square-foot boutique is scheduled to open in the former Malibu Cinemas space at 3822 Cross Creek Road on April 6.
The king and queen of L.A. cool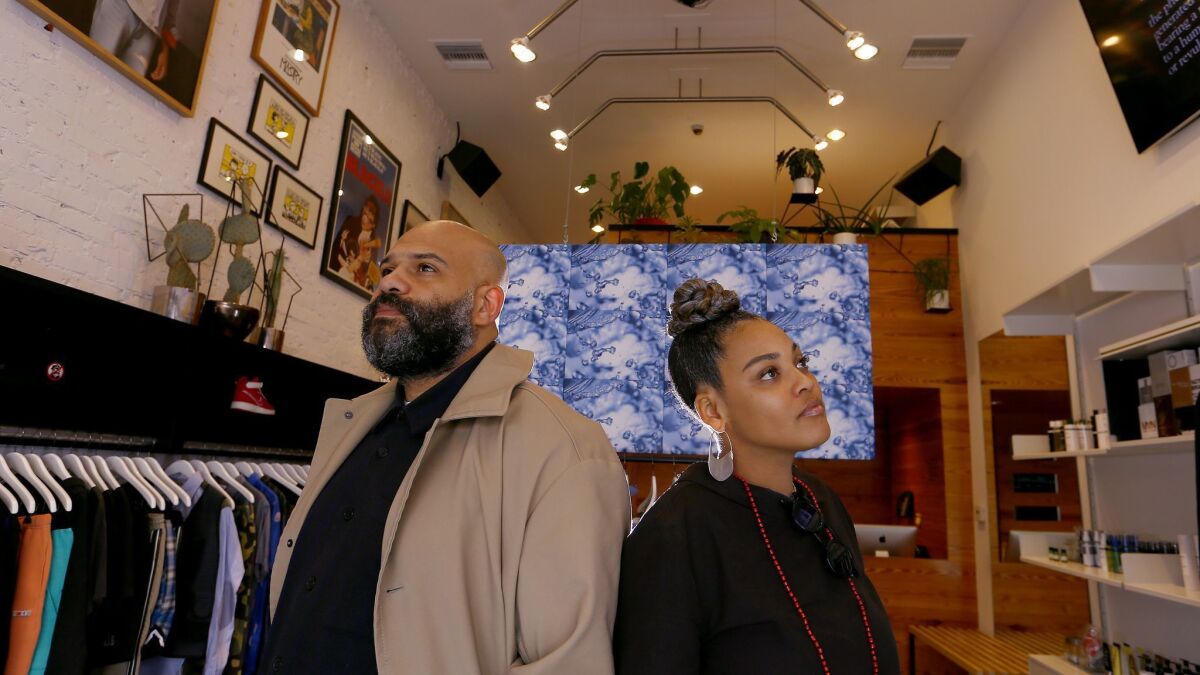 Chris Gibbs and his wife, Beth Birkett, (along with their kids and dog) were anointed the first family of streetwear in the March issue of GQ, but as any tuned-in Angeleno will tell you, that's old news. After all, Gibbs has been the co-owner of the store Union on La Brea Avenue since 2008, helping make it an indispensable stop on the global menswear shopping circuit. Though Gibbs is Canadian by birth and cut his teeth in New York, his point of view on style has developed into something distinctly Californian: relaxed, playful, funky — an effortless type of cool that's never self-serious or, God forbid, formal.
Now, as the rest of the fashion world embraces the aesthetics of skate, surf, and streetwear — effectively taking SoCal style to the highest rungs of the luxury sector — Union, with its mash-up of graphic T-shirts, hippie-inflected frontier wear and conceptually leaning European designs, suddenly looks prophetic in its vision of how men dress. In true L.A. style, Gibbs intuited the quickly evaporating boundaries between the high-end and the casual and made that the guiding principal of his store. Union's racks seem to whisper: No rules apply here. Today, Gibbs has his own in-house label, while Birkett designs the earthy and Afrocentric line Bephie. Brands clamor to be stocked on Union's shelves — it's the ultimate seal of approval — while others are lucky enough to make products in collaboration with the store.
In a world dominated by chain stores, corporate conglomerates and fast fashion, Union, with its one diminutive storefront, may seem small, but there's no denying that its influence looms large. — Max Berlinger
The image-maker
If you're an A-list actor who has graced a best-dressed list in the past few years, chances are it was Ilaria Urbinati who helped get you there. The super-stylist has long held a powerful place in the pantheon of behind-the-scenes image-makers, and she's already having a banner year: She landed at No. 2 on the Hollywood Reporter's annual ranking of the city's most powerful stylists, was given a glowing profile in the Washington Post, and then, to top it all off, she dressed Rami Malek (in Saint Laurent) for his Academy Award win last month.
In addition to Malek, Urbinati's star-studded roster includes Bradley Cooper, Donald Glover, Dwayne "The Rock" Johnson, Ben Affleck and Armie Hammer. Her own high-flying career is a reflection of two industry trends: that of the stylist as a celebrity in his or her own right and the recent explosion of and fascination with men's style that has yielded a new generation of fashion-forward guys unafraid to flex their sartorial might on red carpets across L.A.
Lately Urbinati, who was honored with the style curator award at Daily Front Row's Fashion L.A. Awards on Sunday, has been stepping out from behind her clients, parlaying her insider influence into a variety of side projects, including starring in a Walmart commercial shown during the Super Bowl, collaborating with the tailoring brand Strong Suit, and, more recently, designing a very on-trend souvenir jacket with the Muay Thai-inspired brand Roots of Fight. Keep in mind that the next time you see a leading man with great style, Urbinati probably had a hand in it. — Max Berlinger
The streetwear savant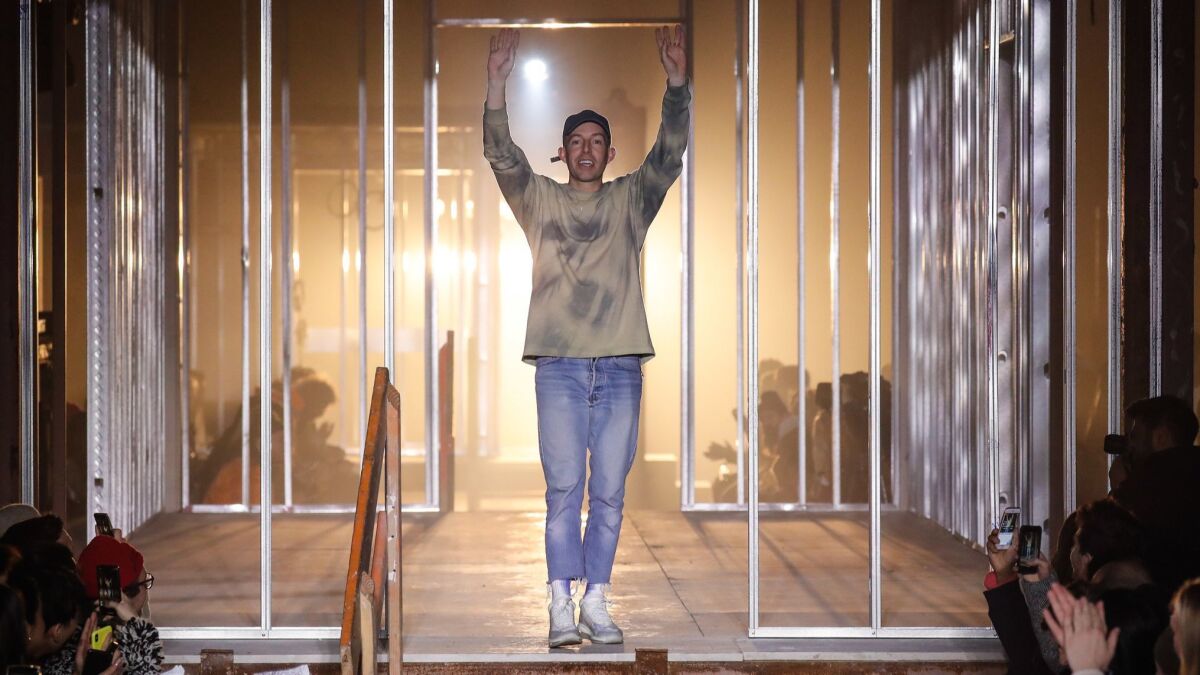 John Elliott's spring 2019 show may have been shown in New York, but it was undeniably a love letter to Los Angeles, where the designer is based. Under the blazing sun in a skate park with new Angeleno (and Laker) LeBron James sitting front row, he sent out a collection that was equal parts Venice Beach surf rat, Silver Lake hipster and Hollywood swagger.
No surprise there. Since launching in 2013, Elliott has taken California style — laid-back, sporty, functional, elegant yet effortless, and undeniably cool — and distilled it to its essence, creating a wardrobe that reflects the nuanced and rapidly evolving lifestyle scene around him. So much so that in 2014 he was named best new menswear designer by GQ. He helped define the new line-up status items (a perfectly worn-in sweatshirt; slim, distressed jeans; a slouchy hoodie; a supple leather jacket; and a long-line T-shirt) and created a modern paradigm of power dressing that is undoubtedly inspired by the contrast of grit and insouciance native to the City of Angels.
If you need proof of his status, just look to his collaborations with Nike, the world's biggest sportswear brand, and James, the NBA's top-ranking athlete, on a sneaker collaboration that sent the internet into a feeding frenzy. Fans include a who's who of modern-day style stars like Justin Bieber, Kanye West, Justin Timberlake and, of course, James, proving just how influential Elliott's imprint has become. In a world where casual dressing rules, Elliott not only led the way but created a new language for fashion while he did it. — Max Berlinger
The blue gurus
READ MORE: Who needs L.A. fashion week? Not these designers »
Designer Tim Kaeding has been at the helm of several brands that defined the premium denim market in Los Angeles, including 7 For All Mankind, where he was a former creative director, and as women's denim designer at Gap. In 2010, Kaeding and his business partner Lela Becker co-founded Mother, a denim and lifestyle line that harnesses the free-spirited, 1970s-tinged nostalgia of L.A. With a cheeky and irreverent attitude found in each collection, the Mother line exports the dreamy, sun-drenched vibe of the city that's so attractive to the rest of the world.
Case in point: Mother has a massive fan following in Europe and Asia. Meghan, Duchess of Sussex; Emma Roberts; Kate Moss; Alessandra Ambrosio; and Miranda Kerr (with whom the label did a collaboration in 2017) are well-known fans of Mother.
A little disco, a little rock 'n' roll and with plenty of vintage California references, Mother has managed to evolve what denim from L.A. looks like and how relevant the city is not just when it comes to jeans but with contemporary clothing in general. Expanding its offerings in recent years, Mother debuted a gender-neutral collection called Love Your Other in 2016 that featured 10 pieces, including graphic T-shirts, sweatshirts, jeans and a flight suit. And last year, Mother launched a men's line that carries the same California-inspired aesthetic as the label's women's collection. — Melissa Magsaysay
The house band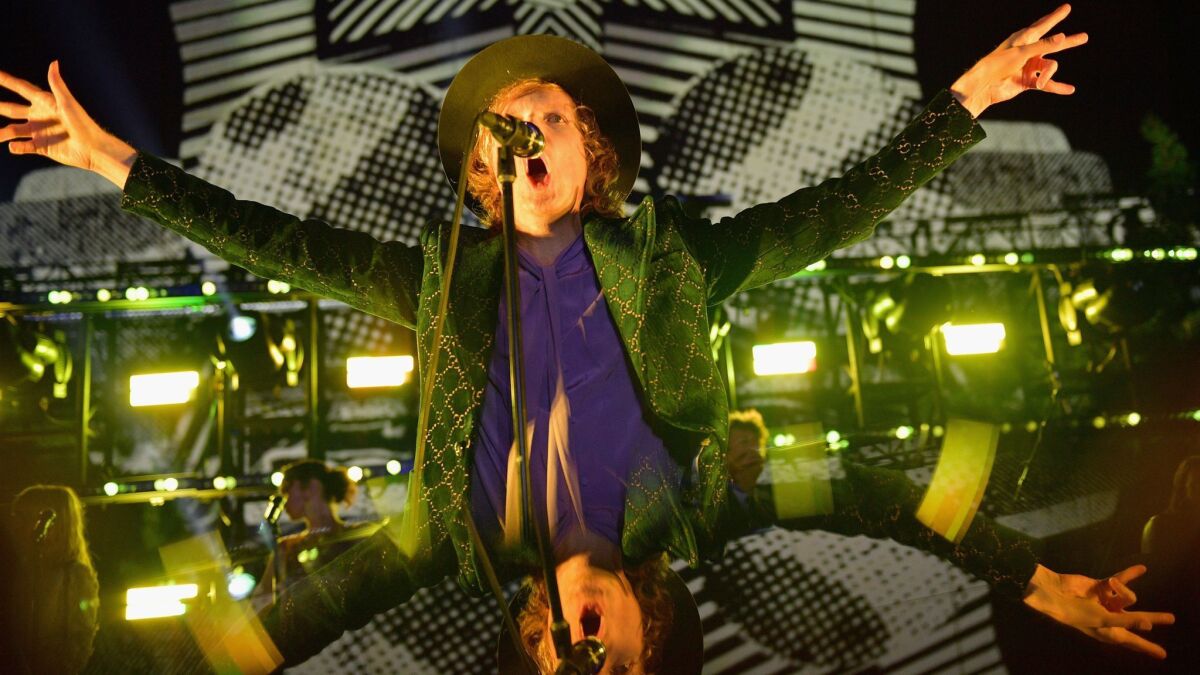 Beck — yes, he of "Loser" and "Devil's Haircut" fame — might not seem like the most logical booster of L.A.'s fashion bona fides, but he has done precisely that by performing at some of the city's most memorable fashion moments of the last few years. Chief among them: kicking off the after-party of Hedi Slimane's penultimate runway show for Saint Laurent at the Palladium in February 2016 ("Hedi asked us to come down and make some noisy music," he told the crowd) and closing out the Gucci-sponsored LACMA Art + Film Gala last November (backed by Dave Grohl on the drums, no less), where he performed clad in a dark blue velvet, one-button, peak-lapel GG-logo jacket and purple crêpe de chine blouse from the Italian luxury label's pre-fall 2018 runway collection.
When he closed the night with "Where It's At," it felt like he'd stuck a pushpin into L.A., marking it as a city that celebrates style on its own timetable and in its own way.
Photo credits for lead image collage: Top row, clockwise from left: Ricardo DeAratanha / Los Angeles Times, Jon Kopaloff / Getty Images, Myung J. Chun / Los Angeles Times, Frazer Harrison / Getty Images, Yuchen Liao / Getty Images. Bottom row, clockwise from left: Kirk McKoy / Los Angeles Times, Barbara Davidson / Los Angeles Times, Luis Sinco / Los Angeles Times, Fred Segal and Mattel Inc.
For more musings on all things fashion and style, follow me at @ARTschorn
---