Los Angeles fashion week includes, among other runway shows, LA Fashion Week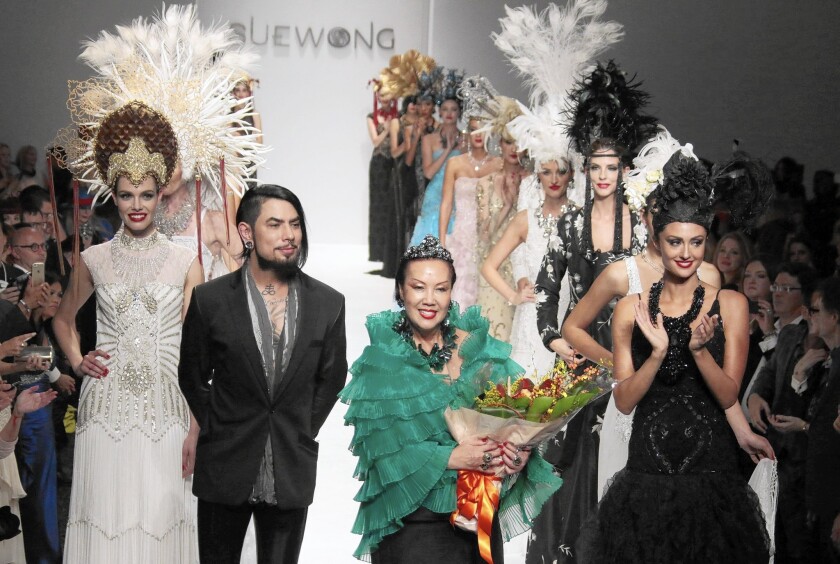 Los Angeles Times
Los Angeles fashion week (lower case) is taking on a decidedly international feel. And a lot of that has to do with LA Fashion Week (upper case).
The latter is the trademark-protected name of the newest organization planning to stage runway shows and presentations for fashion industry press and store buyers during the twice-yearly market week here next month.
This latest entrant in the city's fashion derby plans to showcase the spring 2016 collections of approximately 40 brands over four days of runway shows beginning Oct. 8 at downtown's Union Station. The designers announced to date are notably heavy on lesser-known international brands, hailing from nearly every continent (sorry, Antarctica, maybe next season) and just a handful of local labels (only one of which, William Bradley, is recognizable from previous seasons).
Thanks to what event organizers describe as a partnership with Fiji Fashion Week, the final day, Oct. 11, will showcase 10 Fijian designers — which gives the island nation the distinction of the biggest presence at LA Fashion Week's inaugural stand.
Next to pull out of the station (well, technically into the station) is one of the few fashion week events accessible to the ticket-buying public. Fashion Business Inc.'s annual All Aboard fundraiser, now in its fifth year, is set to return to Union Station on Oct. 13, with KABC 7 News co-anchor David Ono and actress Erica Ash ("Survivor's Remorse" and "Real Husbands of Hollywood") tapped to serve as hosts.
Things are scheduled to begin with a 6 p.m. networking cocktail party, followed by a 7:30 p.m. runway show featuring a half-dozen labels (including Kiin Athletic, Soverra and Plush Cashmere). The evening is set to end with the presentation of two awards, one to the winner of the Moss Adams Fashion Innovator Award (which last year went to Sam & Lavi) and one to the winner of Fashion Business Inc.'s Emerging Designer of the Year (an honor that went to BK Phillips Designs last year). Additional information and tickets ($35 for members, $65 for nonmembers) can be found at fashionbizinc.org.
FULL COVERAGE: New York Fashion Week 2015
Style Fashion Week is set to return to a tented parking lot at the Reef in downtown L.A. Oct. 14 to 18. According to event producers, this season's tent will be double the size of the one pitched last season and plans include showcasing some 75 labels on its two runways and a smaller space for static presentations. This season organizers have partnered with the streetwear-focused Venue Tradeshow, which will bring an estimated 85 additional brands to the 20,000-square-foot, foyer-like space at the front of the tent.
There's an international element here too; a month after showing in Los Angeles, Style Fashion Week's stable of brands decamp to Dubai, where they'll be part of fashion week there Nov. 18 to 22.
Also on the schedule: Art Hearts Fashion's sophomore stand at the Taglyan Complex in Hollywood, a four-day run that kicks off with L.A.-based Sue Wong on Oct. 5 and includes an Oct. 7 fashion show by an 11-year-old cancer survivor — organized in conjunction with the Make-A-Wish Foundation.
Concept Los Angeles is also planning to host a handful of presentations on Oct. 13 — at a new Chinatown photo studio called Nobo.
---