What's the Levi's strategy to beat fast-fashion brands? Allow shoppers to personalize its jeans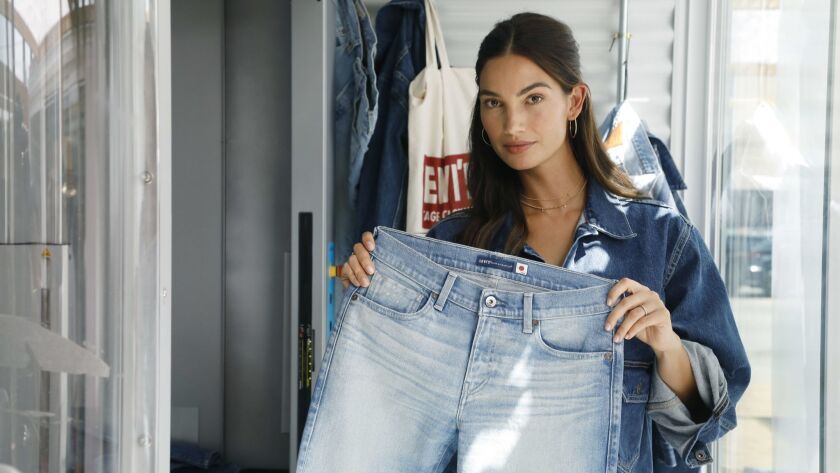 Lily Aldridge's first attempt at designing denim almost went up in flames. The model, best known for appearing in ad campaigns for Victoria's Secret, Bulgari, Ralph Lauren and Levi's Made & Crafted, took on the challenge of personalizing jeans with the fashion equivalent of a lightning strike.
One late summer afternoon, hours after flying in from her home in Nashville, Tenn., Aldridge stepped into a shipping container in L.A.'s Arts District that Levi's had converted into a mobile studio. The space was equipped with a laser machine the size of an oven. Aldridge's goal was to replicate the blue tint (that mirrored the cloudless sky) of her favorite vintage Levi's.
"I love the color and how it's not super-faded," she said of the jeans.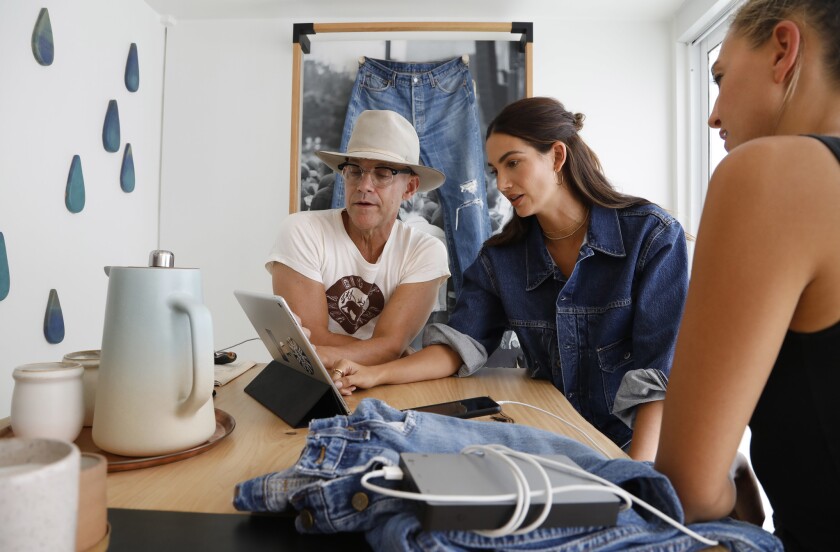 So does her husband, Kings of Leon singer Caleb Followill, who, according to Aldridge, likes to take the pair for himself. "I'm always stealing [them] back," she said. "When you find the right style that fits … it's like finding a magical treasure."
That day, Aldridge was working on the design for a back-up pair. Hovering above brand-new boyfriend jeans laid flat in a glass-and-metal box, a laser beam crackled. Loud as a dental drill, it worked in a comparable excavatory manner, removing bits of dye and thread in seconds. As the laser zapped the fabric's top layer of indigo, wisps of blue smoke rose from the surface. The beam began moving faster, working furiously to lighten the fabric.
"It smells so good," Aldridge said, defying the season's heat in a Levi's ensemble, pairing a dark boxy jacket and faded cropped jeans with white platform slides. "Who doesn't want a roasted marshmallow smell when you're making custom jeans?"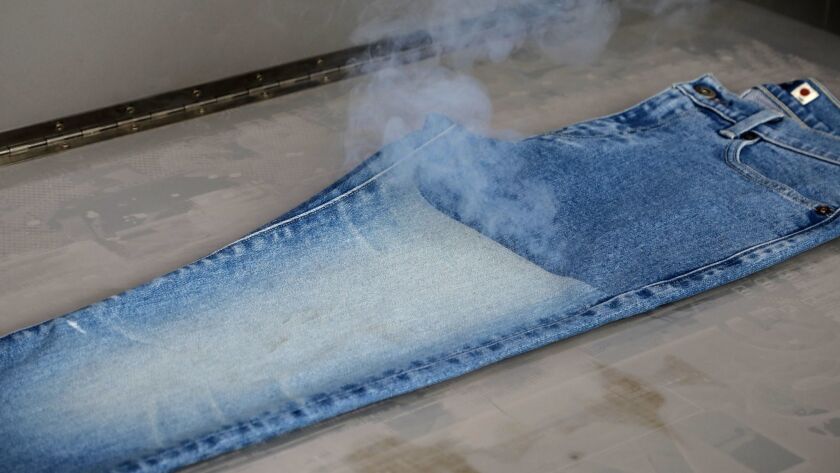 With five other people crammed into the space and her iPhone camera in hand, Aldridge tried to capture the moment that the laser emitted a burst of energy, singeing small specks on a back pocket that would eventually disintegrate into holes in the wash.
After the third attempt — and with the risk of burning the fabric — Aldridge whispered, "Got it." She broke into a smile, buoyed by cheers in the room.
"They're not on fire. So, we're good, right?" said Raymond Crisostomo, innovation developer for Levi's, maneuvering the machine's controls.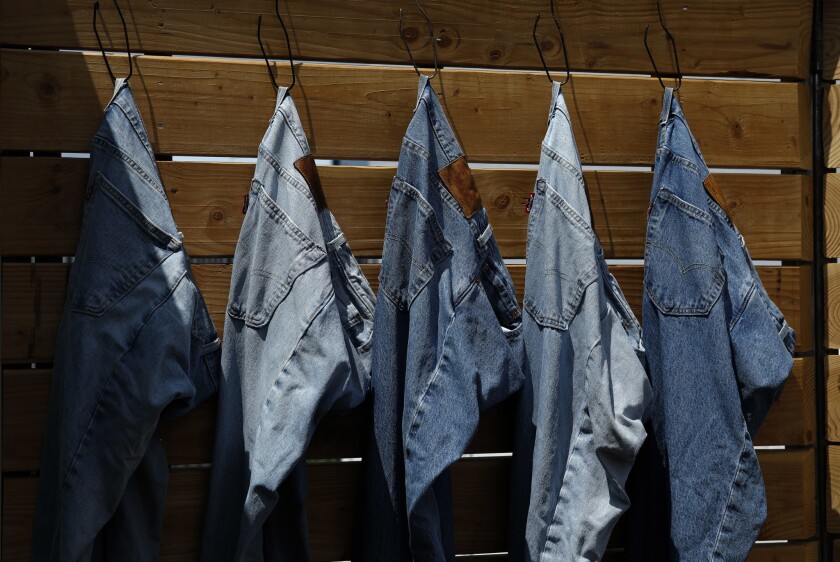 When Levi's expands its customization program next year, consumers can follow Aldridge's lead and play with fire — as denim designers for a day.
The brand plans to install a laser machine, developed by Spanish company Jeanologia, in one of its stores in the U.S. (with safety mechanisms intact, of course).
Online and in stores, consumers will use a similar app that Aldridge played with to personalize their denim. Levi's has yet to finalize the cost for shoppers to personalize jeans.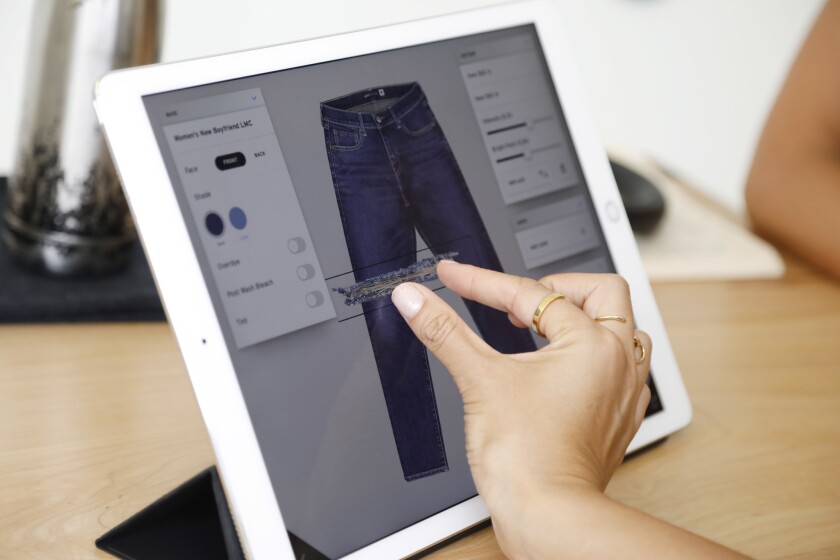 "It's very addictive," the model said, stretching her thumb and index finger on the app screen to enlarge an image of a hem that she wanted to fray. "I'm also perfecting where my damages [on the jeans] are."
To whet consumers' appetites for perfectly damaged jeans, Levi's has been giving away denim customized by Aldridge, rapper Snoop Dogg, actress Sasha Lane, surfer Kelly Slater, tattoo artist Dr. Woo, basketball star Blake Griffin and others.
Fans have eaten it up. A week after Aldridge's visit to the temporary studio, Super Bowl champion-turned-ESPN analyst Victor Cruz depleted the stock of his custom-designed red-striped 501s — they were etched in the front with a giant image of two horses trying to pull apart jeans — in two hours on Levi's Instagram Stories page.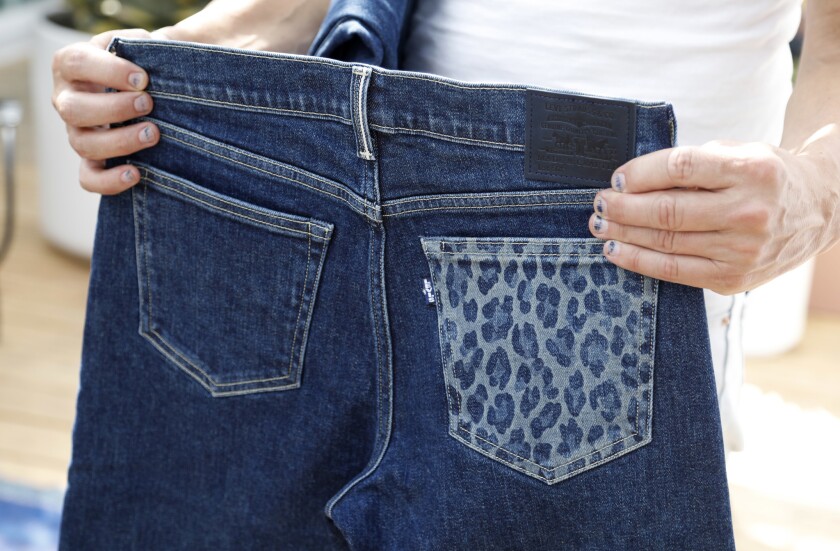 Besides "beating fast fashion at their own game," said Bart Sights, vice president of technical innovation for Levi's, customization is "delivering what people need when they want it, and giving them some fun in actually coming up with stuff and expressing themselves."
Aldridge ended up customizing two pairs of jeans and drawing cheetah spots on a back pocket with the laser machine. "I'm … loving it," she said. "I wish I could design hundreds of pairs."
For fashion news, follow us at @latimesimage on Twitter.
---