Review: Victoria Beckham hits the (chain) links
Reporting from London —
Victoria Beckham's fall and winter 2019 runway collection, presented at the Tate Britain here Sunday was heavy on a design element we've noticed a lot since Tom Ford's show early in New York Fashion Week: the chain-link motif.
Beckham's show notes didn't explain why she used it throughout the collection, noting only that the chain pattern was "'70s archive-inspired," but links of various sizes cropped up as allover prints on dresses,intarsia knit into slouchy turtleneck sweaters, and embroidered with sequins onto knee-length skirts.
Other pieces in the collection used actual lengths of silver chain as belts or as a decorative element across the shoulder blades of jackets and connected to metal grommets.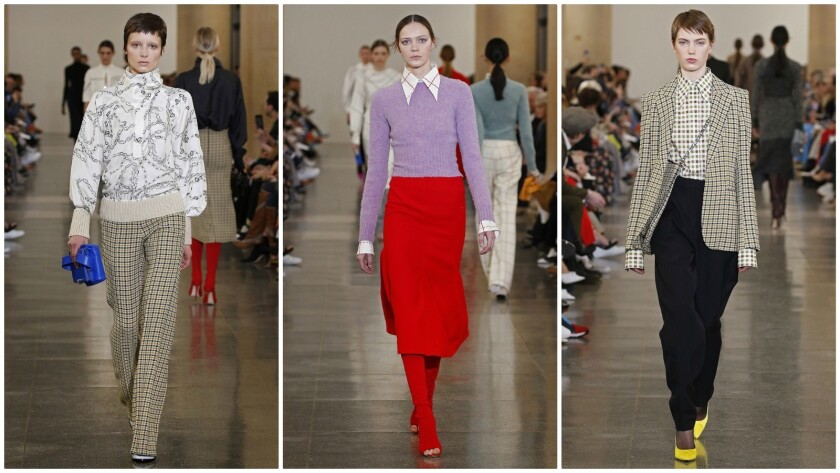 There were also plenty of eye-catching pieces that weren't part of the chain gang, including lipstick-red coats, dresses and skirts, and a range of menswear-inspired tweed jackets and trousers, the latter of which flared at the ankle.
Here the wide leg, which was also very much in evidence at New York Fashion Week — not to mention elsewhere on the London runways — combined with the chain-link pattern and color palette to give the collection a bit — and just a bit — of '70s retro flair that made it feel much more wearable than the heavy-handed Me Decade rewind that Michael Kors sent down a New York runway four days earlier.
For more musings on all things fashion and style, follow me at @ARTschorn
---