Review: Tom Ford makes the case for grown-up glamour for fall and winter 2019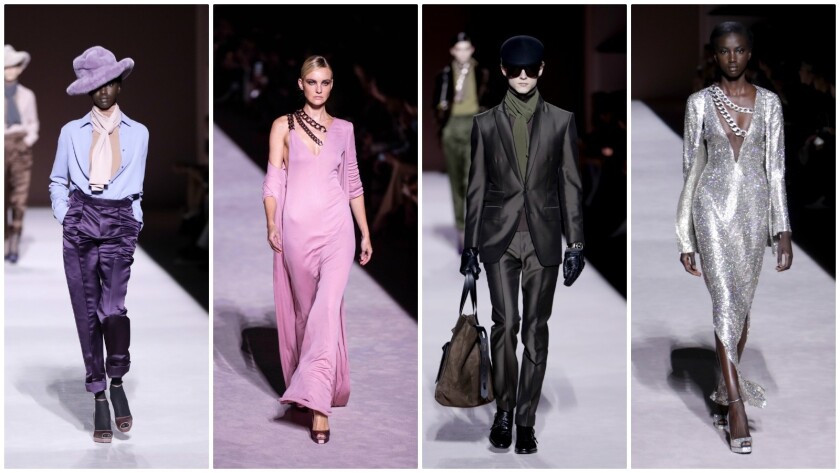 Reporting from NEW YORK —
Tom Ford is making clothes for grown-ups these days. Or, more accurately, he's taking a more grown-up approach to making beautiful clothes. That was the big takeaway from his fall and winter 2019 men's and women's runway show, which took place at the Park Avenue Armory here on Wednesday night during New York Fashion Week.
The softer color palette that was such a noticeable switch up in his spring and summer 2019 collection — plums, caramels, pale blues, dove grays and sugary pinks (hues influenced by his permanent move to Los Angeles a few years back, he says) — is back again for fall. This time it's in a collection that ranged from strong-shouldered tailored velvet jackets to easy-wearing dresses and luxe hoodies. Many of the women's looks were accessorized with large faux-fur fedoras.
Among the runway standouts were a range of pale-colored silk jersey dresses anchored with chain-link hardware electroplated in the same pale shades of pink and lilac as the dresses. And there was the closing look, a shimmering silvery dress that, while simple in silhouette, seemed to refract every color of the rainbow with each step.
Backstage after the show, Ford said the tenor of the world was part of the collection's inspiration.
"What I wanted was an ease," he said. "People like to say that the negative political climate isn't influencing their designs, but it is, [and] because I feel agitated and upset, I think clothing right now should be non-aggressive. And that sounds strange coming from me because I've often done somewhat aggressive, hard clothes."
That sentiment goes for the sourcing as well. Ford said he's only using leather and shearling that are byproducts of food production in his collections — and faux fur instead of real.
In addition, Ford said, there was a healthy dose of pragmatism involved in the dialed-down, easy-wearing aesthetic. "I'm also very realistic and, when you own your own business, you've got to think about what your client wants. I have a very specific client and I design for that client."
The color palette may have been influenced by the increasing amount of time he spends in Southern California, but the designer credits his time in the Big Apple for the collection's big hats. "I've been spending more time in New York and, when you're in New York in the winter, you actually think 'OK, it's raining and it's cold. I could totally see a hat.' I don't do hats very often because in today's world they don't make sense. Where do you put them? We don't have hat racks [anymore]. But it seemed right this season."
The fedoras, worn pulled down rakishly over one eye, added just the right dash of peacockery and romance to the laid-back luxe of Ford's fall and winter runway collection.
Two seasons in, Ford's grown-up approach to glamour is really growing on us.
For more musings on all things fashion and style, follow me at @ARTschorn
---