Louis Vuitton unveils its first new fragrances for women in 70 years
Since his appointment in 2012, Jacques Cavallier Belletrud, master perfumer at Louis Vuitton — the French luxury label originated as a luggage company in 1854 — has globe-trotted across five continents to source precious natural ingredients: magnolia and osmanthus from China, iris from Florence, Italy, agarwood from Laos and Bangladesh, rose oil from Bulgaria and Turkey, tuberose from India and vanilla from Papua New Guinea and Madagascar.
Last month, he touched down in Beverly Hills to debut the Les Parfums Louis Vuitton collection of seven women's fragrances (starting at $240 for a 100-milliliter bottle) that launched Sept. 1 in Louis Vuitton boutiques worldwide — remarkably, the brand's first foray into perfume in 70 years.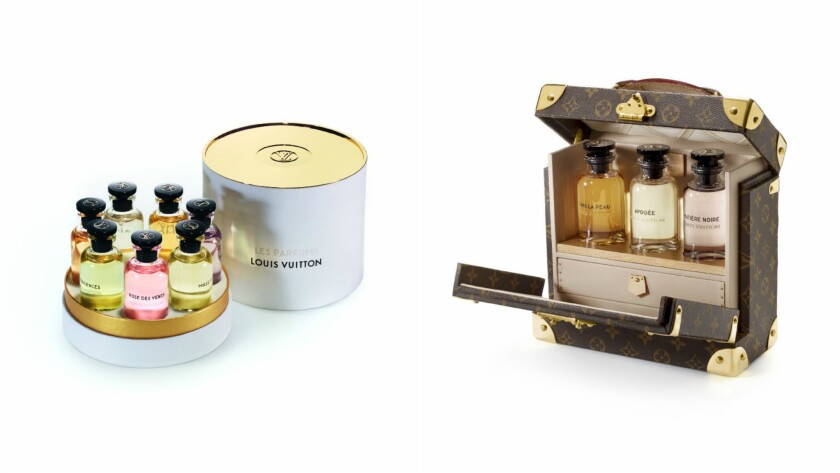 There is no remaining trace or recorded formulation of the first six Louis Vuitton fragrances: Heures d'Absence (Hours of absence) launched in 1927; the 1928 trio Je, Tu, Il (I, You, He); or the 1946 scents Réminiscences and Eau de Voyage. In other words, Cavallier Belletrud had a blank olfactory slate.
"It's a bit frustrating, but it made me free," said the 54-year-old nose behind scents such as Acqua Di Giò by Giorgio Armani and L'Eau d'Issey by Issey Miyake. "The [challenge] is to bring something different to a market where you have 2,000 perfume launches a year. What really distinguishes luxury from mass is your own production of flowers. … And I wanted to celebrate femininity through flowers."
It's a burgeoning market, with prestige fragrance sales in the U.S. reaching $4 billion in 2015, up 4% from 2014, according to market research company NPD Group.
A third-generation perfumer, Cavallier Belletrud learned his trade at age 8 from his now-86-year-old father in the fragrance world's epicenter of Grasse, France, also home since 2013 to the LVMH olfactory workshop (shared with Dior fragrances). In four years, he created more than 90 potential formulations for the line, utilizing customized extracts from far-flung locales as well as materials cultivated from on-site citrus groves and gardens.
An initial top-seller, the Rose des Vents (Wind Rose) fragrance "re-creates the smell of the breeze in a rose field in Grasse," according to Cavallier Belletrud, by using a carbon dioxide extraction of the proprietary May rose that draws out "the most fragile part of the smell." Within its base are notes of Virginia cedar produced from furniture factory sawdust in the U.S. — a nod to the company's eco efforts.
Turbulences, another fragrance, re-imagines the fusion of 1,000 tuberose and 2,000 jasmine plants in Cavallier Belletrud's personal garden during a midnight August stroll with his father and his promise to "put this smell in my head and put it in a bottle one day."
Another top seller, Apogée (Peak) is dedicated to lily-of-the-valley and ikebana, the Japanese art of floral arrangement.
Bright orange floral notes mingle with a vanilla blend in the fresh scent Contre Moi (Next to Me) with a sensuality "that can be a husband and wife or a mother with her kids."
The complex Matière Noire (Black Matter) contrasts the rich depth of agarwood with fresh patchouli, fruity blackcurrant and an array of florals.
Possibly the most unusual composition, Dans la Peau (Under the Skin, as in "got you under my skin") is an ode to the scent of the brand's natural leather; handbag scraps, previously destroyed in attempts to maintain the brand's high level of exclusivity, were recycled, steeped in alcohol and infused with musk and jasmine.
The Mille Feux (A Thousand Lights) fragrance, inspired by a vivid, red Capucines handbag in Louis Vuitton's Asnières-sur-Seine atelier in Paris, offers another variation of the leather scent highlighted by a raspberry accord and osmanthus flowers.
Famed designer Marc Newson created the streamlined glass bottles that integrate a minimalist spritzing mechanism under the cap. Specially developed machines at Louis Vuitton boutiques offer refills for about 60% of the original retail price to commemorate a recently restored perfume fountain at the brand's Grasse headquarters, originally a 17th century perfumery, that will spout a mimosa scent in January, followed by violet in February and so on.
Not a believer in the au courant concept of unisex fragrances, Cavallier Belletrud is already busy dreaming up a line for men. "On Monday, I created 40 new ideas for the [formulations]," he says, clearly not one to rest on his laurels.
And for female fragrance connoisseurs, the company is offering a version of its signature monogram bag ($5,450) designed to hold a perfume trio. Or for those a bit more sensational, a special-order perfume trunk outfitted with 32 bottle slots for $123,000. A pull-out-all-the-stops scent wardrobe indeed.
---