Louis Vuitton's traveling 'Time Capsule' exhibition makes its U.S. debut, popping up in Los Angeles
Louis Vuitton's "Time Capsule" exhibition gives new meaning to the term "trunk show." On Friday, the French fashion house — perhaps best known for its monogrammed travel trunks — opened its traveling brand retrospective at the Westfield Century City shopping center in Los Angeles.
The exhibition re-examines Vuitton's contribution to fashion and travel. It covers the luxury label's 1854 inception through present-day to provide fashion fans with a glimpse into how the brand has grown from a classic luggage and accessories company to a full-fledged fashion house that has become known for its colorful collaborations with contemporary artists such as Takashi Murakami, Yayoi Kusama, Richard Prince and Jeff Koons.
"Today it has become essential to tell Louis Vuitton's story," Michael Burke, the brand's chairman and chief executive, said in a statement. "It's a story of more than 160 years, and often we do not know it so well. We think that everyone knows it but we must continue to tell it, especially for the younger generations."
This L.A. stop marks the traveling exhibition's first stateside appearance. It premiered in Hong Kong in 2017 before making its way across to Bangkok, Thailand; Berlin; Singapore; Dubai; Shanghai; Melbourne, Australia; and Madrid.
The "Time Capsule" presentation is composed of six installations with pieces from Vuitton's archives. The rooms are the "Artisans' Room," which provides a live experience with Louis Vuitton craftspeople showing the process of how each bag is handcrafted; "The Key to the Codes," which features Vuitton's original trunks; "Journeys Around the World," which highlights how the brand's luggage has evolved along with transportation advancements; "Elegance in Motion," which explores the lifestyle of Vuitton's on-the-go clients through objects such as a monogrammed cassette box and record player; "Louis Vuitton and the Arts," which features the brand's most notable designs and collaborations; and "Magic Malle," which includes a never-before-seen red carpet animation and digital trunk using holographic technology.
Vuitton is no stranger to Los Angeles. In honor of the exhibition's U.S. premiere, it also features archival pieces special to L.A. such as the black ruffle embroidered lace dress that Emma Stone wore to this year's Golden Globe Awards, an AmfAR two-vanity monogrammed case designed in collaboration with Sharon Stone in 2000 and a leather vanity train case from 1970 that once belonged to Lauren Bacall.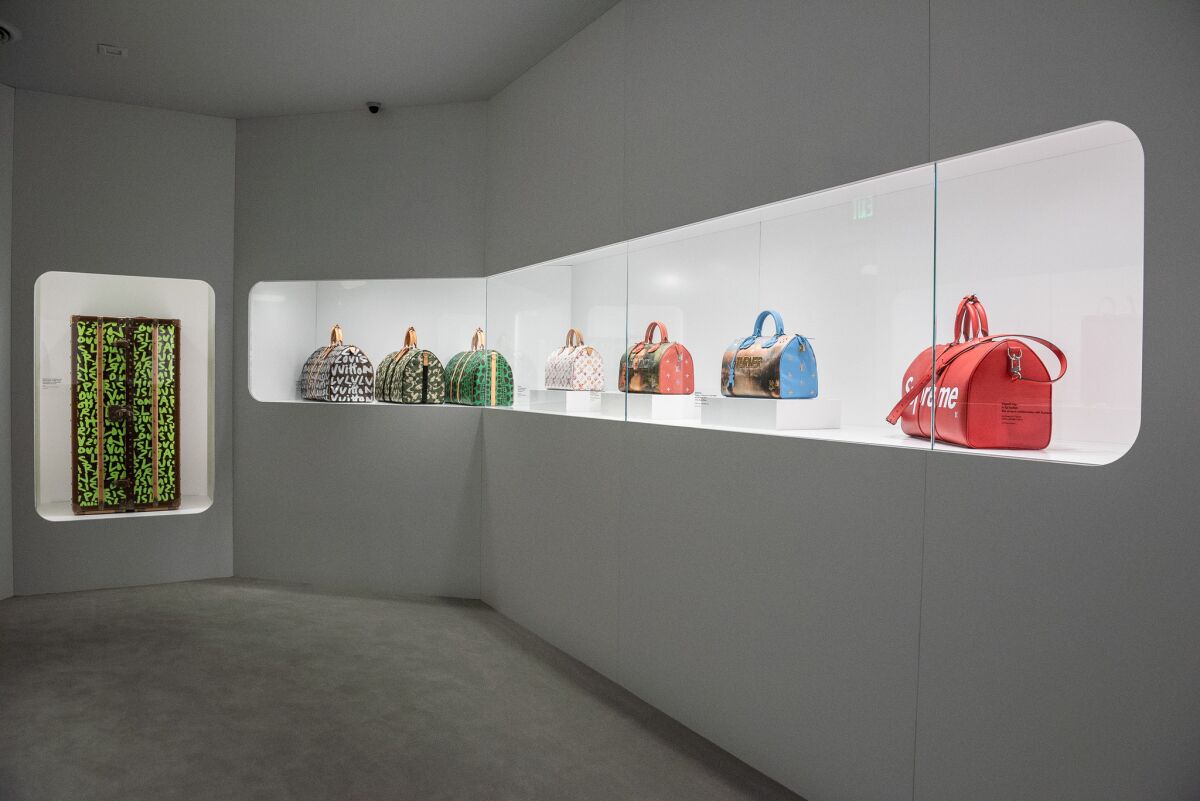 Also, Vuitton brought its "Series 2" exhibition to town in 2015. (Louis Vuitton's creative director, Nicolas Ghesquière, attended the opening night soiree.) Additionally, Vuitton has long been associated with the art world, having supported major art exhibitions including the Broad's recent Jasper Johns retrospective. Vuitton has also been known to stage its elaborate fashion shows inside museums such as the Louvre in Paris and the Miho Museum in Japan.
Vuitton officials declined to share where the "Time Capsule" exhibition is off to after it leaves Los Angeles. For the L.A. opening, Vuitton hosted a private preview party that drew celebrities, influencers and stylists (including Jeanne Yang), and a slew of other fans of the brand.
"I'm loving it," Lionel Richie said as he made his way through the rooms of the exhibition. "It's fabulous that it's going to be here for [nearly] a month, and I think where it's located, in the middle of the mall, is wonderful." The singer and "American Idol" judge said he enjoyed the educational part of the experience. "There are things that I didn't know," he said, adding that all of the pieces from the 1930s and '40s on display were "all very practical for the time, but they apply to today. I'm sorry I didn't [live] back in the '30s and '40s. They had some great stuff."
Richie also shared that he has a private collection of Louis Vuitton trunks. "In the '80s, I collected about 12 of them," he said. "They're priceless pieces. The quality of the product is the key. It lasts through generations. You can pass them down."
Following a cocktail reception at Westfield, about 60 guests attended an intimate dinner at a Paul McClean-designed Beverly Hills home, which is on the market for $77.5 million. The private dinner offered a chance to see accessories from Vuitton's current collection, including hard-sided trunks and exotic leather goods as well as pieces from its Objets Nomades and Les Petits Nomades collections. Also, never-before-seen custom Vuitton creations were available for purchase.
After ogling the designer goods, guests reflected on the exhibition during an alfresco dinner of berry salads, brioche-crusted baked cod and frozen lime yogurt. "This wasn't my first time seeing the exhibit," said style blogger and digital influencer Aimee Song, sharing that she had seen the Vuitton exhibition abroad. "I'm happy that they brought a version of it to L.A. Louis Vuitton is such a historic brand that has an amazing story to tell."
Louis Vuitton: Time Capsule
Where: 10250 Santa Monica Blvd., Atrium, Level 1, Los Angeles
When: 10 a.m. to 9 p.m. Mondays to Thursdays, 10 a.m. to 10 p.m. Fridays and Saturdays, 11 a.m. to 7 p.m. Sundays. Ends June 10.
For fashion news, follow us at @latimesimage on Twitter.
Get our L.A. Goes Out newsletter, with the week's best events, to help you explore and experience our city.
You may occasionally receive promotional content from the Los Angeles Times.