Melania Trump delivers her convention speech in a dress by London-based designer Roksanda Ilincic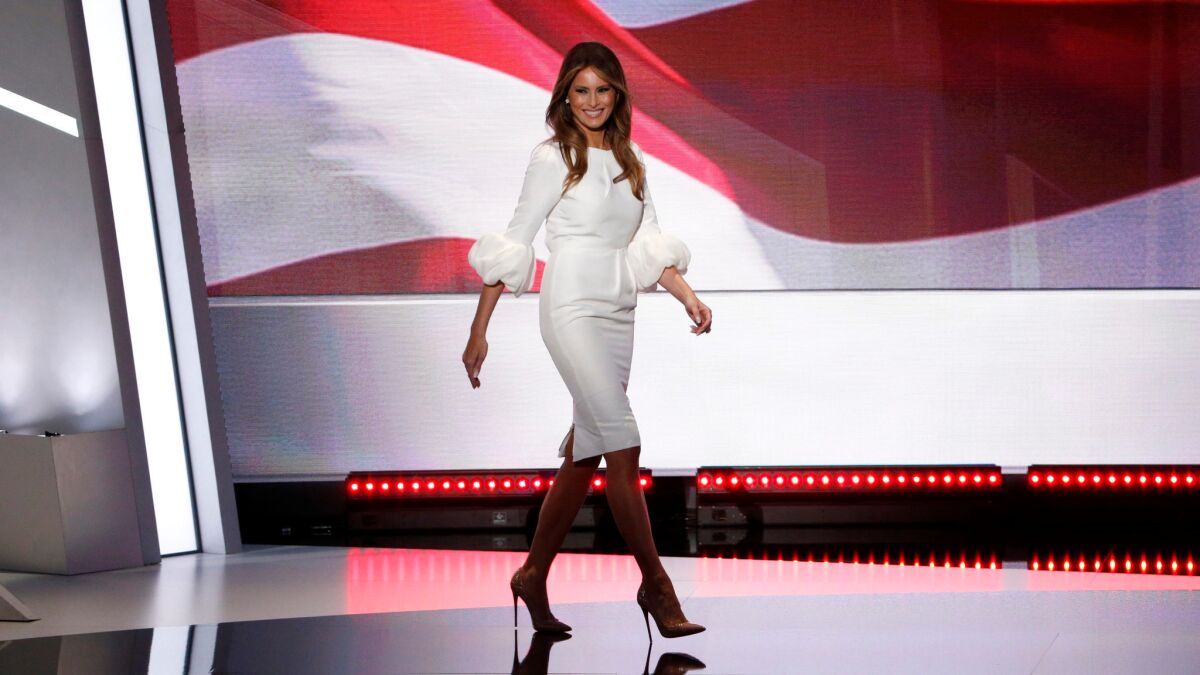 To deliver the keynote speech at the first day of the Republican National Convention in Cleveland, Melania Trump — wife of presumptive Republican nominee Donald Trump — went with a white, pouf-sleeved dress that, according to fashion industry trade paper WWD, was made by London-based and Serbian-born designer Roksanda Ilincic.
Is there a whiff or irony that the businesswoman and former fashion model, whose husband's oft-repeated campaign slogan is "Make America Great Again" opted to make her prime-time television introduction to potential voters wearing a frock that hails from outside our (currently) wall-less borders? Perhaps, but she's certainly not the first potential first lady to deliver her remarks to the GOP convention decked out in a dress by a European designer: Both Ann Romney (in 2012) and Cindy McCain (in 2008) went with outfits by Oscar de la Renta. (By comparison — and it's the only Michelle Obama comparison we'll be making here — the current first lady delivered her convention remarks clad in American designers: Maria Pinto in 2008 and Tracy Reese in 2012.)
Our first impression of the look was one of restrained elegance, by way of the knee-length hem, conservative neckline and zipper closure at the back, with the twin poufs of white fabric just above the elbows providing a fashionable flourish that shook almost like miniature cheerleader pompoms when Melania Trump gesticulated support for her husband from the lectern. Rounding out the look were a pair of nude-colored, pointy-toed patent leather stiletto heels with the trademark red sole that instantly identifies them as a pair of Christian Louboutins. (Footwear News identifies them further as a pair of $675 "Pigalle" stilettos that boast a 120 mm — or 4.72-inch — heel.)
According to WWD, Trump bought the Roksanda dress herself — without the aid of a stylist — from the luxury e-tailer Net-a-Porter, where it (or one extremely similar to it) is listed as the "Margot" dress: an ivory-colored, cotton-silk number "with a nipped-in waist and dramatic bell sleeves in a contrasting basketweave." The price tag on the currently sold-out dress is $2,190.
The description also characterized the Margot dress as being "a beautiful option for the modern bride," which might, at first blush, make it seem like an odd wardrobe choice for the political arena. But, if you really think about it, Melania Trump was essentially asking the American people to do what she did some 11 years ago when she married a real estate developer and reality television show personality named Donald J. Trump.
Say "I do."
For more musings on all things fashion and style, follow me @ARTschorn.
ALSO:
A lesson in plagiarism for Melania Trump
Shopping the Rose Bowl Flea Market with Christian Louboutin
What does the color 'nude' mean in an increasingly diverse world?
---