Review: Giorgio Armani gets tangled up (and folded and knotted) in blue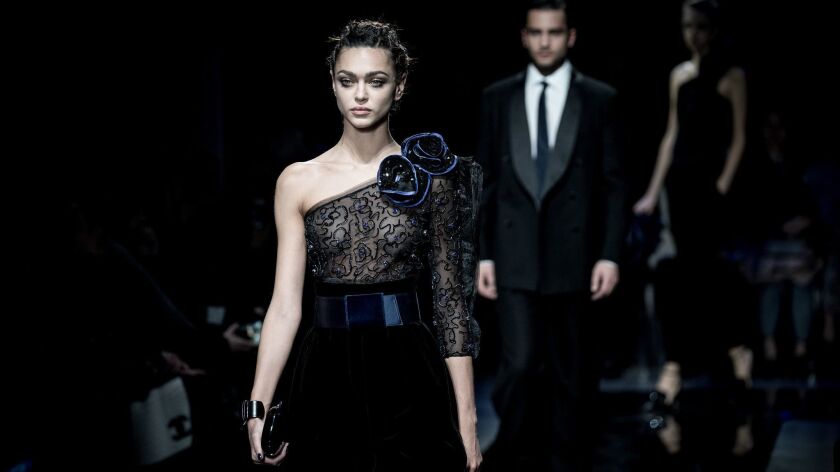 Reporting from Milan —
Giorgio Armani has the blues — and it's a good thing. The designer, who has a reputation for enthusiastically embracing the color, doubled (and then tripled and then quadrupled) down on the shade in his fall and winter 2019 runway collection presented here, also marking the first time he's presented the men's and women's offerings together.
Another switch-up was the location of Saturday's show — the Armani/Silos museum space across the street from his traditional amphitheater-style venue — which made it possible to see the clothes up close. That, too, was a very good thing, since the pared-back color palette (there was some inky black in the mix as well) allowed the other elements of the collection to take center stage.
Armani's strong suit is making a simple silhouette look anything but (one of the reasons his tuxedos have traditionally had a strong presence on the Academy Awards red carpet), and his fall women's collection was no exception. It tended toward the long and lean thanks to an abundance of jumpsuits, high-waisted trousers, stripped-away collars and covered button plackets, but also a sort of tranquil curvaceousness that could be seen in details such as jodhpur-style pants that bowed outward at the hip and the painterly brushstroke of contrasting blue up the front of several women's tops that turned gracefully at the throat like a reverse question mark.
Elsewhere, fabric was folded into intricate deep blue shoulder flowers, flourishes of ruffles at the neck and hinted at by way of photographic prints of drapery and a stylized knot print, the latter of which swirled like a blue rose across a handful of pieces.
That feeling of fluidity was further amplified thanks to the heavy use of velvet and silk, fabrics that seemed almost to undulate as they caught the runway lights. Particular standouts included a blue velvet stadium coat for men and a black velvet one-shouldered cape for women. That cape, of course, keys into the A-line-silhouette trend we've noticed on the runways both here (most memorably at Max Mara's "Politics of Glamour" show) and in New York (in Marc Jacobs' "fallen angel" collection). Also on trend — at least on the men's side of the collection — were wide-legged trousers so generously cut they seemed to sway with every step.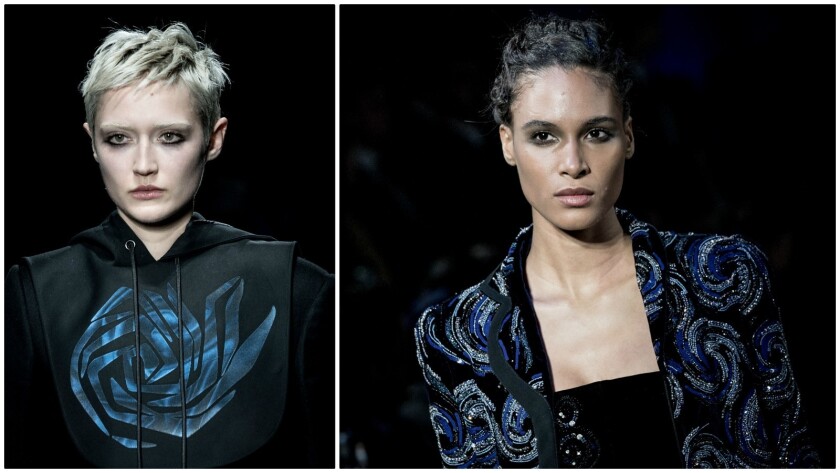 The men's collection was pumped in volume elsewhere too, thanks to puffer coats with padded shoulders, the aforementioned stadium coats, and boxy double-breasted suit jackets and shawl-collared tuxedos, which — although just as elegantly Armani as the women's offerings — felt like a jarring disconnect when presented on the same runway.
It's a small point, to be sure, and it's more than outweighed by the chance to see the Armani man and Armani woman showcased together, since that's how they will eventually appear out in the inky blue wild where the catwalk ends.
For more musings on all things fashion and style, follow me at @ARTschorn
---