Review: At Gucci, it's fashion as mask work and spiked collars for show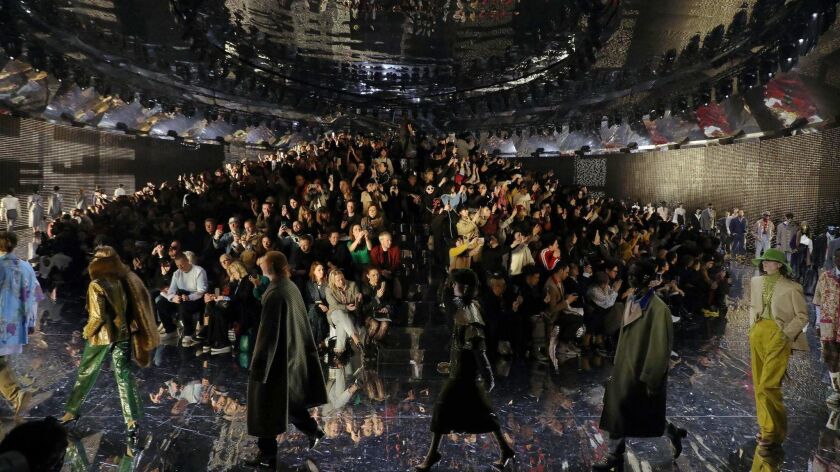 Reporting from Milan —
It was pretty clear when the wooden crates started landing in hotel rooms all over Milan — each one containing a papier-mâché-style mask of Greek mythology's Hermaphroditus with the seat assignment stuck to the inside — that Gucci's fall and winter 2019 men's and women's runway show would be a thought-provoking one. And the house's creative director Alessandro Michele didn't disappoint.
Staged in an elliptical venue with mirrored floors, bench seats and ceiling, it alternated between near total darkness and staring-into-the sun brightness that was both dazzling and more than a little alarming — and accompanied first by vicious-dog snarling and then religious chants. The models, most of whom could be seen only in snapshot-like moments, were accessorized with colorful, face-obscuring masks that ranged from sun hats with see-through visors to Mardi Gras-style masks with spikes jutting from the cheekbones as well as hammered metal jewelry that clipped over entire ears or covered entire eye sockets.
"A certain metaphysical prejudice has always seen the mask as a concealment tool," Michele wrote in the show notes, "something used to fake reality. Something that would make us irremediably authentic. But if by authenticity we mean the possibility to stick to the idea we have of ourselves, the mask becomes the means through which we can become what we feel we are."
If that sounds a lot like the old clothes-as-armor notion — with some "Eyes Wide Shut" styling thrown in for good measure — you're in the ballpark. At a post-show press conference, Michele explained, with the help of a translator, his inspirational starting point.
"I think it came from a reflection on dressing, the notion of appearance," he said, "us[ing] the metaphor of the mask to talk [the idea of clothing] as a mask that shows something about both the inside and the outside [of a person] at the same time ... It is both concave and convex." Clothes, like masks, he explained, can be used to both define and defend us.
The spikes bristling from masks and medieval-looking collars? Those, Michele said, were inspired by 16th and 17th century collars he spotted at an auction ("I didn't buy them," he noted). In addition to underscoring the idea of a defense mechanism, he explained that they also reminded him of the kind of spiked collars dogs wear. "Have you seen the love that dogs have for their masters? Dogs are loyal and dogs defend their owners, so I sort of combined a couple things together."
Despite being one of the show's literal standouts, Michele said he didn't think the spiky things would be headed to retail. "They're apparently dangerous," he said, adding that "some things are there [just] to make us dream."
Which brings us back to the things from the runway that will, more than likely, be headed to a store near you for fall: Heavy on shades of beige and blood red, the collection included voluminous wide-legged trousers (the fall and winter 2019 trend that can't be stopped apparently); broad, sharp-shouldered jackets; exploded houndstooth-check suits; harlequin-patterned dresses; floral-festooned three-quarter-length coats; argyle-patterned sweaters (argyle also seemed to be having a moment at London Fashion Week); riotous pattern-blocked short-sleeve shirts; pleated allover-print high-waisted trousers (the print looked like florals from afar, but upon closer inspection, appeared to be a safe-for-work version of the entwined lovers à la the Kama Sutra); red leather suits and boots; and double-breasted navy blue blazers.
Pointy runway-only face masks aside, Gucci's fall and winter men's and women's collection is full of all kinds of wonderful, wearable, statement-making clothes. The only decision you'll need to make is which version of yourself you want the world to see — and pick your mask accordingly.
For more musings on all things fashion and style, follow me at @ARTschorn
---