Review: It's hippie chic by way of Kathmandu at Prabal Gurung
Reporting from New York —
For his fall and winter 2019 men's and women's runway collection presented here Sunday night, Prabal Gurung explored hippie chic by way of Kathmandu. The resulting clothes were a madcap mash-up of colors, patterns and fabrications that wasn't for the faint of heart – and might be too much for all but the most outsize personality to pull off.
The specific inspiration, Gurung explained in his run-of-show program, was Jhochhen Street in Kathmandu, "known to some as 'Freak Street,' [it was] the birthplace of the hippie movement, where westerners uprooted themselves to embark on a journey." Gurung went on to paint a picture of globe-trotting nomads who engage in a cultural exchange of ideas — picking up something new at each stop along the way, "the confluence of these splendid cultures weav[ing] together harmoniously speaking with color and texture to forge unity and friendship."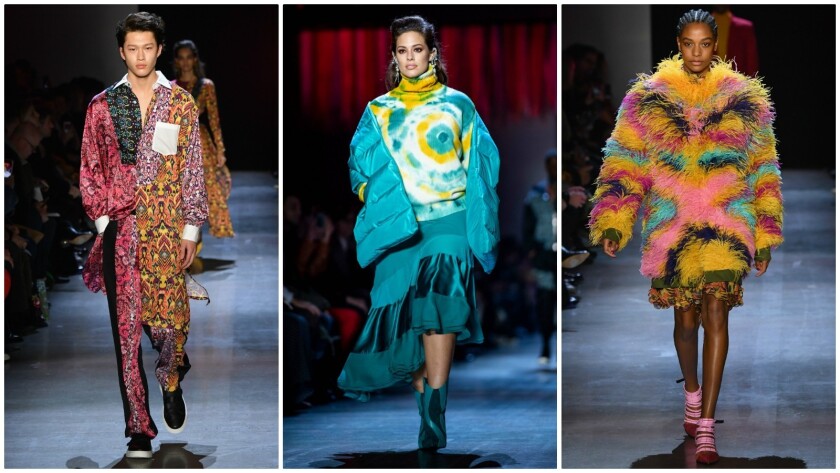 It was a conceit that gave Gurung free rein to throw all kinds of things in the fashion blender – a bright pink diamond-pattern-quilted duvet coat with exaggerated ruby red notch lapels opened the show, for example, and things seemed to get only more incongruent from there: a turquoise nylon down-filled puffer stole accessorized a saffron and turquoise tie-dye cashmere knit turtleneck paired with a turquoise silk bias-cut skirt; dresses and men's silk tunics and (on trend) wide-leg pants were served up in a riot of patchwork prints and an ostrich-feather jacket quivered and quaked like a box of crayons come to life.
It wasn't just color either; houndstooth checks and lace came together in a single shirt, and a hand-tailored wool flannel pinstripe jacket (with the pinstripes on the right side of the jacket oriented vertically, the left side horizontally) was paired with pink and gold hand-loomed fleur-de-lis-patterned brocade cargo pants.
On the whole, the fabrics looked sumptuous, the exquisite workmanship was obvious — even from afar – and the collection's relaxed-leg silhouettes and puffed-up, insulated outerwear pieces keyed into the weeks prevailing runway trends. But the enthusiastic embrace of color, a strategy that usually pays dividends for the designer, felt like overkill this time around.
One dress, though, deserves to be singled out: an inky velvet drop-waist, V-neck gown whose only embellishment was a two-tone, hand-draped shoulder ruffle. Elegant and restrained, it was breathtakingly beautiful and almost certainly destined not for Kathmandu's Freak Street but one of Hollywood's red carpets.
For more musings on all things fashion and style, follow me at @ARTschorn
---