The classic bomber jacket is a part of Nike's medal-stand collection at the Winter Olympics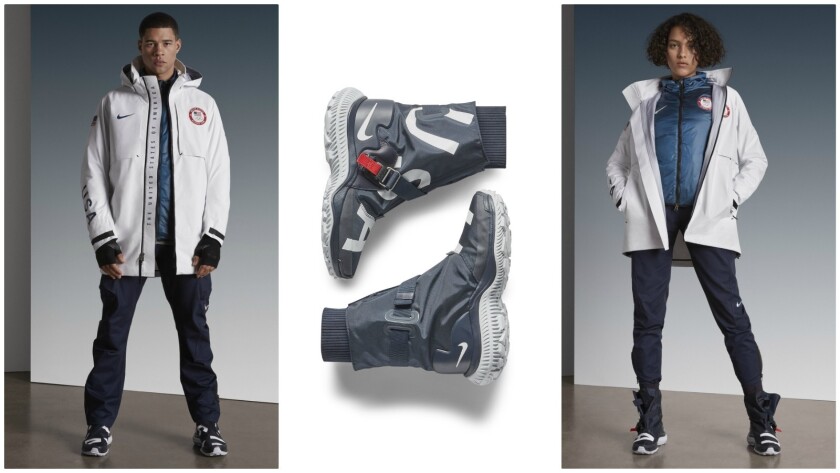 Nike's Team USA Medal Stand Collection — what American Olympians in Pyeongchang, South Korea, will wear to the podium to receive their gold, silver or bronze medals in — appears to be tapping into the same retro / vintage vibe as other recently official outfitters of the 2018 Winter Games, including Burton, whose snowboarding uniforms took inspiration from the '70s-era U.S. space program, and Ralph Lauren, who made the retro puffer jacket the centerpiece of Team USA's closing-ceremony ensemble.
The standout piece of the cold-weather ensemble (most of the medal ceremonies are taking place in open-air arenas with temperatures expected to drop below freezing) is a classic bomber jacket silhouette that layers under, and zips into, a white, waterproof Gore-Tex shell. Hidden details include an inner phone pocket emblazoned with an American flag and an adjustable bottom toggle on the shell in the shape of an eagle's head.
The ensemble's cargo-pocketed pants are treated with a durable, water-repellent coating and allow for size adjustments at the waist (with a cinch) and ankle (using zippers). The zipper-palooza continues in the insulated gloves, where concealed zippers on the back of each hand make them easier to don and doff. And, thanks to touch-screen-compatible thumbs and forefingers, medal winners will be able to share news of their victories with the hashtag nation without having to remove their gloves.
Completing the look are sporty-looking, lace-free gaiter boots; the women's version of the boot is slightly taller than the men's and contains additional heat-reflective material.
And in the event that you want to look like a winner — without going through the whole hassle of training, traveling and actually competing — you're in luck; consumer versions of the Team USA Medal Stand Collection will be available starting Jan. 15 at nike.com and select retailers.
For more musings on all things fashion and style, follow me at @ARTschorn.
---