Designer Norma Kamali unveils her new, inclusive skin-care line
Designer Norma Kamali's storied, five-decade career in the fashion and apparel industry includes plenty of highlights. She's a Council of Fashion Designers of America lifetime achievement honoree as well as the creator of Farrah Fawcett's iconic red one-piece swimsuit worn in the mid-1970s. In the '80s, Kamali became an AIDS activist as well as the pioneer of that very decade's ubiquitous shoulder pads.
Although she might be best known for her sleeping bag coat and athletic-inspired ready-to-wear, Kamali is now turning another corner in her career with the introduction of Skinline, the first offering from her new NormaLife concept.
Skinline offers four core natural beauty products: Clean (a soap-free cleanser for the face and body made with charcoal and aloe leaf juice); Glow (Kamali's own version of a self-tanner and made with cacao seed butter, sugar beet and other ingredients); Soft (everyday face and body moisturizer that contains olive fruit oil); and Smooth (an exfoliator containing olive seed powder and other ingredients).
Formulas are free of parabens, synthetic colors, artificial fragrances, phthalates and other chemicals. Prices range from $30-$50 for 6 fl. oz., and products are available on NormaLife.com and at Barneys New York. (Also, packaging is 100% reusable and recyclable.)
The Times recently caught up with Kamali to get insight into her lasting legacy of work and what inspires her to continue to create products targeted at everyone, regardless of gender.
Let's start with the obvious. You've been a player on the fashion front for a while now. What was the inspiration to steer your efforts toward NormaLife?
My interest in a healthy lifestyle started as a result of the loss of my dearest friends to AIDS. I understood how important a healthy immune system was for overall good health and started to pursue as much information as possible. In that search I learned more than I could have thought possible about the holistic approach to wellness and also the negative things in our environment that can impact well-being.
Fast forward to 9/11 and the opening of my Wellness Cafe. I was sure this event would stress the immune system even more for everyone, and every baby born that day forward. Fast forward again to now where we have a glut of products and promises and trends in the wellness space. I feel strongly that NormaLife should present a simple, easy understanding of a healthy lifestyle in a democratic and inclusive way.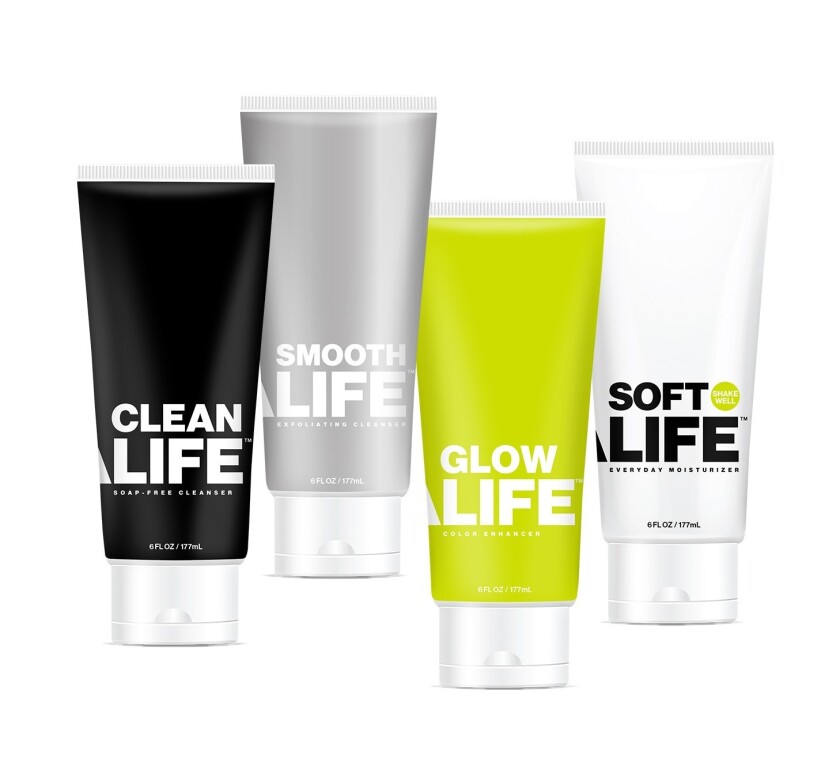 Tell me a little about the new line. Who's it for?
The first product offering is the Skinline because it is the best definition of inclusive. I really like the focus on gender fluidity as it relates to these products. I believe in timeless concepts in all of my work and even more so in this wellness world. Therefore, my goal is to include men and women of all ages, skin types and color to have accessible product information and concepts to use as tools for a healthy lifestyle.
Can you tell me why that gender-fluid approach was important for you to convey with this new line?
We are all masculine-feminine, and the freedom to express both in all aspects of our lives is a meaningful balance. With clothing, it is a creative expression that is unique to each of us and has been missing in fashion since the '70s.
How is this philosophy spilling over into the designs of your current collection?
My collection is also inclusive, and the best way to bring men and women together is for men to be in touch with their feminine side and women with their masculine side.
You certainly keep yourself busy. What else are you cooking up for the future?
Lots of new projects! Some in technology plus fashion podcasts and a book.
For fashion news, follow us at @latimesimage on Twitter.
---
The essential weekly guide to enjoying the outdoors in Southern California. Insider tips on the best of our beaches, trails, parks, deserts, forests and mountains.
You may occasionally receive promotional content from the Los Angeles Times.