Philipp Plein's fashion extravaganza during New York Fashion Week is a bust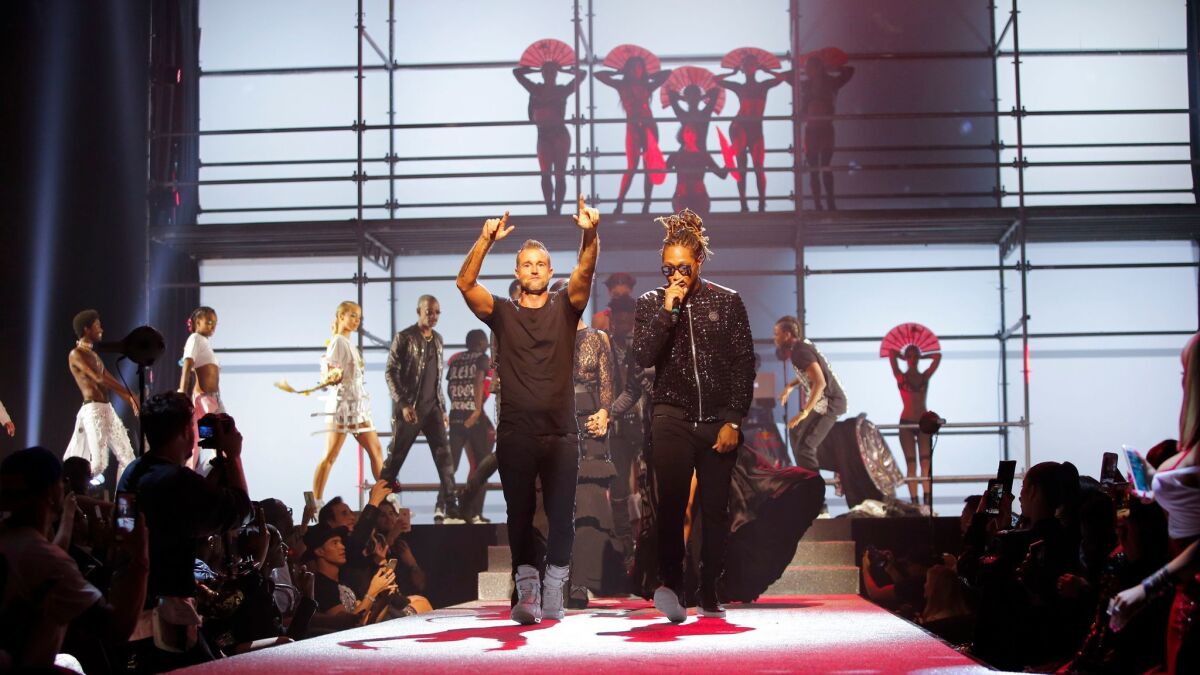 Reporting from New York —
Switzerland-based designer Philipp Plein followed up last season's New York Fashion Week debut at the New York Public Library by giving the Hammerstein Ballroom a cabaret-style makeover where on Saturday night he presented his spring and summer 2018 men's and women's collections in a runway extravaganza that was long on spectacle and short on substance.
The show unspooled at the same time as Alexander Wang's #wangfest 5 miles away and across the East River in Bushwick, Brooklyn, a scheduling conflict that the conspiracy theorist wing of the fashion flock pointed to in an ongoing beef between the two designers. That fallout began early last year when Wang took to social media to accuse Plein of copying one of his 2014 runway shows.
Plein's show began with burlesque star Dita Von Teese performing her signature martini-glass striptease routine at the top of the runway. (Though Von Teese's performances are always a delight to watch, there seemed to be no discernible connection to the collection that followed.)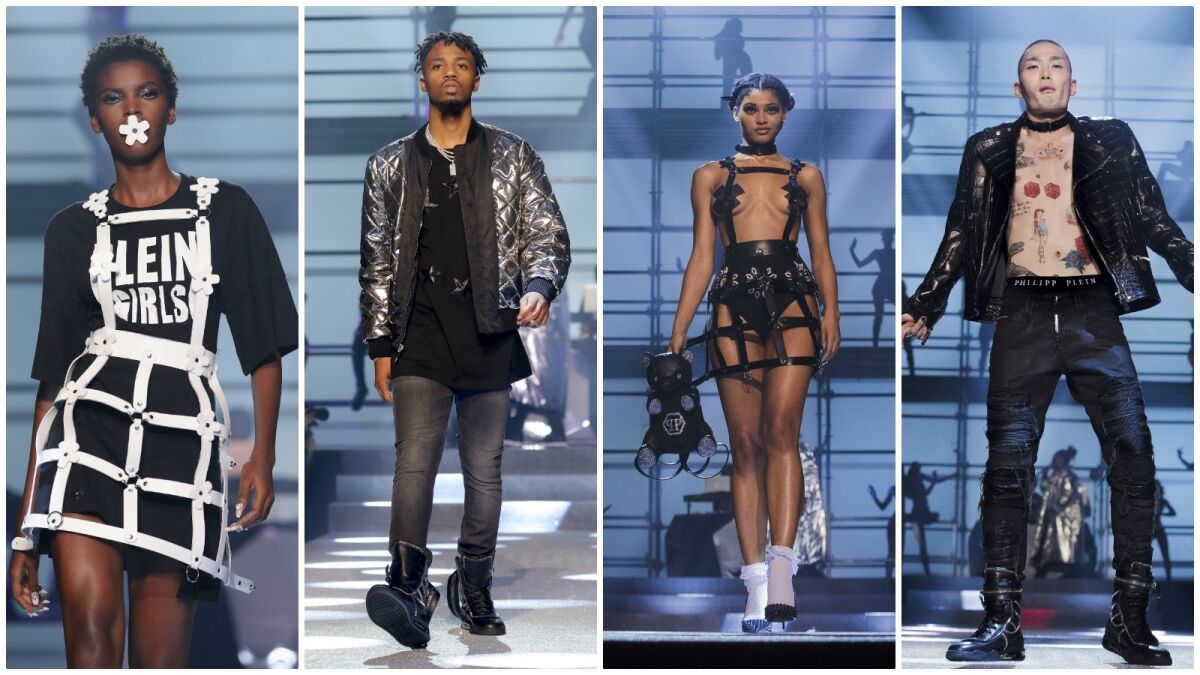 After that, rapper Future took to the stage, where he served as a sort of musical accompaniment/master of ceremonies to the runway show proper — though "improper" is a more accurate word as the collection seemed to consist primarily of strappy leather dress-shaped bondage harnesses and sparkle-studded screen-printed T-shirts depicting a bound and ball-gagged Cinderella-like cartoon character. (Some shirts included the slogan "Prince Charming made me do it.")
The collection was also heavy on distressed denim, leather jackets and diamond-quilted metallic bombers, most of the pieces larded up with studding, cartoon-animal embroidered patches or both. There were a few — very few — more elevated pieces, specifically tiered ruffled dresses, but even they suffered from the abundance of bondage strap details.
Far more memorable than the clothes, though, were some of the celebrity and quasi-celebrities Plein enlisted to model them. Among those we noticed sharing the catwalk with modeling elite Stella Maxwell, Adriana Lima and Irina Shayk were Vernell Varnado and Cordell Broadus (father and son, respectively, of Snoop Dogg), and actress-recording artist Teyana Taylor, whose trip down the runway in a black lace lingerie-like bodysuit included bumps, grinds and crawling on all fours.
The theme of the collection, at least according to the slogan emblazoned on the T-shirts and hashtagged into the show notes, was "Good Gone Bad," which is actually a pretty succinct way of summing up the whole experience.
For more musings on all things fashion and style, follow me at @ARTschorn.
ALSO:
Mayweather fashion: The boxer jumps into the ring with Philipp Plein
Christian Siriano's SS18 collection — and Leslie Jones' reaction to it — are everything
Viva Avant Garde! Jeremy Scott marks his label's 20th anniversary
---