Ralph Lauren stages a high-octane, racing-themed fall 2017 fashion show in his Bedford garage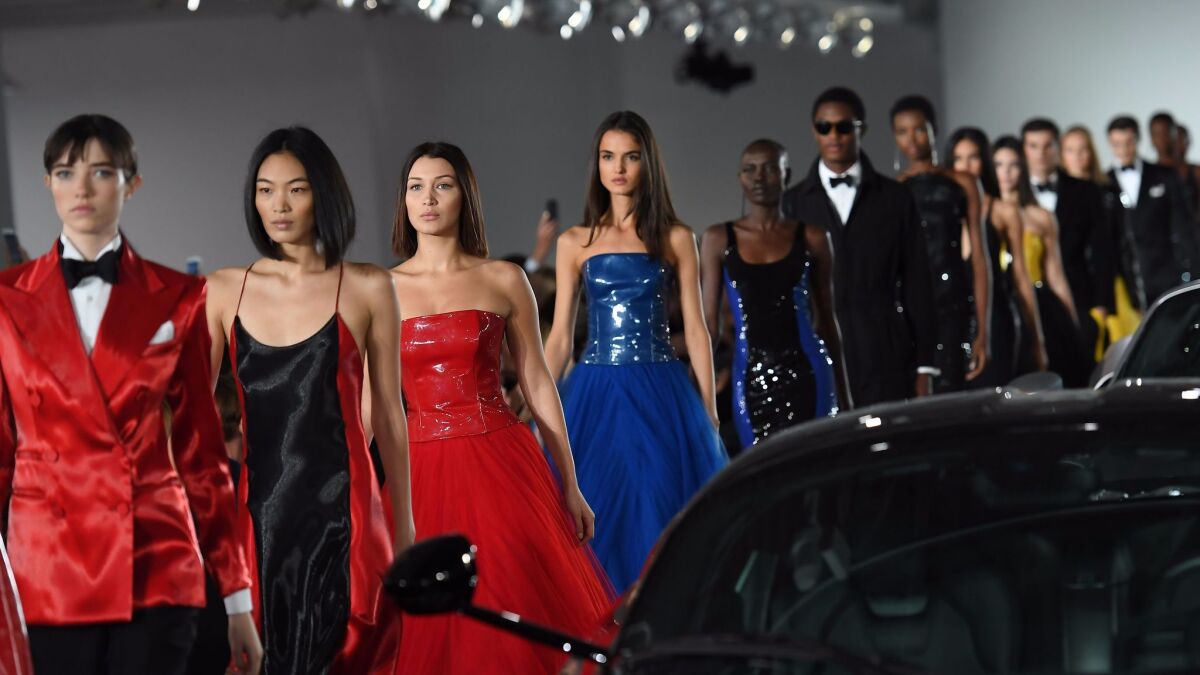 Reporting from New York —
Plenty of fashion shows have been staged in garages over the years, but the one that took place Tuesday night in Bedford, N.Y., some 37 miles northeast of the New York Fashion Week scrum, was in a class all its own.
That's because it took place at Ralph Lauren's garage — a two-story warehouse really — amid cars from the designer's impressive collection of exotics, including a silver Porsche 918 Spyder, a bright yellow McLaren and a couple of cherry-red Ferraris. Those colors were reflected (literally and figuratively) in a revved-up collection of clothes that sped immediately to retail as part of the label's ongoing experiment with see-now, buy-now runway shows.
"My cars have always been an inspiration to me. I see them as moving art," Lauren said in the show notes. "My women's collection for fall 2017 connects the elements of the speed, style and beauty of these handcrafted vehicles with the very modern, yet timeless spirit of the clothes. There is a sleekness, an innate sexiness and power to shapes sculpted out of high-tech patent leathers and high-gloss silks."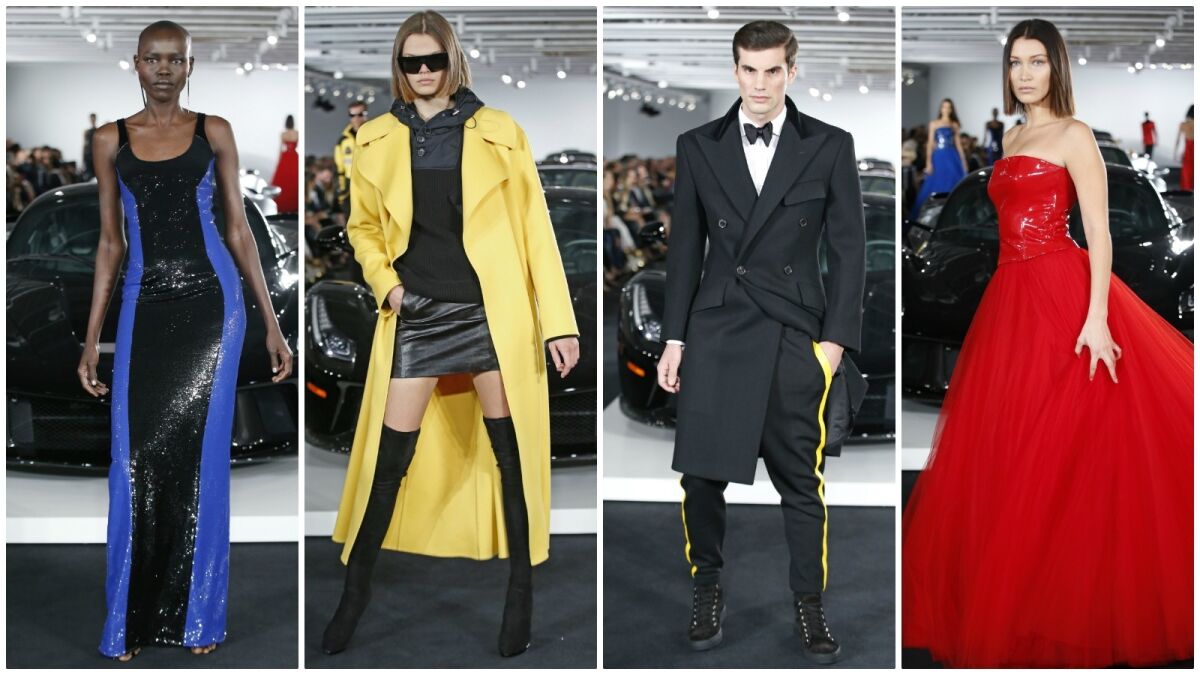 That meant lots of pieces that gleamed and shined like chromed fenders – red patent leather trench coats, patent leather bustiers paired with skirts of layered tulle, blazing yellow cashmere trench coats, and glittery, form-fitting dresses color-blocked from armpit to ankle with wide, racing-stripe-inspired bands of blue. Other racing-inspired touches included motorcycle jackets and a sparkly mesh cocktail dress bearing the numeral 8, inspired by the grill of a 1920s-era racing Bentley in Lauren's collection.
Also in the mix were pieces from the men's Purple Label collection — which marked the first time the men's and women's pieces were presented on the same runway. The racing motif was evident here too, cropping up in a black leather jacket with a Monte Carlo race car graphic across the front, racing-yellow tuxedo-trouser side stripes, and black, one-piece coveralls that no old-school grease monkey could possibly afford.
There were no overt checkered-flag references in evidence (as there had been at the motocross-inspired Fenty Puma by Rihanna spring 2018 show on Sunday night), but a range of black and white glen plaid, hound's-tooth and herringbone pieces provided a perfect bridge between the overtly racing-themed looks and more familiar Ralph Lauren territory.
Celebrities in the house — make that, garage — for the show included Jessica Chastain (the face of the brand's Woman by Ralph Lauren fragrance), Diane Keaton, Katie Holmes, Armie Hammer and wife Elizabeth Chambers, and fellow designers Donna Karan and Diane von Furstenberg.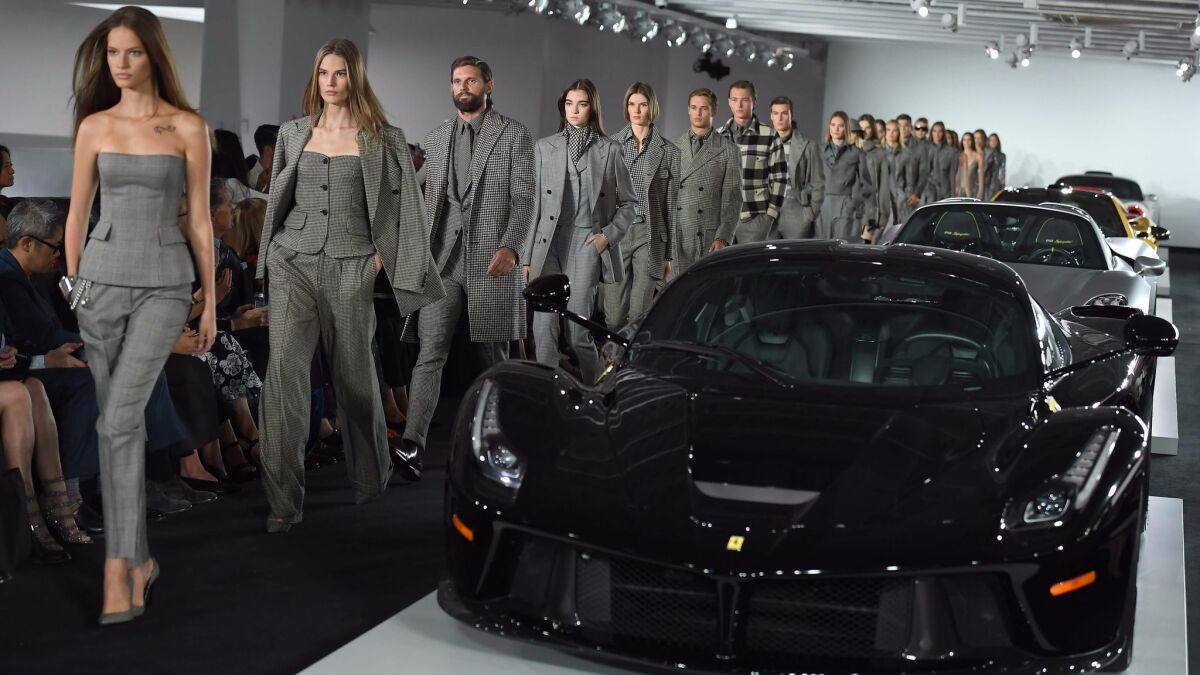 While those VIPs — and the rest of the guests ferried out from Manhattan — were treated to a post-show sit-down dinner surrounded by another selection of Lauren's exotic cars (our favorite was the 1955 Mercedes Gullwing purchased in the 1980s as the first piece in his collection), pieces from the collection raced to retail at RalphLauren.com, as well as the shelves of Ralph Lauren flagship stores around the world, including the Beverly Hills boutique.
For more musings on all things fashion and style, follow me at @ARTschorn.
ALSO:
Motocross meets retro surf in the SS18 Fenty Puma by Rihanna NYFW show
Ralph Lauren model is all about polo, on and off the field
It's time to quit hating on those Sochi Olympics sweaters, America
---