Opening Ceremony stages a fashionable fete for Mickey Mouse's 90th birthday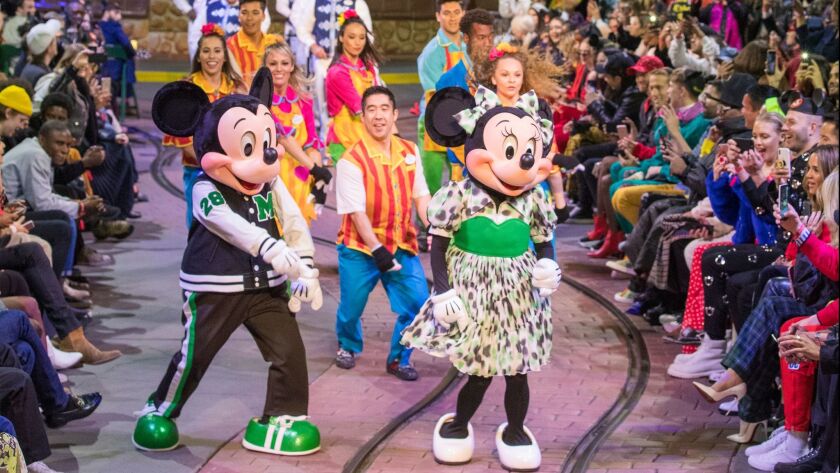 How do you mark the end of Paris Fashion Week? By going to Disneyland, of course. With that slate of shows in the rearview mirror, Opening Ceremony's founders Humberto Leon and Carol Lim (who presented their latest Kenzo collection in Paris on Feb. 28) lured a cadre of fashion editors and tastemakers to the House of Mouse in Anaheim on Wednesday night for what they dubbed the "Happiest Show on Earth," showcasing Opening Ceremony's see-now, buy-now spring 2018 collection along with a Disney collaboration.
Taking place in the Mickey's Toontown area after regular park hours (the show was scheduled for 9 p.m. but kicked off closer to 9:30), the event served as a kickoff to Disney's yearlong celebration of the famous animated rodent, who made his on-screen debut in "Steamboat Willie" on Nov. 18, 1928. (Yes, that's right — it was a 90th birthday party for Mickey Mouse.)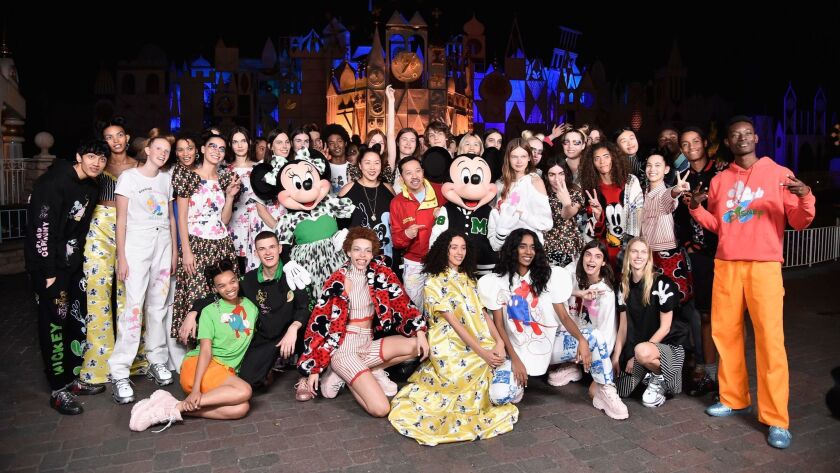 For SoCal natives Leon and Lim, hosting a runway show at the popular theme park was a dream come true. "The opportunity to do a show in Disneyland has been something that we've joked about and talked about in every way possible," said an elated Leon post-show, noting that he once made a Mickey Mouse bow tie and cummerbund for his senior high school prom. "We've said that if we could ever do a show at Disneyland, that would be the ultimate [dream]." (Fans of Disney, Leon and Lim also collaborated with Disney's 2016 "The Jungle Book" for the Kenzo label, where they've served as creative directors since 2011.)
Added Leon: "When we talked about the 90th birthday, and what seemed like a collaboration, we were like, 'We're going to give you something that's mind-blowing.'" Hence, the setup of an epic runway show at Disneyland — the first in 40 years. (The last one, called "The Evolution of an American Woman," was in 1978.)
Of course, putting together a fashion spectacle is no easy feat, let alone one at the park. "The idea of doing something here is, obviously, not an easy task," said Leon, who, along with Lim, stayed at Disneyland until 3:30 a.m. the night before the presentation. "There's so much involved. We've put up and taken down this runway show the last three nights."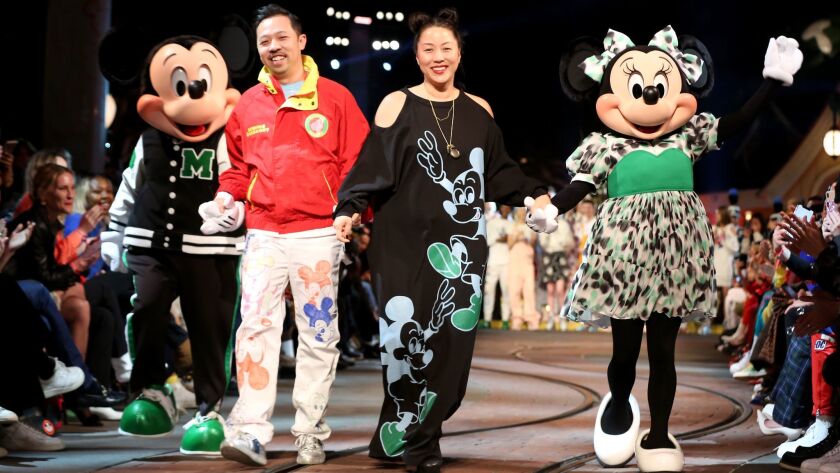 No doubt tired, the designers showed no obvious signs of exhaustion when they ran out hand-in-hand with Mickey and Minnie Mouse for their bow at the end of the show, complete with a parade of dancers and a marching band. Mickey, the star of the night, appeared more than once on the catwalk over the course of the fashion show.
In addition to appearing in person (well, in "mouse"), his image also appeared on a relaxed red hoodie ($145), matching track jacket and pants ($275 and $195), a cropped tee ($65) and a white sweatshirt dress with a shoulder cut-out and tie closure ($195) — all of which are already available for purchase on www.openingceremony.com and www.shopdisney.com, and at Opening Ceremony stores and Disneyland. Another drop from the collection is expected to arrive in November.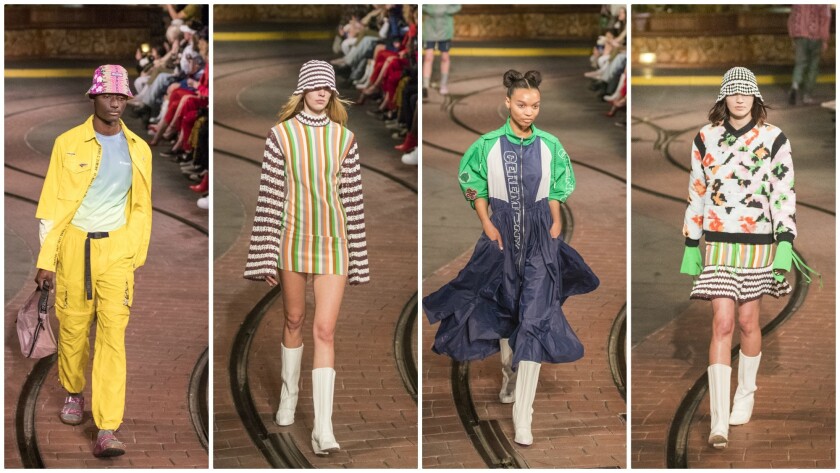 The designers put an Opening Ceremony spin on Mickey too, incorporating the shape of those famous ears into the shoulders of a dress and putting his likeness on faux fur skirts and coats. "We got to dive into the history of archives — we went through everything," recalled Leon of working on the "Mickey the True Original" collection. Save for the cut-out pillowcase patterns found in the archives that were used in the range, the designer noted that they re-drew everything else with Disney's help. "In the early days, there was a rawness and a hand you saw in the drawings, and we wanted to celebrate that," he said.
Opening Ceremony's celebration of Mickey comes two months after Minnie received a star on the Hollywood Walk of Fame, while clad in a custom Coach design. Beyond Mickey, the runway show also featured a spring 2018 collection that offered several other memorable pieces — namely footwear — including glittery Birkenstock slides and sparkly "La Cienega" low-top leather sneakers ($195; named after La Cienega Boulevard, where the label's West Hollywood retail store has been located since 2007). Drawing on "1970s optimism," the designers also introduced a striped mini-dress with crocheted bell sleeves, a denim patchwork jacket and a quilted robe with tie-dye details.
After the runway show, the label hosted an afterparty for the evening's attendees, including Chance the Rapper, Laverne Cox, Diplo, Maya Rudolph, Fred Armisen, Ali Wong and Chloe X Halle. Guests were treated to an open bar, free churros and pizzas, and a DJ set by L.A.-based music producer Kingdom. (Who knew the Happiest Place on Earth could get so lit?)
Leon and Lim have been known to push the envelope with their presentations — from inviting a group of female martial arts fighters to battle it out on the runway to enlisting stars such as Whoopi Goldberg and Aubrey Plaza to take part in a politically charged performance urging audience members to vote — and they continued to do so with their latest production.
Although the event didn't conclude with the volley of fireworks that traditionally marks the end of the Disneyland day, it didn't matter much. There was enough sparkle in the collection's glittery sneakers and Birkenstocks alone to light up the night.
---