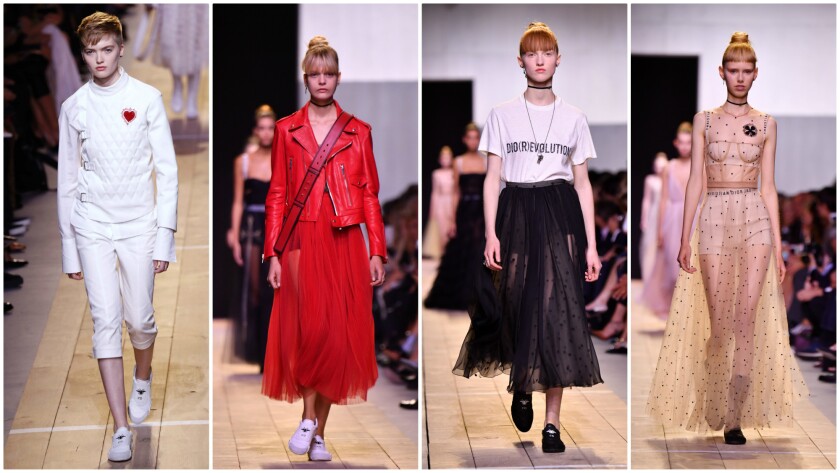 Reporting from Paris —
This round of Paris Fashion Week shows has seen a lot of shift changes at the top of the creative ladder with luxury brands like Saint Laurent and Lanvin debuting collections under new creative direction (Anthony Vaccarello and Bouchra Jarrar, respectively). Friday it was Maria Grazia Chiuri's first at-bat for Dior, a shattering of the crystal ceiling (as the show notes point out, she's the first woman to serve as the artistic director for the maison's haute couture, women's ready-to-wear and accessories collections) that made her fencing- and feminist-themed Spring/Summer 2017 a wholly appropriate place to start.
The fencing influence came by way of strappy diamond-quilted tops (some embroidered with Dior's bee logo) that buckled in the back, mesh-brimmed visor caps that riffed on the fencing mask and heart-shaped embroidered appliqués on the left breast.
The exploration of fencing uniforms set the stage for the collection's riff on feminism since, as Grazia Chiuri points out in the show notes, "[t]he uniform of the female fencer is, with the exception of some special protections, the same as for the male fencer. The female body adapts itself to an outfit which, in turn, seems to have been shaped to its curves."
Some of the references came by way of looks that mixed tough with tender — two standout examples include a red leather biker jacket worn over a black crepe georgette tank and paired with a red pleated tulle skirt (worn over black knit underwear) and a clutch with a metal handle that spells out "Dior" like a set of brass knuckles in the hand of its carrier. Others references were less subtle — like the screen-printed T-shirts bearing the slogans: "dio(r)evolution" and "We should all be feminists."
But the collection also seemed to make it clear that there's room in the new Dior woman's clutch for snips and snails and puppy dog tails and sugar and spice and everything nice, as the sporty fencing-flavored pieces and the equality-now references were balanced by an assortment of softer, whimsical pieces that included sweaters and tulle dresses embroidered with zodiac signs and imagery plucked from tarot cards, some with the embroidered words "la lune" (the moon) or "le soliel" (the sun).
At first blush, it's hard to imagine some of the more overt fencing-flavored pieces — the quilted breast-plate-like tops specifically – out in the wild, but it was an ambitious and memorable debut for the new creative director, and we're excited to see what's coming down the piste in future seasons. (The piste is the strip upon which a fencing match is conducted — we couldn't resist making at least one fencing-related reference in this dispatch — even we had to explain it afterward.)
For more musings on all things fashion and style, follow me @ARTschorn.
ALSO
Rethinking the armor at Balmain and Rick Owens
Rihanna closes out day two of Paris Fashion Week — twice
---