Review: Rick Owens does strong-shouldered space-sleaze — and we love it
Reporting from Paris —
On a rainy Paris Thursday, Rick Owens introduced us to Larry – as he dubbed his fall and winter 2019 women's runway collection – and brought the legacy of Larry LeGaspi into the pop-culture consciousness in a big way.
If your reaction was "Larry who?" you're not alone – and that's something Owens seems determined to change. The show notes describe LeGaspi as "the man responsible for the silver and black space-sleaze looks of Labelle and KISS in the seventies," and his aesthetic as "camp ferocity … [a] mix of Art Deco sexual ambiguity and raw, black leather bombast."
LeGaspi, whose client list also included George Clinton and Grace Jones, died in 2001, but his influential "Space Deco" aesthetic continues to live on – though most people who see the lightning bolt motif traced down the thighs of Ace Frehley's original KISS jumpsuit give a moment's thought as to its origins.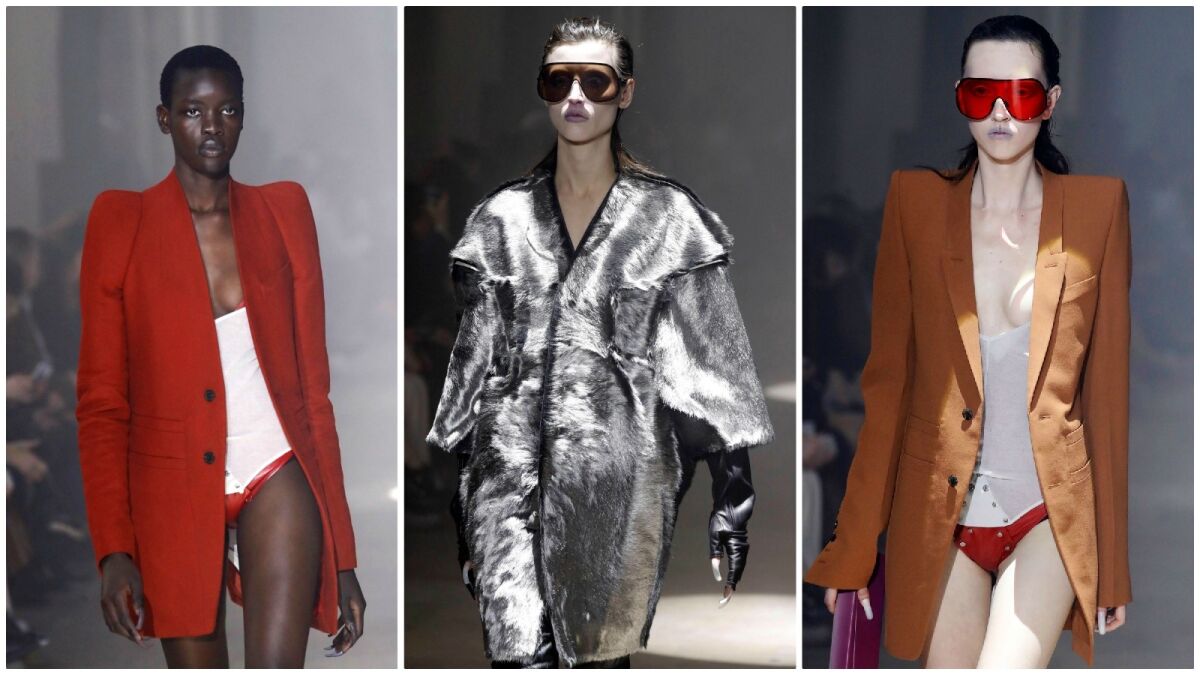 Owens did, and pays homage to it with a lightning bolt charm (in his hands it's as much dagger as it is decoration) dangling from bags, pouches and duffels. Hints of LeGaspi client Grace Jones could be seen in the long, lithe and angular silhouette that dominated the collection, stretched in both directions to rock-glam proportions thanks to platform boots and high, sharp shoulders. (The sharp shoulder is, hands down, the takeaway trend of the season thanks to strong showings at Dolce & Gabbana and Saint Laurent among others.)
(He's actually done a lot more than simply pay homage – Owens has actually written a book about LeGaspi that's coming out in October – just as the space-sleaze collection he inspired hits retail.)
Among Owens signatures are garments that wrap, swaddle, drape and cocoon and that was present on the runway Thursday, with his duvet coats and scarves given a black and silver dégradé print and what the designer describes in the notes as his knock-off version of a Charles James cocoon coat served up in raw-seamed shearling and silvery nutria. (Owens recently penned the forward to a book about the English American couturier titled "Charles James, the Couture Secrets of Shape" that's out next month.) And a range of draped dresses used rope-twisted angora viscose jersey fabric printed with archival Fortuny designs.
But what stood out was that much of the collection was pared-back, exposed and straightforward in-your-face sexy (in a late '70s sort of way), thanks to snap-crotch bodysuits – some in thin, rib-knit cotton, others in stretch leather – worn in layers or paired with strong-shouldered (but round not sharp) jackets and cashmere coats, the longer ones of which had zippered, nylon cargo pockets grafted to them. (We've noticed a plethora of cargo pocketry on the European runways this season; Prada's collection was full of them, as was Max Mara's.)
Memorable looks include a cherry-red leather jumpsuit unzipped to just below the breastbone and a fuchsia knit dress that seemed to torque and twist around the wearer with each step. If that's what passes for space-sleaze then yes, please!
For more musings on all things fashion and style, follow me at @ARTschorn
---