Review: From strong shoulders to sharp shoes, Saint Laurent plays all the angles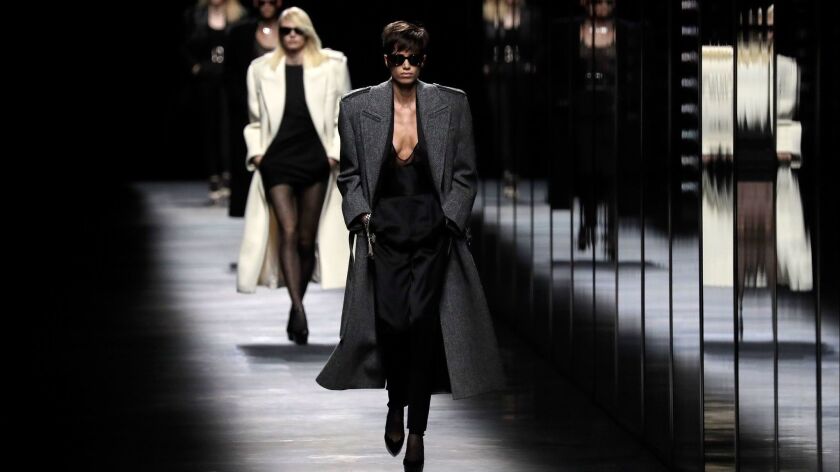 Reporting from Paris —
There has been no shortage of strong-shouldered silhouettes on the runway this season (see Dolce & Gabbana and Prada for starters), but Anthony Vaccarello's latest collection for Saint Laurent was so full of sharp lines from shoulder to shin it was practically a master class in fashion geometry.
The '80s-inspired collection – which name-checked Betty Catroux, Bianca Jagger and Catherine Deneuve as house muses in the show notes – played all the angles, from the sharp-shouldered jackets of the opening looks to crisp-cornered, tiered leather pencil skirts to tops that were little more than equilateral triangles of velvet.
There were some softer lines in the mix, most notably by way of immense bows that unfurled asymmetrically across one shoulder or knotted in front, sprays of feathers at the ankle (a particular Vaccarello flourish) and cocoon-like scarves that wrapped the necks of many of the men's looks.
(Saint Laurent is one of the labels that showcases both men's and women's on the runway here, something that's happening with increasing frequency at the shows here and in Milan. Giorgio Armani hopped on the coed show bus this season, Maison Margiela combined men's and women's starting last season.)
For the finale, the collection was presented under a black light, which, according to the show notes was an effort to "[unveil] the contemporary, effortless aspect of Saint Laurent's soul."
If that's the case, the soul of this Saint Laurent collection is as sharp as a tack and as angular as a Cubist painting.
For more musings on all things fashion and style, follow me at @ARTschorn
---