How well-suited director Paul Feig takes his style cues from classic Hollywood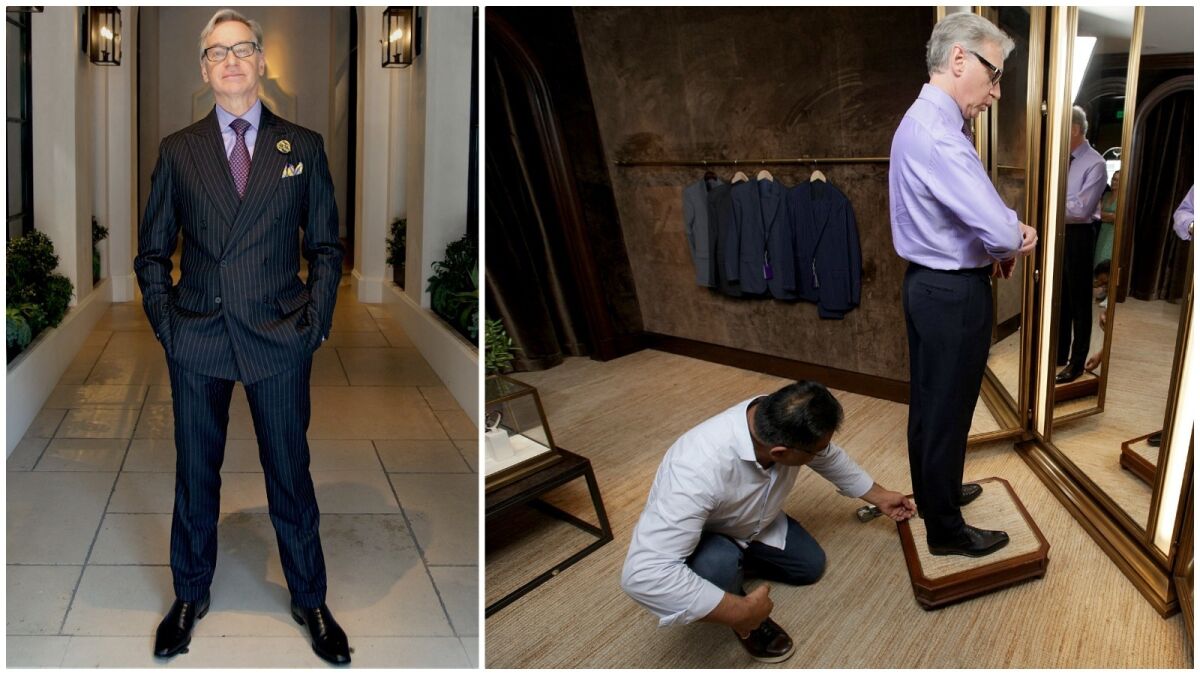 Paul Feig, creator of the TV series "Freaks and Geeks" and director of the films "Bridesmaids" and "Spy" and the 2016 "Ghostbusters" remake, has a reputation around Hollywood. He wears a suit and tie pretty much everywhere, all the time. Whether it's in a meeting, shooting on set or scouting some far-flung location, he inevitably arrives impeccably turned out. Sometimes he'll be clad in a double-breasted, peak-lapel, pinstripe suit; other times, he's wearing a three-piece, single-breasted number. Almost always, the ensemble will involve a bold pairing of pattern and color (he has a particular penchant for purple), and he'll finish off the look with a boutonniere on his lapel and a flourish of silk in his breast pocket.
With Feig's latest film, Lionsgate's stylish suburban whodunit "A Simple Favor" starring Blake Lively and Anna Kendrick, the director's off-screen style finds its way on-screen. It serves as the inspirational starting point for the look of Lively's character, Emily Nelson, in the film, which hits theaters Sept. 14. Emily is a take-no-prisoners New York fashion publicist who picks her kid up from school in over-the-top, three-piece menswear-inspired Ralph Lauren suits and Christian Louboutin boots and sips martinis with Kendrick's character, Stephanie, after nonchalantly stripping off a breakaway collar and cuffs.
The film marks the start of a ramped-up style profile for the 55-year-old director, whose past dabbling in the sartorial space has included penning a guest column for Esquire, a photo shoot for GQ and a limited-edition suit-and-accessories collaboration with J. Crew that came out in November of last year. He has several fashion projects lined up.
"I've been working toward this," Feig said. "I've been telling [my agents at] CAA for years that I wanted to start a clothing line, that I wanted to do something in that world, and God bless them, they were like, 'We get it, but you know, you're not really a famous movie star.' And I get that."
Feig shared this as he sat on a couch in the VIP men's fitting room of Ralph Lauren's Rodeo Drive boutique in Beverly Hills in mid-August. The married filmmaker had landed back in L.A. the day before from a vacation in Peru and was set to leave the next morning to begin the press tour for "A Simple Favor." Ralph Lauren had offered to outfit him in a couple of suits for the occasion. With the help of the store's staff (all of whom he seemed to know by name) and tailor Mario Gonzales, who appeared as if by magic from his own Beverly Hills atelier, alterations were quickly marked on two Purple Label suits, which Gonzales spirited away to be finished.
Having his wardrobe inspire the costumes of the silver screen, as it does in "A Simple Favor," brings things full circle for Feig. "I grew up in Michigan right outside of Detroit, and both my parents were older so they liked older things," he said. "And my mom liked these old movies like 'Singin' in the Rain,' 'His Girl Friday' and 'Bringing Up Baby,' and I fell in love with the way Cary Grant and all those guys dressed."
At the age of 8 and already enamored with classic movie-star style, Feig found himself further motivated by the words of his comedy hero. "I read a biography of Groucho Marx," he explained. "And [in it,] he says something about never trusting men who didn't dress well." He said that that prompted him to do a deep dive into the world of style, reading Esquire and GQ magazines and the how-to style books they published. That in turn prompted him to ask his mom to buy him something special.
"I was an only child and I kind of had this Little Lord Fauntleroy thing going on," he said, "and I remember that my mom and I went to the fancy mall — the Somerset Mall on the other side of town — and that's where I found the suit. It was a gray, three-piece Pierre Cardin suit in a very elaborate windowpane [pattern]. It reminded me of Johnny Carson a little bit, who was also somebody I'd really admired as a kid. I just fell in love with the idea of a three-piece suit. I remember thinking that's how a really successful adult dresses. That was my first good suit."
The sartorial seeds may have been planted at the tender age of 8, but Feig said they didn't really come to fashionable fruition for another several decades. After stints at stand-up comedy and acting (his on-screen credits include the TV series "Sabrina, the Teenage Witch" and the movie "Ski Patrol"), he created the short-lived (but critically acclaimed) high school-set series "Freaks and Geeks," which aired on NBC from 1999 to 2000.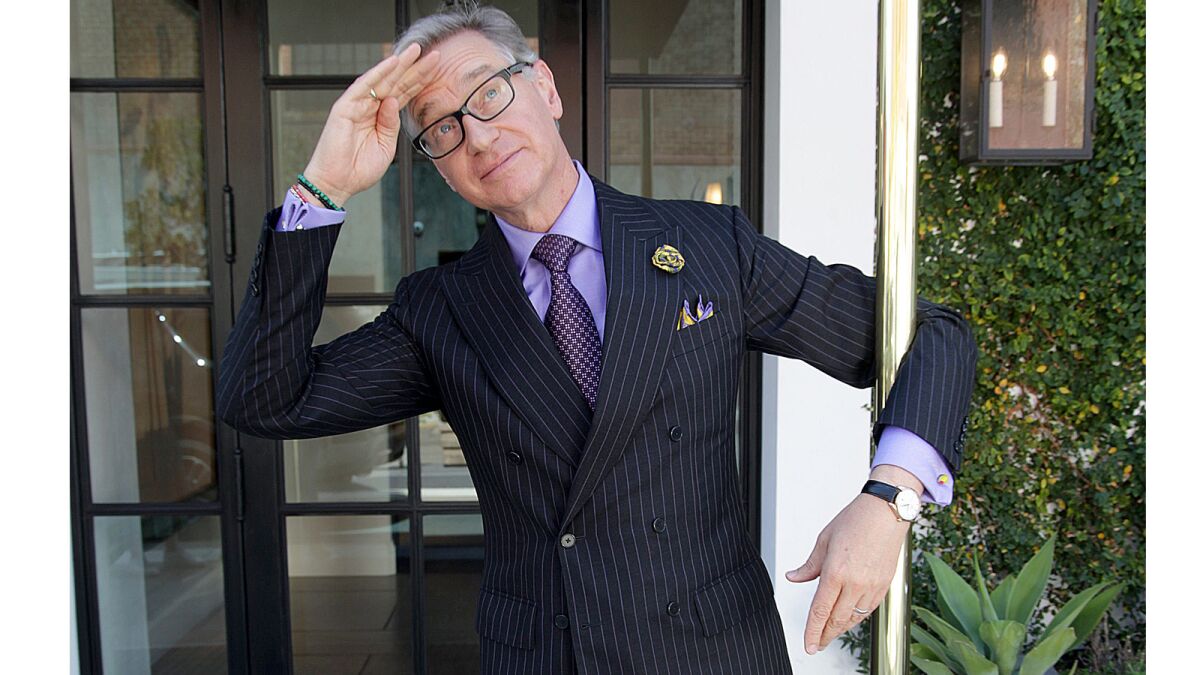 "When I first started directing with 'Freaks and Geeks,' I was still wearing jeans and T-shirts because I was kind of reconnecting with a high school vibe," he said. "But after that I thought, 'Maybe I'll wear a suit [when I direct],' because I'd been wearing nice suits and ties in my personal life and then I had started wearing suits to meetings. I thought, 'Why not carry that over?'"
Sitting in the director's chair dressed to the nines feels natural to him, he said, partly because it reminds him of directors of Old Hollywood, Alfred Hitchcock, John Ford and Howard Hawks, among them. (They were frequently photographed on set in full suit-and-tie ensembles.) It's also because of the role Feig plays on set. "I'm the captain of the ship," he said, "And if I get on the ship and the captain is wearing sweatpants and a T-shirt, I get off the ship."
The next major milestone in Feig's style evolution came in 2011 during a post-"Bridesmaids" stint living in London and working on a project with production company Working Title whose co-chairman Eric Fellner surprised him with a gift.
"He knew I loved suits and wanted to get me a bespoke suit as a gift, which I'd been wanting forever but couldn't afford," Feig said. "He sent me to Anderson & Sheppard on Savile Row, which I hadn't even known about until then, and they took all my measurements for a three-piece suit. I just fell in love with [Anderson & Sheppard] because it's the classic British style, which is my favorite style."
He estimated that today a half-dozen of the tailor's bespoke suits are among the 60 hanging in his closet. Along with Anderson & Sheppard, Feig said he's a fan of Tom Ford, Thom Sweeney and Ralph Lauren, the last of which holds a special place in his heart. "When I had no name whatsoever, [Ralph Lauren] would loan me suits for premieres," he said. "I love the Ralph style because it's very classic American."
Renée Ehrlich Kalfus, costume designer for "A Simple Favor," said Feig's long-standing relationship with the label ended up being key to creating the Emily Nelson wardrobe in the film. "The women's suits were from around 2010 to 2011," Kalfus said, "and they were loaned to us from the Ralph Lauren archives. That was possible because of Paul's — and Blake's — relationship with them." Kalfus added that the idea to use Feig's suited-and-accessorized look as the inspirational starting point for the character came from the actress herself.
"Blake's character Emily Nelson is this PR maven — a really, really stylish and powerful New York woman," Kalfus explained. "At first, part of me didn't want to cover up this beautiful girl with these beautiful legs, but I started brainstorming with Blake and she said that [her character] should dress like Paul. I think it was, 'Exactly like Paul — full-on men's suiting!' After she said that, we both got really giddy because, of course, it was the perfect idea."
Kalfus said the over-the-top, slouchy, pinstriped three-piece suits with wide-legged trousers, the pocket squares, the watch chains and a skull-head walking stick (plucked from Feig's personal collection of walking sticks) telegraph that "she's this incredibly devious woman [living] in the [Connecticut] suburbs. She's completely out of place and doesn't give a hoot. She could[n't] care less about fitting in, and [the suits] just seemed like an extremely powerful and very iconic way to go about [showing] that."
Feig said the idea just worked. "I had to make sure I could justify it for the movie," he said, "and I could because Emily is in the fashion industry, and she's always kind of in charge — the captain of the ship — because she's in charge of a very powerful man, [her fashion-designer boss] Dennis Nylon. … And she wears the pants in her [own] family too. … I loved [the suiting idea] because it had this power quality to it but also a tough femininity. And also because this kind of creature needed to exist in Stephanie's world. She needed to be like an alien that came into this world of parents and Lululemon yoga pants."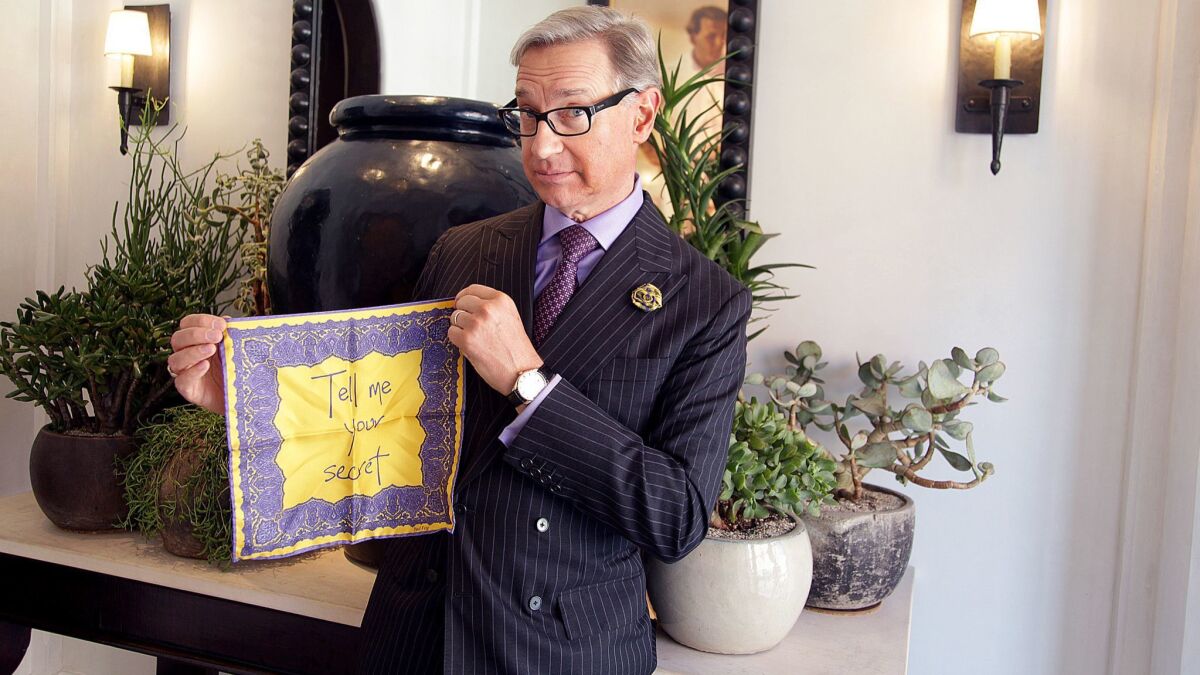 "A Simple Favor" hits theaters just as a handful of Feig's other efforts at fashion cross-pollination are coming to fruition. First out of the gate will be a line of silk pocket squares with his suit maker Anderson & Sheppard. Feig explained that each one is emblazoned with a message that's designed to be read from across a crowded bar. One design includes a martini glass and a question mark, an analog emoji way of asking, "Do you want a drink?" The one he unfurled from his pocket on the day we met was yellow and purple and bears the words "Tell me your secret," a phrase that pays homage to his new movie. Feig said he expects the pocket squares to hit retail toward the end of this year or in early 2019.
Additional collaborations in the works include a collection of pajamas and dressing gowns with London-based Budd shirt makers as well as a shoe design with another British brand, George Cleverley.
And then there's a project he's super-excited about. Like his clothing and accessories collaborations, it has a direct connection to the classic Hollywood films of the 1930s. In this particular instance, though, the inspiration comes in the form of the free-flowing libations that fueled the "Thin Man" movies.
"I'm something of a martini fanatic," Feig said by way of explanation. "I think it came from that [cinematic] world because I've always loved the look of martinis. The glass is so classic."
As if to underscore his adoration for the martini, the director paused for a second and then flashed a pair of cuff links from his J. Crew collaboration that put a tiny green olive at his left wrist and a yellow lemon at the right. Then he said, "So I'm very seriously considering coming out with my own brand of gin."
For more musings on all things fashion and style, follow me at @ARTschorn
---