Beverly Hills tailor Mario Gonzales has the red carpet sewn up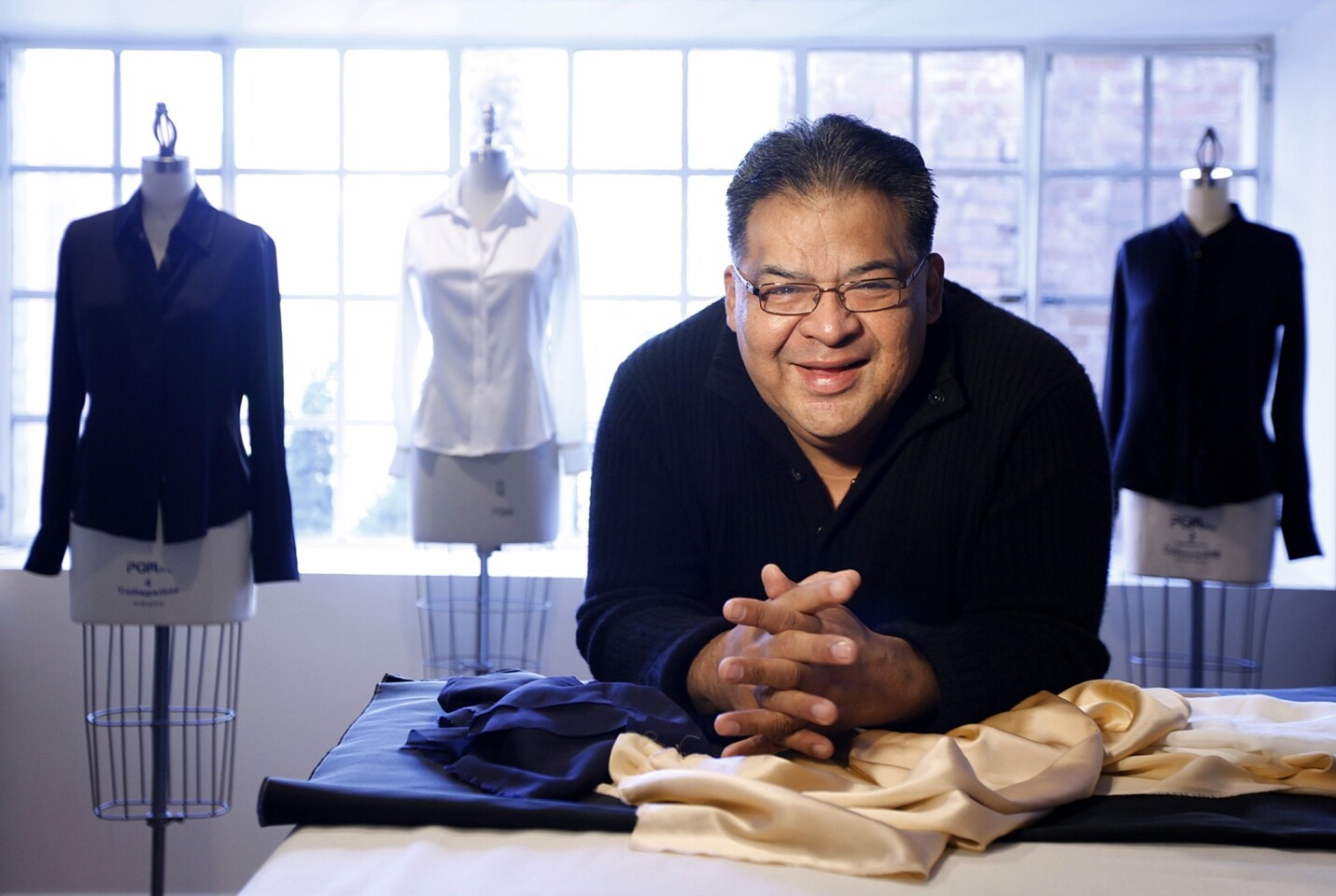 Mario Gonzales, 55, who for the last 20 years has been Hollywood's go-to tailor for awards season, shortening sleeves, showcasing butts, and preventing wardrobe malfunctions on the red carpet, is photographed at his office in Beverly Hills.
(Christina House/For The Times)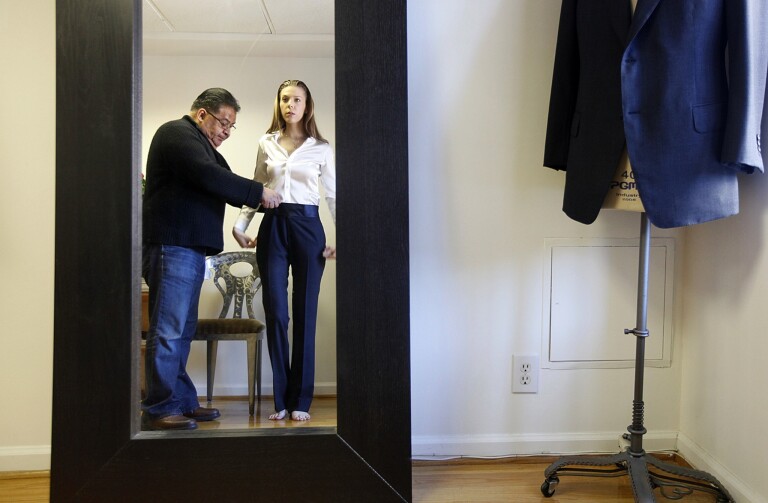 Mario Gonzales measures model Lauren Seely for his trunk show this spring at his office in Beverly Hills.
(Christina House/For The Times)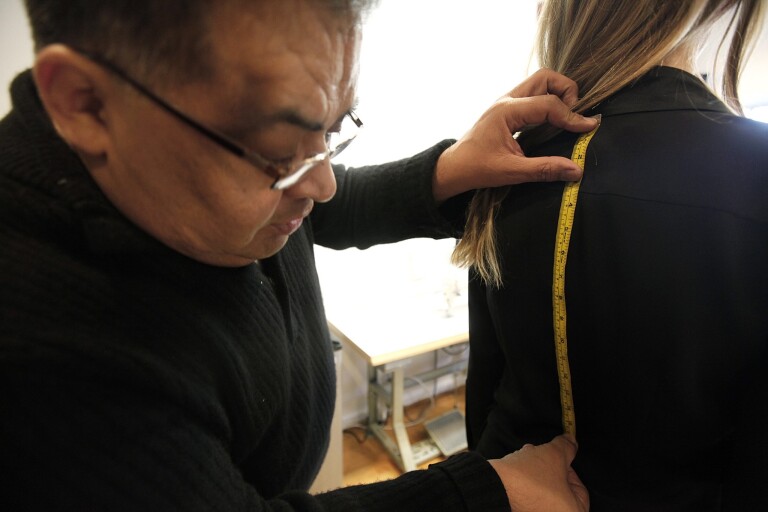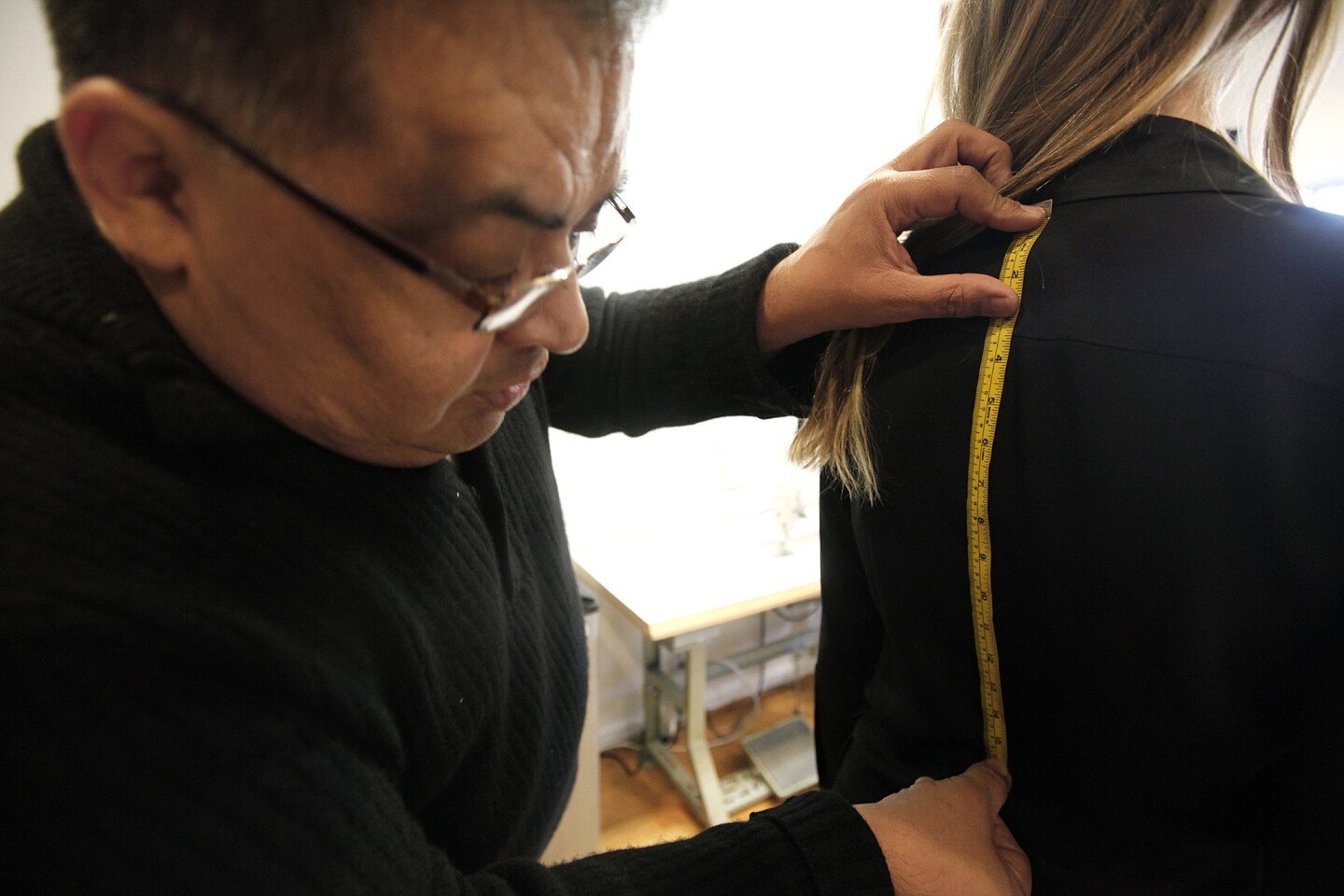 Mario Gonzales measures model Lauren Seely for his trunk show this spring.
(Christina House/For The Times)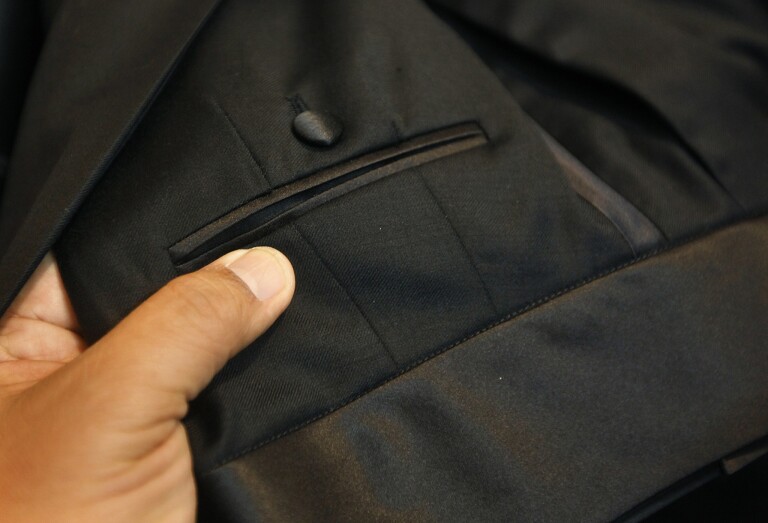 Mario Gonzales shows the detail on a pair of pants he designed.
(Christina House/For The Times)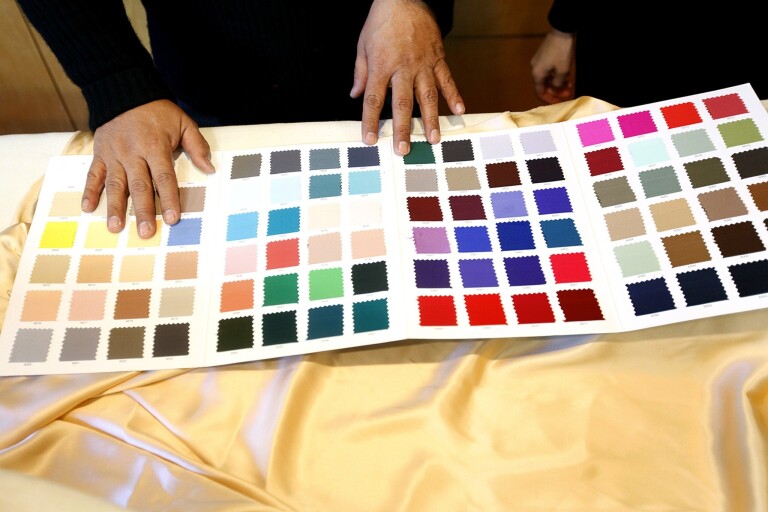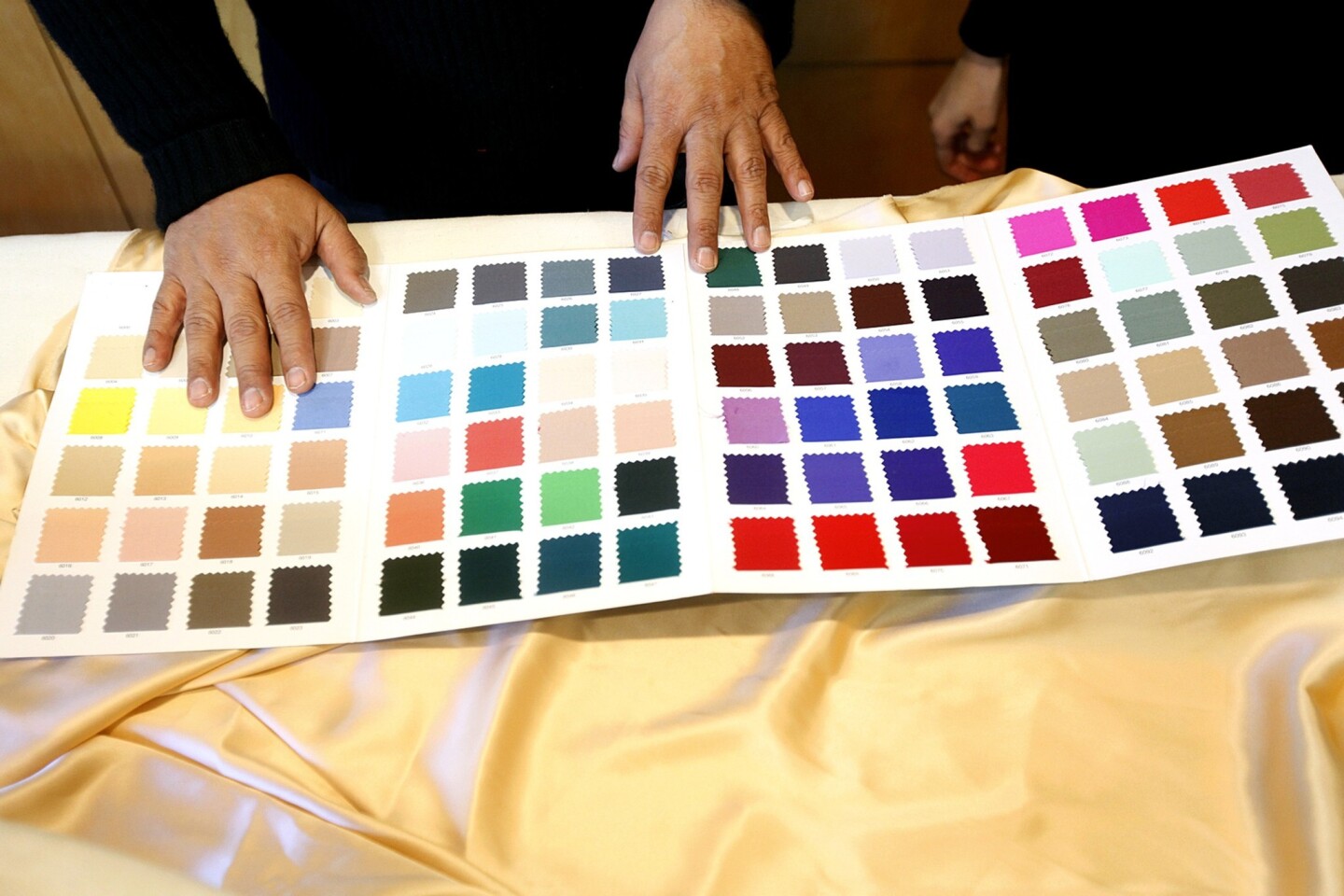 Mario Gonzales looks over a fabric swatch.
(Christina House/For The Times)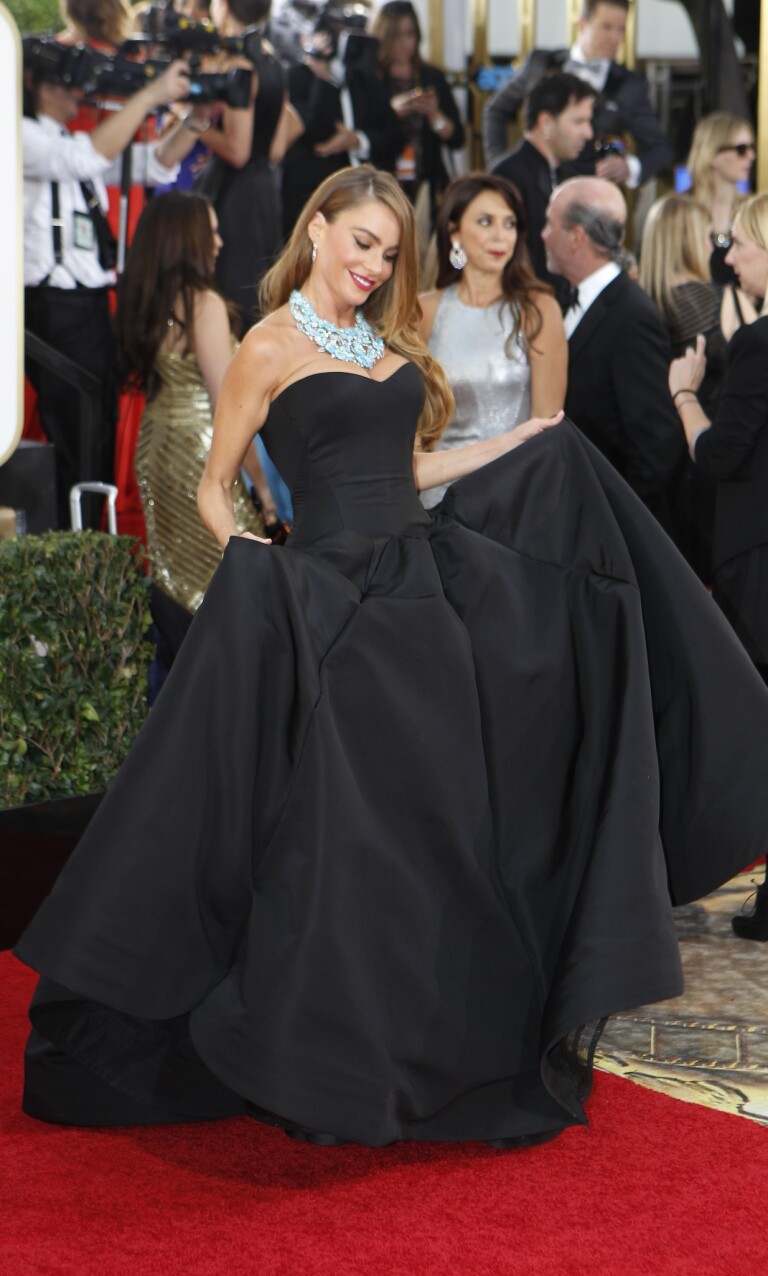 Sofia Vergara arrives for the 71st Annual Golden Globe Awards show at the Beverly Hilton Hotel on Jan. 12, 2014.
(Wally Skalij/Los Angeles Times)
Channing Tatum and Charlize Theron backstage at the 85th Annual Academy Awards on Feb. 24, 2013, at the Dolby Theatre at Hollywood & Highland Center in Los Angeles.
(Al Seib/Los Angeles Times)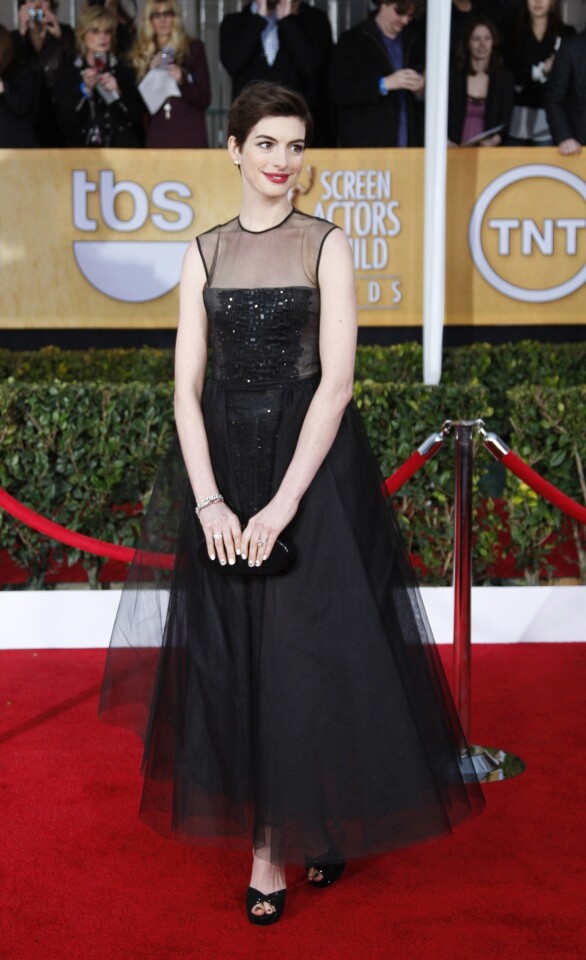 Anne Hathaway arrives for the 19th Annual Screen Actors Guild Awards at the Shrine Auditorium in Los Angeles on Jan. 27, 2013.
(Allen J. Schaben/Los Angeles Times)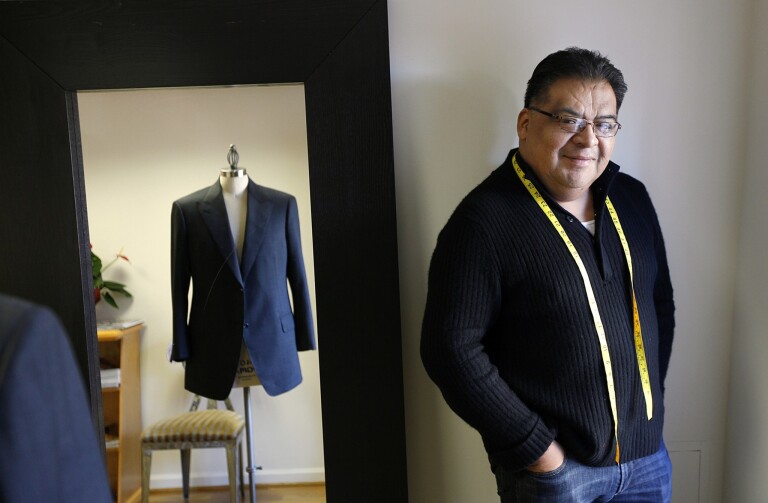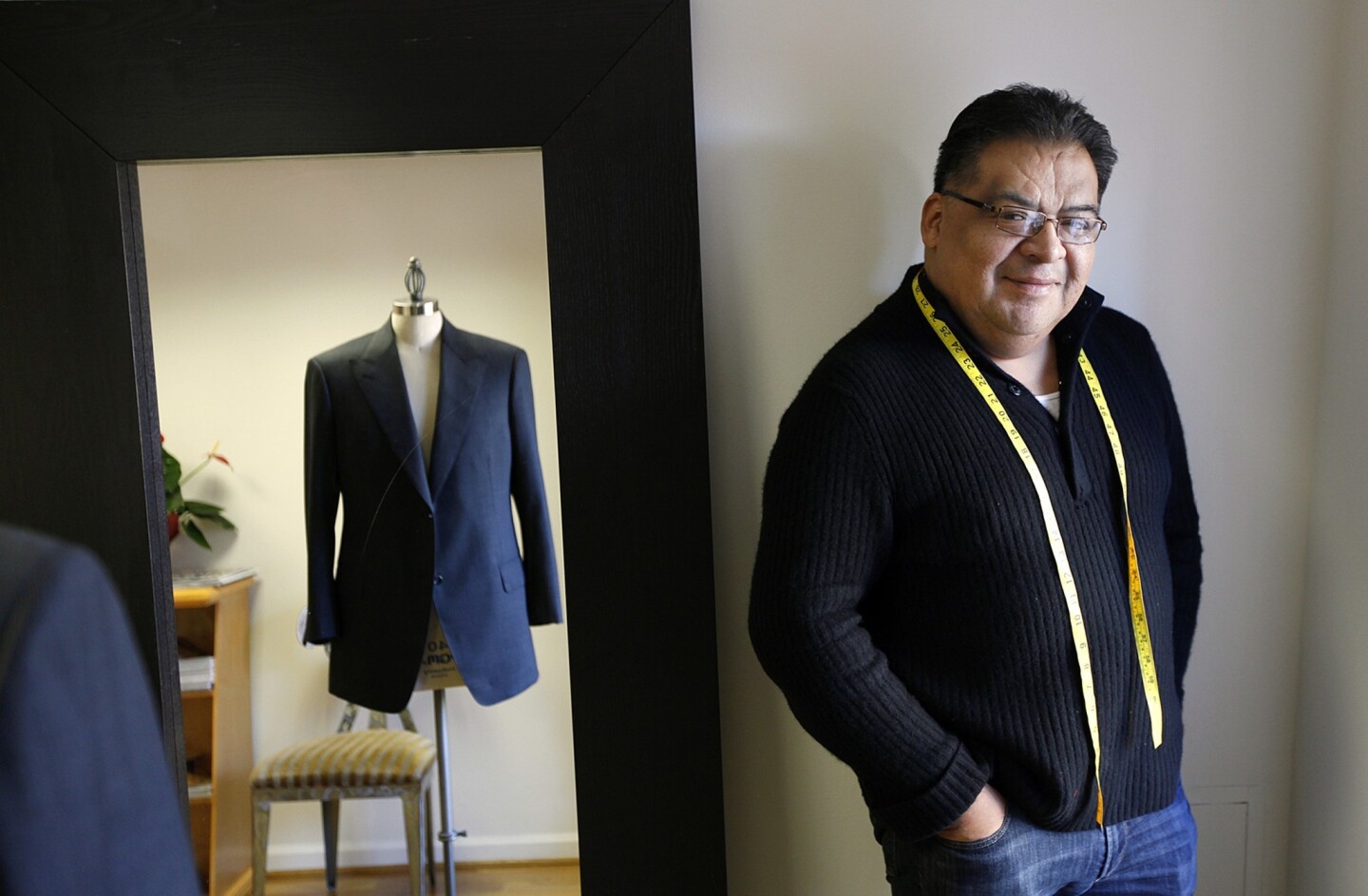 Mario Gonzales at his office in Beverly Hills.
(Christina House/For The Times)
Around the corner from the Fendi store and Mr. Chow in Beverly Hills, in two modest, sunlit rooms four floors above Brighton Way, Mario Gonzales spends his days quietly saving Hollywood butts — as well as waists, shoulders and bosoms.
Working in stretchy charmeuse, silk georgette and cashmere, Gonzales, 56, is among Los Angeles' preeminent tailors, esteemed by performers and their agents and stylists for his precision and calm, particularly during the panic vortex of awards season.
At the Golden Globes in January, it was Gonzales' workmanship that kept Sofia Vergara's curves where she liked them in a plunging Zac Posen dress. At last year's Oscars, he ensured that Channing Tatum's Gucci tailcoat wouldn't rip when the broad-shouldered actor lifted Charlize Theron on stage while they danced. When a zipper broke on the tulle Giambattista Valli gown Anne Hathaway planned to wear to the Screen Actors Guild Awards last year, the tailor raced to replace it hours before the ceremony.
PHOTOS: Golden Globes 2014 | Red carpet
"Mario is our lifeline," said Jill Lincoln, style director for stylist Rachel Zoe, whose clients include Vergara, Hathaway, Jennifer Garner, Cameron Diaz and Kate Hudson. "We're entrusted with these women in very high-pressure moments when they're under the scrutiny of the world. Mario puts them at ease, they know they'll be taken care of."
As awards season has mushroomed to include evermore events and as stylists have arisen to dress people for them, Gonzales, who started as a tailor for Armani before striking out on his own, has seen his fortunes rise.
This spring, after more than 20 years of handling Hollywood's hems, he plans to launch his own line, called Mario BH.
On a January morning after the crush of the Golden Globes and SAG Awards, Gonzales, a bearish, bespectacled figure in a black sweater and jeans, took a break between fitting Elizabeth Banks in a beaded jumpsuit for "The Lego Movie" premiere and measuring a Beverly Hills bride for her wedding dress.
With a rack of suits for Creative Artist Agency managing partner Bryan Lourd hanging behind him and a bag of alterations to be done for Babyface by his side, Gonzales projected an ease. With his assistant of 23 years, Sylvia Reyes, he works 70-hour weeks during awards season, shuttling between stars' homes, fabric stores and his studio.
PHOTOS: Red carpet arrivals | Grammys 2014
"Working a lot with the entertainment business, I understand their stress," he said. "Everybody's on such a tight schedule. It's critical to be on time, be respectful, don't ask questions … whatever I see, what happens in Vegas stays in Vegas, that sort of thing. You want to stay in business, you know?"
One topic that does rile Gonzales, however, is ill-fitting garments, which he seems to consider a personal insult.
"If a woman is pulling and yanking on her dress on the red carpet, that's the worst," he said. "I always make sure everything's secure so that dress is not going anywhere. I tell them, sit down ... if you're doing Letterman and there's a slit in your dress and you have Spanx on, we've got to see how you're going to cross your leg. All those little things you have to think about."
Started sewing at 16
Gonzales grew up in Saginaw, Mich., the son of an autoworker and a homemaker. When he was 16, his mother bought a sewing machine and signed up for classes but didn't have time to take them, so Gonzales did instead.
Within a year he was working at a high-end menswear store, beside tailors from Central Europe who taught him to hand sew buttonholes and stretch and shrink a garment using the steamer. From community college in Michigan he transferred to the Fashion Institute of Design & Merchandising in downtown L.A., before landing as a tailor at the Armani store in Beverly Hills.
PHOTOS: Oscar hosts through the years
That's where he was in the late 1980s when he tailored a suit for Mandalay Entertainment President Cathy Schulman, then a young production executive in Hollywood
"It was that era when we were all wearing Armani suits," Schulman said. "He turned this beautiful but off-the-rack suit into a bespoke suit. It went from not fitting to looking like it was made for me."
Gonzales struck out on his own in 1989, working from the back of a friend's boutique. In 1994, he got his first celebrity client off a referral from his Armani days, tailoring Cameron Diaz on her first press junket for "The Mask."
"In the beginning I would sweat," he said of working with celebrities. "You go into the room and there's the PR, there's the manager, there's the agent, there's the stylist, there's the makeup artist, the hair stylist — they're all sitting and looking at me do their client. I'm like, 'OK, why are there all these people here?' But I said no, zero in and do what you're doing. It's a different feeling now. I feel just as confident as they are. We're all professionals working for this one person."
Over the years, his clients grew in number, stature and devotion; he flew to Turkey for Shakira, Hawaii for Mariah Carey and New York for Jennifer Aniston.
"The simplest nip and tuck has changed the way a classic T-shirt fits as well as my jeans, not to mention the red carpet dresses he has worked miracles on," Aniston said of Gonzales in an email.
PHOTOS: Behind the scenes of movies and TV
When designer Tom Ford needed someone to alter Colin Firth's slim, 1960s-inspired suits on his 2009 film "A Single Man," Ford hired Gonzales, which is sort of like having Mario Andretti hire you to work on his car.
As painstaking as his craftsmanship is, Gonzales is lax about other things. For years he forgot to invoice people, until a client encouraged him to hire a business manager. There's a mezuza on the door of his studio from the space's prior tenant. Asked why he left it, Gonzales, a Mexican American who was raised Catholic, shrugs. "Why not?"
He enjoys the quiet, detailed work of tailoring a beaded, $40,000 gown.
"It's like a little meditation or therapy or whatever," Gonzales said. "It's great, 'cause you know you're going to see it on the red carpet. And you think, that dress didn't fit like that when I tried it on her."
Gonzales isn't married, has three dogs and gets back to his Hollywood Hills home by 9:30.
"I like to be busy," he said. "I'm not a party person who goes out and drinks, so I use that time to rest."
INTERACTIVE: Best and worst Oscar moments since 2008
His own line, 12 pieces for men and women, is inspired by designers like Ford and Valentino, whose work he has studied stitch by stitch. He honed it making custom garments for clients like Schulman, who wore a white tuxedo of Gonzales' to host an event for the group Women in Film, of which she's president.
His business relies on the income from steady customers like Schulman and Vergara, who has enlisted him for everything from Pepsi commercials to parties. "That girl makes our house payments," Gonzales said of Vergara.
Gonzales said he charges $3,500 for one of his custom tuxedos, $3,000 for a custom men's suit and $800 for a custom black dress.
"I met Mario as a tailor, but he transitioned into a designer in front of my eyes over the years," Schulman said. "He's naturally talented without being jaded, and that's a rare thing in Beverly Hills."
As the older European craftsmen who trained Gonzales have retired, many of the skills they taught him are also becoming harder to find in young tailors, he said, such as shortening sleeves from the top, a technique he considers a must-have among potential assistants.
"It's a dying trade, really," Gonzales said. "I guess I just can't retire."
---
Get the Indie Focus newsletter, Mark Olsen's weekly guide to the world of cinema.
You may occasionally receive promotional content from the Los Angeles Times.