New L.A. label puts a stylish twist on hometown quotes by Hockney, Gehry, Herzog and others
A new line of laid-back, upscale T-shirts, sweatshirts, jackets and accessories pays homage to Los Angeles by showcasing quotes from some of the cultural creatives who've made the city their home, including artist David Hockney, architect Frank Gehry and directors Alejandro G. Iñárritu and Werner Herzog.
Called re:la (as in "regarding Los Angeles"), the label is the brainchild of Katherine Ross and Angelique Soave, and it was born of their shared experiences as transplanted L.A.-loving fashion enthusiasts. "We're both not [originally] from here," Ross said. "We both love being here — and we're both [originally] from Detroit."
Ross, whose background includes public relations and communications stints at Prada and LVMH (followed by a consulting gig with Balenciaga), alighted in the City of Angels in 2006 when her husband, Michael Govan, was tapped to be director of the Los Angeles County Museum of Art. She would go on to launch the art-meets-fashion Wear LACMA program in 2012.
Soave, an analyst for her family's diversified holdings company, moved to L.A. in 2010 after she spent time here working on a project with Decades boutique owner Cameron Silver, who introduced her to Ross. ("I was [at Decades] buying this fabulous YSL skirt that had just come in," Ross recalled during a recent interview, "and Angelique came by to see Cameron.")
While working together on the Creatures of the Wind label (Soave was a business partner in the brand; Ross was a consultant), the two often talked about what made L.A. L.A. "We felt we had something to say about the interesting people and attitudes that have made Los Angeles so special," Ross said.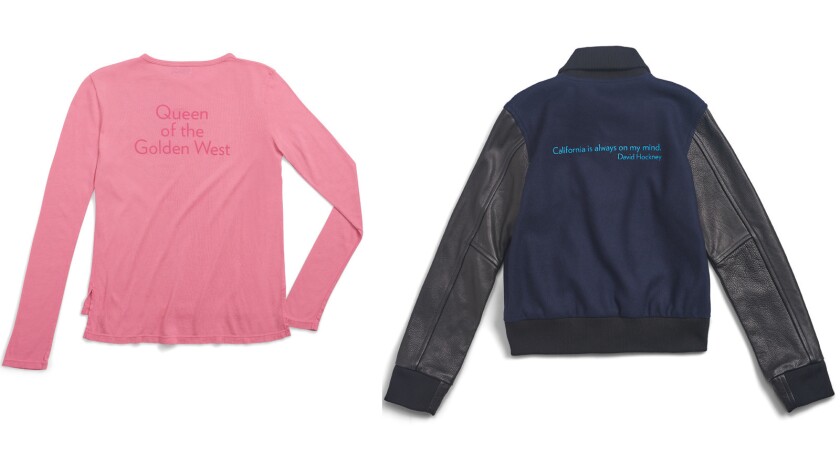 The inaugural collection, which launched at the beginning of the year at three local boutiques (Just One Eye and the LACMA Store in L.A. and Gratus in Beverly Hills), consists of simple, unfussy T-shirts, over-sized sweatshirts, a slightly cropped varsity jacket as well as a few tote bags and zippered pouches in a palette of mint green, black, pink and light blue. All but for the embroidered re:la logo ball caps features a quote, song lyric or phrases that will resonate with those enamored of the Southern California mind-set.
David Hockney's quote, "California is always on my mind" (one of three quotes in the collection by the London-born artist), is one of the shorter featured quotes, and it appears embroidered on the back of a leather and wool varsity-style jacket ($750) and printed on a sleeveless women's T-shirt ($85) and a mint green zippered pouch ($165).
Some of the quotes run on the longish side such as Herzog's observation, "Things actually get done in Los Angeles. Look beyond the glitz and glamour of Hollywood and a wild excitement of intense dreams opens up; it has more horizons than any other place." It appears on a long-sleeve women's T-shirt in a pale shade of rose quartz ($105) and a mint-green men's T-shirt ($95) as well as on varsity jackets for men and women.
Some quotes attributed to Iñárritu are offered in English and Spanish versions, among them: "I was taught that America is not a country but a whole continent" ("A mí me enseñaron que América no es un país, sino todo un continente"). Other quoted notables include Watts Tower creator Simon Rodia and visual artist Tacita Dean.
There also are pieces emblazoned with familiar Los Angeles place names in lowercase such as Miracle Mile and Sunset Boulevard, while others bear unattributed lyrics such as "Queen of the Golden West," which Ross plucked from a pre-1920s song she discovered in a book, and "Going back to Los Angeles where I belong."
The debut collection has a mostly unisex feel, although there is one specific men's T-shirt silhouette, and the women's sweatshirt offerings include an assortment of slightly cropped hoodies. Retail prices range from $60 for a ball cap to $800 for a tote bag. T-shirts are from $90 to $105 and sweatshirts from $185 to $195.
From the outset, Ross and Soave have opted for a go-slow, under-the-radar approach to the brand, only recently — as in this week recently — adding e-commerce to the re:la website, regardinglosangeles.com, and ramping up the brand's presence on Instagram. They're also trying to avoid the pitfalls that come with the fashion world's traditional twice-yearly (or more) hamster-wheel of seasonality.
"We didn't want to be reliant on seasons and stuck in this cycle where we have to come up with stuff," Ross said. "We've both seen how difficult that is. So we almost approached it as a project instead of saying, 'Oh, yes, let's start a brand!' I find myself referring to the new things we're working [on] not as the next collection but simply, 'Round two.'" (Ross said "round two" pieces are expected to hit retail later this year.)
Soave added with a chuckle: "People call L.A. La La Land, and it's like you're always on vacation here, so maybe we're just an eternal resort collection!"
However, Soave and Ross haven't been able to escape the fashion machine altogether. Their inaugural offering has garnered enough international attention that re:la is part of Los Angeles Rive Gauche, an L.A.-themed retail pop-up at Le Bon Marché department store in Paris through Oct. 20, where it is shown alongside such L.A.-defining brands as James Perse, Amiri, the Elder Statesman and Aviator Nation.
For more musings on all things fashion and style, follow me at @ARTschorn.
---