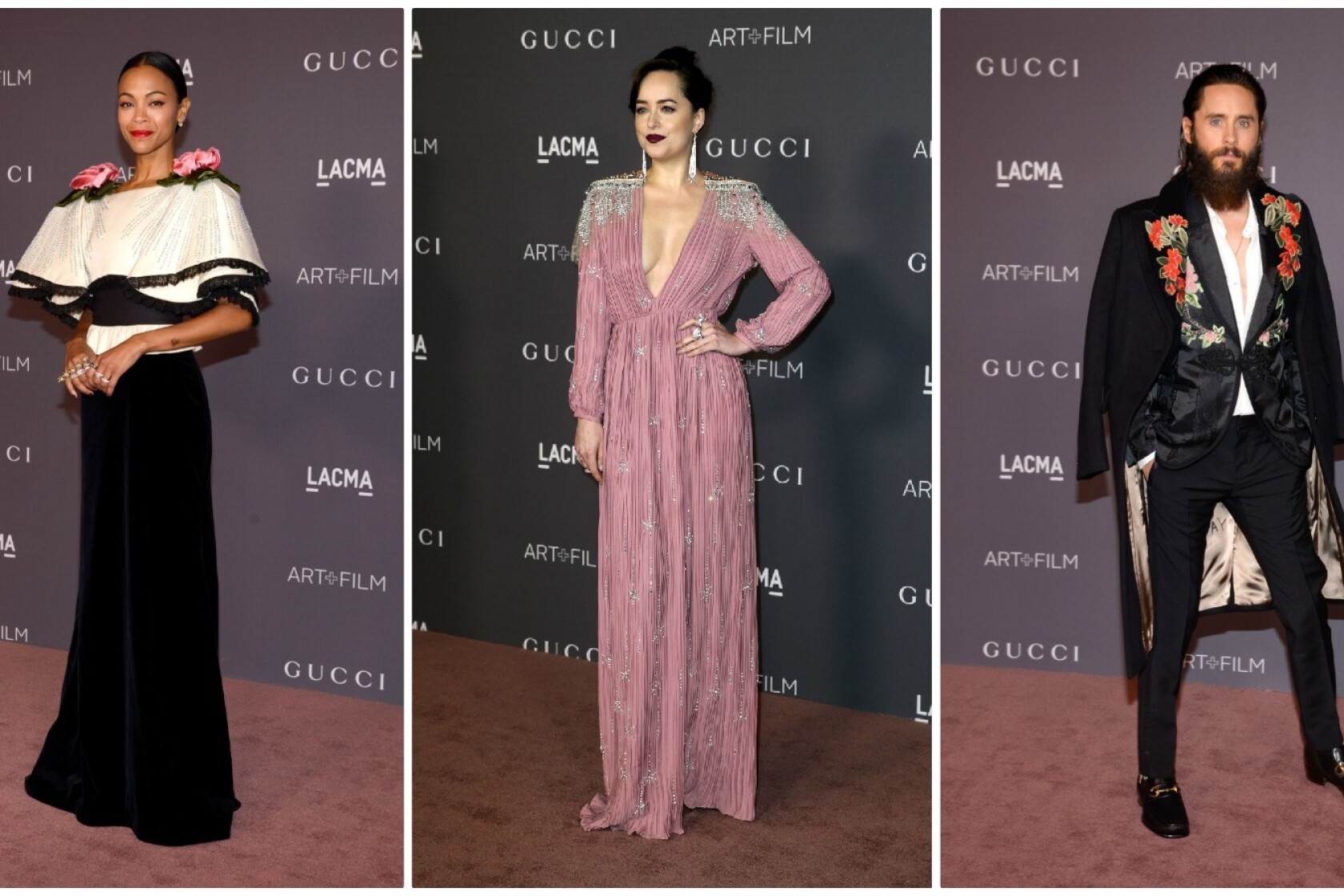 From left, attendees Zoe Saldana (in a black velvet gown with oversize plissé sculpted shoulders and hand-made silk decorative 3-D flowers on the collar from Gucci's fall/winter 2017 collection); Dakota Johnson (in a pink silk satin gown with a deep V-neck and crystal embroidered appliqués on the shoulders from Gucci's spring/summer 2018 collection); and Jared Leto (in a black jacquard evening jacket with floral embroidery detail from the Gucci 2018 Cruise collection worn under a black velvet floral embroidered coat).
(Tara Ziemba/AFP/Getty Images (left and right), Mike Nelson / EPA-EFE /REX / Shutterstock (center) )
From left, honoree Mark Bradford (wearing Gucci); honoree George Lucas; and LACMA Chief Executive Officer and Wallis Annenberg Director Michael Govan (in Gucci) at the 2017 LACMA Art + Film Gala in Los Angeles on Nov. 4.
(Donato Sardella / Getty Images for LACMA)
Among the Gucci-clad guests in attendance were, from left, Hari Nef (in a white gown with red bow details from the pre-fall 2017 collection); Charlotte Casiraghi (in a pastel multicolor silk gown with crystal embroideries from spring/summer 2018); and Lindsey Vonn (in a black printed coupé flared cape dress from spring/summer 2016).
((From left) Kevin Winter / Getty Images, Charley Gallay / Getty Images, Willy Sanjuan / Invision / AP )
Gala attendees, from left, Amy Adams (in a Gucci pre-fall 2017 peacock turquoise duchesse silk gown with red bows and ruffle detail); Tom Ford; and Naomi Campbell on the arrivals red carpet.
((From left) Neilson Barnard /Getty Images, Tara Ziemba /AFP /Getty Images)
From left, Rosie Huntington-Whiteley (in a blue, hammered-satin gown with bow details from Gucci's 2018 cruise collection); artist Petra Collins (in a green silk cap-sleeve gown also from the Gucci 2018 cruise collection) with Gucci Chief Executive Officer Marco Bizzarri (in a Gucci tuxedo, naturally); and Behati Prinsloo (in Gucci) on the red carpet at the 2017 LACMA Art + Film gala.
(Neilson Barnard / Getty Images)
Even the evening's musical guest -- Annie Lennox -- was kitted out in Gucci, performing in a custom black tuxedo with sequin peak lapels worn over a purple silk shirt with a bow at the neck.
(Neilson Barnard / Getty Images for LACMA)
Marilou York and husband Mark Hamill on the red carpet at the LACMA Art + Film Gala honoring director George Lucas and artist Mark Bradford.
(Mike Nelson / EPA-EFE/ REX / Shutterstock)
Kim Kardashian West, from left, with her mother, Kris Jenner; Jacqui Getty (in Gucci) with Gia Coppola (in Gucci); and Elizabeth Chambers and Armie Hammer (in a navy Tom Ford micro-honeycomb shawl collar evening jacket) were among the well-heeled attendees at the Saturday night gala.
((From left) Tara Ziemba /AFP / Getty Images, Vivien Killilea / Getty Images, Mike Nelson /EPA-EFE /REX / Shutterstock)
Kerry Washington (in a green chiffon Gucci gown with lace and pleated chiffon ruffles); Salma Hayek Pinault (in a blue silk georgette custom Gucci one-shoulder gown with allover sequin embroidery); and Jane Fonda (in Elie Saab).
(Mike Nelson / EPA-EFE / REX / Shutterstock )
From left, director of the Los Angeles County Museum of Art Michael Govan, Katherine Ross, 2017 Art+Film Gala Co-Chair Eva Chow and Asia Chow, all wearing Gucci at Saturday night's gala event.
(Matt Winkelmeyer / Getty Images for LACMA)
So Luke Skywalker, an Olympic gold medalist and Kim Kardashian West walk into a party … That sounds like the setup for an improbable pop-culture joke, but it's actually the tiniest slice of the celebrity pie in the house (make that tent) for the 2017 LACMA Art + Film Gala honoring artist Mark Bradford and filmmaker George Lucas.
In addition to Mark Hamill (he returns as Luke Skywalker in next month's "Star Wars: The Last Jedi"), who turned out in support of the museum and the man who launched his career four decades ago (that would be Lucas), the constellation of stars Saturday included Lindsey Vonn (the aforementioned Olympic gold medalist), Kardashian West (who posed for photos on the red carpet with mother Kris Jenner), Dakota Johnson (who was spotted having some fun on the red carpet with her mother, Melanie Griffith), Naomi Campbell, designer-director Tom Ford, actor Armie Hammer (wearing Tom Ford), Hollywood royalty Jane Fonda and, according to the guest list, actual royalty Queen Rania of Jordan. (Though, to be honest, we didn't actually see the queen at the gala ourselves and, as of this writing, haven't found any photos of her on the wires.)
If there was one through-line for the well-heeled, deep-pocket guests who helped the event line the Los Angeles County Museum of Art's coffers with more than $4.4 million for future initiatives and exhibitions, it was that many (but not all) were garbed in Gucci — a nod to the Italian luxury label that has been a longtime presenting sponsor of the event. The standouts of the Gucci-clad crowd included Zoe Saldana, Amy Adams, Salma Hayek Pinault, Kerry Washington, Rosie Huntington-Whiteley, Hari Nef, musical guest Annie Lennox, LACMA trustee Eva Chow (co-chair of the event with Leonardo DiCaprio) and Jared Leto, whose floral-embroidered evening jacket and cape-like coat was on trend with the floral theme that was one of the night's two noticeable trend takeaways. (The other being ruffles and bows.)
It turns out the floral theme was more than appropriate because the parting gift for gala attendees was a bottle of Gucci Bloom, the house's first fragrance under creative director Alessandro Michele, which hit retail a few months ago. We haven't had a chance to crack open the bottle and give it a sniff test yet, but according to the media materials, it marks the first time a plant called the Rangoon Creeper has been used in a perfume.
If you ask us, "Rangoon Creeper" sounds like the perfect name for a new "Star Wars" villain.
For more musings on all things fashion and style, follow me at @ARTschorn.
ALSO:
LACMA's Art + Film Gala honors Mark Bradford and George Lucas
H&M throws an L.A. garden party to unveil its designer collaboration with Erdem
Ralph Lauren unveils retro-inspired closing ceremony uniforms for the Pyeongchang Olympics
---