L.A. designer Aliona Kononova casts Mena Suvari and Jasmine Albuquerque-Croissant for fashion show
When women's designer Aliona Kononova mounts her fashion show on Tuesday, there won't be the usual roster of professional models. Instead, the Moldovan-born designer, who moved to Los Angeles five years ago, has enlisted personalities such as "American Beauty" actress Mena Suvari and dancer-choreographer Jasmine Albuquerque-Croissant to circulate among guests wearing her high-concept designs, their feet shod by Los Angeles footwear designer Jerome C. Rousseau.
The event will officially kick off a six-month working studio pop-up called Visitors, inspired by the Andrei Tarkovsky's 1972 cult-classic sci-fi film, "Solaris." There will be 12 women's looks on show, which will remain the core of her collection thereafter; clients can customize them so the pieces "become a new story," she said, or work with her to create something from scratch.
"I start from geometric shapes instead of from patterns," said the designer. "It's a good way to experiment." Kononova leans toward pale shades such as blush and nude and brings an almost ethereal quality to her designs. She works predominantly in silk, organza and neoprene. Her pieces range from $1,200 to $6,000.
Magasin
A beloved piece of clothing in need of a little TLC? Through March 1, take it over to menswear boutique Magasin in Culver City, where, in a collaboration with upcycled fashion company Atelier & Repairs, old clothes will be granted a new lease on life.
"We did this initiative a couple of years ago with jeans that needed to be freshened up," said Josh Peskowitz, owner of Magasin, a 1,600-square-foot store that carries brands such as Dries Van Noten and Needles. "Now we're doing it with shirts, jackets, woven pants, anything that needs to be transformed, for both men and women." Customers choose from a selection of motifs and silhouettes.
Refurbishment packages cost approximately $300 and take two to three weeks to complete. Peskowitz said a small selection of pieces from Atelier & Repairs also will be available for purchase.
Mansur Gavriel
With its pretty rose-pink walls, the newly opened Mansur Gavriel store on Melrose Place in Los Angeles is hard to miss. The 5,000-square-foot space, split between indoor and outdoor areas, features pomegranate trees and a pond around which shoppers can linger.
Inside is an assortment of timeless fashion and accessories designed by Rachel Mansur and Floriana Gavriel, founders of the New York-based brand that started with two handbags, as well as home accessories brought in from around the world. Prices at the boutique run from $275 to $1,395.
"Los Angeles has always been a special city for both of us — the landscape, weather, ocean, food," Mansur said. "We love the city and have always found inspiration there."
Gavriel said the ready-to-wear offerings for spring/summer 2018 are replete with "lightweight linens, silks and cottons in fine textures and happy, light spring colors. The knitted and woven styles have simple shapes and clean, fluid lines." As an exclusive to the Los Angeles store, which opened Feb. 16, the brand developed a protea flower motif, which can be hand-painted onto leather handbags from the collection.
Diamond Supply Co.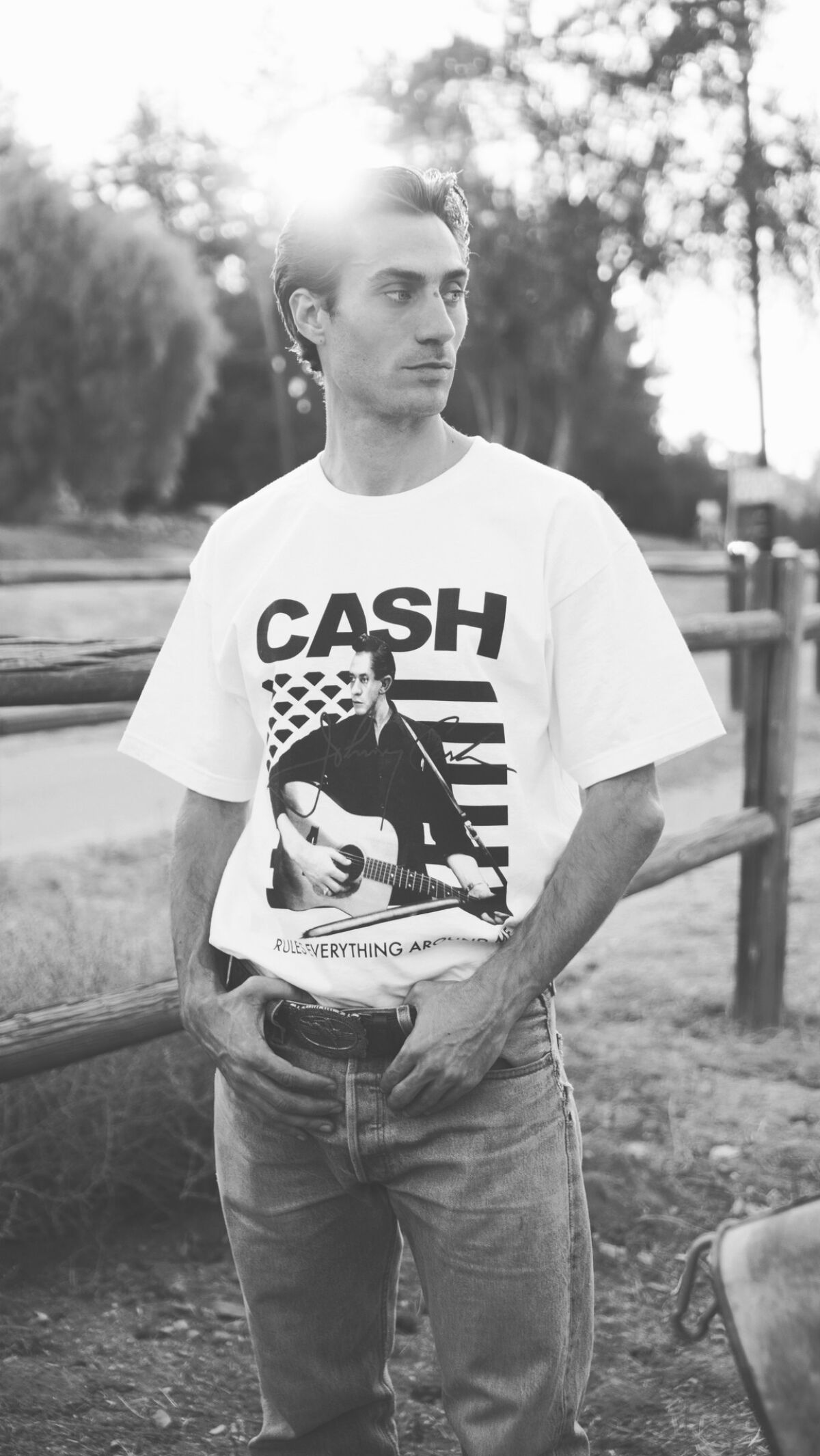 Los Angeles-based skate and streetwear brand Diamond Supply Co. is poised to enter what might appear to be a surprising collaboration — with the estate of country great Johnny Cash.
But there is a connection between the two entities behind the Cash Collection, which debuted Feb. 23.
"Diamond is a skateboarding company, and it started rebellious, like, we don't give a … about anything, and all we want to do is make product we want to make," founder Nick Tershay said. "And I feel like Johnny Cash just made music that he wanted to make. It wasn't like anybody else's. He has his own style just like Diamond has its own style. That's the way he liked it, and so do we."
The capsule collection consists of T-shirts, hoodies, hats and bandannas, some with sayings such as "Cash Rules Everything Around Me," priced from $6 to $80.
For fashion news, follow us at @latimesimage on Twitter.
---
UPDATES:
For the record
9:30 a.m. Feb. 28: The original version of this story misspelled the last name of fashion designer Aliona Kononova and also used a previous name of the country in which she was born. She was born in the country that is now known as Moldova.