With five stores in Mexico and Colombia, the guys behind lifestyle and footwear brand Romero + McPaul decided it was time for a U.S. flagship. And Los Angeles, said label co-founder Hernan Junco, was the perfect locale.
"Most of our online orders are from the West Coast, and the spirit of the brand feels very Californian," he said recently. "The light colors and leathers work with the California weather."
In early August, the brand opened a 600-square-foot boutique on Melrose Avenue in West Hollywood near the Pacific Design Center. The space is a showcase for relaxed, European-made shoe selections for men and women and other goods. (Patricio Jourdain, a partner in the 7-year-old brand, said that some 70% of sales are in footwear.)
Junco, who designs the collection with co-founder Raul Gonzalez, said inspiration comes from three core elements: sailing, royalty and the Ivy League, hence the casual yet upscale leather slip-on shoes; the monogrammed velvet slippers, a style first worn in the court of Queen Victoria; and the preppy, collegiate style of the loafers. Simple T-shirts as well as swim trunks in fun prints (think ice cream cones or an image of people lounging poolside) round out the offerings. The local store will also provide a velvet slipper customization service. Footwear prices start at $220, and T-shirts are $40.
Romero + McPaul, 8627 Melrose Ave., West Hollywood, usa.romeromcpaul.com
Sleeper
Fashion that has multiple purposes is certainly a thing these days. Think about those stylish tops and bottoms that can easily be worn to a workout class and then to brunch. But what about a day dress that's also sleepwear?
"I was inspired by old movies where women would have beautiful nightgowns and robes that they could wear outside the bedroom," said Asya Varetsa, co-founder of Sleeper, a Ukrainian label that came to Los Angeles this summer. "I wanted to create a luxurious line for lounging, going on vacation and sleeping in."
Varetsa, a former editor for Elle magazine in Russia, launched the collection, which has pieces for men, women and children, with another former fashion editor, Kate Zubarieva, in Kiev, Ukraine, in 2014 and brought it stateside for spring 2018.
Made mostly of light linens and breathable cottons, the gowns and pajamas have an easy wearability, and the line includes a bestselling ankle-sweeping dress with off-the-shoulder ruffle sleeves; a pale blue lounge set made of ruffle-edged shorts and a button-front top; and for men, black tie pajamas in black cotton with white piping. For fall and the holidays, launching in the middle of September, Sleeper replaces ruffles with marabou feathers on slinky slip dresses and oversize shirts. Prices start at $230.
Sleeper, available at Barneys New York in Beverly Hills and Modern Society in Culver City, the-sleeper.com
Caviar & Cashmere Skincare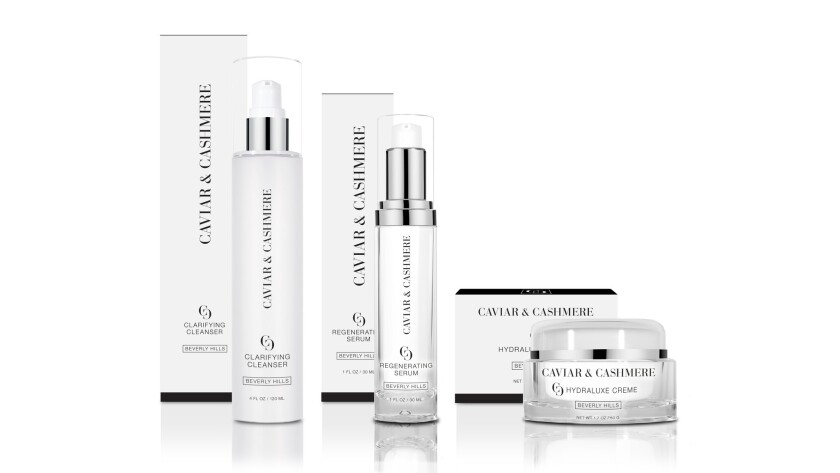 A year ago, L.A. influencer and stylist Caitlyn Chase decided to not just review beauty products but to make them herself.
Her line, Caviar & Cashmere Skincare, bowed in July, encompassing products that, Chase said, whittle down getting-ready time to just a few minutes. The collection, she added, "aims to simplify the skin care process, paring down the morning routine to three essential daily products."
Housed in sleek white packaging, the line consists of a cleanser, a serum and a moisturizer, with core ingredients such as vitamins C and E, tea tree extract, hyaluronic acid (which helps to remove the appearance of wrinkles) and ferulic acid, a plant-based antioxidant. In adhering to clean-beauty mandates, the line, priced from $48 to $98, does not contain fragrances, parabens or sulfates. The line is sold at Blushington stores in West Hollywood and Brentwood and at shopcaviarandcashmere.com.
Finery
For those of you who do most of your fashion shopping online, a recently launched app called Finery, created by actress and model Brooklyn Decker and author and former television anchor Whitney Casey, might ensure that you look your best every day.
Finery was created after its founders realized that "there was nothing out there to help us manage our wardrobe," Decker said. "People go through different relationships with their wardrobe. Instead of buying more stuff, let's look through our closets and see how best to wear something we already own."
The highly visual and interactive app, which officially launched in June, amalgamates records of your online fashion and accessory purchases by linking store and online retail accounts and email addresses and putting every item into a digital closet. (Pre-existing pieces and those bought in bricks-and-mortar stores can be entered manually.) Casey said the Finery app is designed to recover records from online purchases from as far back as a decade ago. The app then suggests various ways to wear your clothes and shows ways that other people have worn the same items. It also tracks anything on your wish list, lets you know when pieces you like go on sale and recommends wardrobe additions that would work with your existing clothes and accessories.
And for those late-night, wine-fueled impulse purchases, you're in luck. The app will remind you of an imminent return deadline. Visit www.finery.com for more details.
For fashion news, follow us at @latimesimage on Twitter.
---