Miu Miu Type capsule collection from Prada's sister brand has a splashy West Coast debut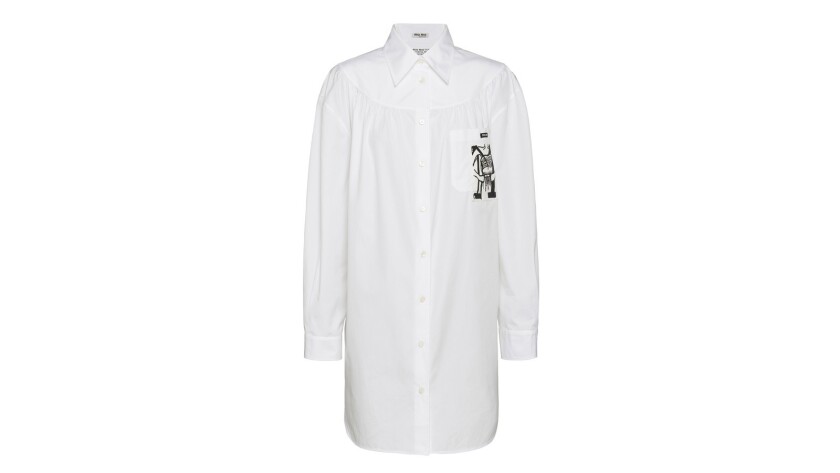 This month saw the West Coast launch of Miu Miu's Miu Miu Type, a capsule collection from Prada's sister brand featuring an artsy rendering of the label's letters — M, I or U — interlaced with an illustration of a female face or body. Now shoppers can take it a step further by having any initial they'd like patched onto a crisp white poplin or cotton T-shirt from the collection.
For the record:
6:10 PM, Sep. 14, 2018An earlier version of this post said Wayne McGregor performed at an event in June that unveiled COS' Soma capsule collection. McGregor choreographed the performance but did not dance.
The capsule, which includes hoodies and track pants, is based on Miu Miu's fall/winter 2018 ready-to-wear show in Paris in March, where the halls of an Auguste Perret-designed building were decorated with large, monochrome illustrations of the Miu Miu "alphabet."
The customized embellishments can be ordered on-site as part of the cost of the shirts — $530 for the T-shirt and $1,010 for the poplin shirt. Prices for the rest of the capsule go up to $1,500.
Miu Miu Type custom event, through Sept. 23 at Maxfield Gallery, 8818 Melrose Ave. West Hollywood, www.maxfieldla.com/maxfield-gallery; also, from Sept. 27 to 30 at South Coast Plaza, 3333 Bristol St., Costa Mesa, www.miumiu.com www.southcoastplaza.com
Proof Collective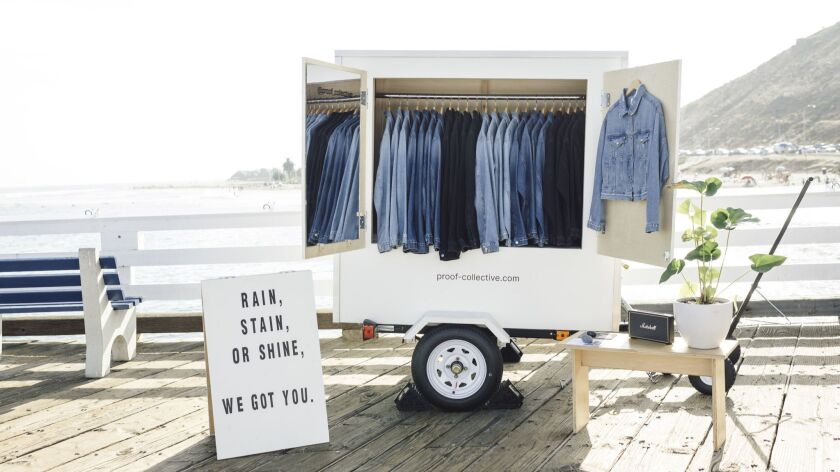 Since launching their denim jacket line in May last year, Luke Goldstein and Robin Chang, co-founders of Los Angeles-based Proof Collective, have seen brisk online demand for their pieces, which are made locally using denim sourced from Italian mills. To continue building buzz, the two asked their in-house art director, who's also a carpenter, to build a mini mobile pop-up, a white wooden cart, that could be set up in various L.A.-area locations.
"People walk by and see a white cart with our logo and tend to gravitate toward it," Chang said. "They love to feel the jackets and try them on."
The traveling pop-up was previously at a location in West Hollywood. It will be stationed at the Malibu Pier every weekend through the end of September.
Proof Collective is currently predicated on a single style of denim jacket (one men's and one women's; $195). Both come in three shades and are informed by the classic trucker style — cropped and relatively fitted — with the women's style having more of a drop shoulder. Fabric used for the jackets is water- and stain-repellent and resistant to odors. Goldstein said the jackets are the start of a line of contemporary basics as the Proof Collective team looks to launch T-shirts and sweatshirts in 2019.
Proof Collective X Malibu Pier, 23000 Pacific Coast Highway, Malibu,10 a.m. to 5 p.m. Fridays through Sundays during September, proof-collective.com
The Muppet Show X Sandro
If you like your fashion whimsical and perhaps a little green, check out the fresh offerings from French brand Sandro, which will bow a collaboration with the one and only Kermit the Frog in early October.
The Sandro store at South Coast Plaza in Costa Mesa will be one of only two Sandro stores worldwide to carry the new the Muppet Show X Sandro pieces.
The collection, which will be available during a two-week pop-up, covers women's ready-to-wear, accessories and shoes, and it will serve as the debut of Sandro's first collection for children. Look for round-neck wool jersey sweaters as well as hoodies and backpacks featuring an image of the famous felt frog. Pieces will be in frog green — it appears on Sandro's signature flame sneakers as well — and also in shades of red, sky blue and light ecru.
Collection prices are from $72 to $424, and to appeal to the young set, the pop-up will include a crane arcade machine and giant Kermit the Frog murals.
The Muppet Show X Sandro pop-up, Oct. 1 to 14, South Coast Plaza, Carousel Court Level 2, 3333 Bristol St., Costa Mesa, us.sandro-paris.com, www.southcoastplaza.com
COS
This month, COS, the London-based global clothing brand with several stores in the Los Angeles market, released its Soma capsule collection of 17 minimalist and chic menswear pieces.
Christophe Copin, head of menswear for the label, said the Soma offering was "designed with movement in mind. The fall of a sleeve, the way a collar catches at the neck, fabric brushing against skin, fingers turning at a cuff absent-mindedly. … These inspirations were transmitted to the collection."
Predominantly in white, grey and navy, the Soma capsule was unveiled in June at Pitti Uomo, the men's fashion trade show in Florence, Italy, during an event for which Wayne McGregor choreographed a dance for his company to perform while wearing some of the Soma pieces.
The Soma offering, which is priced from $39 for a T-shirt to $350 for a coat, is available online only. (Followers of the brand, you're in luck. COS will expand its reach in L.A. by adding a new store at Westfield Century City shopping center later this fall.)
COS, www.cosstores.com
For fashion news, follow us at @latimesimage on Twitter.
---