Hill City, Gap's new brand, delivers athletic, sustainable men's styles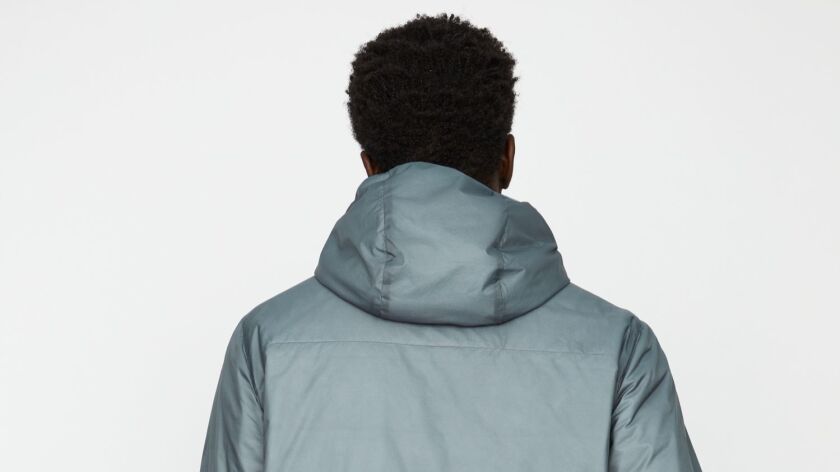 For spring, San Francisco menswear brand Hill City, part of Gap Inc., is expanding its original goal of designing clothing for active men on the go.
For the record:
5:10 PM, Mar. 08, 2019In an earlier version of this story, a quote was attributed to jewelry designer Azza Fahmy. It was said by Fahmy's daughter Amina Ghaly.
"When we thought about what was not on the market, we saw a lot of performance and active pieces, but they didn't look particularly cool," said former soccer pro Noah Palmer, the label's founder. "And we see a lot of brands in the lifestyle space, but most of it is missing the performance attributes that we wish existed."
The label launched in October with pieces such as multipurpose shorts, running pants and organic cotton sweatshirts.
"For spring, we've built out some of those lifestyle cornerstones we started with," Palmer said. "The collection has lightweight versions of everyday pants and lots of outerwear. It's a nod to San Francisco, where people go from the city to outdoors. We place a lot of value on being active but still caring about the way you look."
Most of the collection is priced at less than $100.
Hill City, hillcity.gap.com
Azza Fahmy
Egyptian jewelry designer Azza Fahmy has her first standalone presence in the U.S. thanks to a pop-up shop at the Waldorf Astoria hotel in Beverly Hills.
Fahmy, who opened her company in 1969 and now runs it with her two daughters, has made pieces for fashion designers such as Matthew Williamson and Julien MacDonald. The jewelry designer created a limited-edition offering for the Los Angeles pop-up, which will close at the end of this month. Prices start at $500.
"In L.A., they are not afraid to wear statement pieces," said Fahmy's daughter Amina Ghaly, who's the brand's head of design, adding that the line draws from her family's heritage. A lavish gold and silver necklace is reminiscent of what a pharaoh might have worn. Wrist cuffs in 18-karat gold are thick and precisely cut, and filigree earrings feature stars and a crescent moon.
Azza Fahmy pop-up, Waldorf Astoria Beverly Hills, 9850 Wilshire Blvd., Beverly Hills, azzafahmy.com
Wheat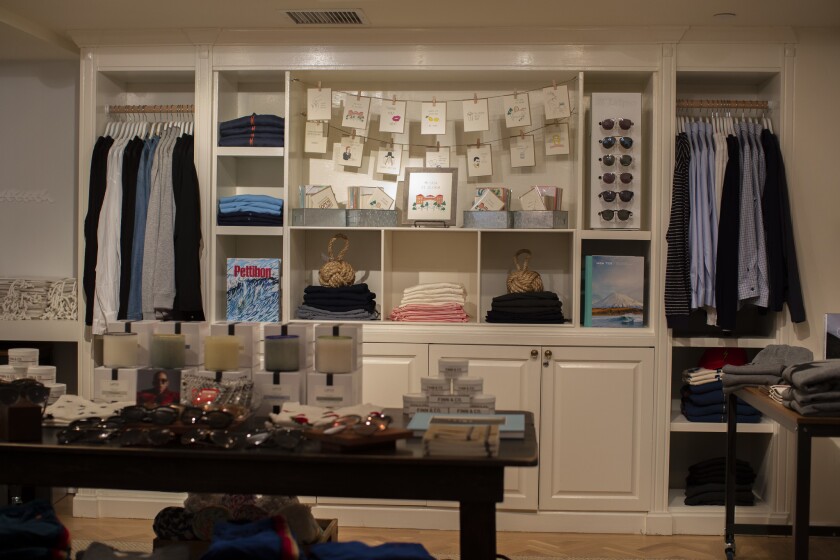 Wheat, a lifestyle boutique on the East Coast, arrived in California in late January by way of the Hotel Casa del Mar in Santa Monica, where it has a pop-up space through the spring.
The multi-brand boutique, which has locations in York Beach, Maine, and Newburyport, Mass., carries fashion, accessories and home goods from brands such as Gorjana and Havaianas. Wheat's hotel lobby space carries brands including Aviator Nation (velour hoodies and sweats); Onia (swimwear); and handmade jewelry from Los Angeles designer Monica Columbia. Wheat founder Molly Sheehan said she hopes with the pop-up to "curate a selection of products that appeal to the tasteful beachgoer with a whimsical flair."
Prices range from $10 to $70 for children's and lifestyle products; $75 to $1,000 for clothing; and $1,000 and up for jewelry.
Wheat pop-up, Hotel Casa del Mar, 1910 Ocean Way, Santa Monica, wheatboutique.com, hotelcasadelmar.com
Sene
Los Angeles brand Sene unveiled in January a custom FlexTech suit — an unlined suit made of four-way stretch fabric from Japan that is designed to not trap sweat. Sene founder Ray Li described the suit, available for men and women, as "crazy comfortable."
"You couldn't work out in it, but it does have the same properties as an athleisurewear item with all the tailoring you'd expect of a suit," he said.
Available in blue, black and gray, the suit — the jacket is $495, the pants are $165 — can be worn with a T-shirt or sneakers.
Although Sene has a Los Angeles location, shoppers don't have to go anywhere to get measured. The brand will send a box of samples matching the customer's size and height. After a piece is selected, a Sene fit specialist will conduct a video chat to see how it looks and make a note of requested modifications before a finished piece is sent a few weeks later.
"It's always about the cut," Li said. "People might not want a very fitted or skintight suit, but they want it to be draped a certain way." Adjustments can be made at no additional cost.
Sene, 149 S. La Brea Ave., Los Angeles, senestudio.com
For fashion news, follow us at @latimesimage on Twitter.
---