Sagebrush offers surfers an eye-catching, up-cycled alternative to the same old boring board bags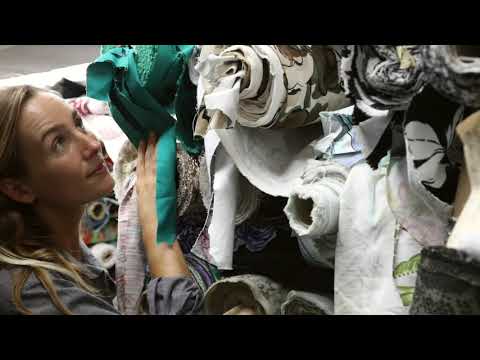 Anna Ehrgott, founder of Sagebrush Board Bags, speaks about her eco-friendly startup, which uses recycled or remnant fabrics.
The quintessential Los Angeles surfer already has a pretty cool look. Think bronzed skin, sun-bleached hair, breezy beachwear. However, local surfer Anna Ehrgott thought there was one thing missing: a stylish way for her to carry her board.
Unimpressed with plain polyester surfboard socks (the protective sleeves surfers use to protect their boards from knicks, dings and UV light while being ported from place to place), Ehrgott used her basic sewing skills to fashion a protective surfboard bag out of burlap and patterned fabric. When the Topanga native, 28, posted a picture on Facebook, many of her friends wanted one, and Sagebrush Board Bags was born in 2013.
"You think [a surfboard] is this big, hearty plank of foam, but it's actually a thin layer of glass on top of softer foam," Ehrgott said. "Anything like throwing boxes in the back of your car or being exposed to sun all the time damages surfboards over time, so this is just a protective measure."
Ehrgott runs Sagebrush from her Topanga home. Kneeling on a rug in the office, she uses chalk to trace surfboard shapes onto recycled coffee-bean sacks, vintage fabrics and unused materials from clothing manufacturers. She then cuts out the surfboard-shaped fabrics, binds them at her Singer sewing machine and sells the $130-to-$150 bags online at sagebrushbags.com and at select surf shops (including Mollusk's Venice and Silver Lake locations and Boardriders Malibu). The bags are meant to fit boards from 5 to 10 feet long.
The designer recently hired a seamstress to help her with volume — she now sells about 300 bags a year — as well as expanded product offerings to include smaller board bags (also used to store wax, fins and other surfing supplies), book bags and toiletry kits.
Ehrgott has become savvier at sourcing materials over the years, scoring printed coffee-bean bags from the Groundwork Coffee Co. headquarters in North Hollywood, finding unique fabrics in downtown L.A. warehouses or discovering them on surfing trips to Morocco, Indonesia, Iceland and Australia.
That means that no two Sagebrush bags are identical. One might sport a Peruvian coffee bag on top and vintage rodeo fabric on the bottom, and another might feature a Sumatran coffee bag and chile-pepper pattern.
"I think everything seeps into your subconscious a little bit," Ehrgott said about finding design inspiration on surf trips. "You start to see colors in a different way if you see them on the saris that women are wearing and the colors of the environment. That definitely works into the color palette that I like to use."
One of Ehrgott's favorite surf spots is Uluwatu in Bali, where she makes surfing videos and stocks up on Indonesian ikat fabric. That fabric recently wound up on Santa Monica surfer Mike O'Hara's fourth Sagebrush bag. He said he discovered the brand on Instagram.
"I had zipper board bags that protect the board for cruising around locally, but they're a plastic material, so it's the eco-friendly draw toward Anna's bags that I really like," O'Hara said.
When she started Sagebrush, Ehrgott was working at Mollusk surf shop in Venice. Now — and for the foreseeable future — Sagebrush is her full-time gig. And it's a pretty sweet one. That's because she's free to go surfing — and fabric-sourcing — wherever the waves take her.
For fashion news, follow us at @latimesimage on Twitter.