The fashion flock finds a new hangout in New York
L'Avenue, the swank restaurant freshly imported from Paris by Saks Fifth Avenue and located on the store's eighth and ninth floors, quickly became the place to see and be seen during the recently completed New York Fashion Week, attracting global trendsetters and Manhattanites trying out the latest watering hole.
Its opening night party drew actors Jessica Chastain and Stephan James, models Joan Smalls and Karolina Kurkova and even a famous athlete, Carolina Panthers quarterback Cam Newton. And the restaurant, reached by a private elevator on East 50th Street and kept open until midnight, continued to attract a starry crowd in its opening days, with celebrities like Paris and Nicky Hilton dropping by to check out its classic bistro menu of steak frites and tuna tartare.
But on a recent Saturday evening all eyes were on a patron who was neither a model nor a movie star, but nonetheless commanded the somewhat furtive attention of the room: Michael Cohen, the former personal lawyer for President Trump who recently pleaded guilty to campaign finance violations and fraud. He and three companions dined for roughly three hours at a table set on the edge of the room. He wore a favorite plaid jacket that has taken on a life of its own — GQ Magazine identified the brand as Isaia, an Italian luxury menswear line known for the coral lapel pins that accompany each jacket, which cost about $3,000 and up. After sharing warm hugs with his table mates, Cohen made the rounds of a few other tables, shaking hands and chatting, before departing at 10:20 p.m.
Cohen was dining at L'Avenue for his second time that week, according to someone who was also there both times. (His presence on this Saturday evening sparked a debate among some diners over the legitimacy of his postponed testimony before the Senate Intelligence Committee, for which he had submitted a doctor's note saying he was unavailable due to pain from a recent shoulder surgery.)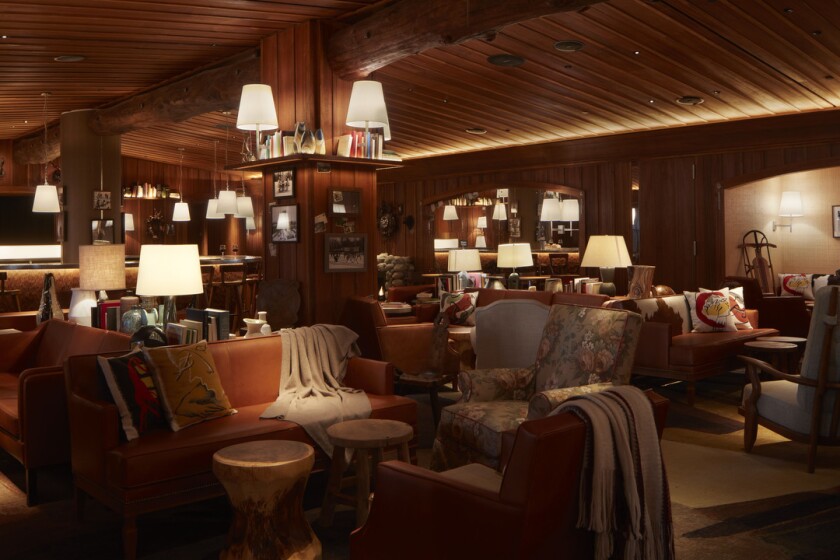 L'Avenue's success in attracting a broad swath of jet-setters and New York socials is a good sign for Saks, which is upgrading and renewing its stores as it battles for market share online and in store. The New York flagship is being updated at a cost of $250 million, and last week debuted a new main floor with terrazzo flooring and a Rem Koolhaas-designed escalator with iridescent glass panels that lend a Pop-art feel to one of America's oldest mercantile establishments. Saks dates the inception of the brand to 1924. It has suffered of late in the hyper-competitive retail economy, and last month shuttered its Brookfield Place women's store in New York City, which had opened amid much ballyhoo only two years earlier.
Its strategy in New York is a blueprint for its other flagship stores, including the one in Beverly Hills. The company, owned by Canadian Hudson's Bay Co., hasn't announced specifics, but people close to Saks say the Beverly Hills store could be coming up for renovation as soon as 2020. A L'Avenue restaurant there could be an attractive draw for shoppers who currently head to neighboring Mariposa at Neiman Marcus and Fred's at Barney's — both of which are primarily lunch destinations.
In New York, the Philippe Starck-designed restaurant has blond carpeting that recalls the colors of original restaurant in Paris. Glass vitrines of fashions serve as room dividers while reminding diners of what's in store a few floors down. Those not interested fine dining can descend a staircase into the "chalet" — a wood paneled bar/salon that evokes more of the feel of après-ski than avant Fifth Avenue.
L'Avenue is a daring step for a department store. The original restaurant on fashionable Avenue Montaigne in Paris, a fashion and celebrity mainstay for decades with sidewalk tables that are a favorite hunting ground for paparazzi, sits just a few blocks from the headquarters of LVMH and the Hotel Plaza Athénée. Saks cut a deal with the Costes family that owns L'Avenue to bring the concept to the U.S. — its first outpost outside of Paris.
As if to highlight his commitment, Saks President Marc Metrick stood at the restaurant's upstairs entrance on that Saturday night earlier this month, greeting guests and shaking hands like a genuine restaurateur.
---