Finally! Now there's premium denim for plus-sized women, thanks to SLINK Jeans
A model wearing a T-shirt that reads "Believe in Yourself" — the "be" and "you" in red letters — embodies just one of new premium denim line SLINK's body-positive messages. As significant, the model is wearing a pair of the new line's fashionable, fitted jeans made especially for plus-size figures.
On Nov. 20, Los Angeles denim pioneer Albert Dahan plans to begin online distribution of SLINK Jeans, a new brand of fashion-forward premium jeans and sportswear that aims to change notions about fashion and size. (The name itself is an acronym for sexy, lovable, intelligent, noticeable and kind.)
The debut is significant coming from veterans with nearly two decades in the premium denim industry. Dahan co-founded Joe's Jeans with his brother Joe, and he co-designs both Joe's Kids and SLINK with his ex-wife Estelle Dahan. Albert and Estelle Dahan also worked together on sportswear line Da-Nang, which they sold in 2010.
Though the plus-size women's apparel market was estimated to be $17.5 billion in 2014, according to market analyst the NPD Group, only about a dozen fashionable jeans lines address them. Often, the clothes are simply scaled up from a size 2 fit model into larger, ill-proportioned clothes. They are often little-publicized extensions of collections that are promoted in campaigns featuring ultra-thin models.
Not so SLINK.
"The secret recipe for all jeans collections is the fit. It took us months to get the fit right," Albert Dahan said. The company recruited dozens of professional and nonprofessional fit models and tested the patterns on various body shapes. Their stretch fabric, a cleverly engineered waistband, strategically placed pockets and a new approach to scaling the patterns helped create a collection aimed to fit a variety of bodies comfortably. The collection includes a mix of silhouettes, from tight to "boyfriend," each size created in this new way.
The Dahans have made the clothes soft, sensual and sexy. They selected a supple, velvety ringspun denim, cashmere-like fabrics for pullovers, and a range of figure-enhancing washes, distressing and seaming.
The line starts at size 10, where most mainstream premium jeans lines end. SLINK extends to fit the equivalent of a size 22 or 24 with a 44- to 48-inch waist. Jackets and tops run from large to 3X. The jeans will retail between $119 and $129; tops between $39 and $44. Jackets are slated to roll out next year.
Nomenclature and image are a big deal in a line like SLINK, and the Dahans said they have taken steps to be sensitive. At their office, the word "fat" is forbidden and "plus-sized" is discouraged. "We like to call it curvy and not plus size because curvy is more inclusive," Albert Dahan said.
"Even our logo is curvy," Estelle Dahan said of the intertwined S and J logo that is embroidered on pockets. The pockets hold one of the many fit details that the designers engineered into the jeans. An off-center seam visually reproportions and shapes the backside of the jeans, which are cut to accentuate the figure, not shroud it.
The Dahans hired a female photographer for the debut campaign, which features professional and nonprofessional models, such as Olympic athlete Amanda Bingson, who has won multiple championships in track and field hammer-throw events. The women appear in provocative poses and sensual settings, proudly displaying their voluptuous bodies in lingerie and skintight jeans.
The designers have surrounded SLINK Jeans with positive, celebrate-yourself messaging: The interior waistbands of the jeans are embroidered with the word "curvy;" the heart-shaped hangtags and interior pockets are printed with "Love Your Body."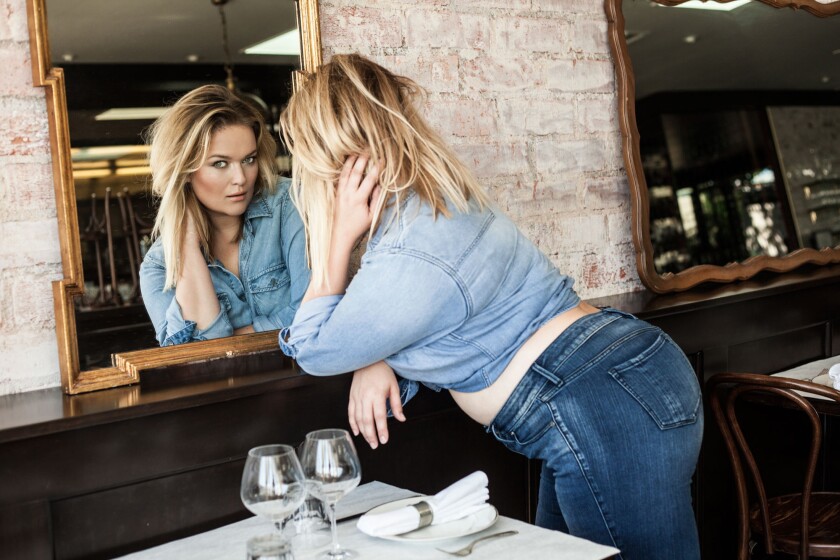 The designers created the brand in response to a growing size acceptance movement that began a decade ago with the Dove Campaign for Real Beauty. The issue continues to gain momentum. This summer, O the Oprah Magazine stepped into a body-shaming controversy when a fashion Q&A advised that wearing a crop top is OK "if (and only if!) you have a flat stomach." A social media campaign soon followed as women posted #RockTheCrop and snapped shots of them baring their bellies in shortened shirts. This fall, MAC Cosmetics selected Anaheim resident Luzmaria Vargas as a winner in its MACnificent Me model contest. In a video, the plus-size woman said of her modeling experience: "I didn't need a gorgeous body. It was really the inside that counted and I don't need to be size-2 skinny."
Dahan is on board too. "In my opinion, confidence in yourself makes you beautiful," he said. "When a woman feels beautiful herself, then everybody else sees her as beautiful."
---