On Sunday afternoon, hip-hop legend, entrepreneur and VH1 cooking show co-host Snoop Dogg performed an hour-long DJ set in the parking lot of Randy's Donuts in Inglewood to celebrate the launch of his Adidas Skateboarding capsule collection, LA Stories . It's a collaboration with SoCal boarding legend and artist Mark "Gonz" Gonzalez that riffs on their mutual love of Los Angeles and hits store shelves today.
Pieces from the L.A. Stories collection, displayed in the trunk of one of the many customized lowriders in the lot (the cars are a shared enthusiasm), include a T-shirt, a long-sleeve tee and a hooded sweatshirt bearing Gonz's lowrider-themed artwork as well as a version of Adidas' Matchcourt Mid shoe served up in buttery leather customized with grommet-like gold eyelets, three pale blue stripes angling down the side and a digitized blue plaid graphic on the tongue and heel overlay. (An exclusive-to-Zumiez collection, which dropped at that retailer Dec. 3, serves up the same pieces in a black, white and gold color combination).
Before he took the stage for DJ duty, we caught up with the man of the hour in his trailer to chat about the collection, his long relationship with the Adidas brand and what the cannabis connoisseur on the nice list should get from Snoop Claus this holiday season.
For the occasion, he was sporting a pair of roomy blue track pants, the Matchcourt Mids from the new collection and a blue Snoop Dogg-branded sweatshirt bearing an ugly Christmas sweater design that prominently featured pot leaves and a roaring fire. Around his neck hung a gold chain from which dangled a tiny Adidas sneaker crafted from gold and diamonds (created in collaboration with the L.A.-based King Ice jewelry line).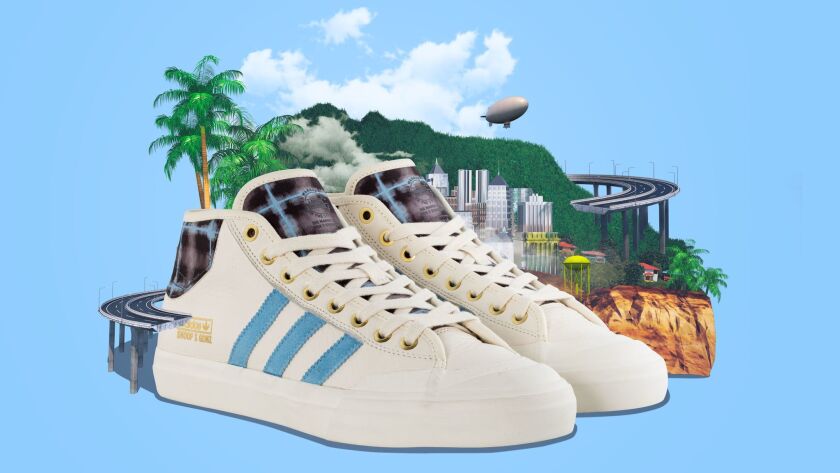 What does the L.A. Stories shoe represent?
We both brought about 50% of what we do best — our lifestyle and our culture, the worlds that we come from — and put them together to make a shoe that represents both of us.
How did the collaboration with Gonz work?
We both sat down and had ideas on what the shoe should look like. Once we had a basic idea of the frame, we focused on the texture, the pattern and the color scheme. We wanted the shoe to be something I could be comfortable wearing and something he could be comfortable wearing … a shoe that was appealing to skaters, rappers, entertainers and people in general.
You seem to have a thing for the color blue. The hoodie in the collection is screenprinted in light blue, and the shoe actually has two different shades. Is there a significance to the hue?
It looks good on me. This [pointing to stripes on his shoe] is baby blue, and this [pointing to the plaid area at the heel] is a light blue.
According to the animated video promoting the collection, you and Gonz actually first met years ago outside a 7-Eleven, right?
Yeah, that was before he was in the game — when I was a young Snoop Dogg.
The Adidas Skateboarding capsule marks your third collaboration with Adidas. How did you first get involved with the brand?
Me and Adidas, we became family years ago once they locked into my youth football league, the Snoop Youth Football League, and I decided to become exclusive to them once they got behind my football league. And we began to create different shoes and do different events … I'm trying to put them in a place where they'll be back as the No. 1 shoe in hip-hop.
A sense of place seems important to you. This party is at Randy's Donuts, and the vaporizer pen you collaborated on with Grenco Science has a map of Long Beach on it. What one view of L.A. would you say defines the city?
Staples Center, standing outside [and] looking up at it.
Since it's the holiday season, what one thing would Snoop Claus give to the cannabis connoisseur on the nice list?
A year's supply of Leafs by Snoop — their favorite flavor — brought to you by yours truly.
What about the naughty list?
The naughty list would be no chronic for [them] for six months.
Speaking of which, we couldn't help but notice the Adidas trefoil logo looks like it could easily be converted into a pot leaf. Have you ever considered suggesting that design?
People in the hood have [already] been making leafs that look [like] the Adidas logo, but it's [actually] the chronic. I wouldn't think that Adidas would ever do it unless cannabis became the biggest business in the world. Then I could see it happening.
The Adidas Skateboarding Snoop X Gonz L.A. Stories apparel and footwear collection is available at specialty skate retailers and adidas.com starting today.
For more musings on all things fashion and style, follow me @ARTschorn.
ALSO
ClubM rolls out a luxury box of weed-themed goodies
A slowly expanding festival of music merch pops up at Hollywood & Highland
Martha Stewart and Snoop Dogg talk cooking, cocktails and cannabis
---