Design-wise riffs on strappy performance sandals are shaping up to be spring's sneaker alternative of choice for men and women alike. Neoprene, webbing straps, Velcro closures and serrated rubber soles practically incite wanderlust. Just add the Volkswagen bus.
A nod to designs developed by Goleta-based company Teva in 1984, the latest looks from that company as well as sportif sandals from luxury brands such as Prada, Versace and Christian Louboutin are elevated (literally) on chunky flatform soles and dressed up with luxe metallic leathers, colorful stripes and patterns, studded hardware, even floral accents. Slip vibrant socks into the mix to tread fresh fashion ground.
Now, daisies on the soles of her sportif Prada sandals? One smart pick for trekking through festival season with the fashion tribes. Ready, set, Coachella.
Versace
Versace strappy ankle-wrap platform sandal with rubber sole, $795 at Versace in Beverly Hills, (310) 205-3921
No. 21
No. 21 unisex leather flatform sandals with Velcro straps, $315 at numeroventuno.com
Teva
Teva silver leather Flatform Universal sandal with rubber sole, $100 at teva.com
Christian Louboutin
Christian Louboutin's Randonata flatform sandal with technicolor straps, stud details and lug sole, $1,495 at Christian Louboutin in West Hollywood, (310) 247-9300
Marc Jacobs
Marc Jacobs sequined and jeweled Comet sport sandal, $250 at marcjacobs.com
Gucci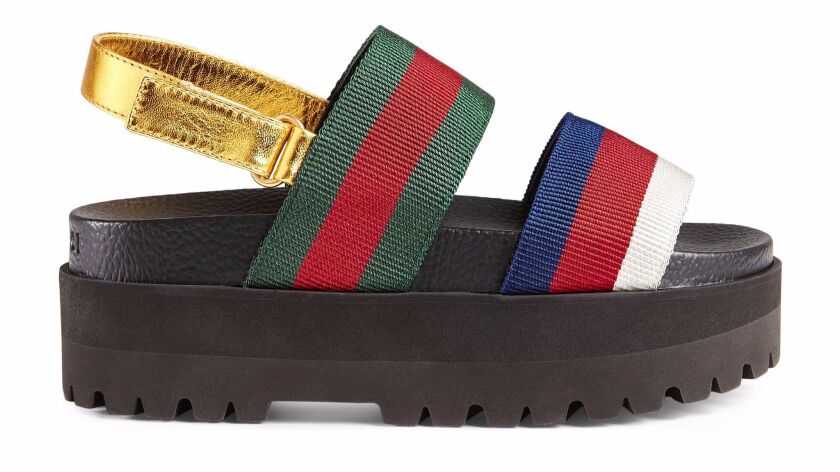 Gucci's Web platform sandal with striped grosgrain straps, gold leather ankle strap and molded rubber sole, $550 at Gucci in Beverly Hills, (310) 278-3451, gucci.com
Tory Burch
Tory Sport neoprene flatform sandals with printed insole and rubber soles, $250 at torysport.com
Pierre Hardy
Pierre Hardy leather Penny Sport sandal with gold metal studs and rope trim on a rubber sole, $595 at pierrehardy.com
Prada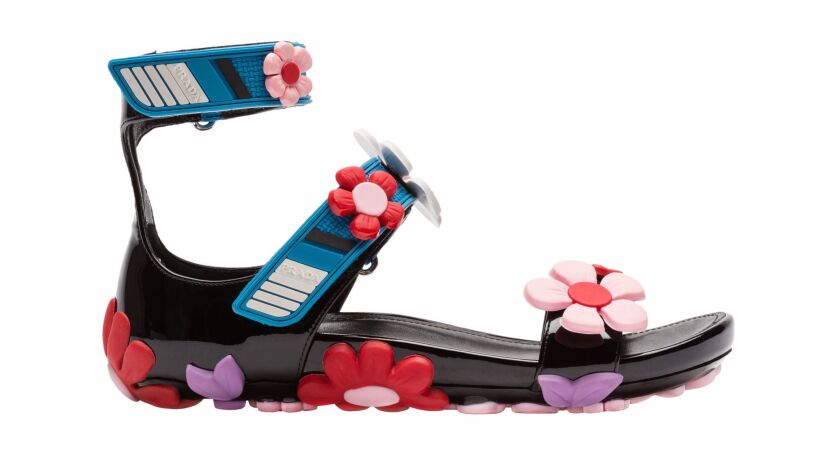 Prada patent leather sandal with rubber flower embellishment, $1,100 at prada.com
Teva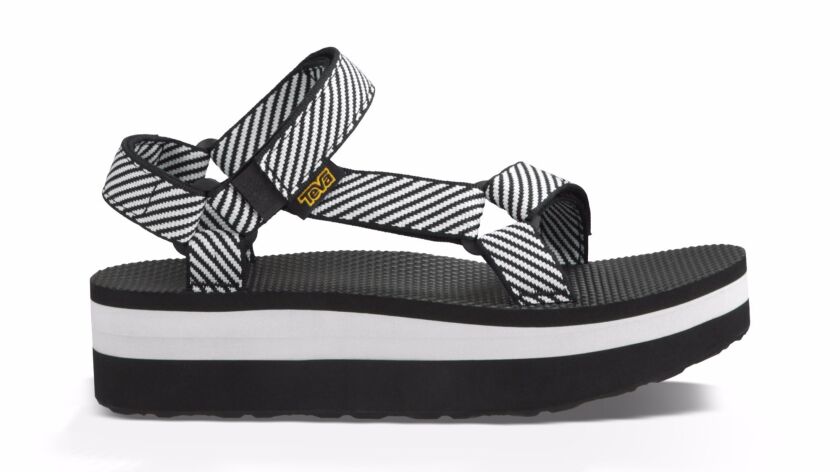 Teva candy-stripe-print Flatform Universal sandals with webbing straps, $60 at teva.com
Ash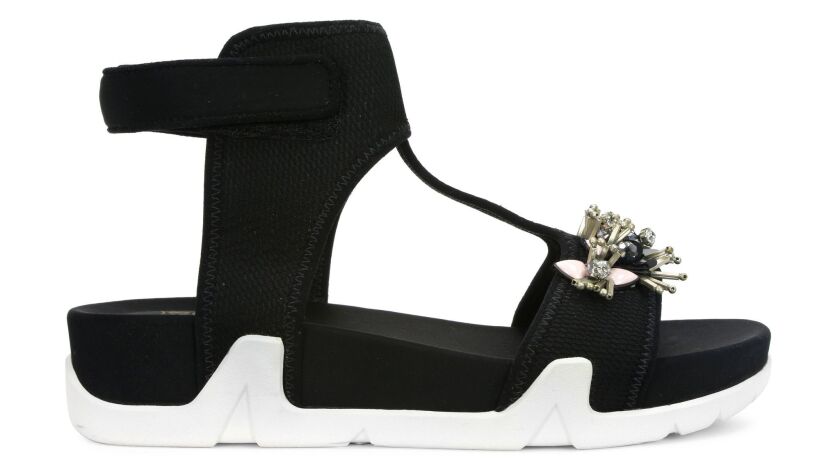 Ash fabric ankle-strap Osiris sandals with beaded embellishment, $160 at saksfifthavenue.com
Prada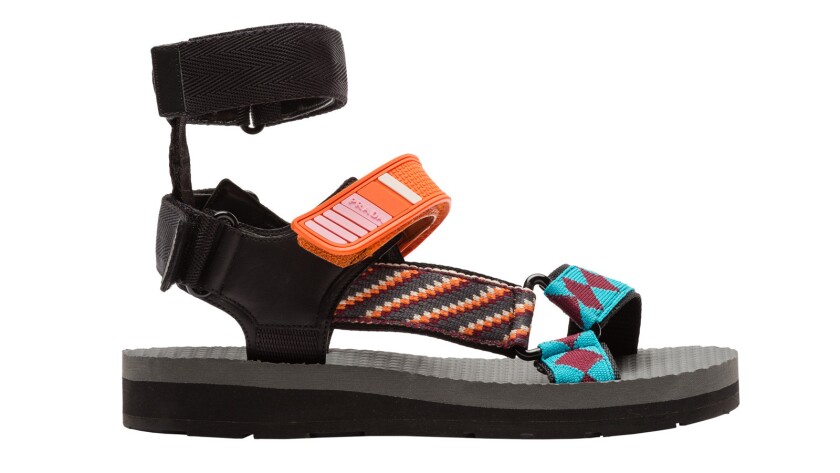 Prada rubber-soled sandal with patterned Velcro bands in men's and women's sizing, $495 at Prada in Beverly Hills, (310) 278-8661, prada.com
ALSO
The top trends out of Paris include puffer jackets and shearling stylish enough to wear in warm weather
Hermès lets L.A. know that 'all you need is love' and a Chinatown warehouse to have a fashion spectacle
Christina Hendricks, Freida Pinto, Courteney Cox and Moby attend eco-focused UCLA gala in Beverly Hills
---