A series of seasonal — and stylish — soirees help keep local museums fashionably in the black
The annual Met Gala in New York, overseen by Vogue's Anna Wintour and organized to raise funds for the Metropolitan Museum of Art's Costume Institute, may be the bash best known for enlisting the fashion flock in support of the museum world, but it's far from the only one. Every fall, at around the same time the leaves are turning color on the East Coast, the fashion focus turns west, where a season of starry dinners, galas and other events fete — and fund — Southern California museums.
This year, along with the returning slate of fashion/museum mash-ups detailed here, came an exceedingly rare exhibition of paintings by 17th century Italian painter Michelangelo Merisi da Caravaggio that has taken up residence at the Getty Center. Funded in part by Rome-based luxury label Fendi, it marks the first time the three pieces, considered to be among Caravaggio's best, have been on display together in the United States.
The benefit on the museum side of the equation is clear — substantial financial support. However, the upside for the fashion brands isn't quite as obvious. The end-of-year timetable inevitably helps prime the pump for the upcoming red-carpet dressing season, which begins in earnest in early January with the Golden Globes, but Fendi Chief Executive Pietro Beccari said there's a deeper connection between the art and fashion worlds.
"To be honest, it's difficult to quantify," Beccari said at a Nov. 19 preview party at the Getty Center, framing such sponsorship as the duty of luxury brands to support "everything that is beautiful in terms of design and art.
"I think today a customer does not push [open] the door of our store just because they want to buy our products but [because] they want to hear a beautiful story [and because] they share the set of aesthetic values that you are promoting. I don't know [specifically what] that does for Fendi, but I have the impression it does something good for us."
Here's a glance back at this season's most fashionable nights at the museum.
---
Museum of Contemporary Art, Los Angeles
The event on Sept. 19: Cocktails and a private after-hours tour of the Anna Maria Maiolino exhibition conducted by MOCA director Philippe Vergne, followed by an intimate 60-person dinner on the downtown museum's rooftop terrace.
Fashion patron: Paris-based Chloé, a luxury label owned by Richemont. Chloé has hosted similar MOCA dinners twice.
Money for the museum: A portion of the prior week's sales at the label's Melrose Place boutique was donated to the museum.
Musical accompaniment: A set by the L.A.-based band Winter drew the night to a close.
Standouts wearing the brand: The evening's cadre of "Chloé girls" included Emma Roberts, Kelly Rowland, Aimee Song and Este and Danielle Haim.
Quote: "You can never be overdressed or overeducated — and that's why Chloé and MOCA came together," Vergne said.
Also: Chloé isn't the only fashion brand in the fold. MOCA's Nov. 1 Distinguished Women in the Arts luncheon included a runway show of fall/winter 2017 women's looks by the Milan-based Etro label, which was also worn by a fair number of attendees.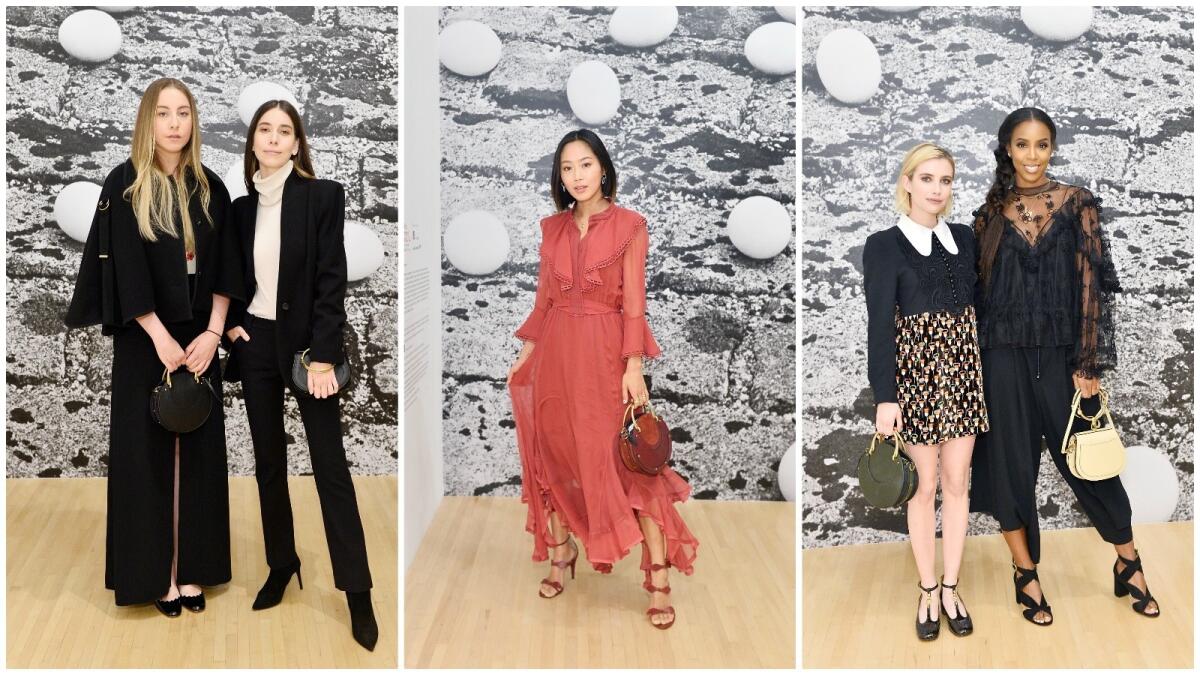 ---
Hammer Museum
The event on Oct. 14: The 15th annual Gala in the Garden fundraiser in the courtyard of the museum in Westwood, which honored director Ava DuVernay and Pulitzer Prize-winning writer and critic Hilton Als.
Fashion patron: High-end Italian apparel and accessories brand Bottega Veneta, part of the Kering luxury conglomerate. The label has been a sponsor of the gala for the last five years.
Money for the museum: This year's gala raised some $2.4 million, which funds the Hammer's programs, exhibitions and initiatives, including projects with young and emerging Los Angeles artists.
Musical accompaniment: A performance by Haim, who turned out for the evening in Bottega Veneta.
Standouts wearing the brand: In addition to the three sisters Haim, those dressed to impress in Bottega Veneta included co-host Zachary Quinto, Priyanka Chopra, Jessica Chastain, Evan Rachel Wood and Marisa Tomei.
Quote: "Fashion is an art form in its own right," Quinto said. "The Hammer is a museum that celebrates unique voices and encourages crossover and integrated thinking. So I feel like it's appropriate that they would team with a fashion [house] for this event. Art influences fashion and vice versa."
Also: Bottega Veneta's creative director Tomas Maier has long served as one of the gala's co-chairs.
---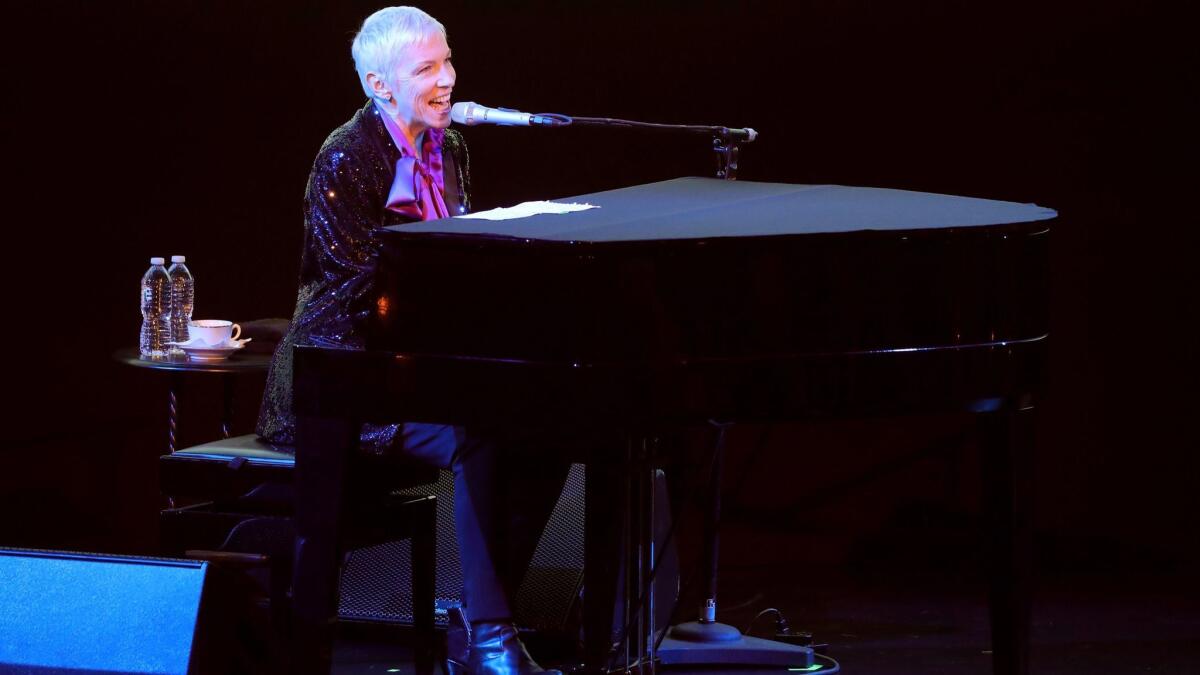 Los Angeles County Museum of Art
The event on Nov. 4: The seventh annual LACMA Art + Film Gala, honoring artist Mark Bradford and filmmaker George Lucas.
Fashion patron: Italian fashion brand Gucci, which, like Bottega Veneta, is part of the Kering Group's stable of luxury brands. Gucci has been the annual event's presenting sponsor since it began in 2011.
Money for the museum: While Gucci declined to discuss the specifics of its funding, this year's gala overall raised $4.4 million, which will be used to bolster LACMA's efforts to make film more central to its curatorial programming.
Musical accompaniment: Annie Lennox performed wearing a custom black Gucci tuxedo with sequin peak lapels worn over a purple silk shirt with a bow at the neck.
Standouts wearing the brand: Jared Leto, Zoe Saldana, Salma Hayek Pinault, Rosie Huntington-Whiteley, Dakota Johnson and Amy Adams all wore Gucci.
Also: LACMA isn't the only recipient of Gucci's film-focused philanthropy. The brand has also funded the restoration of classic films such as "Rebel Without a Cause" through its support of the Film Foundation, and it has supported the completion of feature-length documentaries through New York's Tribeca Film Institute.
---
Getty Center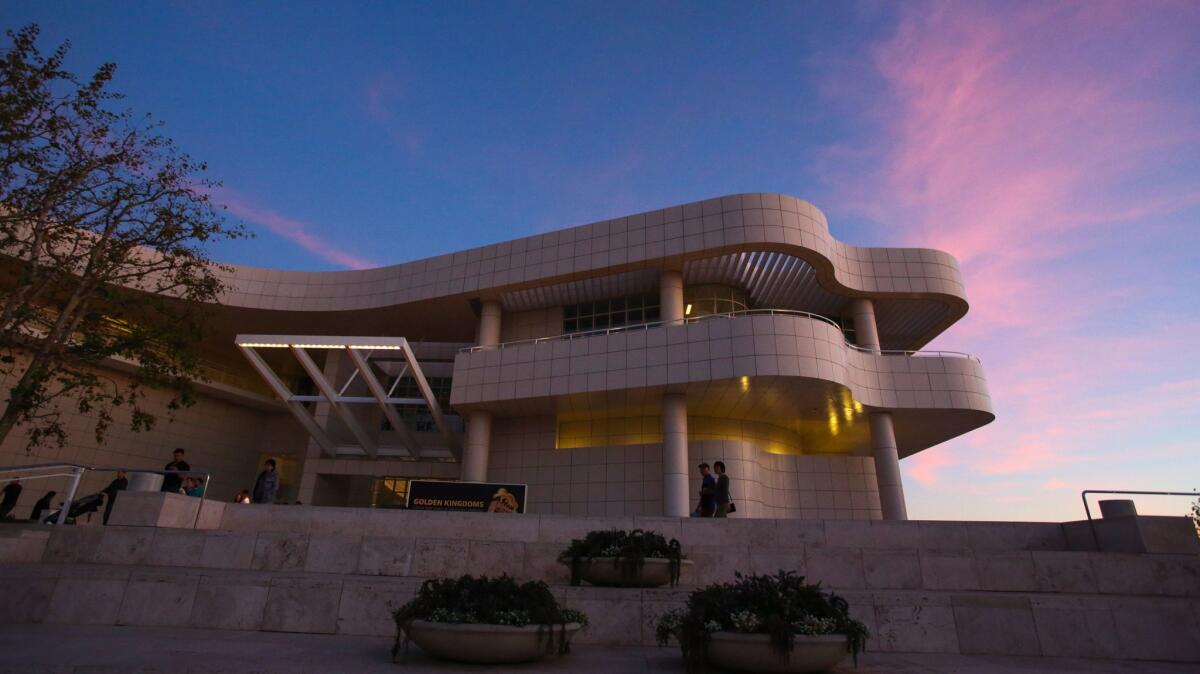 Fashion patron: The Rome-based Fendi apparel and accessories label, a subsidiary of French fashion-brand powerhouse fashion house LVMH. This event marked Fendi's first foray into the Los Angeles museum scene — and the beginning of a three-year partnership with Rome's Galleria Borghese to support the recently created Caravaggio Research Institute, which is working to compile a digital database focusing on the painter's life and works.
Money for the museum: Fendi, which just a few years ago spent $2.4 million to restore Rome's historic Trevi Fountain, is donating 1.2 million euros ($1.4 million U.S. at current exchange rates) to the Galleria Borghese's efforts.
Standouts wearing the brand: Stylist/social media star Erica Pelosini, interior designer Estee Stanley and documentary filmmakers and sisters Ena and Ines Talakic.
Quote: "A luxury brand is like a diamond: It has many facets, and each one of them shines in a [different] way in order to tell a beautiful story," Fendi Chief Executive Pietro Beccari said.
Also: The Getty exhibition, which runs through the end of February, marks the first time the three Caravaggio paintings — "Boy with a Basket of Fruit," "Saint Jerome" and "David with the Head of Goliath" have been displayed together in the U.S. — and the first time the Galleria Borghese has lent all three at the same time. "And it will probably be the last time," quipped Galleria Borghese director Anna Coliva, who noted that the three pieces comprise half the gallery's holdings of Caravaggio paintings.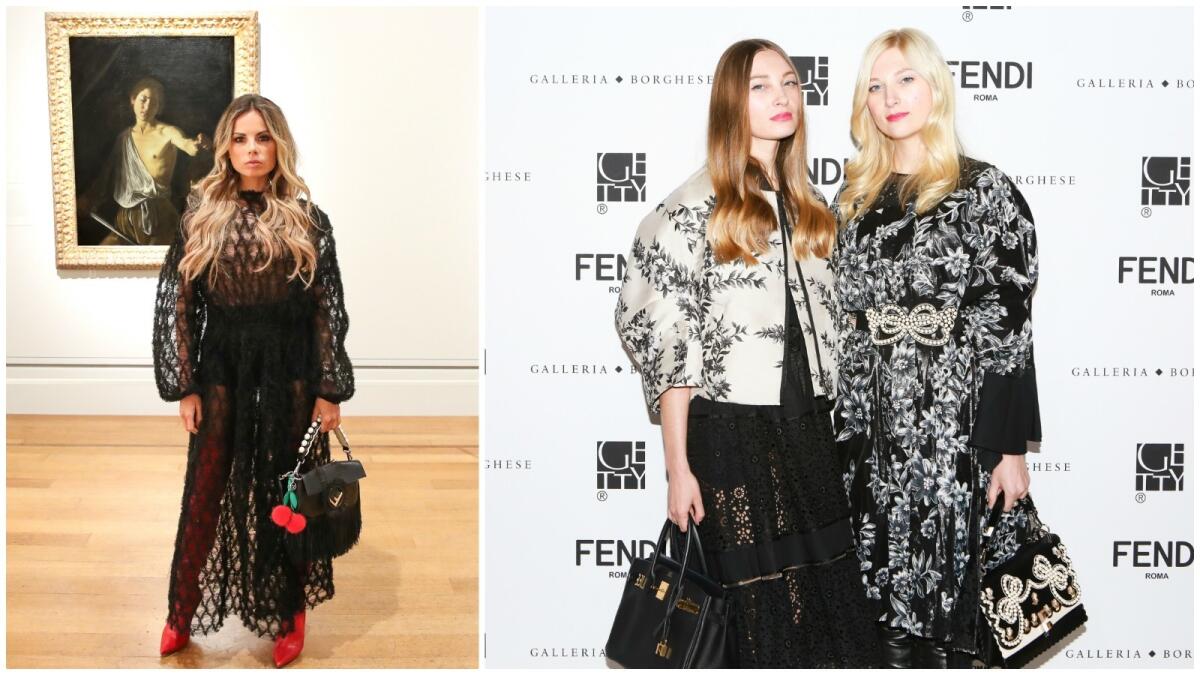 Lindzi Scharf contributed to this story.
For more musings on all things fashion and style, follow me at @ARTschorn.
ALSO:
Fendi fetes — and funds — a rare Caravaggio exhibition now at the Getty Center
Priyanka Chopra, Zachary Quinto mix fashion and art at Hammer Museum gala
Red carpet rewind: It's florals, bows and Gucci galore at the 2017 LACMA Art + Film Gala
Get our L.A. Goes Out newsletter, with the week's best events, to help you explore and experience our city.
You may occasionally receive promotional content from the Los Angeles Times.