Mr. Porter and visvim launch a capsule collection inspired by California's national parks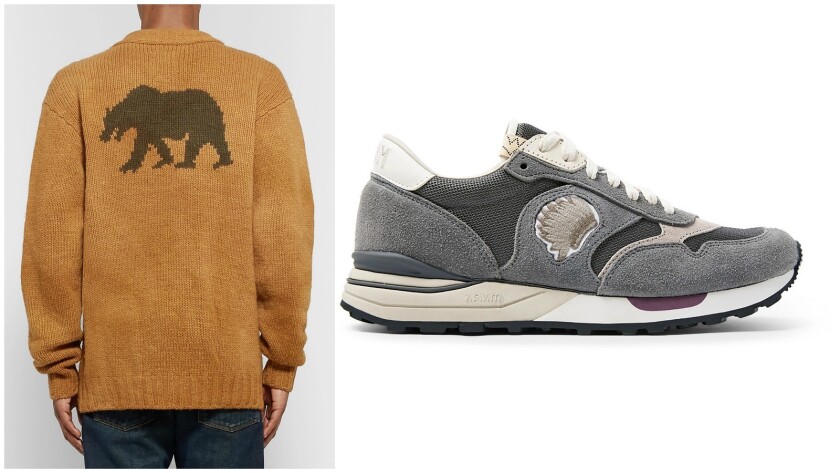 Neatly positioned between Southeast Asia and Europe, Los Angeles has increasingly become a natural meeting point, particularly in matters of style. Nowhere was that more in evidence than at last week's launch of the Mr. Porter X visvim capsule collection: a California-inspired collaboration between the British-born luxury e-tailer Mr. Porter and cult Japanese menswear brand visvim.
On display at visvim's downtown L.A. store and available on MrPorter.com, the 28-piece collection includes sneakers and bags and takes inspiration from California's national parks and, in particular, according to the press release, "the history of the Yosemite Valley Camp 4 rock climbers of the late 1950s and '60s." This translates as knit cardigans with bear motifs, sneakers bearing Native American war bonnet appliques and hoodies emblazoned with retro-style pennants alongside basics like T-shirts, denim jackets, cotton flannel shirts and sneakers in a color palette that reflects the California outdoors: browns, khakis and moss greens. Prices in the collaborative collection range from $300 (for a lightning-bolt-emblazoned T-shirt) to $5,210 (for a blue quilted-nylon, down-filled jacket).

For the record:
9:35 AM, Nov. 14, 2018An earlier version of this store incorrectly stated where the capsule collection is available. It is only available online at MrPorter.com, but it is currently on display at visvim's downtown L.A. store.
"It's for guys that like that reference point and like the vintage references and the utility references that are the inspiration behind this," Mr. Porter managing director Toby Bateman told The Times the day after the Nov. 7 launch. "Visvim — it's a fashion statement, it's a style statement. It's a million miles away from Balenciaga or Gucci, and it's also a million miles away from Tom Ford and Brioni."
"Visvim clients, I think, consider themselves to be individuals and have their own style," he added. "They don't consider themselves to be fashion followers or changing what they wear from season to season."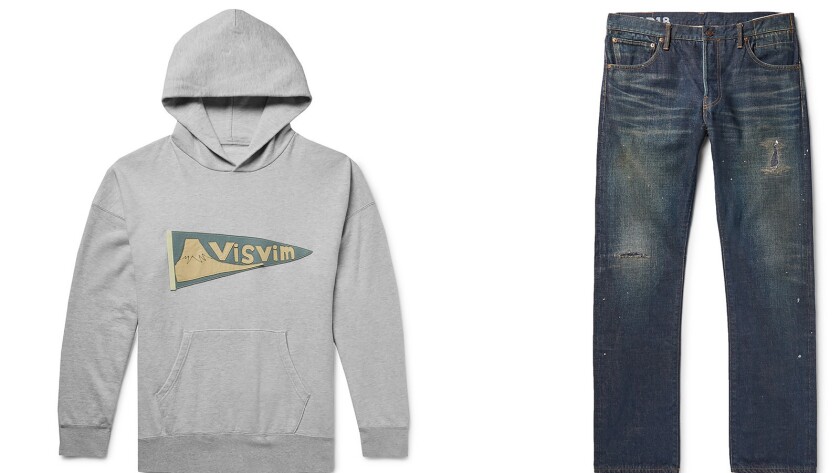 While visvim's founder, designer Hiroki Nakamura, recently moved the label to L.A., Bateman explained the collection was still produced using Japanese fabrics and manufacturing, including a traditional Japanese dyeing method known as aizome.
"So you've got the authenticity of what's coming out of Japan, of the indigo dyeing, the dyeing techniques for the fabrics of those coats" said Bateman. "Some of them they use like fruit juice or mud, and that's what you pay for."
Which is why most visvim fans probably won't be wearing this collection anywhere near a real hiking trail. "It's inspired by the outdoors," Bateman pointed out, "[but] I don't think you'd choose to wear this over your Patagonias."
Still, at the very least, this capsule collection will add an outdoorsy vibe to their closets.
The Mr. Porter X visvim capsule collection is on display at visvim Exposition, 304 S. Broadway, Los Angeles, and online at MrPorter.com.
---