Weiss Watch Co. marks Independence Day by debuting a U.S.-made mechanical movement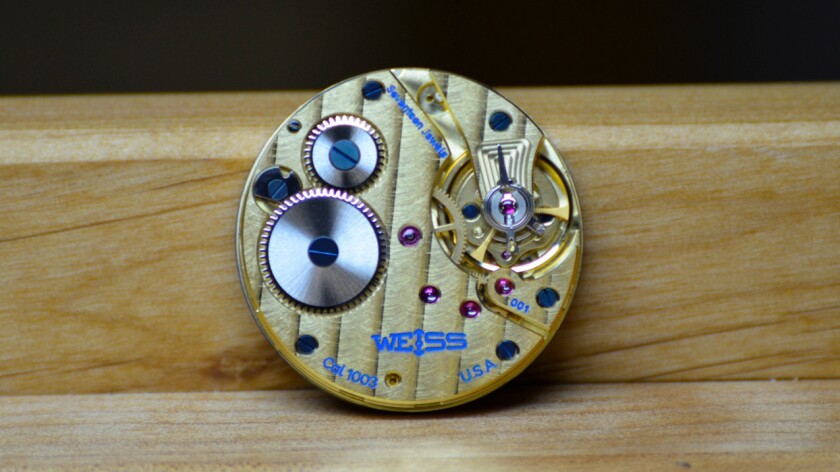 To fully appreciate what 29-year-old master watchmaker Cameron Weiss is trying to achieve in a nondescript office park in Torrance, it's necessary to wind the clock back for a minute — to the late 1960s.
That's when the quartz watch movement first came on the scene, making it possible — and eventually vastly less expensive — to keep time accurately using a battery and vibrating quartz crystal instead of the intricate combination of gears, pins and springs that had been used for centuries. This new-fangled watch engine was a game-changer in many ways, and historians of horology often point to the rise of the quartz watch as a precipitating factor in the decline — and eventual shuttering — of any meaningful level of watch and watch part manufacturing in the U.S.
Which is why the Independence Day debut of a new Weiss Watch Co. timepiece with the Torrance-made mechanical movement called CAL 1003 is such an important milestone in Weiss's effort to make fully made-in-America watches.
See the most-read stories in Life & Style this hour »
On its face, Weiss's $2,500 American Issue Field Watch appears to be a handsome, retro-looking, vaguely military-inspired 42mm wristwatch heavy on the patriotic motifs. Production is limited to just 50 pieces, one for each state in the union. But its true American nature is inside, with nearly all of the CAL 1003's tiny mechanical components manufactured here in the good old U.S. of A.
"The only thing we're not manufacturing [in the U.S.] are the hairsprings and the [jewel bearings]," Weiss says during a tour of the 2100-square-foot Torrance studio the company has occupied since September. "We're still getting those from Switzerland."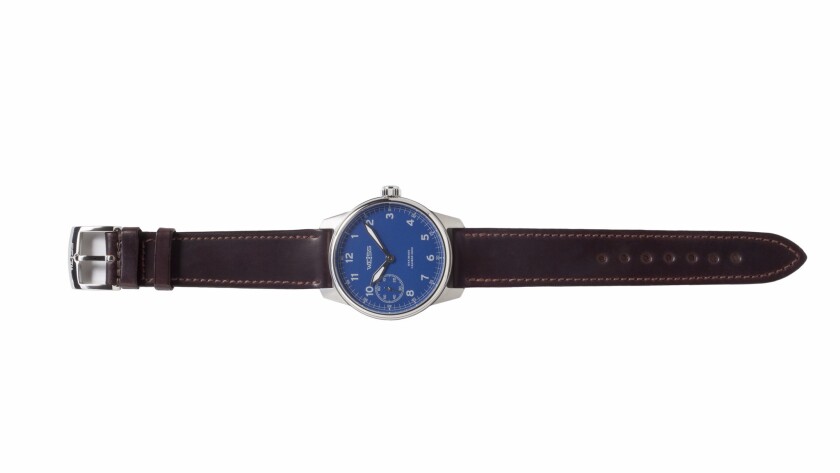 Switzerland, with its centuries-old watchmaking infrastructure, established itself as the preeminent source of the world's most coveted mechanical watches — not to mention the miniature engines that drive them, including Rolex, Patek Philippe, Vacheron Constantin and Piaget.
The land of Swatch is no slouch in the quartz movement business either. Shinola's Argonite 1069 quartz movement, for example, is physically assembled in Detroit from component parts provided by Ronda AG, based in Lausen, Switzerland.
So when Weiss took a deep dive down the rabbit hole of Los Angeles-based watchmaking by launching his namesake brand in 2013 from the kitchen table of his 800-square-foot Beverly Hills apartment, his first hand-assembled watches had just a few locally made parts. The dials were manufactured in Rancho Cucamonga, the cases in L.A. But the tiny whirring heart and soul of each one was a Swiss-made ETA 6497 movement.
Still, those efforts marked the first step toward Weiss' goal of building a watch wholly of U.S.-made parts. (Times staff writer Daniel Miller shared Weiss' early story in October 2014.)
"This isn't about telling time for me," Weiss says. "It's about the artwork — the craft. It's about the feeling you get when you look down at your wrist and you understand the amount of work that went into it."
There's also a compelling business reason to create an in-house movement based on — and using many parts in common with — the popular movement supplied by Swatch Group subsidiary ETA. "Several years ago, Swatch announced that it would eventually stop providing parts and movements to other companies," Weiss says, "and only sell fully completed watches."
It's important to note that, although the U.S.-manufactured and assembled CAL 1003 is certainly a homegrown rarity — not to mention an impressive accomplishment for a barely three-year-old SoCal company with three full-time employees — Weiss isn't the first 21st century watch brand to offer an in-house, American-made movement. That distinction goes to the Lancaster, Pa.-based RGM Watch Co., which started offering its RGM Caliber 801 movement in 2007. According to that brand's founder, Roland G. Murphy, 90% of the parts that comprise that U.S.-assembled movement are also manufactured here.
"We were the first to make a mechanical high-grade movement in series, not a one off, since Hamilton stopped making the 992-B in 1969," Murphy says. "Here at RGM we have three different movements we manufacture. The caliber 801 was made available in 2007, then our Pennsylvania Tourbillon two years later, and then 2012 we introduced our caliber 20 to mark our 20th year. To date we have made close to 300 caliber 801 movements."
Weiss says his company's next challenge is to find a way to affordably source (or even make) the hairsprings and the jewel bearings domestically. "There are companies in the U.S. that can do those parts," he says, "but we'd have to place huge orders, and we're not there yet."
In much the same way that the myriad parts of a luxury watch movement have been painstakingly designed to work in concert, Weiss seems to have engineered the toothed wheels of his nascent business to mesh perfectly and propel him toward his ultimate goal one tick at a time.
Out of his Torrance office space last month, for instance, Weiss launched a separate company called Pinion Precision Technology (the watchmaker, who owns his own company outright, is an investor in the new venture with business partner Grant Hughson). Weiss and Hughson reason that once the Swatch spigot eventually shuts off for good, demand for ETA parts from other watchmakers left in the lurch would help them scale production to a point that those last few pricey parts will become an affordable option.
And in a fine turnaround, Weiss says with a smile, "We've already got a contract to sell [our parts] back to one of our suppliers in Switzerland."
Pre-orders on Weiss's $2,500 42mm American Issue Field Watch with the CAL 1003 mechanical movement can be made at weisswatchcompany.com. Delivery is expected by the end of July. Note supply is limited to just 50 watches.
MORE:
7 style-centric questions for L.A. Clippers sartorial standout Blake Griffin
Moschino, Golf Wang help Made LA usher in a summer of love atop a parking garage
It is on like Donkey Kong! Vans, Nintendo partner on footwear and apparel collection
Retail Happenings: Saint Laurent doubles down in Costa Mesa; Raquel Allegra gets a stand-alone store in L.A.
For more musings on all things fashion and style, follow me @ARTschorn.
---