The latest runway collection from L.A.-based design duo Brian Wolk and Claude Morais, presented on the roof of the Hollywood Roosevelt Hotel Wednesday night, continued the Wolk Morais label's long-running love affair with Los Angeles, drawing inspiration from an L.A.-based artist as well as street style from one of the city's moist iconic shopping thoroughfares.
"We saw a show [about artist Peter Shire] at MOCA that really inspired us," Morais said backstage before the show. "We were like, 'Oh my God, he's the only L.A. member of the Memphis Group! We thought it was interesting." (Founded in the early '80s in Milan, the Memphis Group was an influential design and architecture group that focused on the use of bold geometric shapes, vivid textures and primary colors.)
"The whole thing is a fantasy," Wolk added, "What if we mixed the swagger of these Melrose [Avenue] kids with the Memphis Group [look] and a dash of Savile Row and put it together in a cinematic Hollywood way? What would it look like?"
The answer came down the zebra-print runway, just behind the lighted neon Hollywood Roosevelt sign, in the form of "Collection 6," a seasonless title for what's essentially a spring 2018 ready-to-wear collection. We saw just over two dozen men's, women's and gender-bending pattern-popping looks, some bursting with bold color, others in combinations of black and white with a few all-black looks throw in for good measure.
The Savile Row inspiration could be seen in the collection's Spencer suits — cropped jackets with generous lapels paired with high-waisted trousers hemmed to mid-calf and served up in bright green crepe or black vegan leather — as well as a black-and-white houndstooth check that could be seen on vests, dresses, suit dresses and inserts in the sides of evening gowns.
Other black-and-white combinations came by way of sequin zebra prints on color-blocked dresses, leopard spot jacquard suits and skirts and a black sweatshirt with the duo's faces in silhouette in white. Proceeds from the sale of that limited-edition sweatshirt at the brand's online boutique will be donated to Teen Cancer America, a longtime charitable partner of the brand.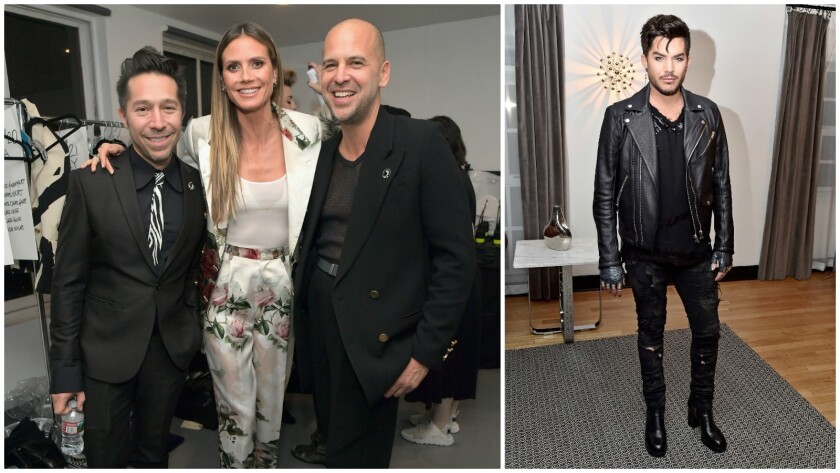 The Memphis Group by way of Melrose homage seemed to hit its stride with a range of colorful patterned pieces — a leopard-print cocktail dress in blue silk, for example, or zebra-print silk shirts in a combination of black and raspberry red. A clever nod to California that we might have missed completely had it not been pointed out to us was a pattern that was designed to look like multiple tiny horizontal slashes or rips in denim — but was actually a jacquard pattern.
Among the collections most memorable looks were the opening number — a dress in a simple silhouette that fell to mid-thigh made from color-blocked panels of colorful crepe (red, green, purple and blue) with two narrow vertical insets of zebra-print sequins running from shoulder to ribcage — and a houndstooth check skirt suit with a three-button, notch-lapel cutaway jacket that, by pairing a traditional menswear pattern with a feminine silhouette, feels like a perfect outfit for these tumultuous times when discussions of gender and power are center stage.
"We wanted this season to be more about feminine suits for men and not masculine suits for women," Morais said backstage. "We want to give power back."
For more musings on all things fashion and style, follow me at @ARTschorn.
---