The Weeknd, H&M offer a behind-the-scenes look at their new Spring Icons fashion collaboration
The highly anticipated collaboration between The Weeknd, the R&B/pop singer, and H&M will be available in every H&M store that carries menswear, as well as online, beginning March 2. Today, H&M released a teaser campaign of behind-the-scenes video footage and ad images that coincide with the launch.
In November, it was revealed that The Weeknd — also known as Abel Tesfaye — will be the face of H&M's upcoming menswear collection Spring Icons Selected by The Weeknd. The result is a complete wardrobe of essential men's pieces, chosen by The Weeknd in collaboration with H&M's design team.
The collection will be supported by a full ad campaign shot by Federico Pestilli and a campaign video shot by Keith Kandell. The full campaign will be released later this month.
"What I like about this collection is that it's all about pieces that I want to wear," Tesfaye told WWD. "The way that I dress is like a uniform, and it's pretty much who I am. Whenever I travel around the world, it's also how I see other men dressing. Streetwear has taken over the world, and in the process it's started to change and become even more special, more sharp."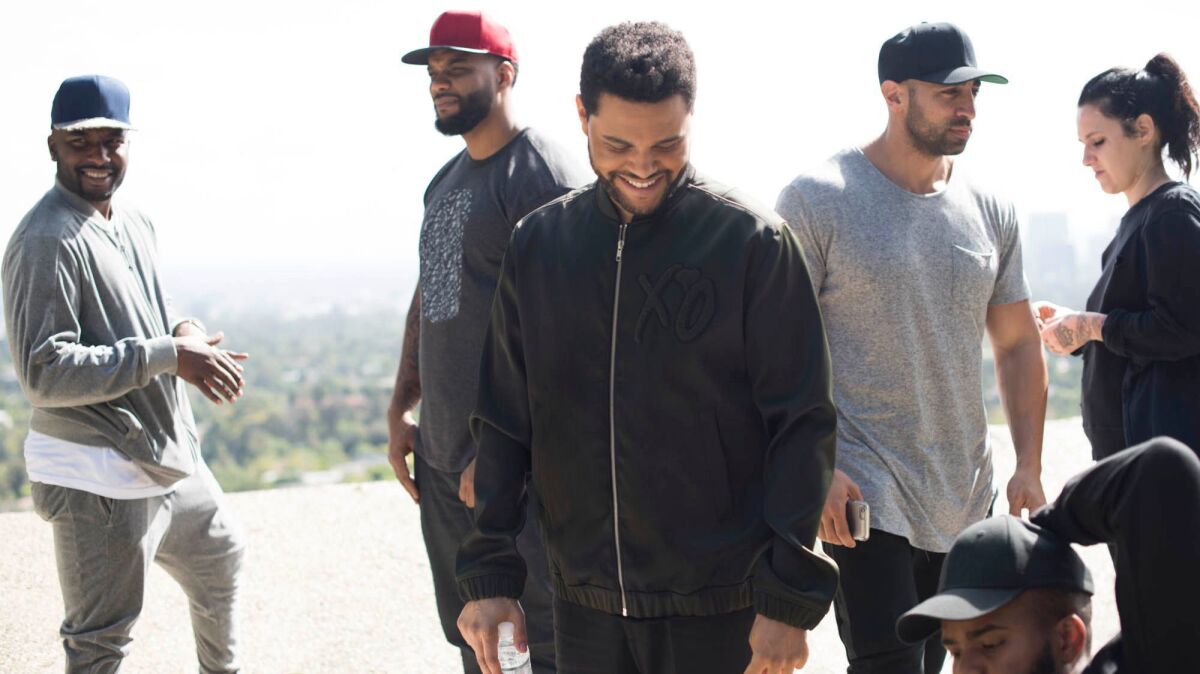 The 26-year-old Canadian singer noted that H&M asked him to select his favorite pieces from this collection, and he was happy to oblige "because it all feels so authentic. I'd never put my name to anything that didn't feel real," he said.
Asked about his experience working with the H&M team, Tesfaye said, "They were so great, because they really cared about the collection they made. Andreas (Löwenstam, head of design for menswear at H&M) and his team are all obsessed with the details, and have all this knowledge about men's style and what looks work together. They really nailed it with the collection, and it didn't make any compromises in its design."
Tesfaye, who is believed to be dating Selena Gomez, added that he loved the mix of urban pieces like bombers and hoodies with tailored shirts and blazers. "Every piece is both effortless and fresh, which is just how men's wear should be," he said.
Löwenstam added, "Abel's taste and style perfectly fits the men's wear mood of the season at H&M. He has such a great eye for the little details that matter, and for mixing together updated men's classics for the perfect tailored streetwear look."
Looks range from a golden beige cotton bomber with a ribbed hem and round terry black patch at the chest to hoodies with a flattened kangaroo pocket at the front. Raw-edge jersey T-shirts, denim jeans, motorbike jackets in pleather and zip-up work shirts in faux suede round out the collection. The line will retail from $14.99 to $79.99.
The Weeknd released his third album, "Starboy," on Nov. 25. He is the top musical act in the U.S., holding at number one on the Billboard Artist 100 chart. The artist has won two Grammy awards and has been nominated for an Academy Award.
ALSO
From album art to cannabis containers, L.A. graphic artist Neville Garrick has designs on preserving Bob Marley's legacy
Adding bold, colorful stripes might be the ultimate way to stand out this spring
Herbert Fink, hipster who helped make Rodeo Drive a fashion destination, dies at 93