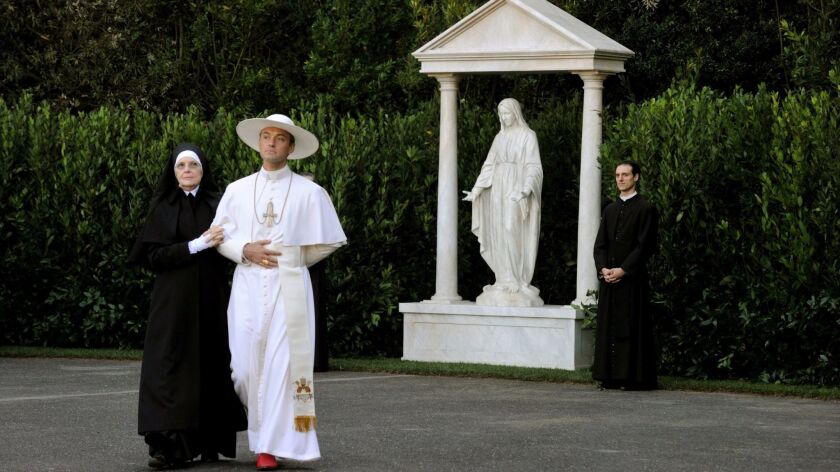 The premiere of "The Young Pope" generated mixed reviews and social media buzz for its controversial — but fictional — storyline. But those with an eye for papal fashion may have taken note of both Jude Law's red shoes and the sizable Giorgio Armani credit at the end.
There are two pairs of red shoes worn by Law, who plays the first Italian-American pope, Pius XIII, in the HBO series that debuted this weekend. The first pair appears when the pope gives a speech in the Sistine Chapel. Costume designer Carlo Poggioli said that he drew inspiration from papal shoes on display in the Vatican Museums to come up with his own design, keeping in mind that they would become the subject of detailed shots.
"The fabric used is red Venetian velvet, then hand-embroidered in our costumes workshop in Cinecittà by the same people who embroidered the Pope's capes and miters, Patrizia Barbera and Saskia Irrgang," Poggioli said. "The finished fabric was then given to the Pompei company in Rome, the world's biggest shoe design house exclusively for cinema, theater and television, who manufactured the shoes with soles and leather heels." The shoes, which took three weeks to make, are embroidered with gold thread and silver. They also feature Swarovski stones, as Swarovski was a sponsor of many of the jewels and stone detailing in the series.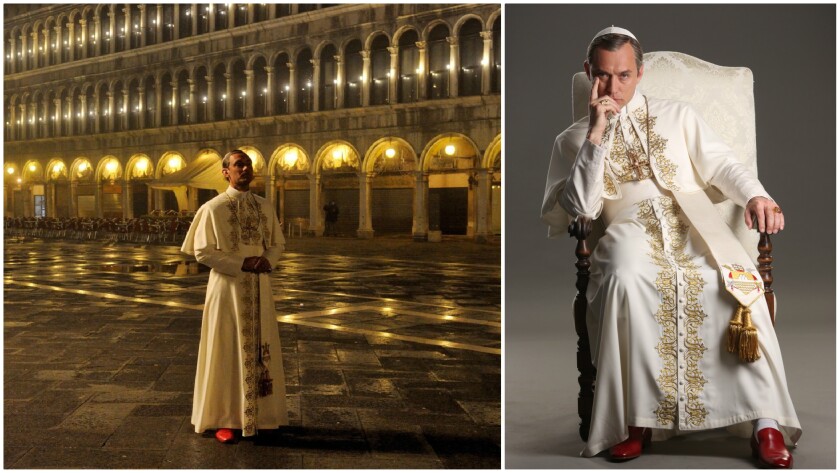 The second pair of red shoes were created by Christian Louboutin. "They're in select red leather, extremely soft and their peculiarity is that the sole is in bright red leather too, like all the wonderful shoes with the Louboutin label," Poggioli said. He explained that the red shoes symbolize the blood of Christ.
"Rumor had it that Pope Ratzinger wore red shoes manufactured by Prada, but this wasn't true," he said. "They were made by Adriano Stefanelli's papal shoemakers in Novara."
Poggioli made up his own nickname for the Louboutin-designed shoes. "When in the morning before shooting we would decide with Paolo Sorrentino and Jude Law to use these red shoes for particular scenes, I'd say to my assistants, 'We're making Jude wear the Ferraris today,'" he said. "For me, these shoes are equivalent, both for their color and for their elegant shape, to those wonderful bright red Ferrari cars."
As for the Giorgio Armani credit, Poggioli revealed that Armani is both a fan and a friend of "Young Pope" director Paolo Sorrentino. The designer created a range of nonclerical clothes and accessories for the series, including the sunglasses worn by Law's character.
"We needed to dress with sober elegance the civilians present in the Vatican who rotate around our Lenny, like the Vatican's marketing manager, magnificently portrayed by Cecile de France," Poggioli said. "As always, Armani was extremely kind and made available to her and to the other actors, Stefano Accorsi, etc., his wonderful outfits, which perfectly suited the film's characteristics."
"The Young Pope" is out now via HBO.
ALSO
Kidman, Witherspoon and cast of 'Big Little Lies' honored at Elle celebration
Matty Cardarople on playing the henchperson of indeterminate gender in 'Lemony Snicket'
'La La Land,' 'Hidden Figures,' 'Nocturnal Animals,' 'The Crown' among nominees for Costume Designers Guild Awards
---