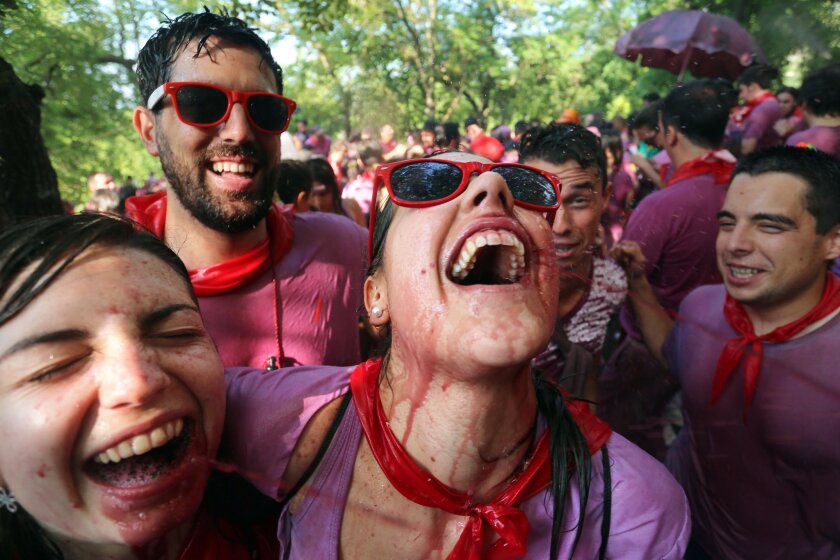 In the Rioja wine region in Spain, summer is marked by the annual Battle of Wine in Haro, in which participants squirt or dump thousands of gallons of wine on one another. That's one way to cool down.
You could also just chill your bottle of red. Yes, as in put in the freezer or the fridge for a while or stick it in a bucket of ice. When red wines are too warm, the alcohol is exaggerated and the wine simply doesn't taste like itself. Chilling it even a few degrees brings it back into focus. It also makes the wine more versatile, so much so that you could pour a red wine with grilled fish, for example.
Overchilled your bottle? Don't despair. The wine will warm up soon enough. Unless your guests are fast drinkers, you might need to give it another dip in the ice bucket.
NV Sherman & Hooker Shebang! Eighth Cuvee, California Red Blend (California)
Shebang! is a project of Morgan Twain-Peterson of Bedrock Wine Co., made under the Sherman & Hooker label (so named for the two Confederate generals who purchased the Bedrock Vineyard way back in the 19th century.) This is a guy who thinks outside the box. To make this non-vintage blend, he mixes declassified Syrah, Petite Sirah and old-vine Zinfandel from Bedrock with small lots from friends with vineyards. Each year the bargain-priced blend is a little different. This "Eighth Cuvée" is 46% Zinfandel with 40% Grenache and small amounts of Alicante, Petite Sirah and Sangiovese. The result is a delicious, everyday red, spicy and full-bodied, and drinking well above its modest price point. Look for it at Domaine LA and K&L Wine Merchants in Hollywood, John & Pete's in West Hollywood, Lincoln Fine Wines in Venice, and Wally's Wine & Spirits in West Los Angeles and Beverly Hills, About $12.
2013 La Quercia Montepulciano d'Abruzzo (South of Italy)
Wines from the south of Italy are still well-priced, especially those from the Montepulciano d'Abruzzo region. Antonio Lamona of La Quercia grows his grapes organically and cuts back the vines to get low yields. With its ripe round tannins and beautiful texture, the 2013 La Quercia Montepulciano d'Abruzzo has an elegance that's rare from this appellation and especially at this price point. Look for it at Costco, Hi-Time Wine Cellars in Costa Mesa, Lincoln Fine Wines in Venice, Wine Country in Signal Hill and Wine Exchange in Santa Ana. From $11 to $13.
2013 Field Recordings Fiction Red (Paso Robles)
A quirky blend of Grenache, Syrah, Mourvèdre, Tempranillo, Touriga Nacional, and Zinfandel from winemaker Andrew Jones. Whew! Jones picks up small amounts of grapes magpie-fashion from vineyards all over the Central Coast and puts them all together to produce this lusty "Fiction Red." Tasting of dark berries, smoke and forest, it makes a great burger wine, and is terrific with ribs or grilled sausages too. He also sells it in 500-milliliter cans, about 16 ounces, or 2/3 of a regular bottle. A four-pack is $40 from the winery, but some wine shops around town sell it by the can for under $10. Look for it at Domaine LA in Hollywood, Hi-Time Wine Cellars in Costa Mesa, K&L Wine Merchants in Hollywood, Lincoln Fine Wines in Venice, Mission Liquor & Wines in Pasadena and Wade's Wines in Westlake Village. About $16.
2011 E. Guigal Côtes du Rhône
You can always count on Guigal to produce a bright, quaffable Côtes du Rhône at a good price every year. The beauty is that you can find it almost everywhere. The producer's least expensive wine, the 2011 blend of Syrah and Grenache with a touch of Mourvèdre tastes of cherries and plums, black pepper and olive. A great value for summer drinking from one of the masters of the Rhône. Look for it at K&L Wine Merchants in Hollywood, Manhattan Fine Wines in Manhattan Beach, Wine Exchange in Santa Ana, Wine House in Los Angeles. About $13.
2013 Tenuta delle Terre Nere Etna Rosso (Sicily, Italy)
Wine importer Marc de Grazia's basic Etna Rosso is another red wine steal. A blend of Nerello Mascalese grape with a touch of Nerello Cappuccio grown on Mount Etna's volcanic soil, the 2013 Tenuta delle Terre Nere layers the flavors of dark raspberries with wild herbs, smoke and spices. A tremendously versatile red to have with salumi, barbecued meats and even grilled tuna. A great basic for summer or any season. Look for it at Domaine LA, Hi-Time, Mission Wines and Wine House. From $18 to $22.
Follow @sirenevirbila for more on food and wine.
---