6 great places for food lovers in Long Beach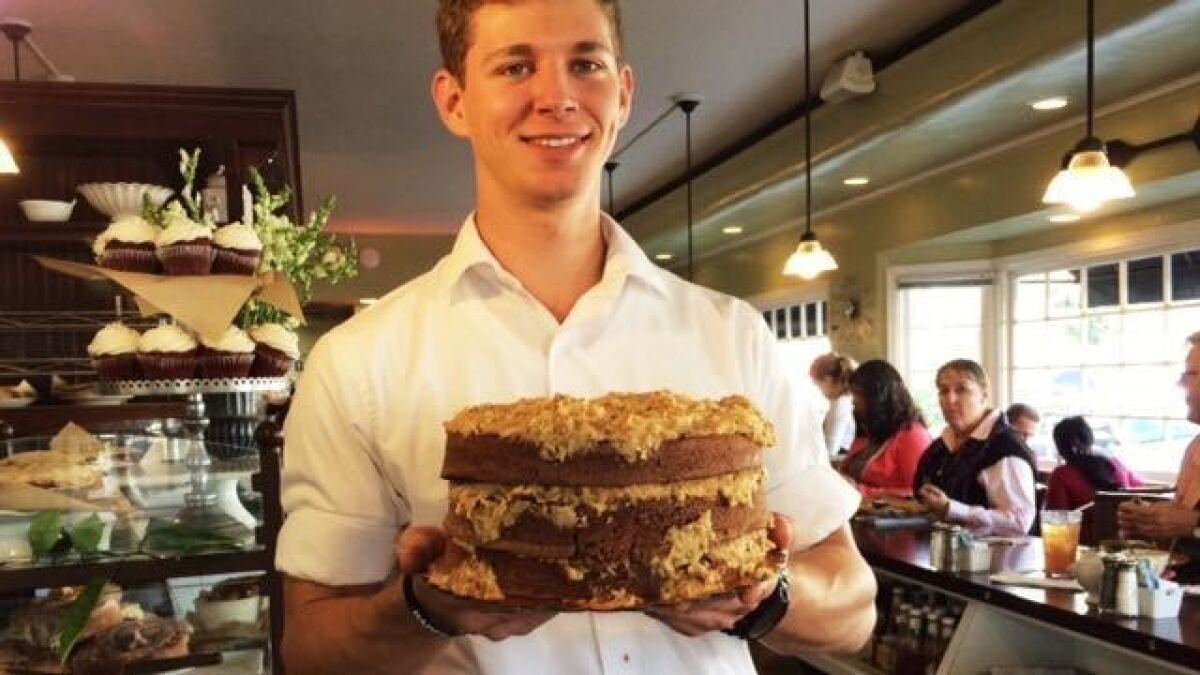 Long Beach is a city that prides itself on its diversity — and that certainly extends to food. Look around and you'll find a little bit of everything. Down-home Midwestern diners, Texas barbecue, Cambodian noodle shops, taquerias, carnicerias and panaderias, wine shops, farmers markets and even what has been judged the best brew pub in the United States: downtown's Beachwood BBQ and Brewing. Here are a few favorites.
Jongewaard's Bake 'n' Broil: In a perfect world, every neighborhood would have a place like Bake 'n' Broil. It's the coffee shop you've always dreamed of, a friendly place where the person sitting at the counter next to you will want to share tips on what to order — listen to them; they've probably been eating there for decades. There are soups and salads, hamburgers and chicken pot pie, all kinds of breakfast dishes. And, above all, you'll find a dozen types of house-baked pies and cakes every day — meringue pies billowing and browned, cream pies that are just rich enough and not too sweet, homey German chocolate, carrot and coconut cakes. Don't miss the red velvet cupcakes. Now entering its third generation, Bake 'n' Broil is what Apple Pan and Pie 'n' Burger want to be when they grow up. 3697 Atlantic Ave., Long Beach, (562) 595-0396, thebakenbroil.com.
Lola's Mexican Cuisine: Long Beach is a city defined by its neighborhoods, and one of the coolest is the area around Fourth Street and Cherry Avenue dubbed Retro Row. Anchored by the gloriously redone Art Theater, you'll find everything from junk stores to places selling $8,000 Hans Wegner chairs. And right in the heart of it is Luis and Brenda Navarro's sweet Lola's. The menu walks a fine line between traditional family recipes (the carnitas braised in cola are amazing) and dishes that are a little more modern (Luis tours Mexico with Rick Bayless every year). And then there's that cilantro salsa, one of the most compulsively delicious sauces since Zankou Chicken's garlic puree. Fans call it simply "green crack." 2030 E. Fourth St., Long Beach, (562) 343- 5506, www.lolasmexicancuisine.com.
Long Beach Marina farmers market: A farmers market doesn't have to a hundred farmers to be good; it just needs to have enough of the right ones. There's no better argument for that than Long Beach's Sunday market, dreamily located in a marina parking lot. It's got Weiser's potatoes and melons; tree fruit from Jim Van Foeken, Garcia Family Farm, and, in peach season, John Tenerelli; jumbo asparagus from Zuckerman; fresh fish from Pete Siracusa of J&P West Coast Fish; greens from Maggie's Farm; citrus from Bernard Ranch; dates from Bautista and apples from Ha's. If you can't find something great to cook here, you're not trying. E. Marina Drive, Long Beach, (866) 466-3834, www.goodveg.org/LBSE.html.
Downtown Long Beach has been struggling to rebound for at least 20 years. This time it might finally be sticking. One of the reasons is the Promenade, a real Diner's Row, anchored by Michael's Pizzeria, a casual spin-off of owner Michael Dene's much fancier Italian restaurant Michael's on Naples, and his recently opened Italian steakhouse (yes, there is such a thing) Chianina. The pizzeria is a friendly place, just right for folks who live and work in the neighborhood to stroll by for some well-chosen charcuterie, a wood-fired Neapolitan-style (read floppy) pizza and a glass from their smart wine list. Dessert? The nearly unanimous choice seems to be the Nutella pizza, which is just what it sounds like. And right next door is craft brew legend Beachwood BBQ and Brewing. 210 E. Third St., Long Beach, (562) 491-2100, michaelspizzeria.com.
Northgate-Gonzales Markets: Is it possible for a store with multiple outlets to be a hidden treasure? Let's just say that Northgate-Gonzales is nowhere near as well known as it deserves to be. The produce department is reason enough. Besides the usual fruit-and-vegetable suspects, all fresh, in good shape and bargain-priced, there are exotics like huazontle, loroco, hoja santa, spiny chayote, fresh banana leaves and Key limes. The meat department sells every part of the pig you could possibly want, and their in-store panaderia does a great job with tortillas, pan dulces and bolillos. Throw in house-cooked taco meats, fresh salsas and Mexican cheeses, and you've got a treasure. 2120 Pacific Ave., Long Beach, (562) 599-5075, and other locations, www.northgatemarkets.com.

The Wine Country: Need a case of quaffable reds for $12 a bottle or less? They can do that. What about a once-in-a-lifetime score of 100-year-old Madeira? They can do that, too. Randy Kemner's 18-year-old store in Signal Hill (a small city on former oil ground surrounded by Long Beach) has done a remarkable job of staying in step with what's breaking in the wine world. A former Kermit Lynch sales guy, the store has its stock of offbeat treasures. It was early on the rose bandwagon (it still stocks a couple dozen every summer), and was a big supporter of small, grower Champagnes, well before that was cool. 2301 Redondo Ave., Signal Hill, (800) 505-5564, thewinecountry.com.
Are you a food geek? Follow me on Twitter @russ_parsons1
---
Get our L.A. Goes Out newsletter, with the week's best events, to help you explore and experience our city.
You may occasionally receive promotional content from the Los Angeles Times.