Chili-cheese naan and crisp masala fries: Badmaash Indian gastropub opens in downtown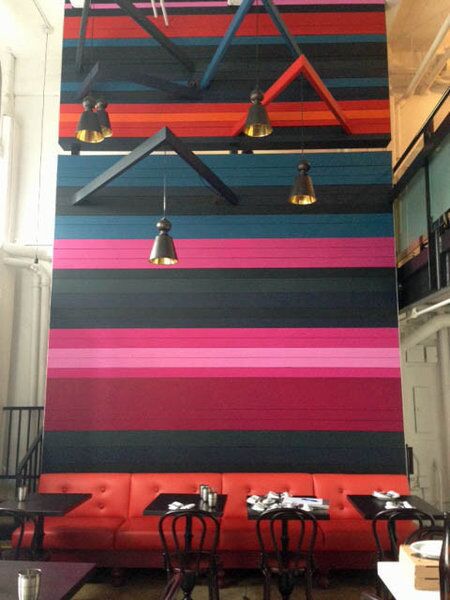 Badmaash Indian gastropub
(Jenn Harris / Los Angeles Times)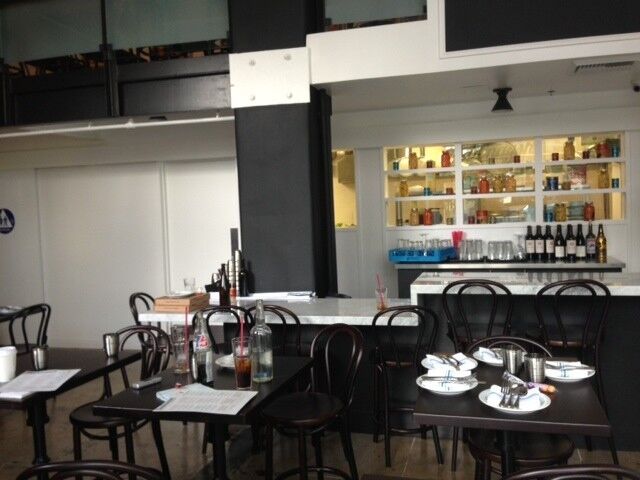 Badmaash Indian gastropub
(Jenn Harris / Los Angeles Times)
Badmaash Indian gastropub
(Jenn Harris / Los Angeles Times)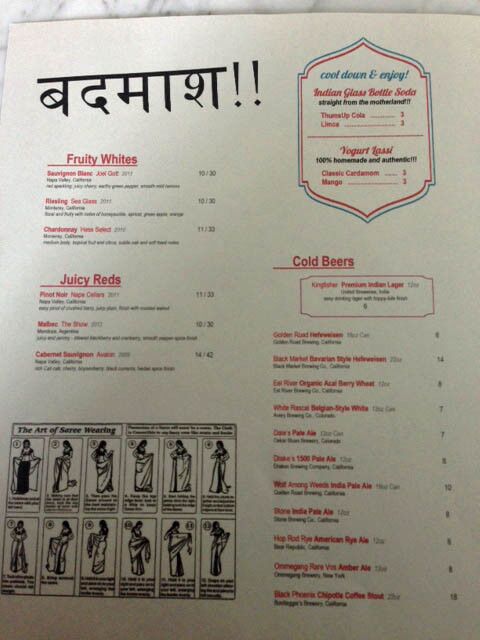 Badmaash Indian gastropub
(Jenn Harris / Los Angeles Times)
Badmaash Indian gastropub
(Jenn Harris / Los Angeles Times)
Recycled tobacco tins used to give customers their checks.
(Jenn Harris / Los Angeles Times)
Badmaash Indian gastropub
(Jenn Harris / Los Angeles Times)
Badmaash Indian gastropub
(Jenn Harris / Los Angeles Times)
The first thing you notice when you enter Badmaash, a new Indian gastropub in downtown L.A., is a giant wall covered in striped colors. Deep purples, reds, oranges, blues and black stretch from the floor all the way to the white painted ceiling. It's part of a design that reflects the owners' desire to turn the cliches and stereotypes of Indian restaurants inside out.
Badmaash chef Pawan Mahendro and sons Nakul and Arjun are attempting to take the charm and grit of India's cities and traditional cafes and bring them to L.A. The name "Badmaash" means a person who is naughty or notorious in Hindi.
"It's the little kid that runs around flipping tables and looking up skirts," said Nakul.
Food columnist Lucas Kwan Peterson goes to Artesia with Arjun and Nakul Mahendro and their father, Pawan, to try some of the best Indian food in the city. The Mahendros own a modern Indian restaurant, Badmaash, with two locations in Los Angeles.
As far as it being a gastropub, the idea came from Pawan's sons wanting to do Indian food from their perspective -- "the kids of the immigrants." Pawan, who is a classically trained French chef, also owns the restaurant Jaipur Grille in Toronto.
Some of the gastropub-ish menu items at Badmaash include the chicken tikka poutine made with crisp masala fries, chicken tikka, mozzarella and brown gravy ($11), the paneer and mixed pickles salad ($9) or the Badmaash burger with spicy tomato mayo and mango jam ($11).
Pawan also uses the restaurant's traditional tandoori oven to make chili-cheese naan ($5).
"Why not?" said Pawan.
That's the thinking behind most of the menu, which also includes street staples ($6 to $9) such as machhi amritsari (daily fish fry), papri chaat (chickpea and potato with crisp flour chips and yogurt splashed with tamarind and mint chutneys) and the Holy Cow! Keema Pow! made with ground beef chuck instead of the traditional chicken or vegetable, stewed with tomato, ginger and cardamon, served with a buttery crisp bun.
"We're basically just doing Indian food in a cool, casual way."
But you can still get the traditional fare with an entire section devoted to what Pawan calls "Indian wedding food," which includes butter chicken, chicken tikka masala and good ol' saag paneer.
The Goan pork curry recipe from Badmaash develops deep, meaty richness from a homemade curry powder, a long marinade, and a slow simmer in a tomato-onion sauce.
On the second floor, Nakul has posted old Bollywood posters from his great grandfather's cinema hall in Amnitsur in Punjab. He chose the cheesiest ones he could find.
The small silver cups that serve as water glasses are from Bombay and so are the Thums Up glass bottles of India's version of coke. And what would a gastropub be without dishtowel napkins? Just like at an old Bombay street cafe.
The most striking wall art is a collection of Andy Warhol-esque pictures of Ghandi, all wearing brightly colored Ray Ban Wayfarers. Nakul commissioned L.A. artist Alex Cherry to do the pictures, then added the glasses himself.
"If Gandhi were our age today, he'd totally be a hipster," said Nakul. "He's like peace, love, nonviolence, eat healthy, be good."
Badmaash is open for dinner daily at 5 p.m. and plans to add lunch service next week. The restaurant serves wine, beer and homemade yogurt lassi.
108 W. 2nd St., Los Angeles, (213) 221-7466, badmaashla.com
---
Get our weekly Tasting Notes newsletter for reviews, news and more.
You may occasionally receive promotional content from the Los Angeles Times.