At the Himalayan Café in Baldwin Park, discover Newari festival dishes and a goat thali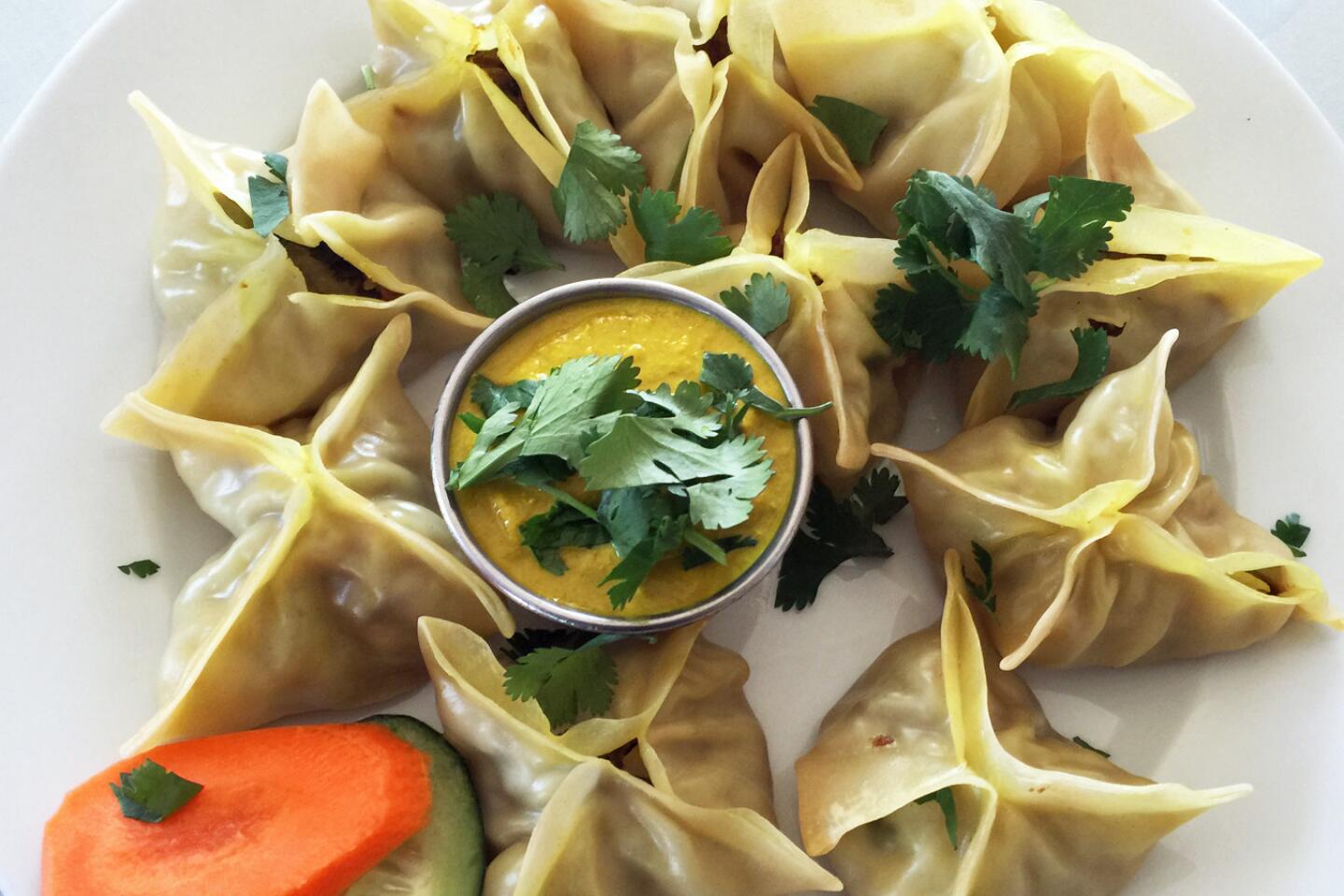 The lamb momos from Baldwin Park Himalayan Café.
(Linda Burum / For The Times)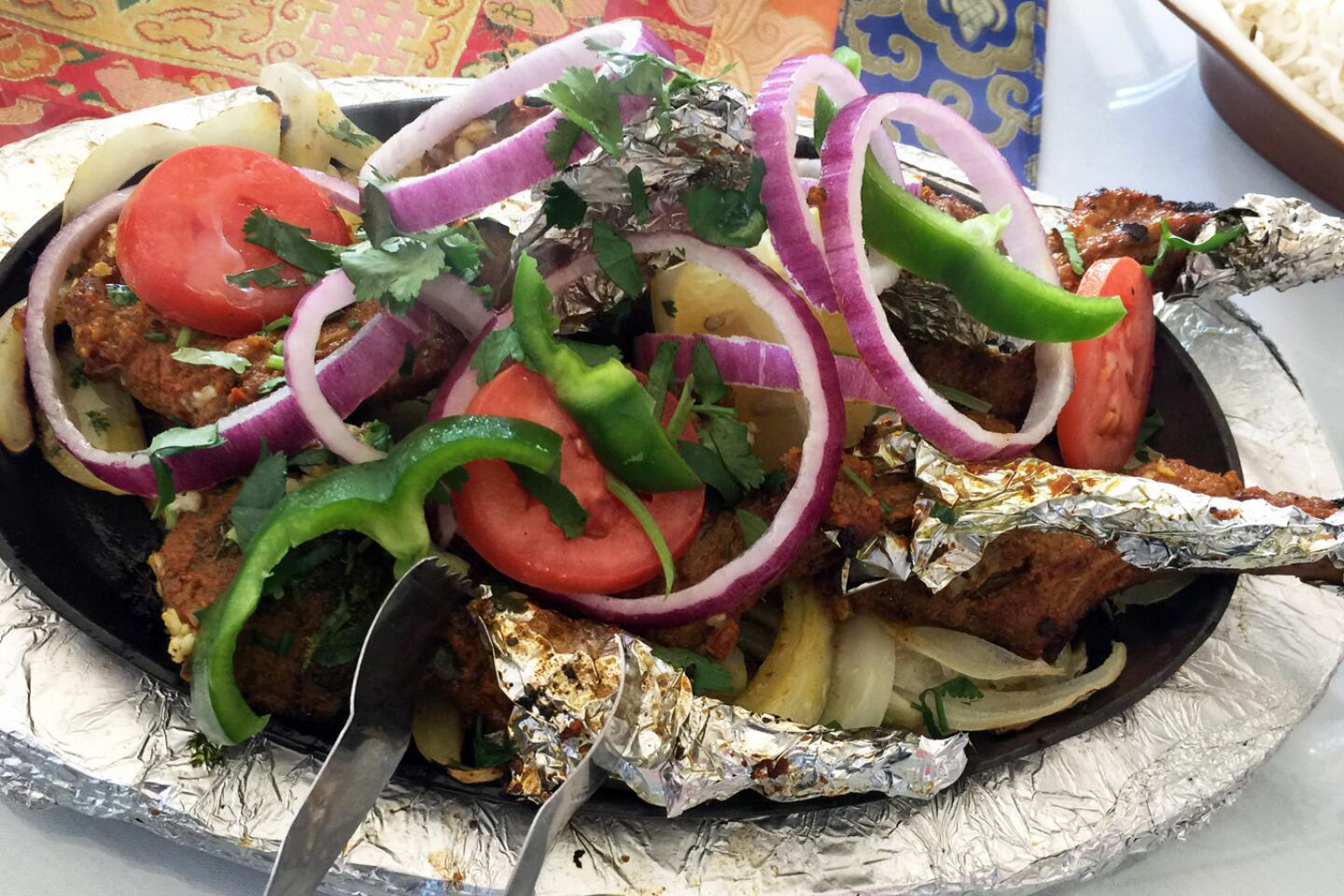 The Lukla lamb from Baldwin Park Himalayan Café.
(Linda Burum / For The Times)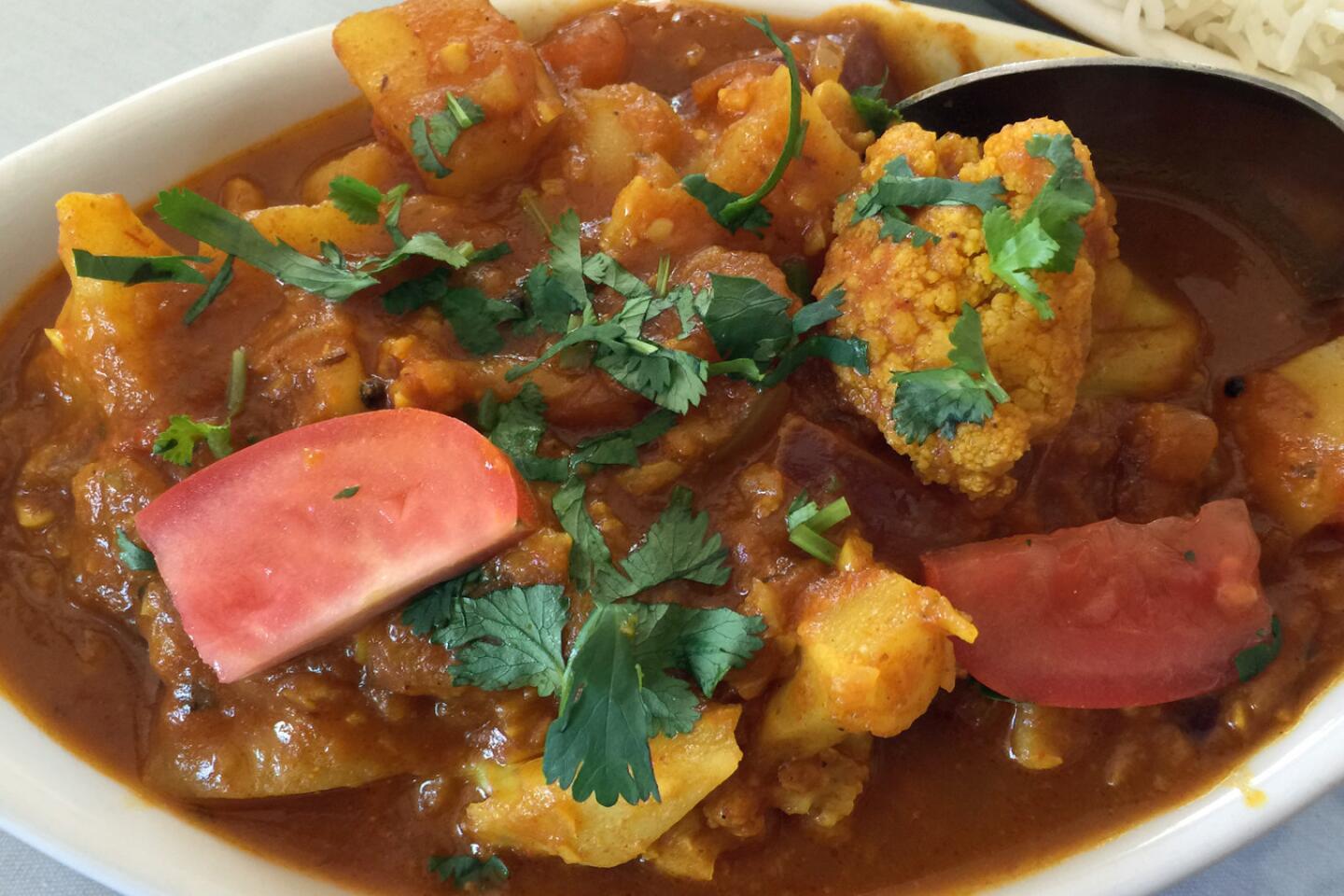 The Aloo Kauli from Baldwin Park Himalayan Café.
(Linda Burum / For The Times)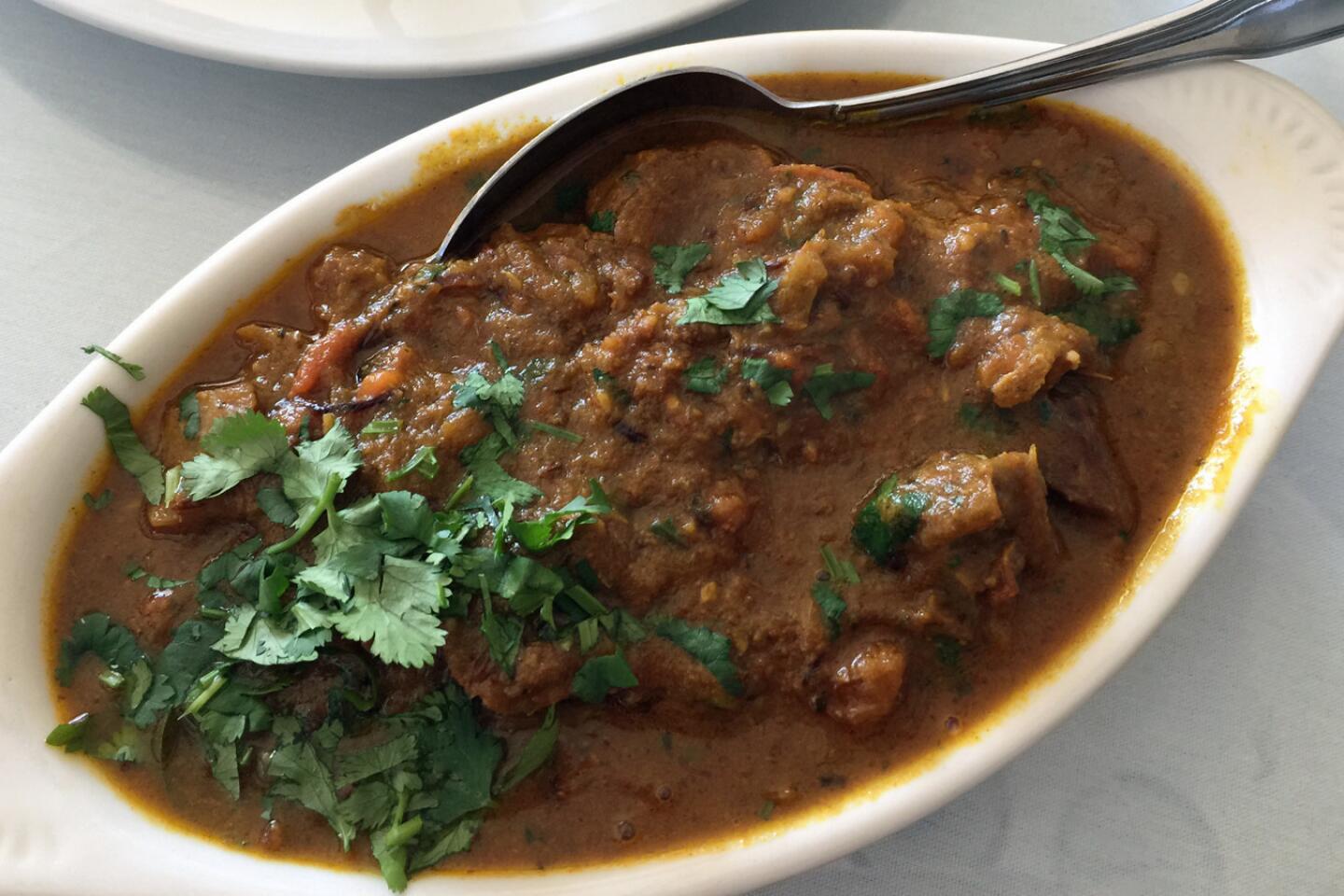 The Boka ka Masu from Baldwin Park Himalayan Café.
(Linda Burum / For The Times)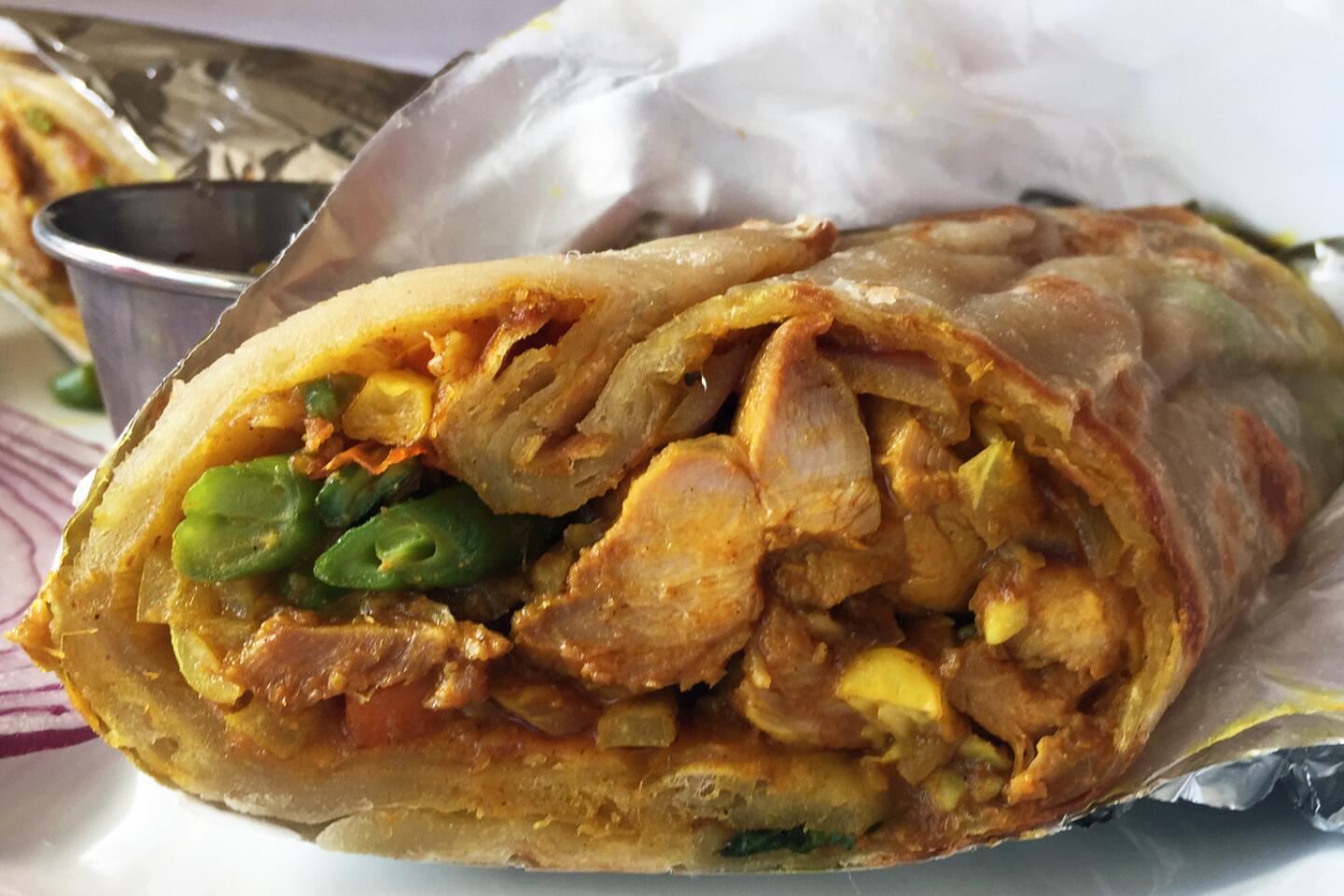 The Himalayan chicken roll from Baldwin Park Himalayan Café.
(Linda Burum / For The Times)
Name: Himalayan Café in Baldwin Park.
Why you made the trip: Chef Uttham Adhikari is turning out several Newari-inspired festival dishes, served exclusively at his newest Himalayan Café (with branches in Old Town Pasadena and San Dimas). The food-obsessed Newari clan — the acknowledged gourmands of Nepal — is known for its elaborate celebratory foods.
Where you are: Inside a repurposed Mexican marisqueria on the edge of a partially occupied shopping mall where the contrast of hand-crafted Himalayan wall hangings and artisanal table accessories makes for an endearing L.A. mash-up. The restaurant's downtown Baldwin Park neighborhood in the San Gabriel Valley sits just east of the 605 Freeway and north of the 10 Freeway.
Dishes that represent the restaurant: One of the new specials, Choila, is among the Internet's most clicked-on Nepali recipes. Lamb (or chicken) saturated with freshly ground spices is seared in a tandoor, then combined with vegetables in a heavy pan and simmered until tender. For his Lukla lamb, the chef uses a rack (perhaps a more extravagant cut than the Nepali original), bathes it in an elaborate marinade, then tandoor-roasts the buttery-textured chops in their garlic-laden coating. Lukla lamb is a perennial favorite in London's Himalayan restaurants.
Don't forget the momos: Symbolic of the cuisine's merging of Chinese and Indian elements, these variously shaped steamed dumplings laced with faint traces of garlic and cumin are to Nepal and Tibet what xiao long bao are to Taiwan — that is to say universally known and loved. Their thin, supple skins hold chicken, lamb or vegetable fillings. They're delicious on their own, but it's their creamy dipping sauce of crushed sesame seeds sparked with fresh basil and ginger that carries them over the top.
Although the meat-centric grills and curries appeal to many of the restaurant's local guests, everyday Nepali eating is emphatically vegetarian (and this restaurant is Nepali-owned). If the café's many vegetable dishes seem northern Indian, that's because the regions are closely linked geographically and culinarily. "But Nepali cooks season differently, and use less oil and ghee so the food tends to be lighter," says Adhikari. Look for bnadagopi tareako, sautéed cabbage and onion zapped with mustard seed. Or compare saucy aloo kauli and sauteed mismas tarkari. Both use cauliflower in entirely different but inspired ways, making it easy to see why Nepalis don't get bored eating the vegetable almost every day. The café's Himalayan roll — flaky griddle bread wrapped around a meat or veggie filling — is the burrito's Himalayan cousin.
What you're drinking: Freshly made lemonade spiked with ginger is a great match for this food. Beer aficionados will appreciate the two Nepali imports: Real Gold, with its slight sweetness, and Mustang, a bracing pilsner. The collection of Indian beers includes Hayward's, and there are about 10 wines.
Who's at the next table: Around noon the restaurant gets crowded with locals in office-appropriate attire. They usually come for the $9.99 lunch buffet, although the whole menu is available throughout the day.
Appropriate for: Casual group dining is ideal for sharing the generously served dishes. But single diners will appreciate the eight different Nepali-style thali combination plates, one of which includes an entrée of boka ko masu — stewed kid (young goat) on the bone.
Info: 4291 Maine Ave., Baldwin Park (626) 856-5100. Open daily 10 a.m. to 9:30 p.m.; until 10:30 Saturday and Sunday.
ALSO:
Where to go for good ramen in Atwater Village
Spring, the highly anticipated French restaurant in DTLA, opens today
This grilled cauliflower recipe will actually make you forget about steak
Get our L.A. Goes Out newsletter, with the week's best events, to help you explore and experience our city.
You may occasionally receive promotional content from the Los Angeles Times.