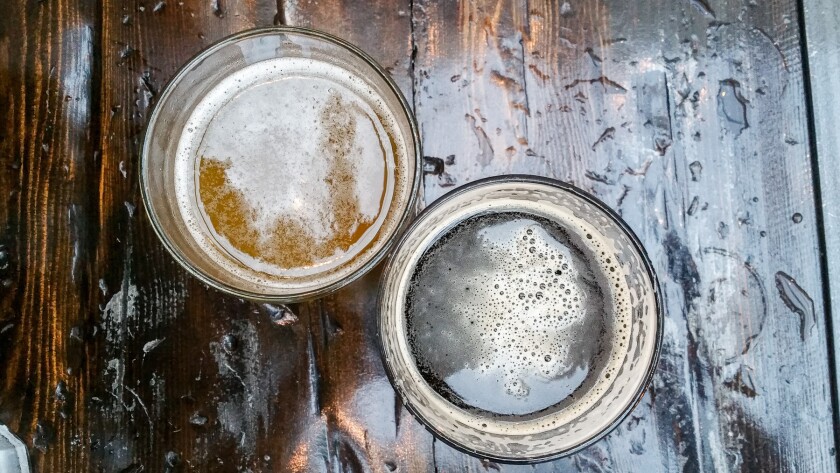 The last hurrah of summer is upon us, and while you could use the long Labor Day weekend to try to squeeze in all the summer fun activities that you never quite got around to, why not just take it easy for an afternoon? Stake out a choice spot on one of these beer-friendly patios, sip on a few craft brews, and enjoy every last minute of the gone-too-soon season.
Ladyface Alehouse & Brasserie — West Valley
Delicate Belgian-styled brews made just steps away from the airy patio with a splendid view of the Santa Monica Mountains make Ladyface well worth the drive to Agoura Hills, and the great bites are just a bonus. Oysters and moules-frites are offered along with sandwiches and salads for lunch and a dinner menu with some great French-tinged dishes. Try a glass of the lightly tart La Grisette — a farmhouse wheat ale — if you're looking for something refreshing, and don't leave without a taste of the Verrückt Weizen — a sour wheat ale that aged in Chardonnay barrels for 18 months. But be advised — Ladyface is closed on Labor Day, so you'll need to check it out on Saturday or Sunday. 29281 Agoura Road, Agoura Hills, (818) 477-4566.
Far Bar — Little Tokyo
Tucked in the back of the Little Tokyo lounge known for an extensive selection of Japanese craft beer is a narrow patio that feels like a little slice of Brooklyn. It's a little oasis away from the once-again bustling downtown streets, and the tap list is full of local favorites. There's also an extensive whiskey list if you're looking for something with a bit more kick, and the Far Bar kitchen offers snacks, burgers and sushi. 347 E. 1st St., Los Angeles, (213) 617-9990.
Verdugo Bar — Northeast L.A.
This beer bar has been flying mostly under the radar since before L.A. had much of a beer scene. The first of the "Goat Group" family — which also includes the Surly Goat, Little Bear and the Blind Donkey locations — Verdugo Bar is dark and brooding up front but opens into a lively tree-flecked patio in back. Saturday and Sunday, Verdugo Bar will also host "Patio Session" with happy hour from 3 until 7 p.m. and a tap list that mixes craft classics with the new brews that beer geeks get excited about. 3408 Verdugo Road, Los Angeles, (323) 257-3408.
Library Alehouse — Santa Monica
A good beer list is about more than sheer numbers, hard-to-find options and lots of locals — it takes thought and care to assemble a selection of brews that cover a wide array of flavors and styles. Santa Monica's Library Alehouse excels at putting a balanced list together that's still full of beers you just have to try. It's always a challenge deciding what to order, but the bartenders are always happy to help you decide or suggest brews to pair with the weekend brunch menu or "afternoon recess" menu of snacks and small bites. The patio out back is partly covered and a comfortable place to hunker down for an afternoon to try all those great brews. 2911 Main St., Santa Monica, (310) 314-4855.
Three Weavers — Inglewood
One of the few L.A. breweries with an outdoor drinking space, the airy tasting room attached to the Inglewood brewery spills out onto a deck with communal tables. It's a great spot to chat with other beer fans and try a flight from the expanding range of well executed ales (including several hoppy offerings and collaboration brews). While the tasting room is closed on Monday, you can grab a growler to go (or a few of the new bottles) to enjoy back at home. 1031 W. Manchester Blvd., Inglewood, (310) 400-5830.
ALSO:
The Slanted Door is coming to DTLA
Bike-friendly restaurant and microbrewery coming soon to Frogtown
---